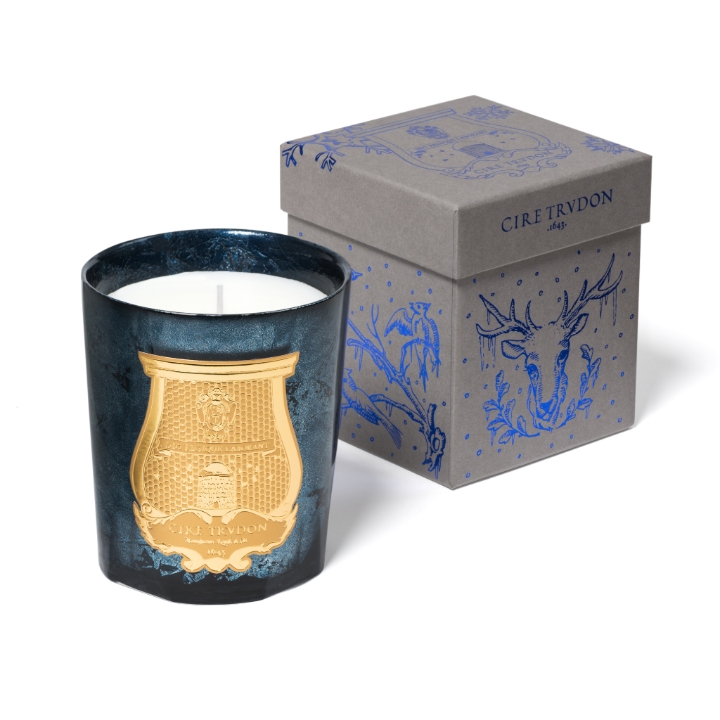 2019 Christmas Limited Edition Fir Candle 270g
Cire Trudon celebrates Christmas 2019 with a beautiful collection of limited edition magical festive candles. Their magnetic reflections and luminous surfaces are unique and will make the perfect gift (or self gift) this Christmas.   

Being the oldest candle makers in the world, Cire Trudon sure do know a thing or two about candles.

Each candle is handcrafted with care, each glass is first lacquered on the inside before being decorated with silver leaves.
Placed one by one, the later leave fine cracks through which the light shines mysteriously. The flickering gives the candle a unique presence.

The Cire Trudon 2019 Christmas Collection includes: 
Abd el Kader's silvery white - With notes of Apple, Blackcurrant Bud, Clove, Ginger, Lemon, Spearmint, Jasmine & Vanilla.
Ernesto's enigmatic black -With notes of Rhum, Grapefruit, Bergamot, Clove, Oak wood, Patchouli, Labdanum, Tobacco, Moss, Leather & Amber. 
Fir's deep metallic blue - With notes of Siberian pine, Chinese cedar & Spanish cistus.
Nazareth's magnetic red - With notes of  Bitter Orange, Ceylan Cinnamon, Grapefruit, Tangerine, Cardamom, Chinese Osmanthus, Cinnamon, Clove, Orange, Benzoin Resin, Bourbon Vanilla, Cistus, Musk & Myrrh.
Gabriel's iridescent khaki - With notes of  Birch wood, Glace chestnut, Cashmere wood, Moss, Cedar, Musk & Patchouli.
Hupo's golden amber - With notes of Cashmere wood, Cedar, Elemi, Iris, Patchouli, Incense, Amber, Leather, Labdanum & Vanilla.
Click here to view the complete collection and learn more about these magical candles. Limited Edition - don't miss out!


Fir - From time immemorial, Christmas has been a sacred moment, a celebration to be remembered, and collected. The perfect expression of Christmas, the Fir scented candle carries the tree's religious and vegetal significance. The candle's green and woody notes further represent nativity: hints of myrrh and incense absolute bring depth to the perfume's head notes - Siberian pine and fir tree. Presented in a mat green glass, the Fir scanted candle welcomes the olfactory strength and very essence of the Christmas tree.

Head Notes: Siberian pine
Heart Notes: Chinese cedar
Base Notes: Spanish cistus

This candle burns for approximately 60 hours.
Out of stock
Get an alert when the product is in stock: