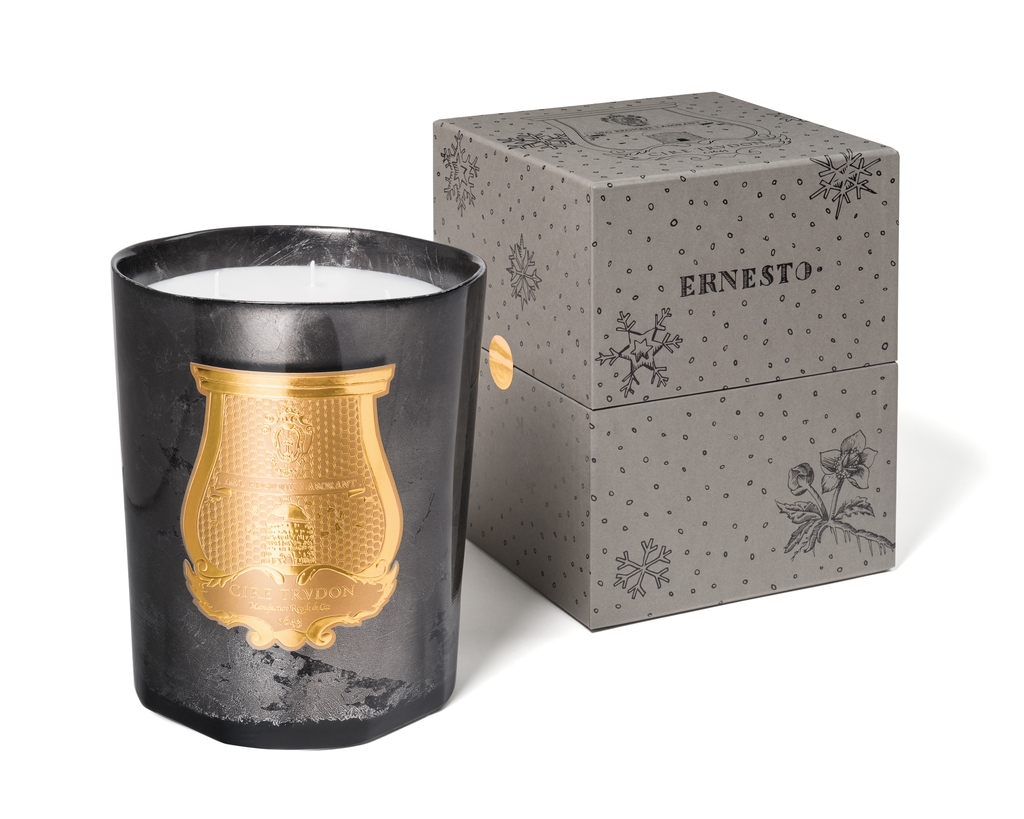 2019 Christmas Limited Edition Ernesto Candle 3kg
Cire Trudon celebrates Christmas 2019 with a beautiful collection of limited edition magical festive candles. Their magnetic reflections and luminous surfaces are unique and will make the perfect gift (or self gift) this Christmas.   

Being the oldest candle makers in the world, Cire Trudon sure do know a thing or two about candles.

Each candle is handcrafted with care, each glass is first lacquered on the inside before being decorated with silver leaves.
Placed one by one, the later leave fine cracks through which the light shines mysteriously. The flickering gives the candle a unique presence.

The Cire Trudon 2019 Christmas Collection includes: 
Abd el Kader's silvery white - With notes of Apple, Blackcurrant Bud, Clove, Ginger, Lemon, Spearmint, Jasmine & Vanilla.
Ernesto's enigmatic black -With notes of Rhum, Grapefruit, Bergamot, Clove, Oak wood, Patchouli, Labdanum, Tobacco, Moss, Leather & Amber. 
Fir's deep metallic blue - With notes of Siberian pine, Chinese cedar & Spanish cistus.
Nazareth's magnetic red - With notes of  Bitter Orange, Ceylan Cinnamon, Grapefruit, Tangerine, Cardamom, Chinese Osmanthus, Cinnamon, Clove, Orange, Benzoin Resin, Bourbon Vanilla, Cistus, Musk & Myrrh.
Gabriel's iridescent khaki - With notes of  Birch wood, Glace chestnut, Cashmere wood, Moss, Cedar, Musk & Patchouli.
Hupo's golden amber - With notes of Cashmere wood, Cedar, Elemi, Iris, Patchouli, Incense, Amber, Leather, Labdanum & Vanilla.
Click here to view the complete collection and learn more about these magical candles. Limited Edition - don't miss out!


Ernesto - In a hotel of Havana, under the fixed sun of the Revolution : the fierce and partisan overtones of leather and tobacco meddle with the paneling's waxen silence. In the cool dimness, fawn grimaces shimmer along with the smoke of cigars and the barrels of guns.

Head Notes: Rhum, Grapefruit, Bergamot
Heart Notes: Clove, Oak wood, Patchouli, Labdanum
Base Notes: Tobacco, Moss, Leather, Amber

This candle burns for approximately 200 hours.
1 in stock