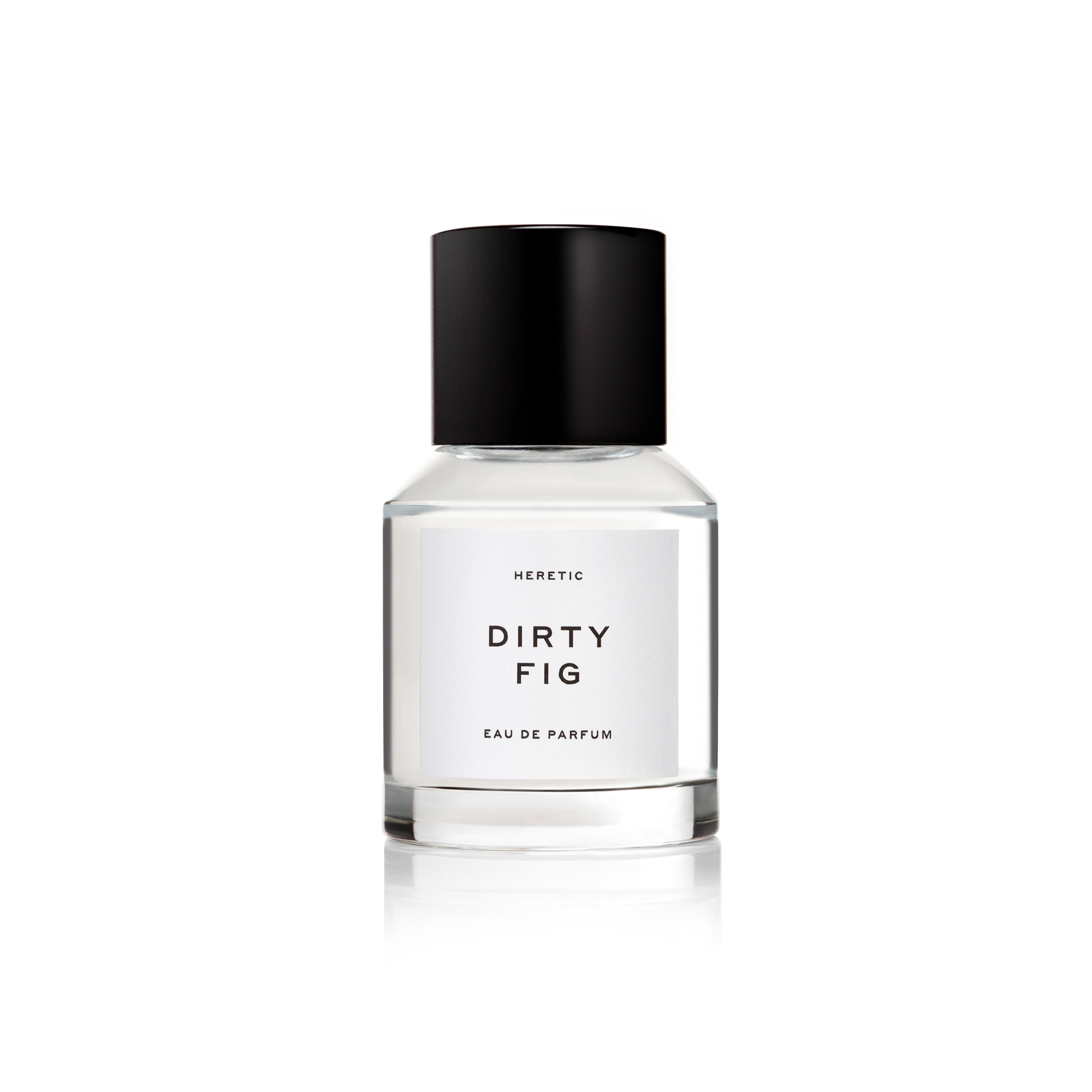 Dirty Fig EDP 50ml
Fig is a scent that cannot be captured with natural ingredients. Our natural interpretation of this seductive fruit is built with top notes of Bitter Grapefruit, Italian Bergamot and sweet scented Geranium, woven together with a voluptuous heart chord of Damascena Rose and Black Currants. Ripe Raspberries take you into the base chord that is as addicting as it is delicious. At first crisp and sharp, in the next moment mouth watering rich and decadent - this is the kind of scent that you want to bring closer, to smell again.

Douglas Little describes Heretic's 'dirty series' as taking classic beautiful ingredients and putting a new spin on them - letting their hair down, smudging their lipstick and exploring new territory.

Apply generously to skin and/or hair. Heretic's natural blends are great for layering, so feel free to combine 2-3 different fragrances to create your own unique scent!

• For all genders
• Certified 100% natural ingredients (naturally derived essential oils, absolutes and concretes)
• Blended in organic, non-denatured, non-GMO sugarcane alcohol.
• Free of synthetic fragrance
• Cruelty Free
• Vegan

ELEMENT: WATER
CHAKRA: THIRD EYE
PLANET: JUPITER

NOTES
Top: Grapefruit, Bergamot, Geranium
Middle: Rose Damascena, Black Currant
Base: Raspberry

PERFUMER
Douglas Little

ABOUT THE BRAND
Heretic - one who does not conform to the ideals or opinions of the masses; one who follows their own path.
Created in 2016 in New York by Douglas Little, Heretic is a natural, artisan, small batch fragrance collection. Based on the mysterious, sensual and feral aspects of nature, Heretic began with a conscious choice to do things a little differently. Provocative, challenging, unapologetic, visionary and beautiful - Douglas Little has created a rare, unusual and comprehensive collection. As Heretic boldly disrupts the status quo of the fragrance industry with their radical transparency, their fragrances delve into the esoteric world and the realms of homeopathy, ayerveda, and herbology.
Douglas made the choice to work with entirely natural materials - essential oils, concretes and absolutes (blended in non GMO, organic grape and sugarcane alcohol) using traditional perfumery techniques. Believing that nature gives us sexy and erotic scents, the Heretic perfume collection creates unique depth and complexity. "Natural fragrances are much like wine in that you can detect nuances of the plant, the soil, and its surroundings. They have characters that cannot be achieved with synthetic copies. These fragrances are alive, they create an olfactory fingerprint" Douglas Little.

HOW IT WEARS
Dirty Fig by Heretic wears boldly to begin with on the skin but settles into a soft, warm fragrance with some time. Juicy and bright, Dirty Fig is an uplifting fragrance with the sweetness of Fig and the sharpness of citrus and berries complinenting it beautifully.

LORE LOVES
We just love that this 'fig' fragrance doesn't actually use any fig to create their unique perfume! An addictive concoction, Dirty Fig is crisp, a little sharp and a little sweet, all the while incredibly juicy...like the best mouthful of gorgeously ripe fig.

FREE RETURNS
Love your fragrance or return it for free. Learn more about The Lore Promise here. 


Apply generously to skin and/or hair. Heretic's natural blends are great for layering, so feel free to combine 2-3 different fragrances to create your own unique scent!
When we say that heretic fragrances are natural, we mean that all of our ingredients were extracted from plants, no synthetic replicas.

Organic non-gmo sugar cane alcohol triethyl citrate phenethyl alcohol citrus aurantium bergamia (bergamot) fruit oil linalool pelargonium graveolens (geranium) flower oil citrus paradisi (grapefruit) peel oil linalyl acetate maltol raspberry ketone geranyl acetate rosa damascena flower oil methylbenzyl acetate allyl caproate benzyl acetate 3-hexenol ribes nigrum (black currant) seed oil

This fragrance contains 100.0% natural essential oils and/or naturally derived materials as defined by iso standard 9235 – aromatic natural raw materials vocabulary.
4 in stock