With Father's Day just around the corner (Sunday 6th September) we got to thinking about our dads and how this year is going to be pretty different with lock down regulations in place (for us here in Melbourne anyway!). While we may not be able to see our dads, take them out for a pub dinner, have a lovely home cooked lunch or even go on one of those classic dad adventures together, we can always show them how much we love and appreciate them in little ways.
Whether we're talking about your father, father figure, the father of your children…all 'dads' in our life deserve a little extra loving this Father's Day. If there's one thing this pandemic has taught us, it's to appreciate the people in your life and make sure that you tell and show them that you love them!
Since we can't really leave the house at the moment, it made us think about the fact that dads always have their favourite spot in the house. You know that special chair that is their chair, or that room that they're always tinkering in, or something in the house that they're always going on about. Well, we thought this could be a fun way to help work out the perfect gift for these dads. Have a look below and see where your dad fits and shop our Father's Day gift guide.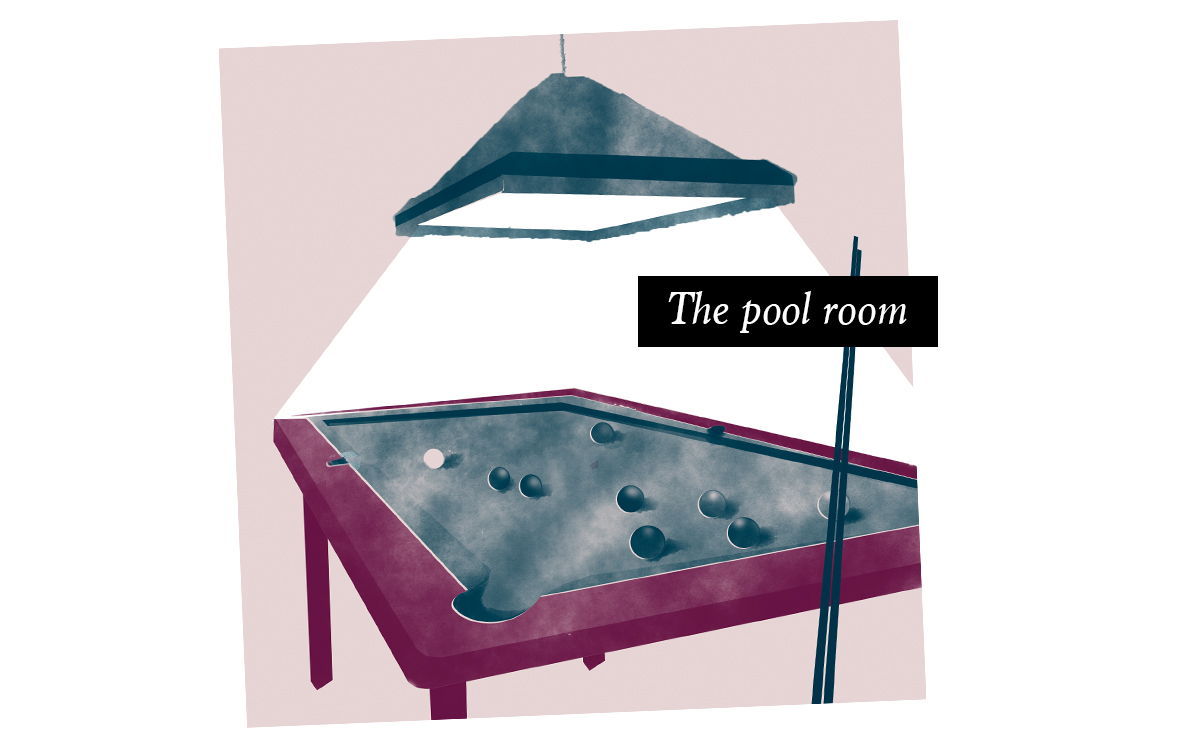 The pool room
Classic dad heaven – hanging out in their man cave/ pool room filled with nostalgia from bygone eras, bottles of booze, a pinball machine and good times. Maybe a bit vintage, they're full of character and they'll always tell you a fabulous story over a stiff drink when you're hanging out with them in this room.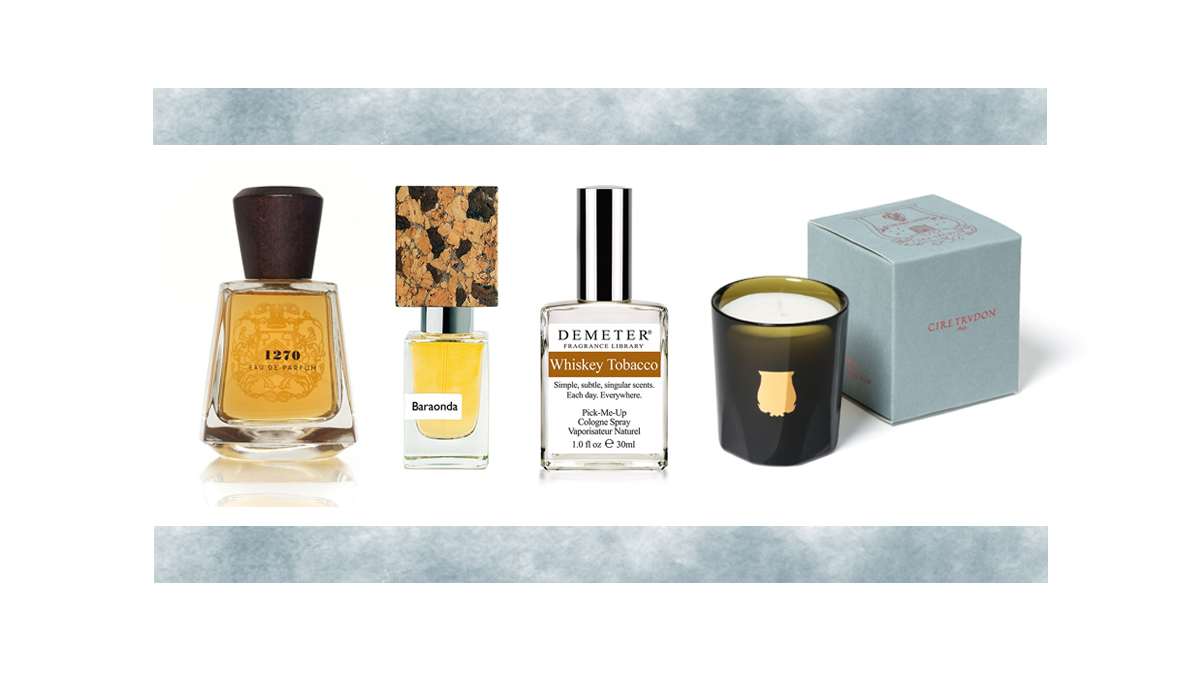 Frapin 1270 – the deliciously boozy scent inspired by the finest bottle of cognac that coincidentally, Frapin also make.
Nasomatto Baraonda – the bold scent inspired by a bottle of whiskey, and is also completely natural so you can get a little crazy and spritz it in your mouth for the full experience!
Demeter Whiskey Tobacco – the delicious smell of booze and cigar smoke, the scent of good times with good people and just a little too many whiskeys.
Cire Trudon Ernesto – inspired by Che Guevara, this scent is inspired by his only (self proclaimed) vice – smoking the finest cigars. A fusion of Leather and Tobacco notes makes this scent completely unforgettable.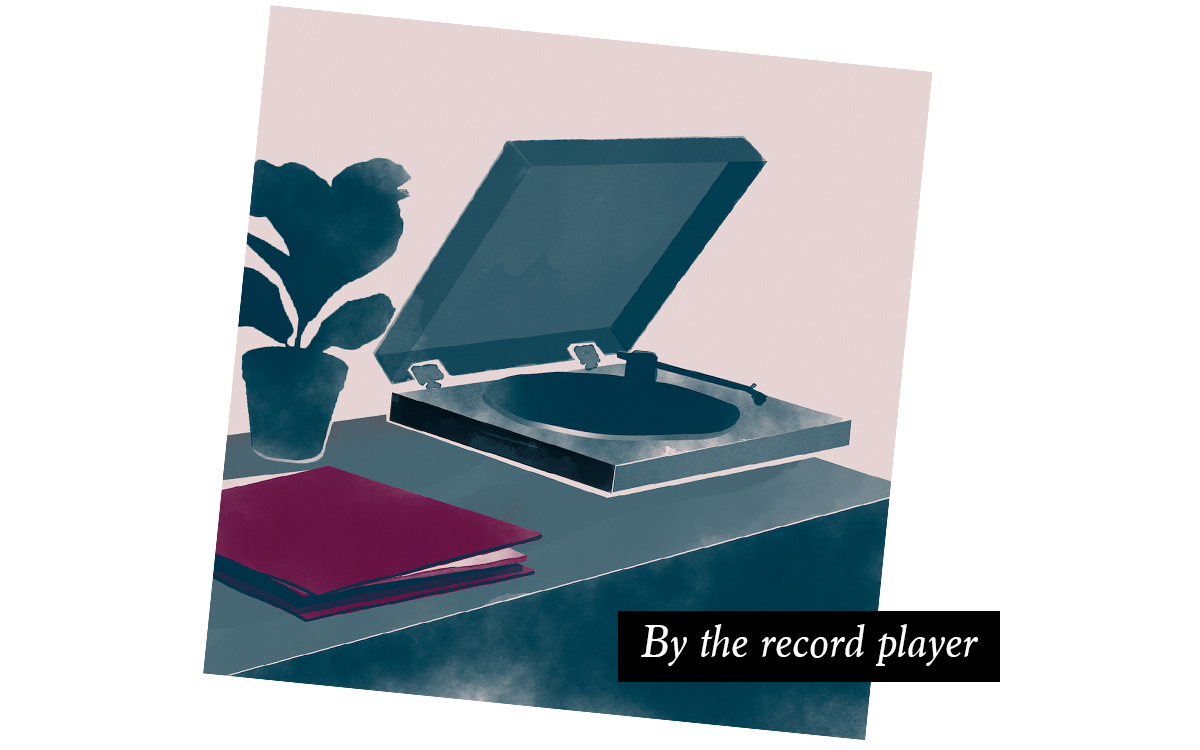 By the record player
The rock n roll dad who can tell you every single piece of rock trivia, particularly from his hey day…the 70's. He's still that 20 year old rocker at heart and is always the life of the party and the master of the record player.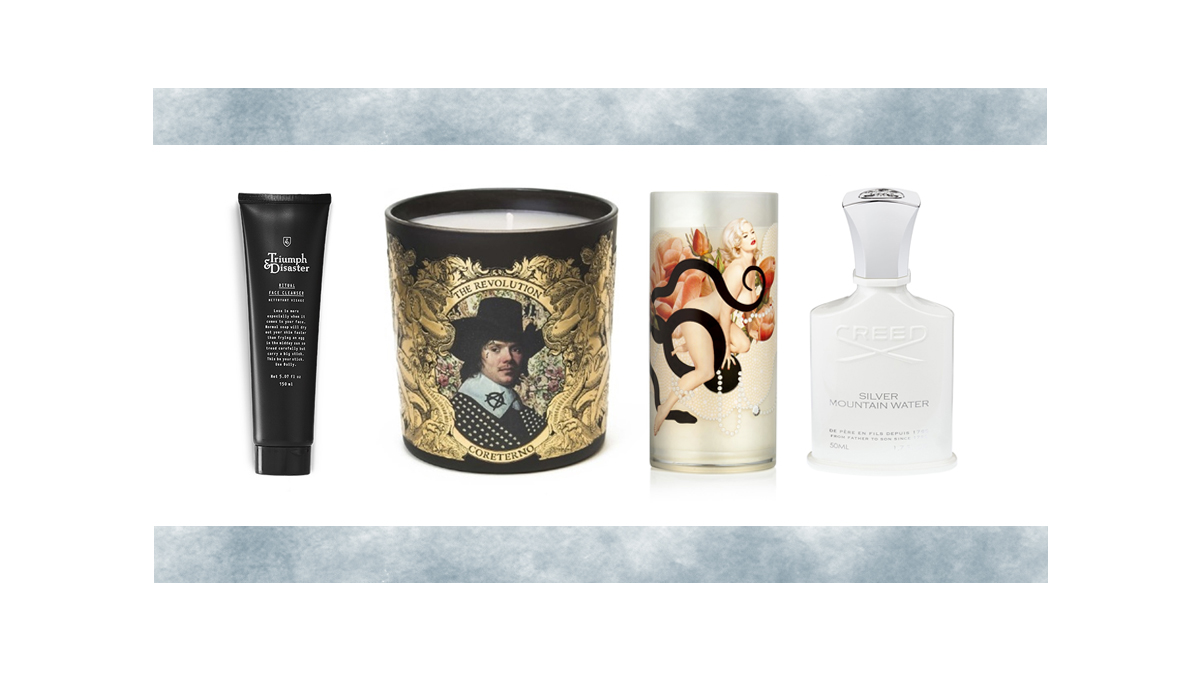 Triumph & Disaster Ritual Face Cleanser – a deep facial cleanser to give a gentle yet thorough cleanse while enjoying the 'ritual' of skin care. A detoxifying treatment, this cleanser will refresh skin that needs a little pep up.
Coreterno The Revolution – when rock n roll meets Renaissance style we get Coreterno, this candle manifests living without rules (and smells amazing obviously).
Bougie Burlesque Rosebud – this candle is the ultimate in shock value as the muse strips as the wax heats up when you light this unique candle. (maybe a better gift for your partner…not your Dad!)
Creed Silver Mountain Water – if this fragrance is good enough for David Bowie, it's good enough for any rocker out there!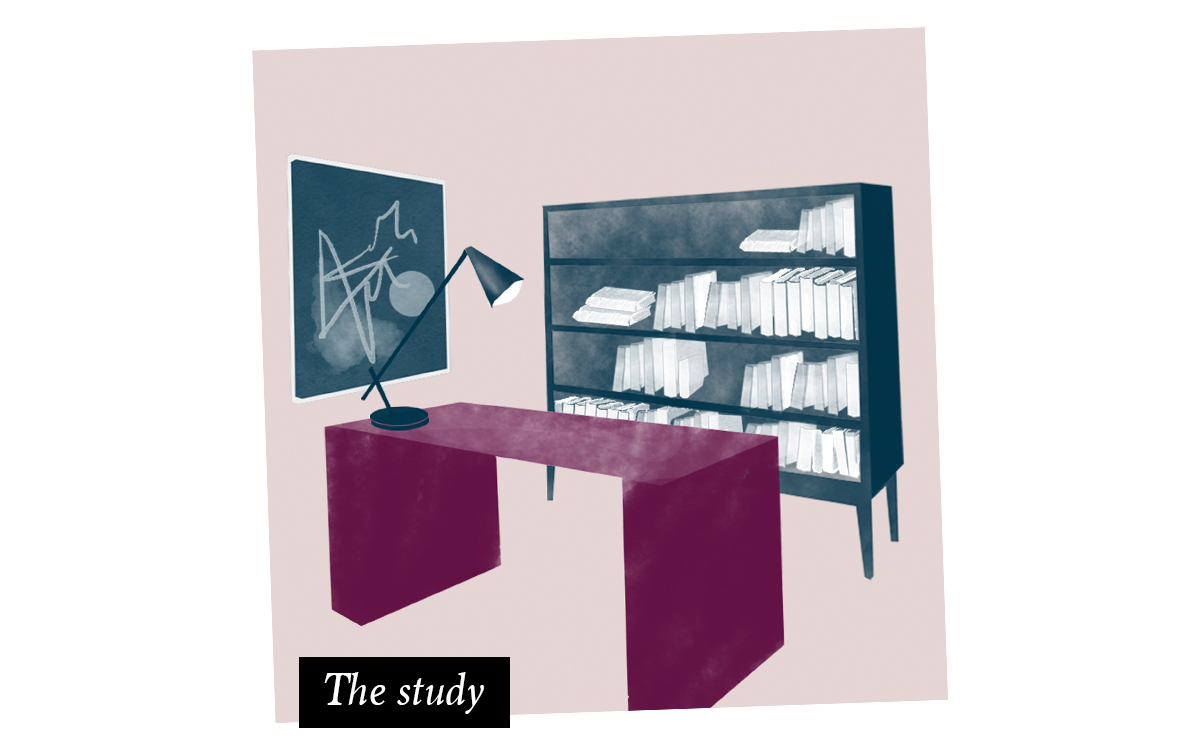 The study
The elegant and masculine study, dad loves to spend hours quietly doing his own thing, reading and writing in here. Think beautiful wooden furniture, a bookcase filled to the brim with books, and a big comfy chair to lose hours in.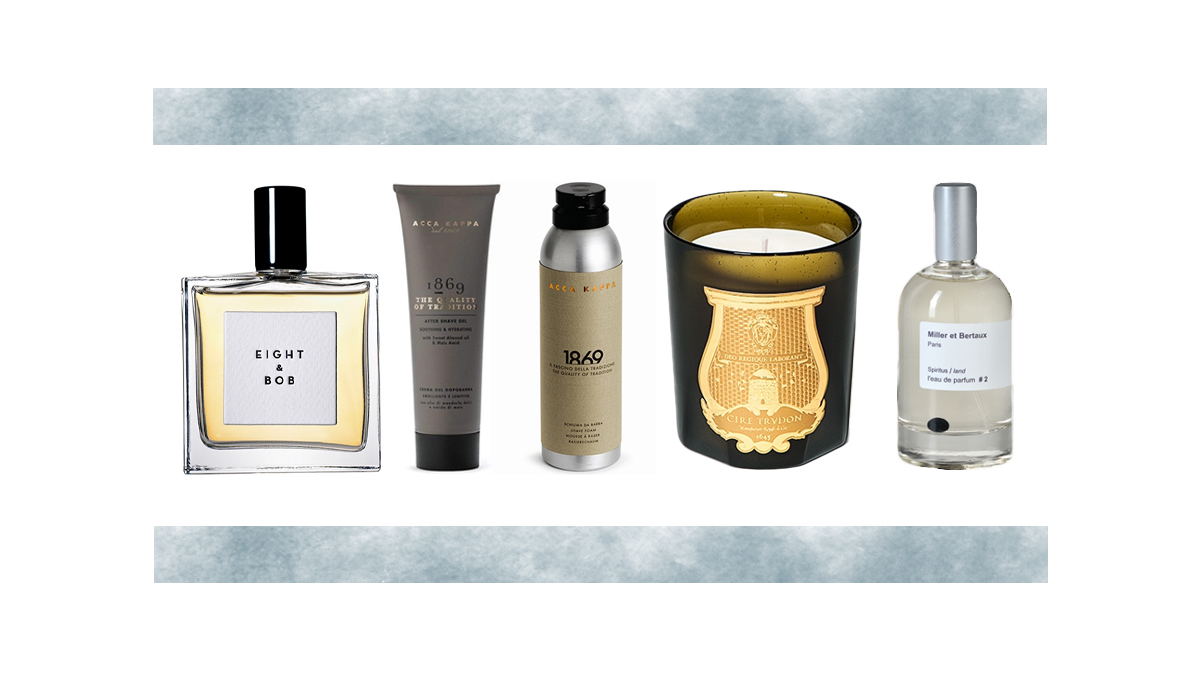 Eight and Bob Original – the fragrance with history, this is the scent that JFK wore in his early 20's and is the epitome of history and masculine elegance.
Acca Kappa 1869 Shaving Foam and Gel – this collection of scented grooming products are named after the year Acca Kappa began their family owned business. A rich and classic scent, these are the perfect accompaniment for any well groomed gentleman.
Cire Trudon Solis Rex – the candle inspired by the parquetry floors of the Palace of Versailles, is a rich and woody candle fitting for a grand room.
Miller et Bertaux Spiritus Land – this fragrance takes us to a magical old world study, impressive wooden furniture, red roses on the desk, cigars being lit and cognac waiting to be poured.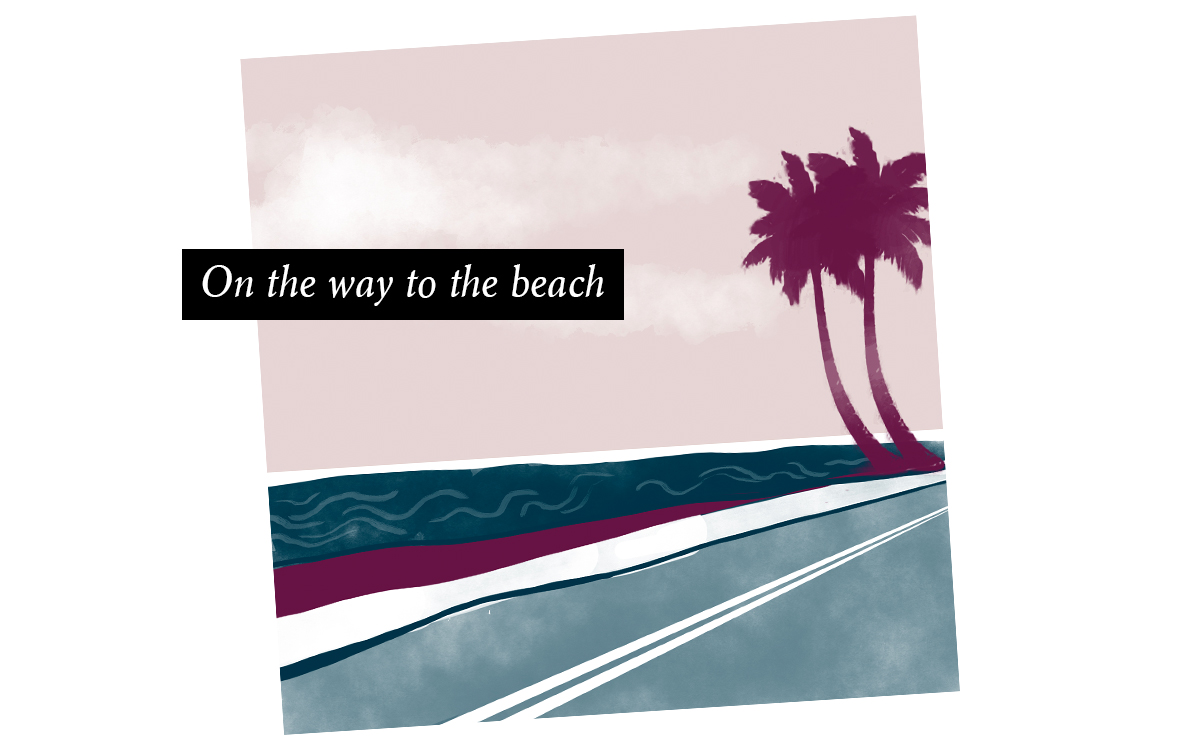 In the car on his way to the beach
This dad isn't so much in the house, but always on his way out for an adventure. His favourite – a beach adventure, whether its surfing, fishing, taking pictures or just general outdoors adventures, he can't commit to one room for long as he's always itching for a new adventure!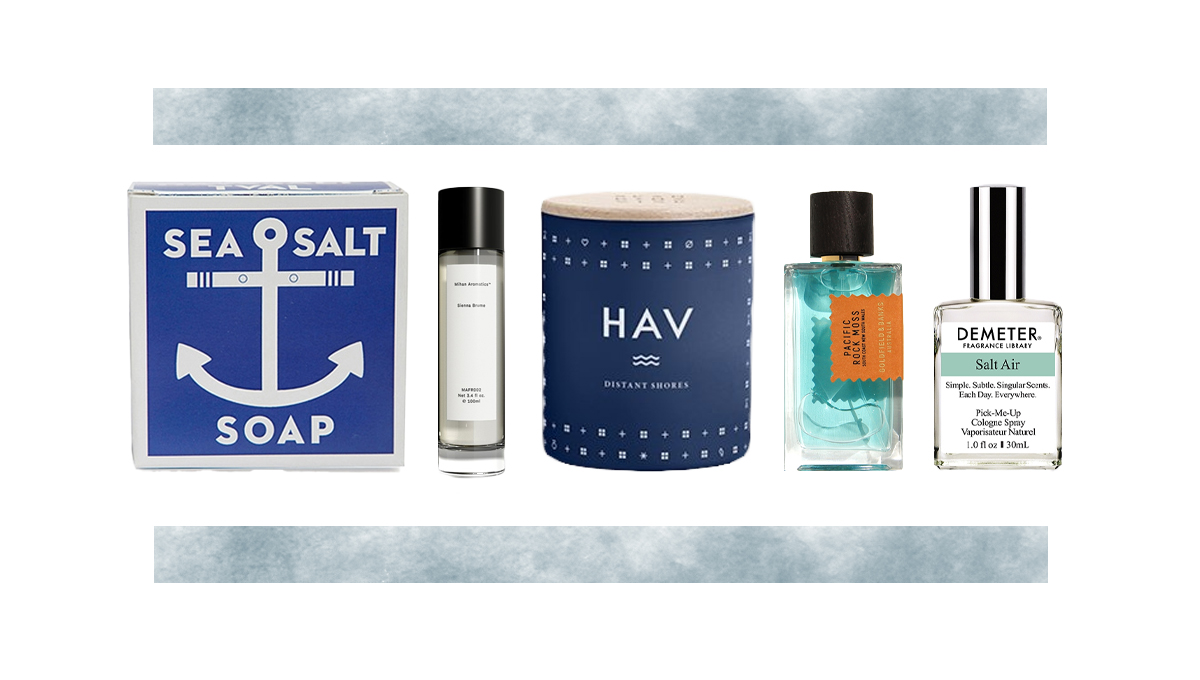 Kala Sea Salt Soap – this soap is gentle yet thorough to wash away any dirt from those adventure but leave his skin smelling just like the sea salt air.
Mihan Aromatics Sienna Brume – for those who can't get to the beach as often, the pools will do! And this fragrance is inspired by the scent of Coconut and a Gin and Tonic at the Fitzroy pools.
Skandinavisk Hav Candle – with the word Hav being Scandinavian for sea, this candle takes us to a rugged and desolate beach in the middle of winter along the picturesque Nordic coastline.
Goldfield and Banks Pacific Rock Moss – inspired by walks along the NSW beaches, the sweet and salty sea air fragrance of Pacific Rock Moss makes us dream of summer even if it is a few months away still.
Demeter Salt Air – this little fragrance of salty freshness brings the beach scent into your space to either spritz on yourself or in your space for a little refresher.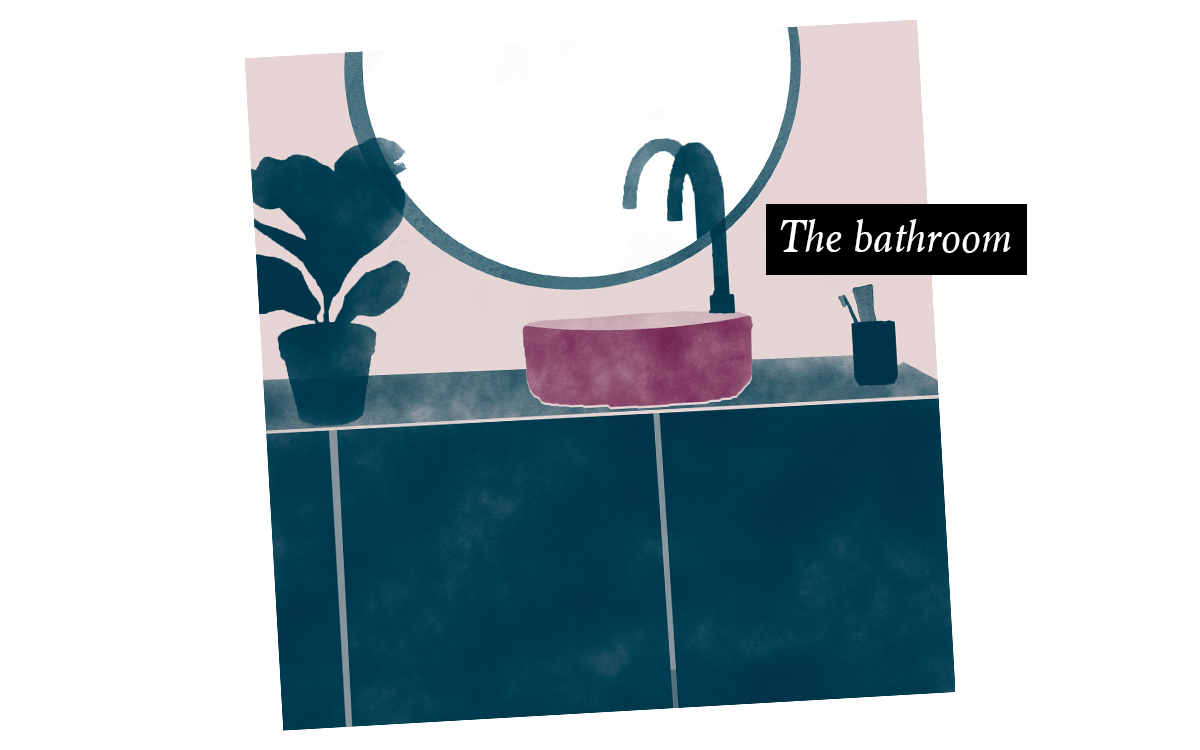 The bathroom
This dad loves a little self grooming and pampering. Loving the finer things in life, he takes pride in his perfectly maintained facial hair, his wonderful fragrance and his well cared for skin.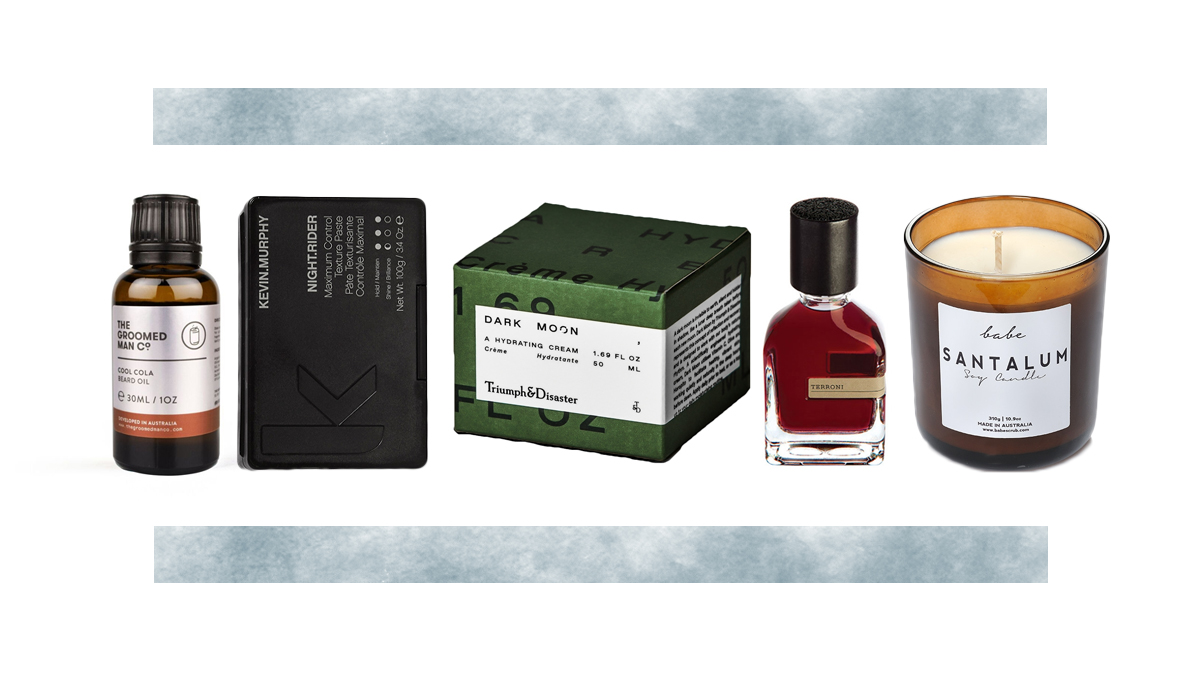 Groomed Man Cool Cola Beard Oil – this local brand is the authority on beard care, with oils and balms to nurture and nourish the beard, anyone's beard will be looking fabulous with this regime (even if they have resorted to lockdown self trimming!).
Kevin Murphy Night Rider – our most popular hair styling product for matte, strong hold. This is your one stop shop for style that stays put (so you don't need to spend any more time in front of the mirror…).
Triumph & Disaster Dark Moon Hydrating Moisturiser – this anti ageing moisturiser is packed full of actives (and native New Zealand ingredients) to nourish and repair skin while absorbing quickly to ensure it does not leave a greasy feeling.
Orto Parisi Terroni – for the bold man who likes to make a powerful entrance, this fragrance does exactly that! Inspired by the scent of a volcano erupting, this smoky, sticky, rich and earthy fragrance is a real show-stopper.
Babe Australia Santulum Candle – the perfect candle to burn as you groom, a Sandalwood fragrance with a touch of citrus and an aromatic edge – refreshing and grounding.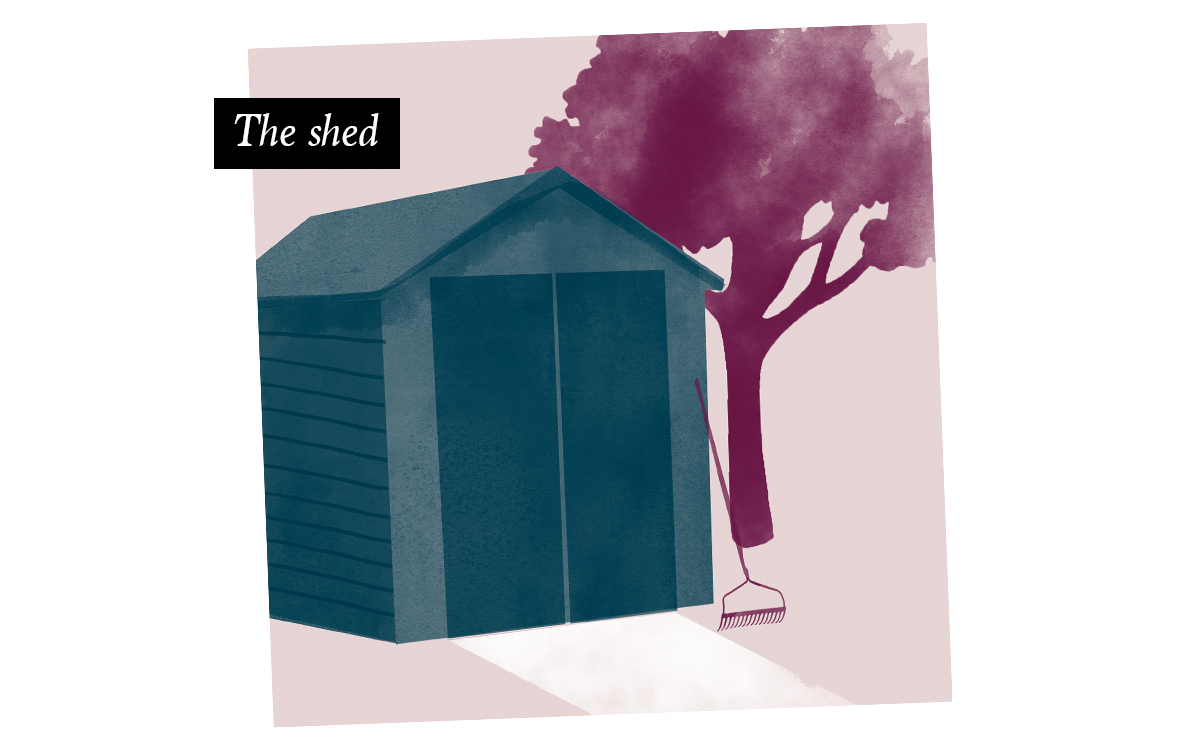 The shed
This dad is always tinkering with something in the shed, usually something car related but sometimes he's building things, sometimes he's taking things apart. But what we do know is that they're always working hard with the music pumping in the shed.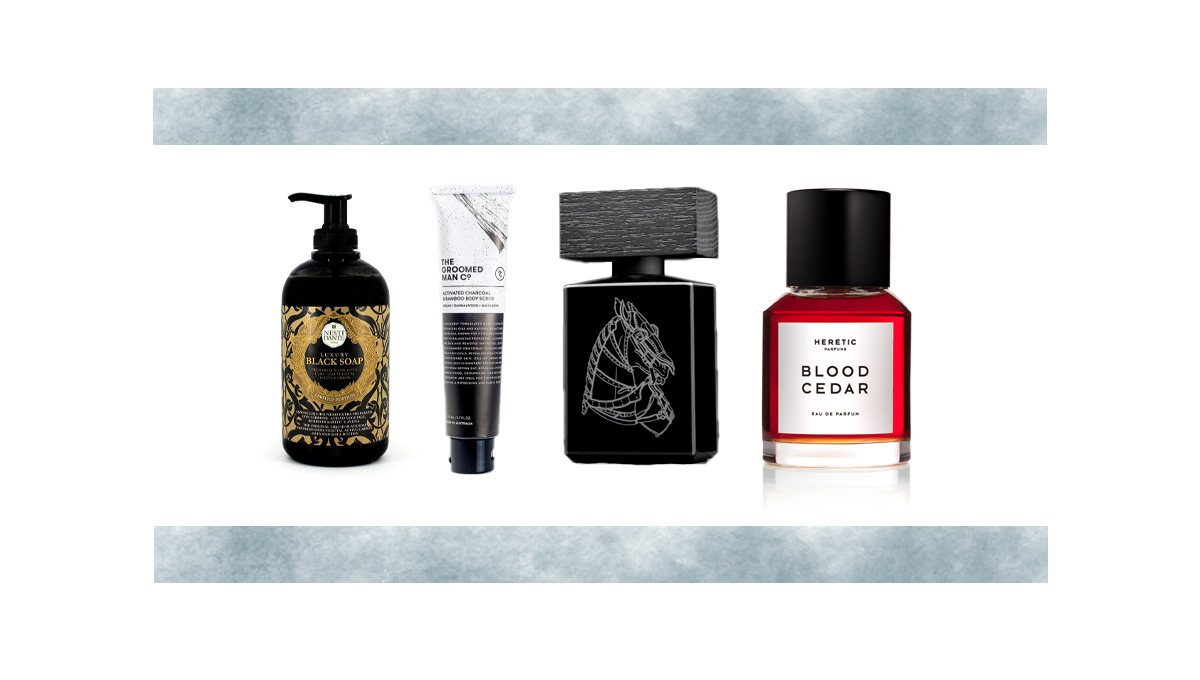 Nesti Dante Luxury Black Hand & Body Wash – this wash is inspired by an ancient ritual dating all the way back to Cleopatra, this black liquid soap has a deep cleansing action that removes dead skin cells to reveal softer skin afterwards.
Groomed Man Co Activated Charcoal and Bamboo Body Scrub – this body scrub detoxifies and gives an ultra satisfying exfoliation leaving skin smooth and even afterwards.
Beaufort London The Iron Duke – the scent of leather, smoke and animals – inspired by the charismatic Duke of Wellington and his horse Copenhagen with notes of Tobacco, Leather and Gunpowder.
Heretic Blood Cedar – this wild and woody fragrance evokes the scent of the forest with a feral aspect to it (in true Heretic style), an all-natural fragrance with a little extra grunt to it.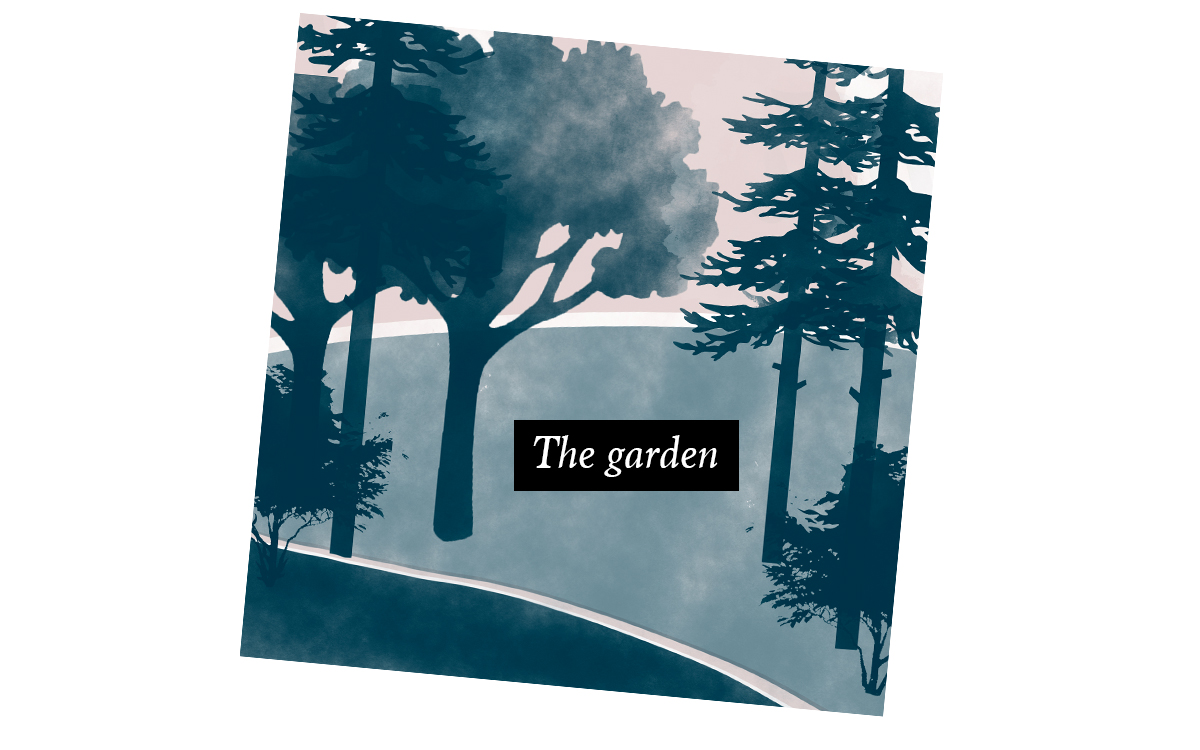 The garden
This dad is always pottering around the garden, he has a magnificent garden, filled with flowers, herbs, veggies and natives and just loves spending hours outside tending to it.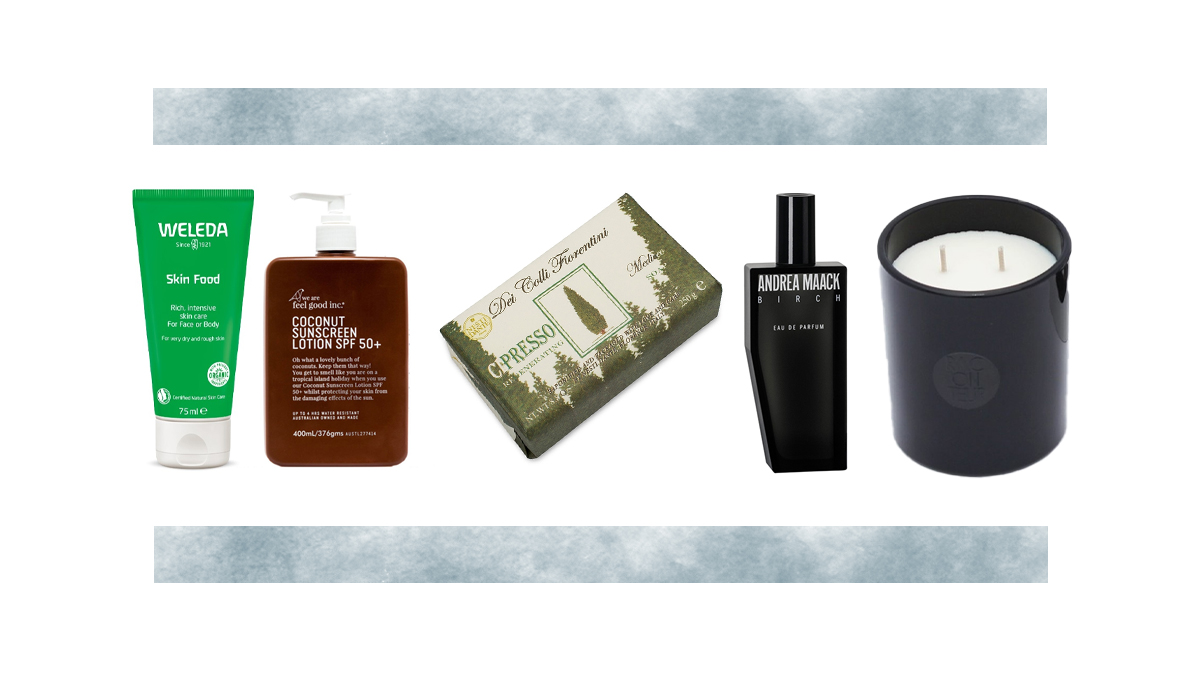 Weleda Skin Food – a must have for anyone who has spent hours gardening and needs nourishment as well as protection from the elements for their hardworking hands.
We are Feel Good Inc Coconut Sunscreen Lotion 50 + – this locally made sunscreen range ticks all of the boxes, they've left out all of the nasty ingredients while ensuring this sunscreen feels weightless on the skin and still giving 50+ protection from the sun.
Nesti Dante Cypress Soap Bar – this soap brings the outdoors indoors, gives a nourishing clean to grubby hands, and a gorgeous waft of cypress fills the air.
Andrea Maack Birch – the scent of nature, inspired by the Icelandic woods covered in Birch trees, this fragrance is a wonderful representation of nature in perfume.
Racontuer Melbourne Candle – the scents found along Port Phillip Bay make up this unique, all-natural candle that heroes our incredible landscape through ingredients.