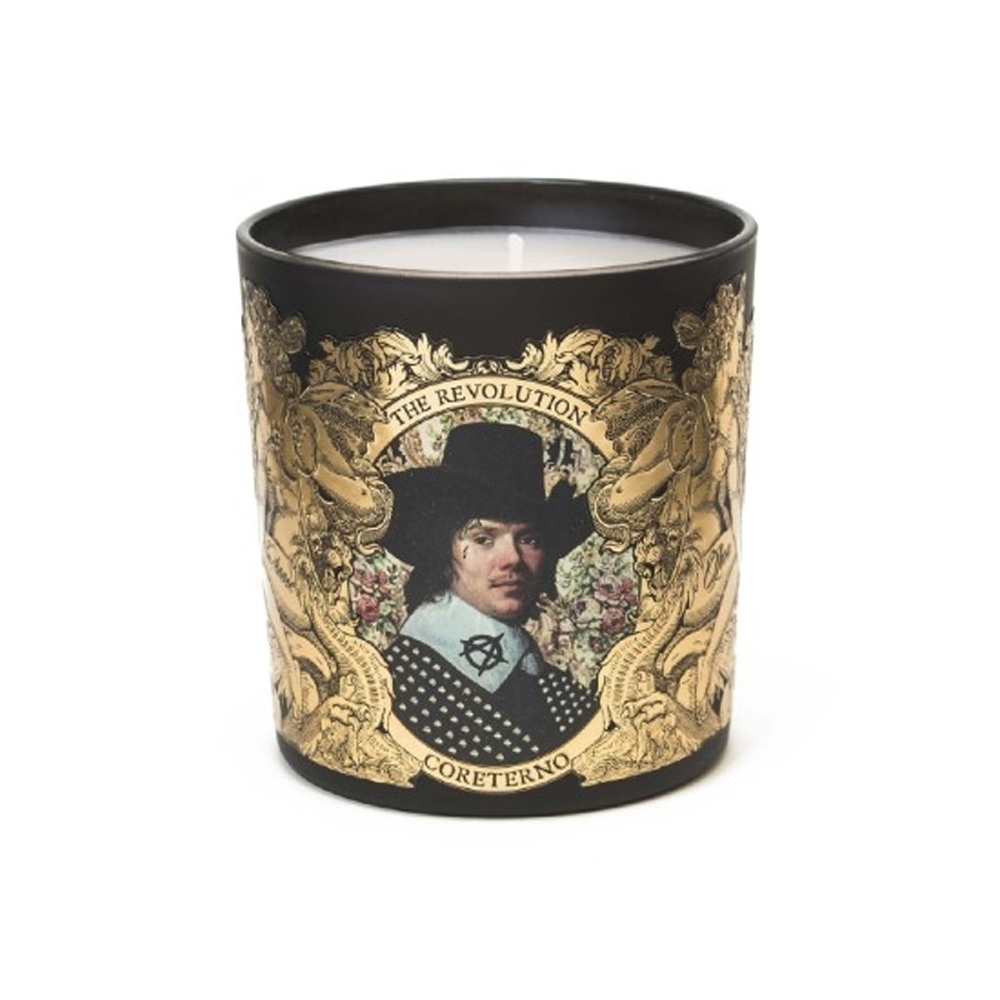 Aphrodite Scented Candle – The Revolution 240g
The Revolution 
Awaken your mind and live consciously without any structure. Light up your talents, embrace love. This is the life of a true revolutionary. A woody, oriental fragrance The Revolution candle smells like the earth – forest woods with a warm, slightly smoky warmth; delicious blend of earthy tones

The Aphrodite Collection is dedicated to the powerful, revolutionary and immortal energy of love. Be brave. Take risks. Believe in your dreams. Be a rebel, a saint, a fool. Fight, rise, fall, but never lose faith in love. 

Coreterno has created a unique piece of art with their Aphrodite collection - using patented technology to emboss real gold leaf into aluminium to create their impressive vessels. They recently won an award at the Milan Packaging Design Awards for their candle range. Featuring a vegetable wax blend, with a 60 hour burn time. Vegan, cruelty free, paraben free.
NOTES
Amber Wood, Cedar Wood, Incense, Grapefruit, Juniper Berries, Elemi 
HOW IT BURNS
This fragrance in Coreterno's candles is complex and sophisticated. Working closely to create each scent with perfumers, Coreterno scented candles fill a space easily without overwhelming. Coreterno candles burn for 60 hours.
LORE LOVES
This is the scent of nature and we love the woody depth of The Revolution. There are subtle sparkles of freshness and a slight smokiness that burns so beautifully and brings the outdoors inside!

ABOUT THE BRAND
Conceived in Rome, then launched in New York by Italian born couple Francilla and Michelangelo. Working from their (family owned) gothic castle in the heart of Rome, Francilla and Michelangelo have created a unique and exquisite brand that combines Renaissance art with modern Rock n Roll references. As an ode to their ancestry, Coreterno reference their Italian history of art throughout the collection, even working with an artisan design house to create their (patented) labels that dates back to the Renaissance. Coreterno is designed to inspire, promote creativity and confidence. Handmade in Italy, Coreterno is a luxury designer lifestyle brand that combines art, beauty, design, spirituality and positivity.
7 in stock