Best Candle Brands & Their Best Selling Candles
It's that time of the year when all we want are candles!
So right now, not only are we all self isolating which means long days indoors, but day light savings just ended so it's getting darker and darker and winter is creeping in faster and faster (well, it is down here in Melbourne anyway!).
This trifecta of events brings about a few new evening rituals for us. Firstly, an evening wine to settle into the new chilly darkness that is 7pm onwards. Secondly some self-pampering – face masks, spritzes and all of the moisturisers we can get our hands on. With all of the uncertainty and stressors in the world right now, it's important to throw in some self-care every day. Thirdly, lighting up a candle. This last one is a simple ritual but oh, does it make a difference! Think of that warm glow from the candle. You immediately feel better, calmer, more grounded. Then the scent from the candle – that evocative scent…
Watch Jess' video below where she goes into more detail! Scroll down to read more.
Changing the scent in your space immediately changes your mood. This is the perfect tool to use if you are working from home right now (much like wearing a perfume) to start the day, get you into work mode. The ritual of lighting a candle signals to your subconscious that you have started or finished your work-day. It helps you to either switch on or switch off.
And while we are all staying at home right now, we recommend different scents for different moods. I mean, you've got your day time candle scent – whether it's for working from your home office, running around after the kids, lounging on the couch with Netflix, a day of workouts and meditation – how do you want to feel during your day?
Then we have our evening scent, maybe you want a soft and sensual scent? Or a grounding earthy fragrance to help to unwind. Or you love florals and just want the most beautiful and uplifting floral to make you feel happy?
We've got you covered with brands from all over the world and scents that fill every single category, so read on to find out more….
Cire Trudon
The oldest and most renowned candle makers in the world. Cire Trudon began producing candles in 1643 and still use traditional methods and recipes to this day. Originally making candles for the churches throughout France, Cire Trudon has also created candles for Louie 14th, Marie Antoinette and Napoleon Bonaparte to name drop just a few (along with lighting the Hall of Mirrors in the 1600's with over 50,000 candles on a daily basis)! All of the Cire Trudon vessels are hand blown using Venetian glass with malachite infused in them during the heating process to create the classic green glass shade.
The crème de la crème of candles, Cire Trudon's scents are all inspired by people and places throughout history and are the most unique and evocative collection of fragranced candles.
Lore's top 3 candles in Cire Trudon are:
Ernesto – the scent inspired by Che Guevara's quote that his only vice was smoking the finest cigars, think Leather and Tobacco heaven in a candle!
Abd el Kader – Abd el Kader's favourite drink – the most unique and perfectly refreshing scent of a Moroccan Mint Tea. This candle is a wonderfully unique scent, crisp and clean yet also rounded at the same time.
Spiritus Sancti – the holy spirit, an ode to the churches that Cire Trudon has provided light to for over several centuries. The scent of incense burning in church and the grand marble floors.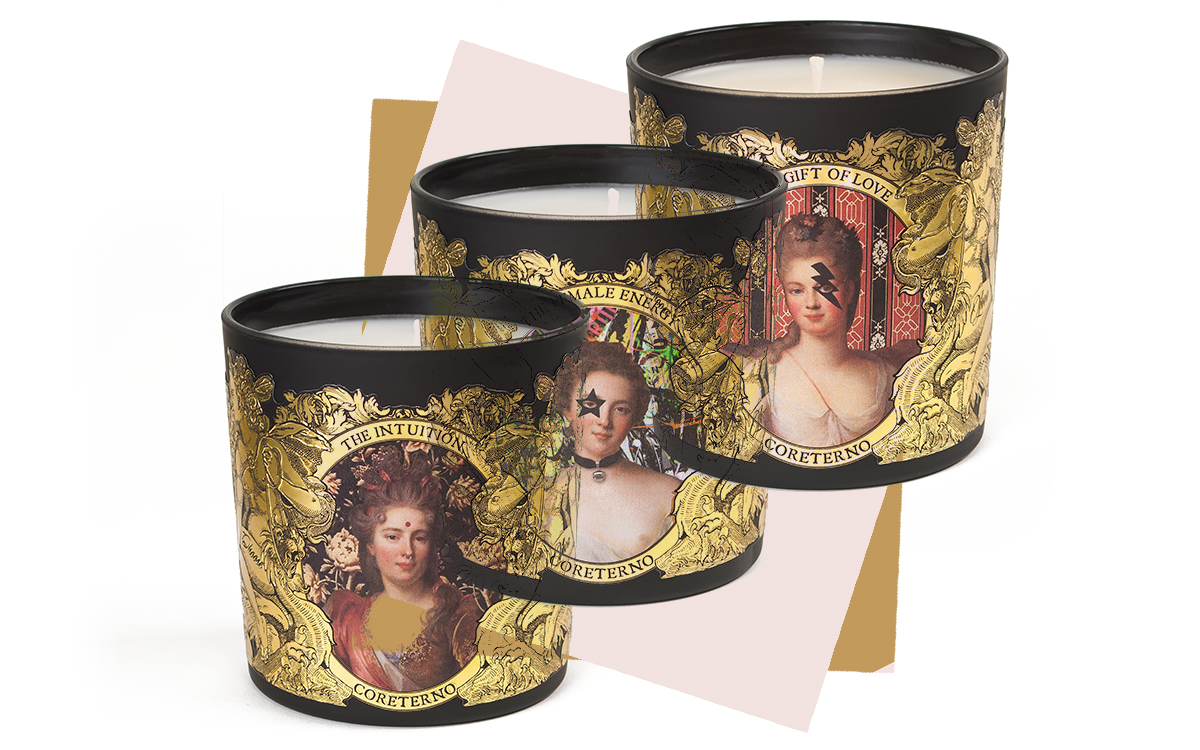 Coreterno
A collection of candles for the lovers, the rebels, the artists and the free spirited. Breathing life into inanimate objects, Coreterno is the love child of couple Michelangelo Brancato and Francilla Ronchi. Translated to mean 'eternal heart', the Italian couple conceived the brand in their home-town of Rome, however launched Coreterno in their second home of New York. Hand crafted (each pillar candle is signed by the individual candle maker) and made in Italy using patented technology to create the gold leaf decorations. A fusion of their Italian heritage with the classic Renaissance style imagery, yet Rock and Punk overtones throughout the collection. Coreterno pays homage to popular culture throughout history. With the addition of esoteric symbols, words of positive manifestations, and themes of happiness and self-love, Coreterno opens doors to a magical new universe.
Lore's top 3 candles in Coreterno are:
The Female Energy – the epitome of life, from the Aphrodite Collection, set your powerful feminine primal energy free with this candle, featuring delicious notes of Ginger, Tobacco and Nutmeg.
The Gift of Love – you were born to love so chose love over fear! With the David Bowie reference, this warm candle encourages us to share our gifts with the world with notes of Coffee, Pear and Vanilla.
The Intuition – the power of your mind, your thoughts create your world so shape your future with positivity. An earthy Rose with sparkles of spice is unique and beautifully balanced.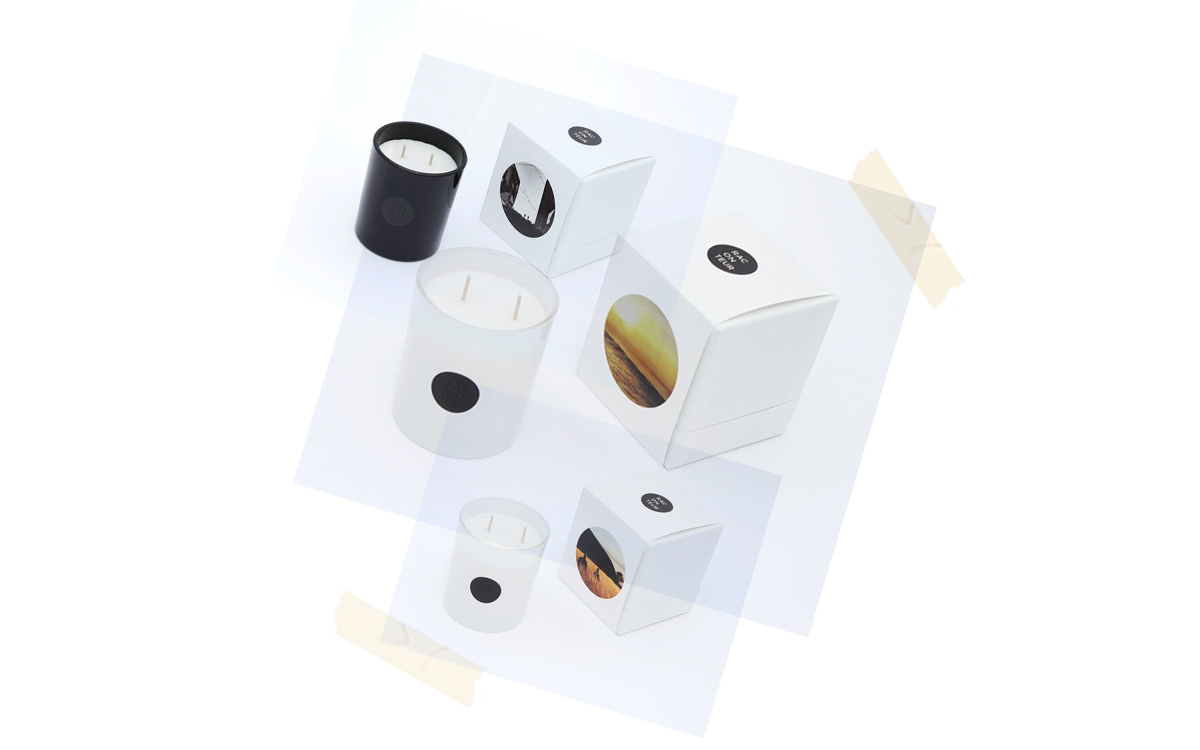 Raconteur
Our wonderful local candle brand Raconteur! With all natural fragrances in their candle collection, Raconteur takes us on a sensory journey to some iconic locations around Australia. This Sydney based candle range features photographs of each particular location on the packaging, then utilises natural ingredients that are native to each particular area that is being represented.
Created in 2015, Raconteur began with the scent of Bondi Beach, gradually covering almost every region of Australia. Each candle is hand made and uses rarely known ingredients such as Hickory Wattle Tree, Kunzea, Native Peppermint Gum and Rosalina. These ingredients make Raconteur a truly unique brand as each candle takes you out into the wonders of our amazing Australian landscape in an instant.
Lore's top 3 candles in Raconteur are:
Bondi 5 – imagine the sun starting to set over the beach and the calm as day turns into night – Native Australian Lime, Native Plum Pine, Wild Berries and Jasmine feel uplifting and fresh, yet also grounding.
Melbourne 1 – this is one of the quirkiest earthy scents we've tried. Such a wonderful blend of notes to recreate the scents of Port Phillip Bay with Native White Cypress, Native Blackseed Sampire, Native Kunzea and Native Wattle.
Red Centre – the vastness of our wonderful Red Centre, desert plains and exotic species abound. With notes of Native Desert Oak, Native Spinnifex, Native Mint Bush, Native Holly Leaf Grevillea and Wild Berries to really capture this landscape.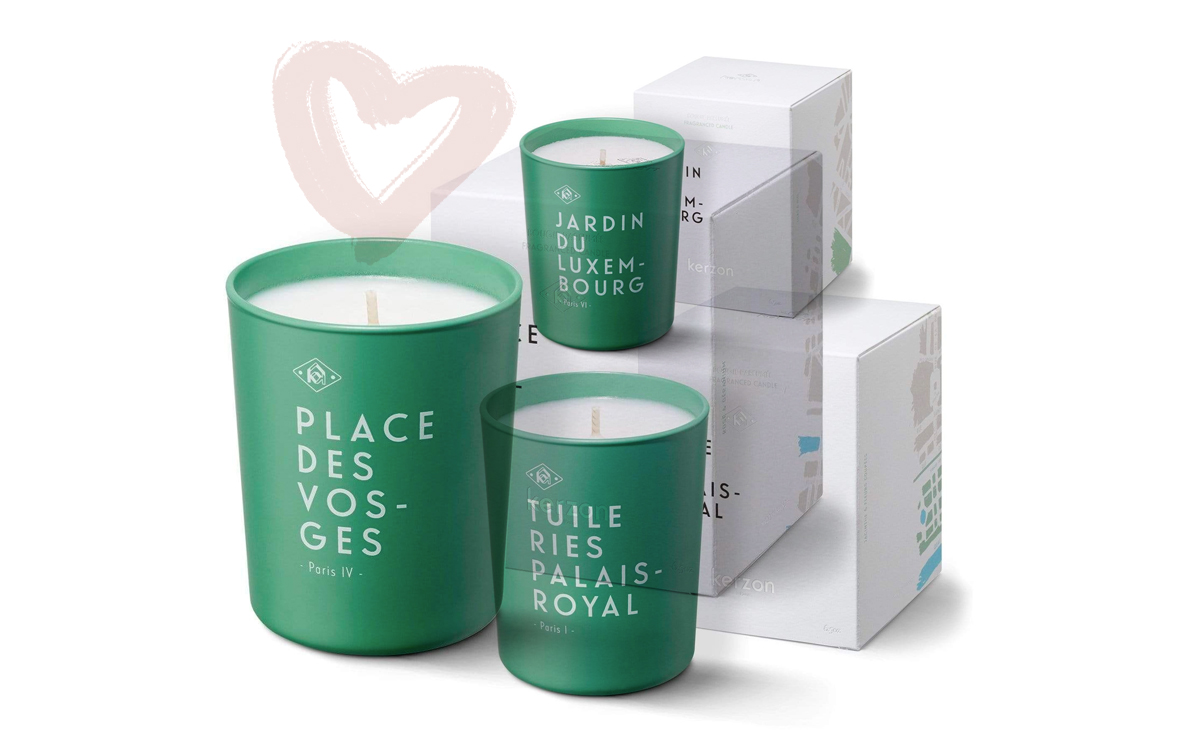 Kerzon
Our newest candle range here at Lore Perfumery, Kerzon is an ode to all things Paris. Created by brothers Etienne and Pierre-Alexis, this range is inspired by the brothers' homes, their gardens and their love of their native Paris. With an ethos that our daily life is full of scents, this is therefore their inspiration for the brand. Taking the time to appreciate the beauty in things we may see or smell every single day – whether that be taking a stroll along the River Seine, going to the bakery, smelling the mimosa in full bloom. All candles are composed in Grasse to ensure they are of fine fragrance standard. To make you feel at home, wherever you may go!
Lore's top 3 candles in Kerzon are:
Tuileries Palais-Royal – inspired by the beautiful weddings held at the Royal Palace gardens. The beautiful bouquet of white flowers, freshly cut green stems with notes of Hyacinth and Freshly Cut Greens.
Jardin du Luxembourg – the after school walk from Luco Basin to home, watching the boats go by in spring-time. The wafting scent of Beeswax and Lilacs in full bloom.
Place de Vosges – the romanticism of this beautiful famed square – red bricks and blooming Geranium along the terraces, Roses in the streets.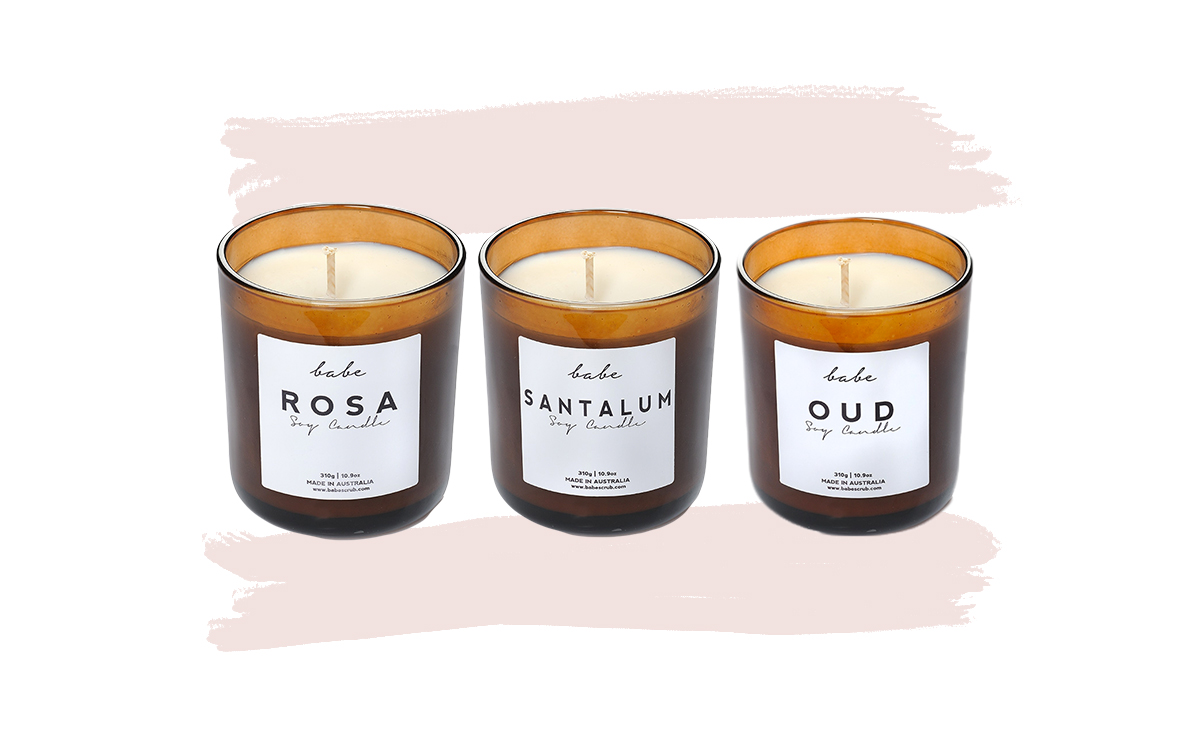 Babe Australia
Our wonderful collection, Babe Australia, was created to lift the spirits by Melbournian mum of three, Kim. Wanting to create a range that brought a little magic to the world, Kim launched a range that allowed her to focus on her love of essential oils and fine fragrances. With a focus on creating a brand that brought positivity to the world and allows heart space, Babe has become one of our most popular ranges here at Lore! Working with French perfumers to create refined and wonderfully unique scents for her candle line, Babe candles are bespoke, high quality fragrances that burn with the perfect amount of throw around the house.
Lore's top 3 candles in Babe Australia are: 
Rosa – this warm and spicy Rose is filled with luxurious notes of Clove, Amber and of course Rose. This is a dirty rose for anyone wanting a different kind of Rose to those cleaner scents.
Santalum – for the woody lovers out there, this candle is a fresh and aromatic woody scent with notes of Grapefruit, Spice and Woods.
Oud – inspired by dark, smoky, exotic evenings in the Middle East. The textures, the sounds of the souk – with rich, sensual tones of Oud, Violet and Anise.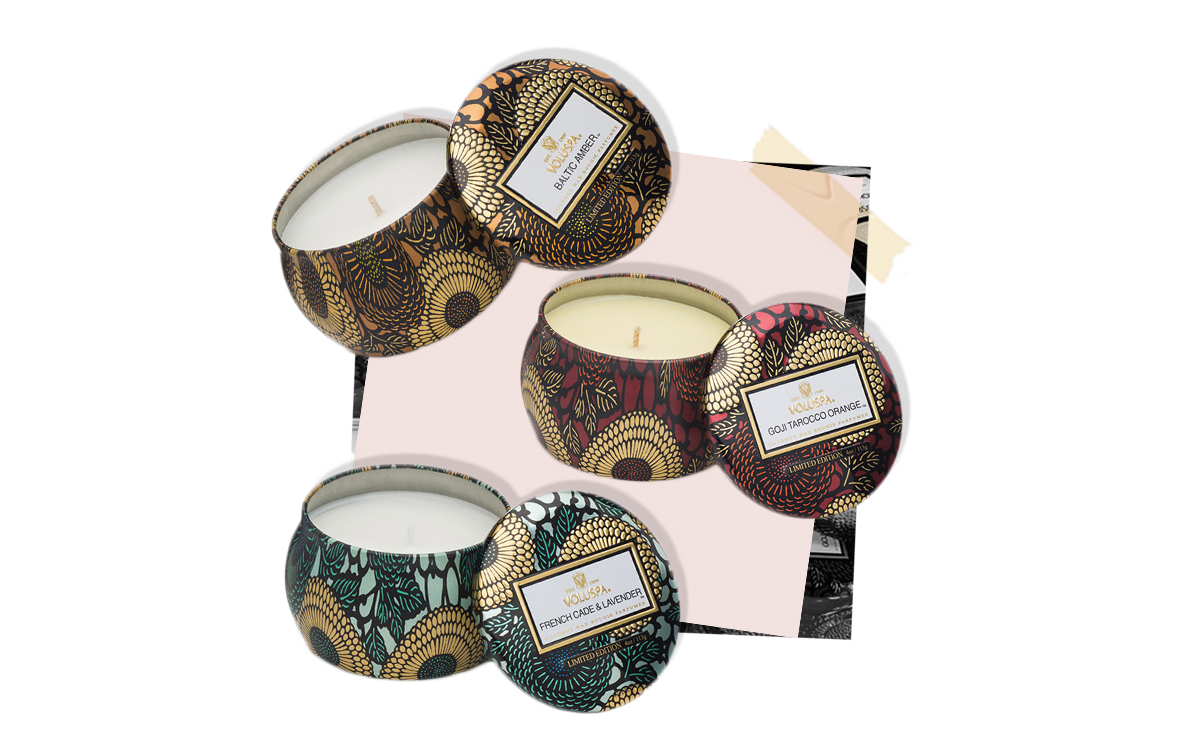 Voluspa
Created almost 20 years ago in a kitchen in California by married couple Traci and Troy. The name Voluspa comes from an ancient Norse poem referring to the creation of chaos. Much as the early days in the kitchen, Voluspa grew from chaos and most importantly a passion for luxurious scented candles. With a cult like following, Voluspa has grown to be one of our largest candle selections. Traci's sense of adventure, her obsession with botany and essential oils paired with her fragrance knowledge has made Voluspa a much loved candle house. With an incredibly varied selection of scents, absolutely beautiful and unique candle vessels (to be kept and re-purposed) and a strong throw of scent, Voluspa is many people's favourite candle house!
Lore's top 3 candles in Voluspa are: 
Baltic Amber – from their iconic Japonica collection, Baltic Amber has the soft and smooth (almost powdery) Amber and Sandalwood notes softened with the warmth of delicious Vanilla.
Goji Tarocco Orange – almost like a wonderfully playful cocktail, this is a happy fruity scent for those who like life a little sweeter with notes of Goji Berry, Ripe Mango and Tarocco Orange.
French Cade Lavender – this candle almost smells like freshly washed linen, the ultimate clean scent with a beautiful blend of Cade Wood, Verbena and Lavender.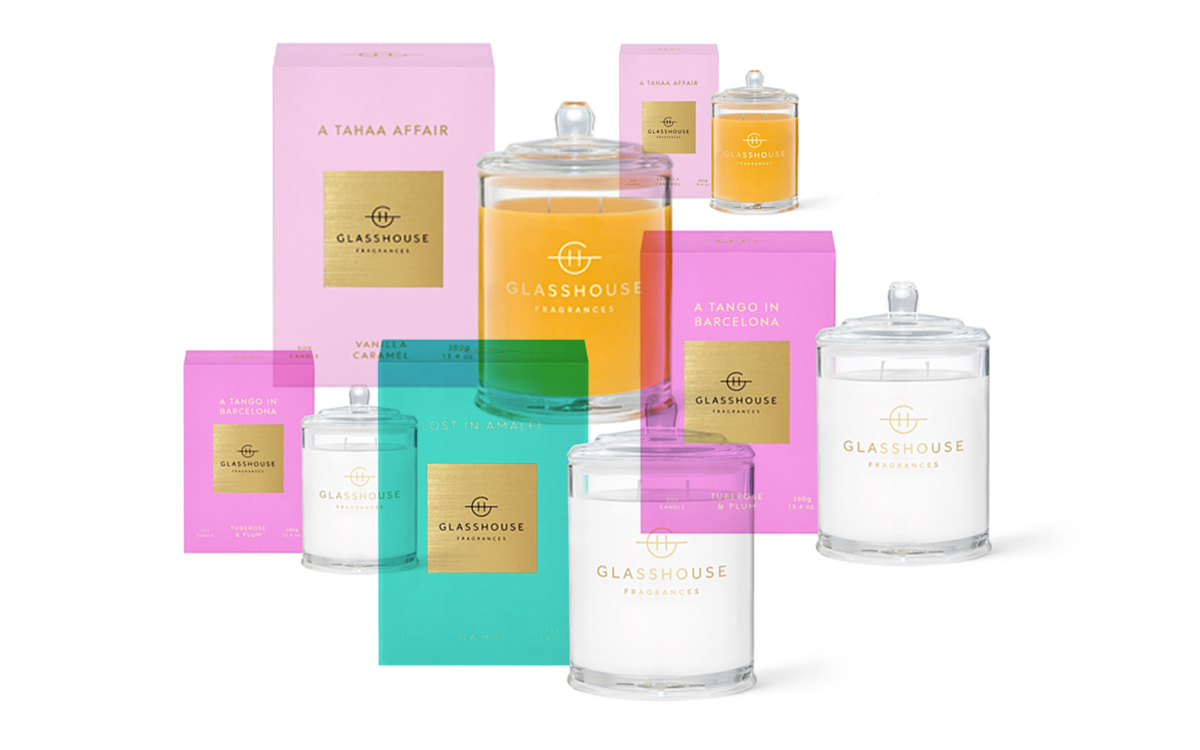 Glasshouse Fragrances
This iconic Australian candle house was one of the first to make scented candles in Australia. Becoming synonymous with good quality candles and triple scented perfume strength, Glasshouse has become a household favourite in Australia. With a relaunch of the brand just last month, Glasshouse is going from strength to strength. The relaunch has seen some new editions to the collection (don't worry all of the iconic scents are still available!), a little update on the packaging making it an even poppier rainbow to take in and a logo change. The candles are still held to the same standards that they have always been. This is the candle range for the person who wants strong and loud scents all the way!
Lore's top 3 candles in Glasshouse are: 
A Tahaa Affair – the much loved scent that most people associate with comfort, warmth and pyjamas! The delicious notes of Caramel and Vanilla are enough to make you hungry!
Lost in Amalfi – a wonderfully clean scent to refresh your house. Bring the Sea Salt mist of Amalfi into your home without having to do anything more than light your candle!
Tango in Barcelona – a newer scent in the collection, this playful and seductive Tuberose, Jasmine and Plum scent is rounded and robust making its way up to the top 3 in no time at all!
Nook and Burrow
This wonderfully playful candle range from Melbourne is obsessed with the literary world and of course, candles. Stories help communities to connect and engage and Nook and Burrow beautifully sprinkle their love of books throughout their candle collection. With a focus on classic books from Harry Potter to Alice in Wonderland to Romeo and Juliet, Nook and Burrow bring a lot of fun to candles that appeal to the young at heart! With a delicious selection of candles also inspired by our favourite childhood sweet treats, Nook and Burrow give us happy throw back vibes with candles such as Fairy Bread and Chocolate Sprinkle Donut.
Lore's top 3 candles in Nook and Burrow are: 
Buttery Beer – of course our Harry Potter candle tops the list here! Inspired by the Butter Beer students drank at Hogsmeade, this candle smells like Vanilla Ice Cream, Butterscotch and a splash of Cinnamon.
Nocturn Alley – like 'Knockturn Alley' in Harry Potter, this candle embraces our dark side. A magically wicked blend of Dragon's Blood, Incense and Smoked Pine.
Queen of Tarts – much like the sour nature of the Queen of Hearts in Alice in Wonderland, this fruity candle is fit for a royal morning tea with notes of Shortbread, Strawberries and Whipped Cream.
Aspar
The candles from Aspar are inspired by the incredible day spa at Aurora Spa in St Kilda. Created from a deep love of wellness by Lyndall Mitchel, we absolutely love this sensory collection of products from Aspar. Developed to be able to recreate a little bit of that day spa pampering and relaxation in your own space at home, this collection of candles smells amazing and is completely natural. We love the essential oil candle fragrance blends that are all-natural, and immediately transport you to feelings of absolute luxury as though you are being pampered to the max in a beautiful day spa.
Lore's top 3 candles in Aspar are:
Rose & Lemongrass Calming Candle – this scent uses a blend of Coconut and Soy wax and is designed to help you relax and unwind. A little fresh and a little sweet, this is a gorgeous balance of essential oils to help you stay alert yet calm during stressful times!
Lavender & Patchouli Relaxing Candle – the ultimate scent to burn at the end of a long day when you just want to put your feet up and relax with its grounding and relaxing essential oils.
Gingerlily and Verbena Refreshing Candle – a scent to create the 'space' to let you revitalise the mind and refresh the spirit. This is a fresh and crisp candle to brighten any day!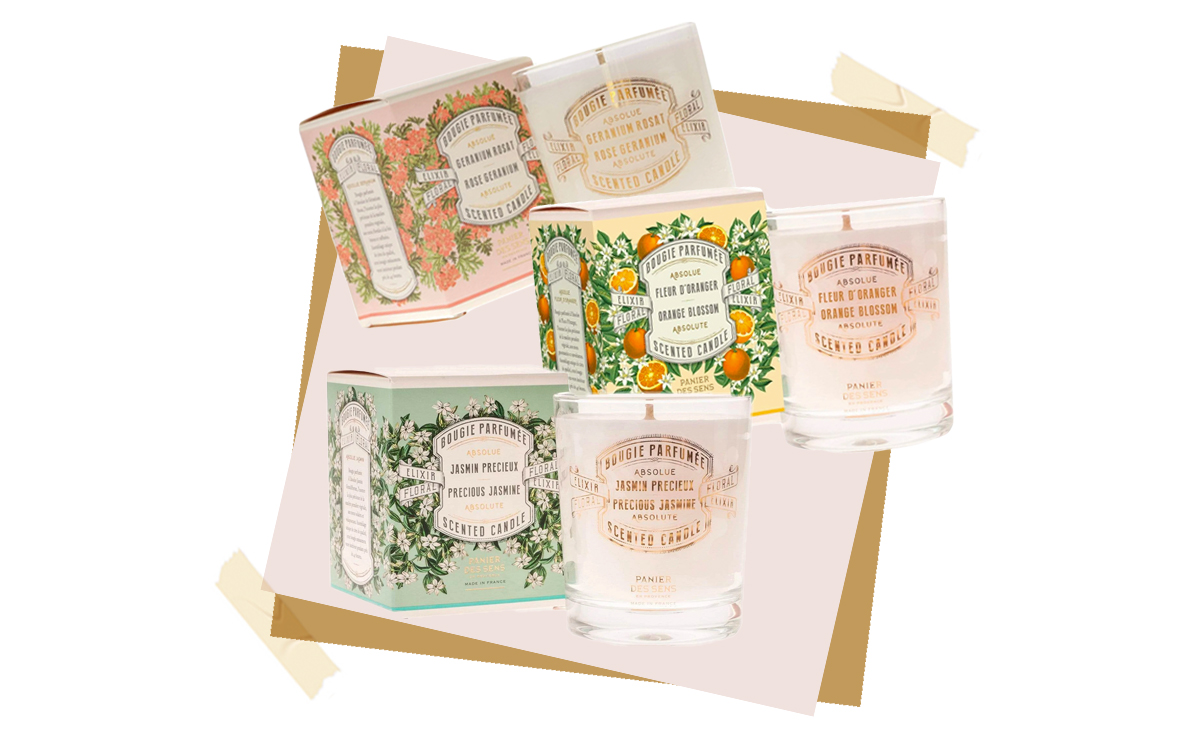 Panier des Sens
This wonderful French brand is an ode to the flowers that we know and love. Featuring floral scented products in the range, this is perfect collection for the purists out there! Born in Provence in 2001, Panier des Sens began working with soaps utilising traditional Marseille methods and gradually began working with perfumers in Grasse. This collection of candles features beautiful packaging, clear and classic scents and just the right amount of fragrance throw when burning. Created with the French refined sensibility, this collection is delicate and romantic, just like the most beautiful bunch of flowers.
Lore's top 3 candles in Panier des Sens are: 
Rose Geranium – This floral elixir is the classic French Rose scent with the freshness of Geranium to uplift – perfect for any clean and fresh Rose lovers out there!
Precious Jasmine – that heady aroma of the Jasmine in bloom! Picked at dawn in France's August, Jasmine Precious' scent is both powdery and slightly fruity – a captivating aroma.
Orange Blossom – just like a sunny day, Orange Blossom leaves a sweet trail. This is an uplifting scent of spring time on the horizon!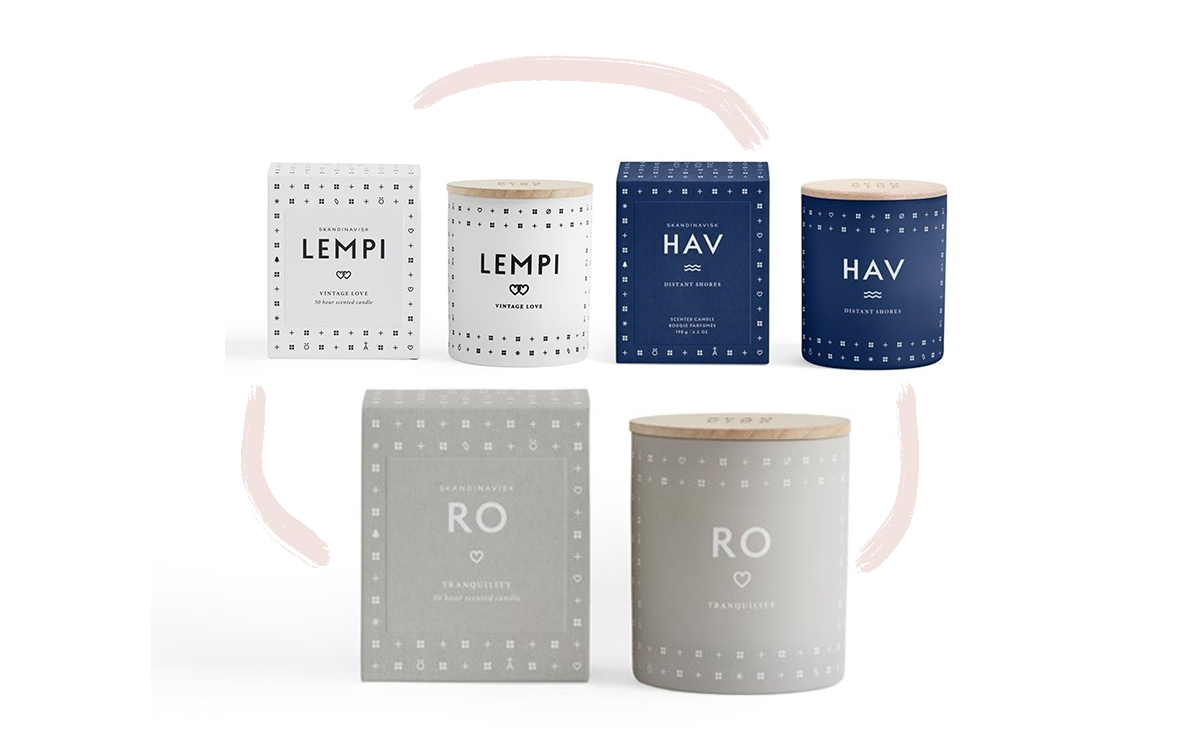 Skandinavisk
This Nordic range tells the stories of Scandinavia through scent. Created by an English chap who fell in love with a Scandinavian gardener and never left! With a love for the people, the design and the style of Scandinavia, this unique brand has captured this DNA in their beautiful collection. Created in 2013, and inspired by travelling across the Nordic region, this range tells the story of natural locations, featuring the Scandinavian name and words to completely capture the Nordic landscape.
Lore's top 3 candles in Skandinavisk are:
Ro – Scandinavian for 'tranquility' – the peace and calm from the kingdoms of Norway, Sweden and Denmark. A small word with great meaning, shared by all three Scandinavian languages. With the refreshing, yet grounding scents of being in nature with Cut Greens, Fallen Leaves, Cucumber and Wild Violets.
Lempi – old Finnish for 'love' – in Finland, there is an old saying that 'love doesn't have to be perfect, but genuine' and this candle represents love with a soft and romantic warmth with notes of Peony, Rose, Moss and Strawberry.
Hav – Scandinavian for 'sea', Hav is inspired by the cold waters of the Arctic, North Atlantic and Baltic Seas – the longest and wildest coastlines in the world. With notes of Salt Spray, Seaweed, Hawthorn and Beach Rose, this candle is like a refreshingly cool ocean breeze.
So there you have it, something for everyone to enjoy in there! With over 160 candles available at Lore Perfumery we really have all of your bases covered! I can't stress enough the power of scent and how those little actions right now can really have a big impact on your state of mind. Never been a more important time to put that first!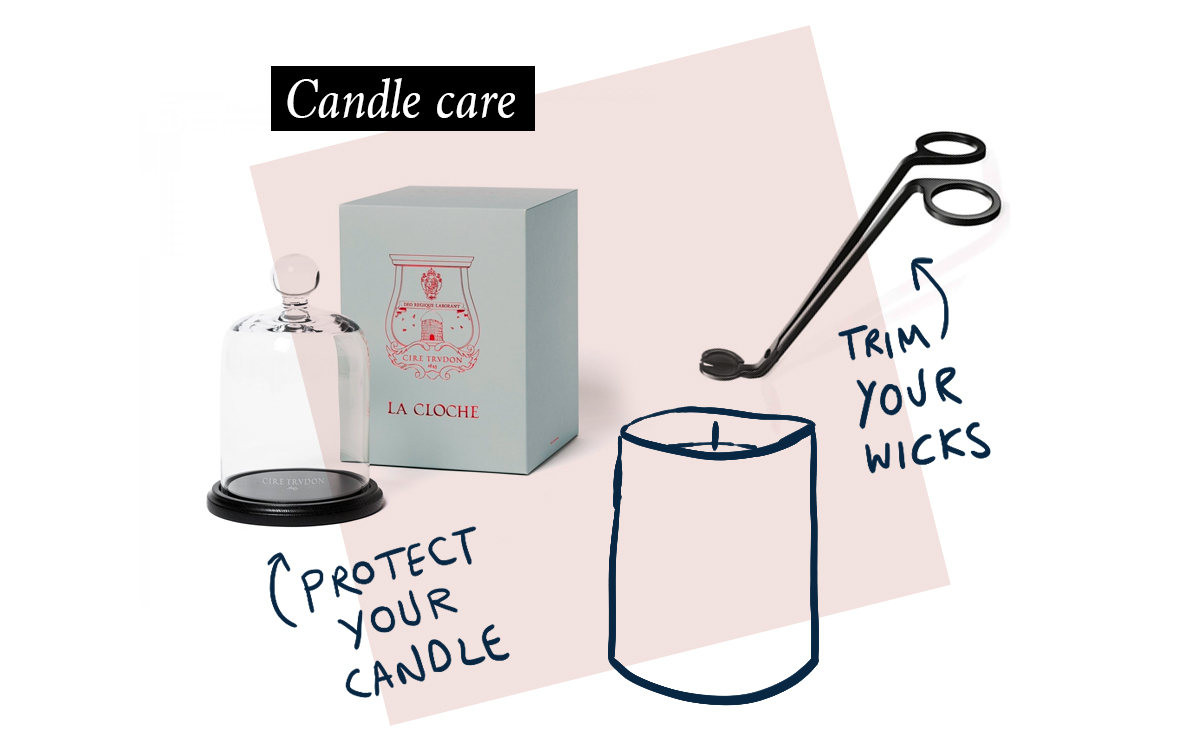 On a final note, candle care is everything!! To get the longest life, the best burn and the best value for your money, make sure that you're burning your candles properly. Otherwise you are literally burning your money and no one wants that!
First and most importantly is the 'first burn' – you need to ensure that you're burning your candle long enough that the surface of it completely liquefies. This is most important on the first burn (otherwise your candle will hollow down the centre and never burn entirely) however it's still important to make sure you do this on every single burn to get the best out of your candle. If you don't have time to do this/don't want to, fear not, I'll cover some other home fragrance options in our next blog post…
Then the other most important element is to trim your wicks. Before you light your candle trim the wick about half a centimetre to get rid of the end part that kind of mushrooms and is black and sooty (don't trim too much off though!). This will make sure that your wick doesn't get too long and fall over into your wax. This also stops your wick from smoking, as that ruins the whole candle experience when you have black smoke emanating out of your lovely new candle. We sell wick trimmers here.
If you have a lid for your candle or a cloche make sure to put this over your candle when you're not burning it. Dust can settle on the wax and this will degrade the candle over time. A lid or cloche also helps to maintain the integrity of the candle's scent. And for those wondering, a cloche is a beautiful large glass dome that covers your candle (Cire Trudon make a very special one with a beautiful wooden base to put your candle on top of, you can view it here).
And lastly, don't burn your candle for too long – three hours is usually as long as you need! When you burn it for longer, the vessel will get too hot and can risk cracking. Also the scent stops after a few hours so you are quite literally burning your money. So stop! Blow it out, let the wax solidify, then you can relight it. We totally get wanting to have a candle burning at all times, but do it sensibly and enjoy!! 💕