This Easter it's a time for indulgence in more ways than one. While we love some choccy and some wine with loved ones,  a little Easter egg hunt, and of course some down time over the long weekend, we also love the sensory experience, and that's where fragrance comes in. And this year we thought we'd give you lots of sensory options that are just as good as a big fat chunk of chocolate. From sweet Vanilla based scents to cocktail inspired fragrances to delicious rich and gourmand scented heaven, we've compiled our favourites below for you to enjoy!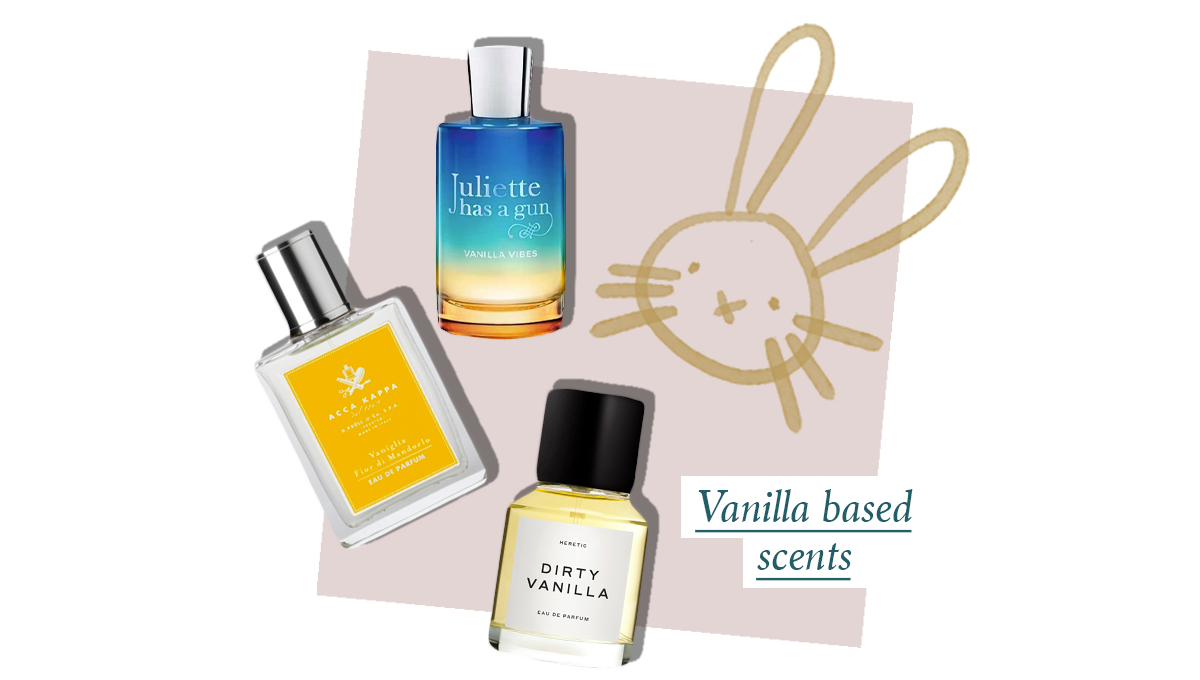 Our top 10 sweetest smelling Vanilla based scents
It's Easter so we generally think chocolate, but when we think sweet deliciousness in fragrance we go straight to Vanilla. Every. Single. Time!
Here is our list of our top Vanilla fragrances at Lore –
Let this fragrance take you to a tropical beach as it perfectly blends the sweetness of Vanilla with the freshness of Sea Salt and the depth of Sandalwood. Summer days in a bottle!
A rich and elegant Vanilla scent with the decadence of Vanilla Bean creating a smooth, seductive, creamy Vanilla fragrance that is hard to resist!
The ultimate refreshing cocktail for a sunny day – think Citrus, Vanilla and Almond freshness perfection.
This all natural fragrance really lives up to its namesake with dirty, earthy tones fusing gorgeously with the Vanilla – the perfect scent for someone who doesn't love traditional Vanillas!
This fragrance smells like sunshine, the bright and happy notes of Jasmine and Bergamot work perfectly with the sweet and delicious notes of Vanilla that shines through.
A more floral Vanilla fragrance that smells like tropical holidays in paradise! A fruity, floral blend with the unmistakable sweetness of Vanilla rounding everything out.
A fresh and sweet scent that is as playful as it is delicious with Coconut and Sugar notes thrown in for good measure!
This collection of fragrances are a fragrance library so everything smells exactly like what it says – and this one smells just like a vanilla ice cream. We promise, it smells exactly like it and our little tip is to layer with Demeter's Brownie for the ultimate sweet treat!
A light, fresh and truly Vanilla fragrance for the purists out there. With several other gourmand notes to enhance the Vanilla such as Chocolate and Almond, this remains refreshingly light on the skin.
More of a dirty and creamy musky Vanilla, this fragrance flirts between soft, sensual Vanilla and dirty, animalic Musk in a surprising way – however exactly as you would expect any scent named Punk Motel should!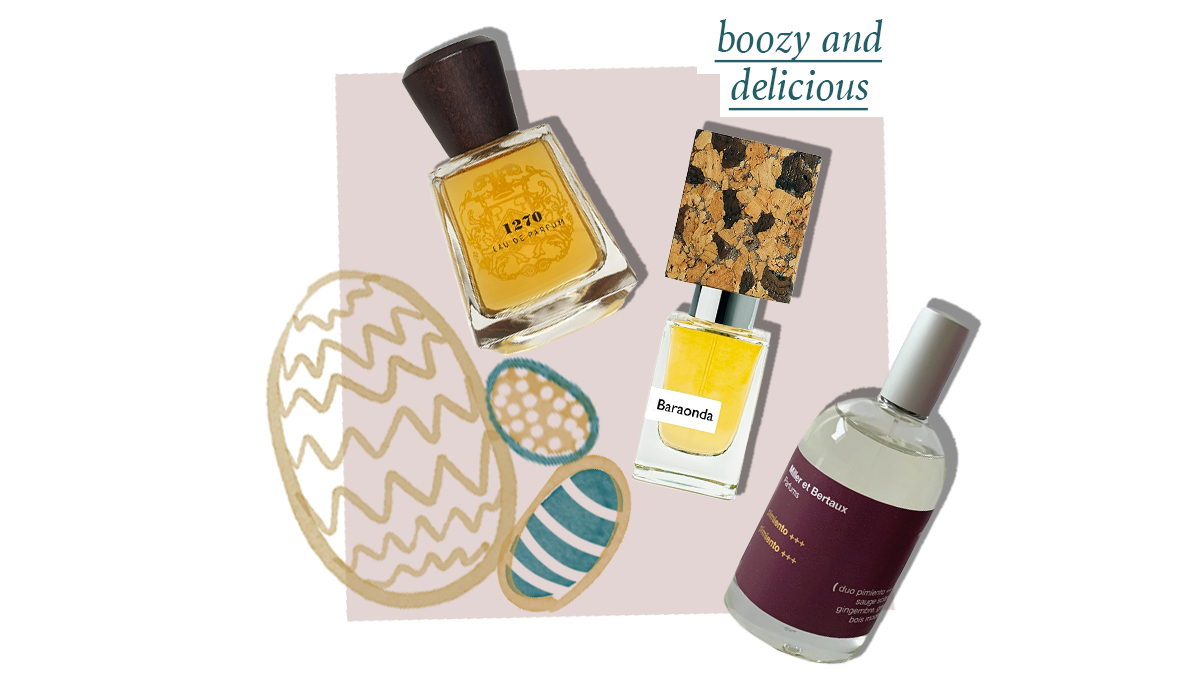 Our top 10 boozy and delicious scents
Even if you don't fancy a drink or don't love alcohol, we can guarantee that they all smell delicious, are worth indulging in and come without the hangover!
Here is our list of our top boozy fragrances at Lore –
The ultimate boozy scent made by the finest cognac makers in the world, 1270 replicates the wonderful scent of cognac with this fruity, sweet and fresh concoction.
With an incredibly gourmand blend of Juniper, Cognac and Whiskey notes, this fragrance is the boozy scent to end all boozy scents! With a rich earthy base and a sweet heart this is pure deliciousness on the skin.
In a totally different cocktail vibe, Sienna Brume is a Gin and Tonic on a hot summers day lounging by the pool. The scent of Coconut mingling with the Juniper and Cucumber notes is reminiscent of summer skin and the ultimate refreshment.
A gentle and feminine take on a Rum scent with the floral tones and sweet spices creating a beautiful balance amongst the burst of booze coming through in good measure.
Inspired by whiskey, this is the fragrance for whiskey lovers out there! A mysterious scent, Nasomatto don't release their notes so you can actually spritz this one in your mouth if you're game and want to try to guess the notes!
Inspired by the Mexican cocktail, fusing hot and cold, this is such a unique fragrance with a chilli hit but then cooling with ice, and a sensory journey for both your palette and your nose.
A classic is always required! inspired by the cocktail made popular in the 1920's, this is a dry, woody Juniper heavy scent that wafts with a light airiness and elegance on the skin.
A nutty, Rum based fragrance that is rich, slightly smoky and ultimately delicious. The scent of a gentle cigar as you drink your rum by the fireplace.
A playful and fruity cocktail blend that smells just like the drink does in real life with notes of Vodka, Raspberry Liquor, Melon Liquor, Pineapple and Cranberry Juice.
Let's go to Carnivale in Rio, sipping Caipirinha's by the water, dancing and drinking, dancing and drinking some more. The Coconut, Mint, Lime and Sugarcane notes recreate the cocktail's flavour while the Sea Salt note takes us to the beautiful beaches of Rio.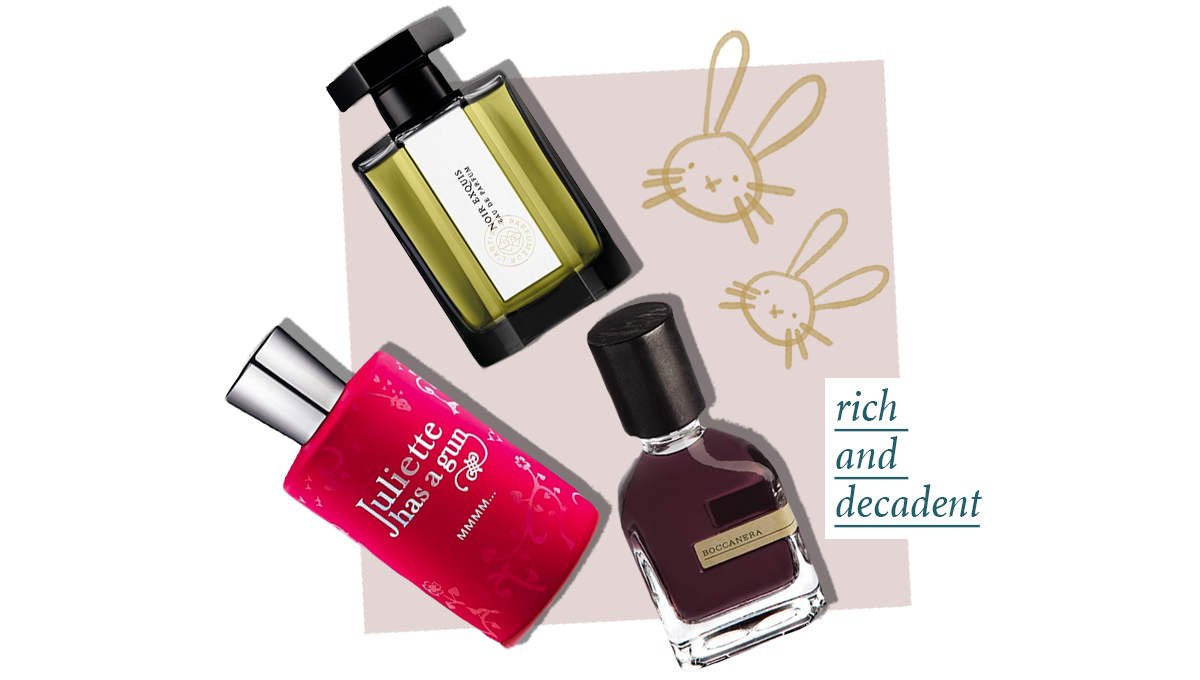 Our top 10 unique, rich and decadent gourmand fragrances
Warm, sweet delicious fragrance for those who like their sweetness a little on the darker side. Not your sweet as pie Vanilla's but more of the gourmand delicacies in this collection. Just see if you can resist…
Here is our list of our top gourmand fragrances at Lore –
Inspired by the scent of the wood of the same name, when cut into, this wood releases a scent similar to a Madeleine cake. Don't be fooled though, this is  no innocent and sweet cake fragrance – think spicy, woody, rich and dark sweetness in Lignum Vitae.
Inspired by a Parisienne patisserie, this is like the party that happens in the patisserie after dark. Maple Syrup, Candied Chestnuts,  Coffee and sweet Vanilla and Tonka Bean make this an earthy gourmand scent to intoxicate the senses!
Created to entice the wearer to release a subtle but involuntary 'mmmm' when they smell this fragrance, Mmmm is Juliette has a Gun's zero calorie treat, a rich and marshmallow-like earthy scent on the skin.
Inspired by the sultan's harem, think luscious draped velvets, beautiful naked bodies, over ripe fruit and shisha pipe smoke in the air. A gorgeously smoky gourmand fragrance with a fruity depth to it.
The more leathery version of one of our favourites – Halfeti. This spicy and rich fragrance becomes deeper and darker, and almost has a unique Coca Cola sparkle if you smell closely.
Inspired by tropical holidays, S & M, leather and of course the suggestive sweetness of an irresistible Mango. Let your senses run wild with this dirty and earthy Mango based fragrance.
Make an explosive entrance with this powerful fragrance from 27 87. A lively, sweet Berry opening leads into a rich and elusive scent of Woods, Spice, Chilli and sweet Caramel.
The sweet intensity of Oud in this powerful scent is rounded out by Amber and Honey from Provence to create a sweet, but not too sweet rich, woody and irresistible fragrance.
This fragrance is as playful and intoxicating as the year it is inspired by. The summer of love; a season of rebellion, sex and revolution, 1969 is deliciously fruity with Chocolate and Coffee notes to entice you into this erotic fragrance.
Inspired by the ancient Mayan and Aztec drink Xocolati, Boccanera is bitter, raw Cacao with Spice and Chilli. Thought to be an aphrodisiac, and a drink of the gods, Boccanero also means 'black mouth' in Italian and refers to mysterious black holes so make of that what you will…
Hungry? Thirsty? Dying to try one or more of these scents? Don't blame you! Why don't you indulge yourself and your senses in the best possible way. Fragrance is the gift that just keeps on giving to those around you and these sweet and gourmand delights are just the ticket to indulge your senses entirely!