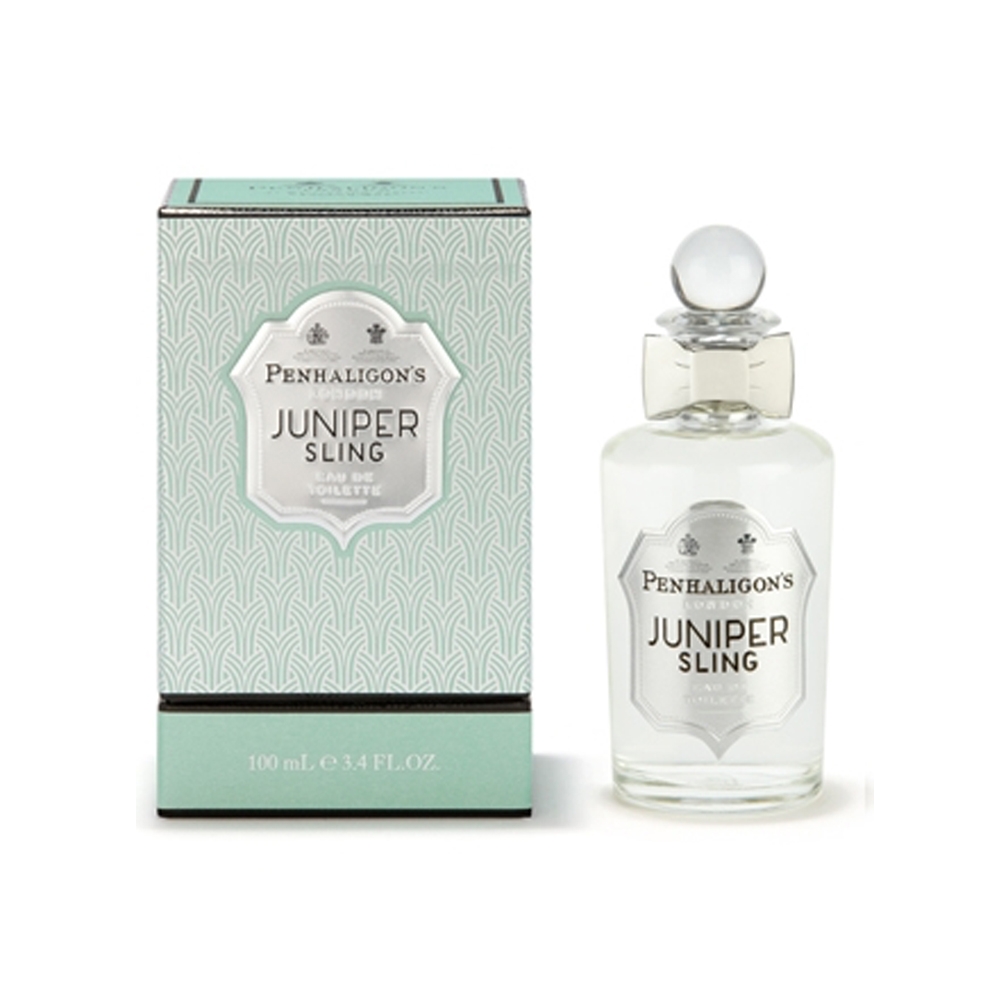 Juniper Sling EDT 100ml
Nothing brings jubilance and joy to the senses quite like… gin! A gin cocktail, a Juniper Sling knows that a cocktail can only ever be as good as its ingredients. A tribute to les années folle, the exuberant 1920s that roared with parties. This cocktail inspired fragrance is one part crisp, evening-elegance, and one part party-playful effervescence. A bright and sparkling opening, with a souvenir of warm intimate moments in Juniper Sling's soft and earthy heart notes, intoxicating in the very best way. Juniper Sling is a drink for all seasons - a complex cocktail of joyous abandon.

NOTES
Top: Cinnamon, Orange Brandy, Angelica, Juniper Berry
Middle: Cardamom, Leather, Black Pepper, Orris Wood, Brown Sugar
Base: Black Cherry, Vetiver, Ambroxan

PERFUMER
Olivier Cresp

HOW IT WEARS
A bright and invigorating explosion on first spray, that settles into an aromatic woody scent of your dreams. Bursting with Juniper and Pepper this scent will last up to 6 hours on the skin, softening into a skin like Ambroxan after 6 hours. The scent lingers in a subtle, skin like fashion that is clean and gentle – almost undetectable, until you have a second sniff.

LORE LOVES
We love a perfume that offers exactly what it said it would, and this is JUNIPER! Like a bright and bubbly Gin and Tonic, this scent is intoxicating. There is something alluring about Juniper Sling, upon first smell you are hooked, addicted, like you cannot get enough. And why not, something this beautiful shouldn't be saved and stored away, it should be used and enjoyed, liberally we say!

ABOUT THE BRAND
A classic English perfume house, William Penhaligon owned a barbershop, which became a perfumery in 1870, launching his first fragrance in 1872. This fragrance was created regularly for its many fans until the store was destroyed in The Blitz of 1941. Despite the store being destroyed, the fragrance house endured and was honoured with a Royal Warrant by the Duke of Wellington in 1956 for manufacturing toiletries. Many of the classic scents in Penhaligon's collection remain to this day, while many modern scents have been added. Penhaligon's remain true to William Penhaligon's vision of fine, traditional perfumes and techniques.
1 in stock