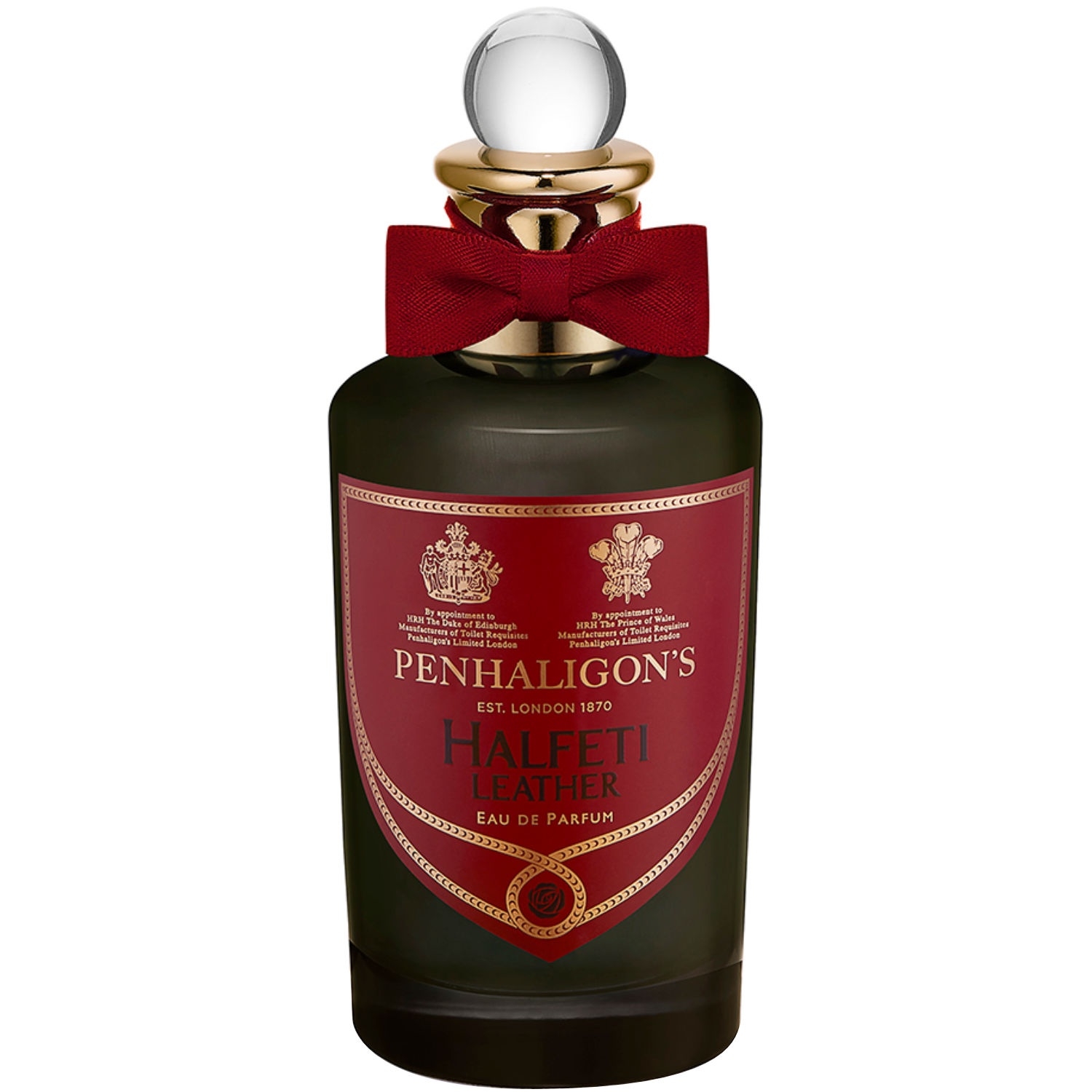 Halfeti Leather EDP 100ml
An icon reborn: Bergamot, Leather and Oud mingle in the heady haze of the bazaar

Halfeti is a part of Penhaligon's Trade Routes Collection. A potion so delightfully intoxicating one cannot resist falling immediately in love. As the British Levant Company traded in the opulent treasures of the Ottoman merchants their focus was to secure the pick of the crop, the finest of the batch, the best in the region. Whilst doing this, the exotic wonders of Halfeti were discovered. In Halfeti, the roses that covered the coastline appeared black (thus so much more intense their magic) along the Euphrates River. Their black colour a result of the unique ecological conditions in which they are grown, these incredibly rare black roses enthralled the traders. The Brits were captivated by the exotic wonders of Halfeti, Turkey. The incredible aroma of spices and resins abound, rich and intoxicating, this was a mysterious and unforgettable new land. Warm, strong and reassuring all at once. Halfeti is as opulent and luxurious as draped red velvet, as complex as an exotic spice blend and as mesmerising as that elusive black rose.

NOTES
Top: Bergamot, Citrus, Prune
Middle: Violet, Rose, Jasmine, Lavender, Nutmeg, Cardamom,Cinnnamon, Cumin
Base: Leather, Oud, Vanilla, Incense

PERFUMER
Christian Provenzano

HOW IT WEARS
Much like Halfeti Leather's sibling - Halfeti, this is a complex and full-bodied fragrance,. Halfeti Leather however is much stronger on the Leather (much as one would expect from the name...). Smooth and rich, the hints of spice are subdued by the decadent Leather and earthy tones in Halfeti Leather. A distinguished fragrance - this is a scent that will leave a trail and turn heads with a longevity of at least 8 hours on the skin.

LORE LOVES
We love the soft warmth of Halfeti Leather that settles on our skin. An intoxicatingly delicious Leather scent, Halfeti Leather has sparkles throughout form the Citrus and Spice notes that create a mysterious and alluring fragrance that is blended to perfection. A must try for lovers of rich and complex Leather fragrances!

ABOUT THE BRAND
A classic English perfume house, William Penhaligon owned a barbershop, which became a perfumery in 1870, launching his first fragrance in 1872. This fragrance was created regularly for its many fans until the store was destroyed in The Blitz of 1941. Despite the store being destroyed, the fragrance house endured and was honoured with a Royal Warrant by the Duke of Wellington in 1956 for manufacturing toiletries. Many of the classic scents in Penhaligon's collection remain to this day, while many modern scents have been added. Penhaligon's remain true to William Penhaligon's vision of fine, traditional perfumes and techniques.
2 in stock