One of our most popular ranges here at Lore Perfumery is Juliette has a Gun. We love it! It really has something for everyone and is unique yet beautifully wearable.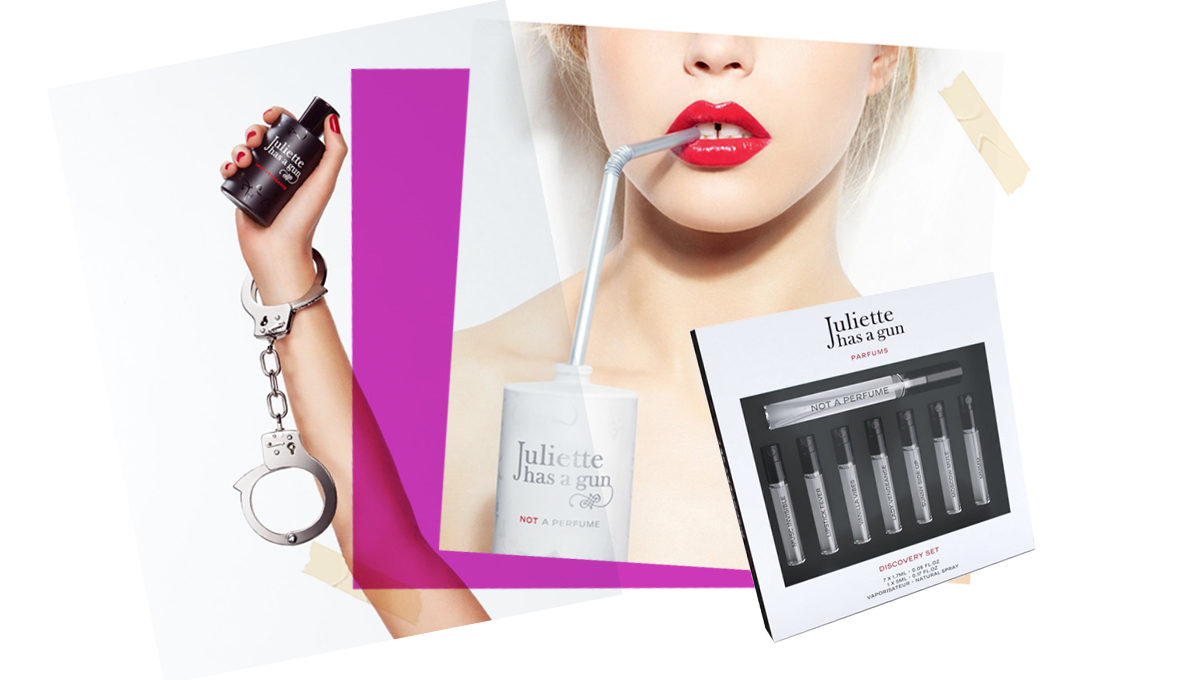 The product that really flies off the shelves both in store and online is the Discovery Set. This little baby is the ultimate way to experience the range. You get to experience the fragrances for a couple of days, and even experiment with layering your scents to create an even more unique signature fragrance! At only $49 this is the perfect little gift (and self gift) to take you on a fragrance journey in your own space.
So just a little bit about the Juliette has a Gun collection before we get into the gorgeous scents in this Discovery Set. Created in Italy in 2005 by Romano Ricci, Juliette has a Gun is a fusion of feminine energy and rock n roll attitude. Originally created as an ode to the one and only flower – the rose, the collection revolved around the wondrous floral note taking it in different directions as Ricci recreated specific women in his mind through each scent. From the sexy and voluptuous Lady Vengeance to the powerful and bold Citizen Queen then to the playful and (not so) innocent Miss Charming. As the collection has evolved over time, it covers all the fragrance bases – from crisp and clean fruits to rich and dark woods, to the classic floral and back around again!
But as we get back to the Discovery Set, lets dive into the gorgeous fragrances in a little more depth. Juliette has a Gun updates their Discovery Sets so keep in mind that this is the set right now. I love that they update their Discovery Sets as they add in their newest additions which makes it the perfect little taster platter of all of the newness (with a few classics thrown in for good measure!). Spend a week with Juliette like I did and you will never look back, you will be hooked, obsessed, in love!
So lets start the fragrance journey…firstly, you get a slightly larger vial of Not a Perfume and this is for a specific reason. Not a Perfume is an iconic scent in the Juliette collection, more of an effect than a fragrance, featuring one note only of Cetalox. Now this ingredient was created decades and decades ago to use as a base in other fragrances to enhance their surroundings so in a similar vein, when this is  the sole note in a fragrance it enhances your own scent. The ultimate pheromone fragrance! Worn alone, Not a Perfume is clean, skin-like, musky and fresh with a touch of Ambroxan vibes. Layered with other fragrance, it brings them further to life – it's like when you add salt to your cooking, it just gives it more flavour. I love wearing Not a Perfume in both ways, particularly on its own as it creates this gorgeous wafting fragrance this is subtle yet hard to ignore. Perfect for anyone with allergies, prone to headaches, hay fever etc as it is one simple note that does not exacerbate any of this conditions.
Now lets move on keeping in mind that we're going to play around with layering Not a Perfume as well as wearing the individual scents solo. Musc Invisible – the most recent launch in the range is the answer to anyone who loves musk fragrances prayers! With notes of Musk, Jasmine and Cotton Flower, this almost reminds me of The Body Shop's White Musk from the 90's. Ah the nostalgia! It is similar yet more refined and takes musky cleanliness to the extreme. There is something of clean linen drying on the washing line when this is on the skin. A comfort and nostalgia yet also an elegance to this fragrance that I just love. The addition of Not a Perfume when wearing this adds an airy kind of quality, the musk is mellowed a touch but this fragrance is beautiful either way!
Next up, Lipstick Fever, another recent addition. This fragrance is inspired by the scent of vintage lipstick so think sexy, classy, vintage vibes of another era. There is something ladylike and elegant to this fragrance yet also playful with the sweeter notes. The fragrance is actually based on the historic notes that they used to scent lipsticks back in the day so it has Raspberry, Violet, Patchouli, Iris and Vanilla in there. The fresh quality of the Iris matched with the sweetness of the Raspberry creates the perfect balance on my skin, after some time it gets a little sweeter but never sickly sweet, more of a rich and feminine scent like you are backstage watching a starlet get ready before her big performance. The addition on Not a Perfume adds to the Iris note mainly in my opinion, yet when layered everything intensifies, but in a lovely, subtle way.
Lady Vengeance, a classic! One of Romano Ricci's staples and a fragrance lovingly referred to by us at Lore as the 'sexbomb fragrance', Lady Vengeance is rich, sophisticated and sexy on the skin. This red draped velvets and you've got the visual for Lady Vengeance. She is powerful yet refined and feminine. She knows her power and understands the art of seduction. With notes Bulgarian Rose, Vanilla and Patchouli, this fragrance smells earthy at first yet on the skin the Rose note comes alive in all of its sexy glory! There is a slightly powdery tones to Lady Vengeance that adds to the inevitable sexiness of this fragrance and when layered with Not a Perfume, the soft powdery notes become even stronger. This is your Saturday night date scent, sext yet lady like, and always in control of the situation!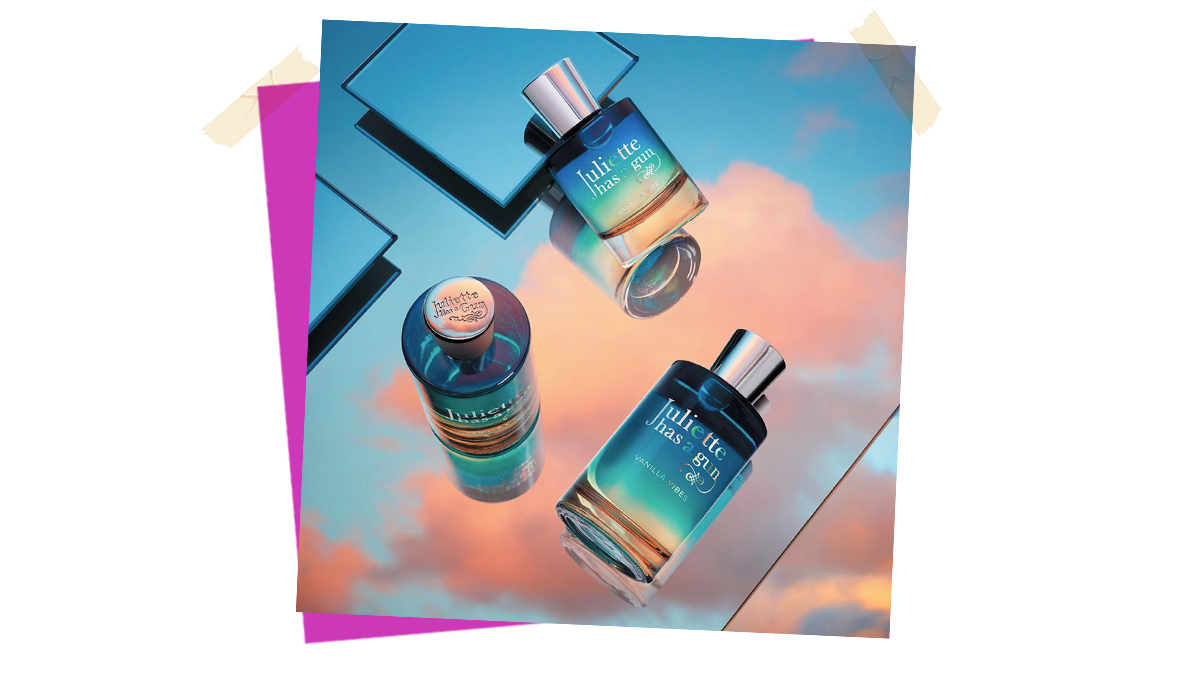 Now it's time to go on holidays with Juliette has a Gun wearing Vanilla Vibes. This is such a beautiful Vanilla fragrance regardless of your views on Vanilla! It is warm, yet earthy and incredibly summery so transports you immediately to holidays on picturesque beaches. With notes of Sea Salt, Orchid, Vanilla, Sandalwood, Musk, Tonka Bean and Benzoin Juliette has a Gun perfectly balances the sweetness of Vanilla with the freshness of Sea Salt in this fragrance. The Sandalwood creates beautiful depth and the notes combine create an elegance with the Vanilla. It is no longer overly sweet on my skin as I get the Sea Salt and earthy tones coming alive, yet the warmth of the Vanilla is always there giving me creamy, sweet notes and whisking me away in my mind to tropical locations! When I layered Not a Perfume with this scent it just enhances the fresher qualities of Vanilla Vibes, almost like a gentle breeze was coming in off the crystal blue ocean (in my imagined holiday paradise!).
Sunny Side Up is such a popular fragrance at Lore, I love wearing it on days when I want to feel grounded yet not weighed down.  Wearing it outside of work I LOVED the blend of Sunny Side Up and Not a Perfume, they were a perfect match on my skin and Not a Perfume just accentuated everything that I love about Sunny Side Up! So, what do I love about this scent? It is calming, happy, bright and airy – a Sandalwood fragrance ultimately, Sunny Side Up is rich and creamy yet also delicately light and skin-like when I wear it. With notes of Vanilla, Jasmine, Sandalwood, Iris, Iso E Super and Ambrette, Sunny Side Up is inspired by joy – taking a walk on the bright side of life, and it truly does this for me when I wear it! Like subtle sunshine in a bottle, I love the creamy, airy woodiness that Sunny Side Up creates on my skin.
Another good date night scent in this collection is Mmmm, a fragrance hard to resist! Described as Ricci's zero calorie treat, Mmmm is delicious on the skin. A wonderful gourmand fragrance that has an earthy depth to also ensure it is refined while provoking immediate pleasure and more often that not, causing the person smelling it to murmur the gentle and involuntary 'mmmm' (this always happens in store, much to the embarrassment of many customers!). When I wear this fragrance I am reminded of friends who wear this scent and leave a sexy, sweet trail behind them as they march ahead. The gourmand scent comes from the notes of Raspberry, Geranium, Neroli, Tuberose, Orange Blossom, Jasmine, Patchouli and Sandalwood. Sweet, succulent fragrant treats! On my skin Mmmm isn't overtly floral at all, more of a soft Marshmallow sweetness grounded in earthy depth. When I added Not a Perfume, everything was intensified, the sweetness became slightly sweeter (yet it is perfectly balanced with the sharper opening notes and the smooth Sandalwood and Patchouli. It felt like the perfect scent for a hot summer evening out, especially if I want to make an impact!
Last but absolutely not least is Moscow Mule. So speaking of hot summer nights out, this is another fabulous scent as who doesn't feel like a Moscow Mule cocktail in the midst of summer! Inspired by the deliciously refreshing cocktail, Moscow Mule is a unique take on a clean and fresh scent. With notes of Bergamot, Ginger, Lime, Apple, Jasmine and Ambroxan it is playful and effervescent. The Ginger, Bergamot and Lime creates a sparkling tone on my sin to begin with, then the fragrance mellows out to the musky Ambroxan whilst still retaining its freshness on the skin. Even though we're talking cocktails, I actually think that this is the perfect daytime scent, even a great work scent as it smells so crisp, clean and fresh while ensuring great longevity (like all Juliette has a Gun fragrances). When layered with Not a Perfume, Moscow Mule becomes even more Amborxan-esque. There is this soft and smooth base under the citrus sparkle that is skin like yet with depth and I just love this combo on my skin.
So there you have it, what a journey with Juliette has a Gun. Like we promised, we tried so many different genres of fragrance and this Discovery Set has all bases covered – a fragrance for all events, outfits and moods! A unique collection of fragrances that tell a story and also transport the wearer (and those lucky people around the wearer!). So tell me, which Juliette hare you going to wear today?