Best Candle Alternatives & Scents For Your Home
We are now well and truly into winter here in Melbourne, so we thought what are winter essentials for us? As we wake up to crisp frost in the dark mornings, turn the heater on, pull on layers to stay warm and sip on a hot cup of coffee….what's missing from this picture. Lighting a candle! Let the scent either embrace what you are feeling in that moment or let it transport you to a different place, a different time, a different feeling.
Similarly as we wind down from our day, its dark and gloomy outside and the temperature has dropped even further. We're curled up on the couch, feet up, perhaps a red wine in hand as we relax from the day that has just been. We light our favourite candle and let that warm glow and flicker from the flame help us unwind as the wonderful fragrance gently fills our space.

If you've read Candles 101 Part 1, you'll know that we cover Lore's candle brands, best sellers in each range plus the all important (yet much less exciting…) candle care. So in Part 2 we wanted to dive deeper and chat about home fragrance in general – other alternatives to candles if that's not your vibe. As Jade always says, we've got something for everyone here, and that includes scenting your home!
Think of your home fragrance as an extension of your personal fragrance – it's an addition to our style, a part of ourselves. We spend so much time at home (particularly right now) so how do you want to feel in your space? Scenting your home is the fastest (and probably most cost effective) way to create ambience and emotion.
So read on for all of my recommendations to make your house smell incredible! 💕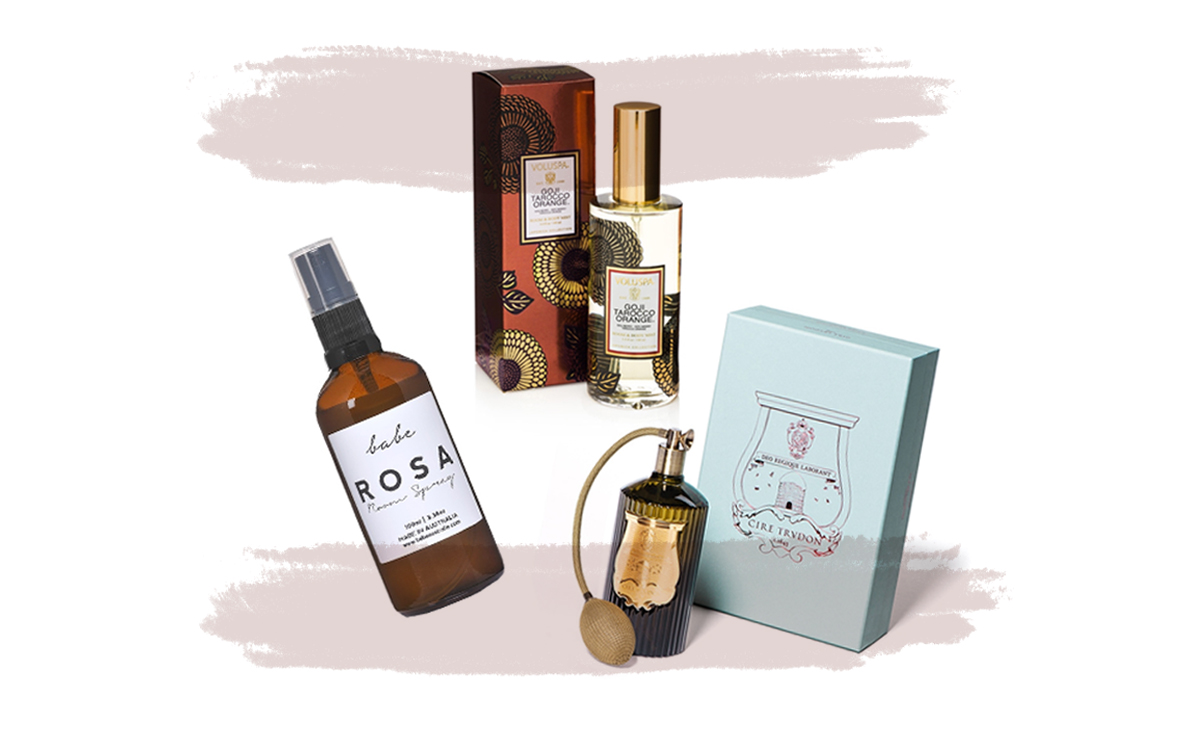 ROOM SPRAYS
Room sprays are a great alternative to candles, yet also a really effective accompaniment to candles. They give instant scent to the particular area that you spritz it into and you can spray lightly onto soft furnishing that will hold the scent for longer (kind of like when your favourite perfume gets on your scarf and gently lingers for days…heaven!).
If you want your room spray to accompany your candle, this works wonderfully as you can light a candle, then while you wait for the scent to really emanate from the candle, you can spray your room spray and have the scent immediately filling your space. This gives your candle time to disperse its fragrance (and also enhancing the scent). Room Sprays are amazing when you have guests over and want that wonderful hit of scent immediately, or if you have kids (or pets) running around and don't want an open flame. Some of our favourite Room Sprays at Lore are Cire Trudon, Babe Australia and Voluspa.
Cire Trudon's Room Sprays are pretty special if you want the Room Spray to end all Room Sprays! You get 2 spray options with each purchase – the classic spray is designed for smaller spaces and the conical fancy looking spray is for larger spaces. Spritz the scent into the air then let it drop onto soft furnishings. Great to reinforce the candle scent, or to scent a room quickly and powerfully while waiting for the candle you're burning to gain strength. The Room Sprays are almost a decorative piece of artwork for your house. With an art deco style, the Room Sprays are also twice as strong in concentration to the candles in the Cire Trudon collection. (Personally I have Spiritus Sancti in a Room Spray and the gorgeous Frankincense lingers on my couch for ages).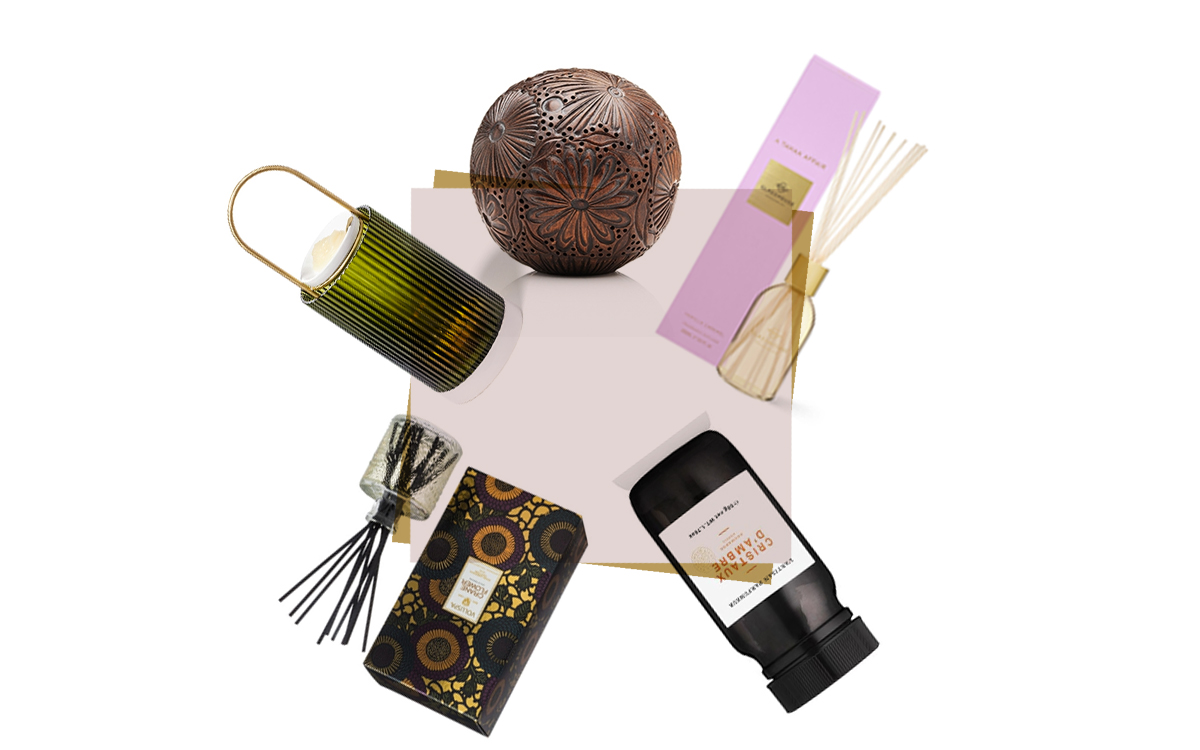 DIFFUSERS
Diffusers are another wonderful alternative and/or addition to your candle collection. Diffusers are popular because they create a continual scent, you don't need to light it, remember it, do anything really (apart from the old flip of the reeds) – diffusers are your go-to for a steady ongoing fragrance…and they last for ages. Depending on the weather (heat means that your diffuser will run out faster), how often you turn the reeds, being in direct sunlight and of course the nuances of each particular scent, you can often get between 3 to 6 months from your diffuser. Obviously, different brands and sizes will dictate the life of your diffuser and at Lore we have 2 wonderful brand options – Glasshouse Fragrances and Voluspa.
Glasshouse diffusers are our strongest options – they are concentrated fragrances and will fill a large space easily with scent. The fragrances are loud, bold and playful lasting for up to 3 months. Voluspa on the other hand is slightly subtler and more complex in scent yet will last for longer (between 4 and 6 months).
ESSENTIAL OILS
The world of essential oils can be a rabbit hole to go down, but the bottom line is – natural essential oils have a multitude of benefits. Some are purifying and detoxing, some are energising, and some are aphrodisiacs. While Lore is not a store full of essential oils, we do have a few gorgeous options that you can use with your oil diffuser. Aspar's Relax and Rejuvenate essential oils are a wonderful option to recreate the spa scent in your own home. Expertly blended to be perfectly balanced, to help enhance your mood and to be safe for everyone – Relax and Rejuvenate are the ultimate pamper at home treat. Not only can you burn them in an oil burner, but also you can add a few drops to bottom of your shower just as you are turning it on. This little trick means that the steam from your shower will enhance the scent giving you a light aroma as you shower and another little moment of calm in your day.
Way of Will covers a large range of singularly scented essential oils. This is great for someone who likes to blend and mix and match to create their own signature scent.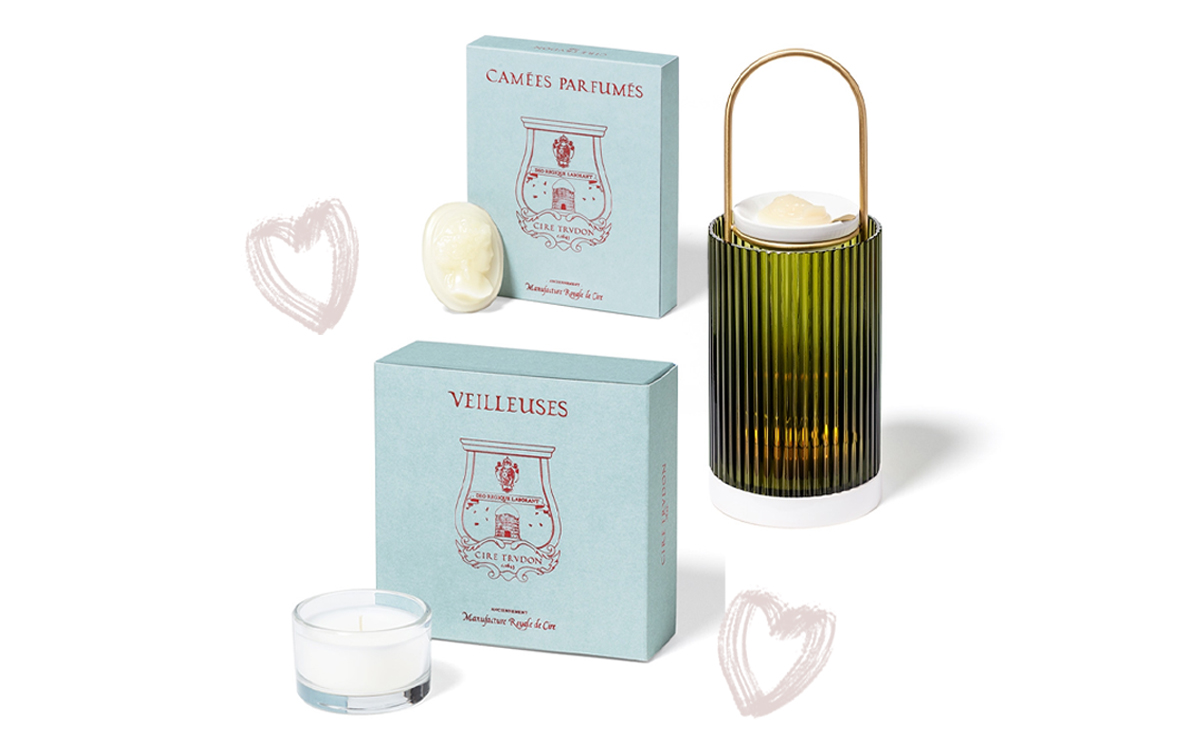 LA PROMENEUSE + WAX CAMEOS
Oh the crème de la crème! The La Promeneuse from Cire Trudon is next level. This 'oil burner' is inspired by the lanterns they used pre electric light. An investment piece, the La Promeneuse is a work of art and is by far the most cost effective in the long term, not to mention creates the least waste. Cire Trudon worked with designer Pauline Deltour to create this special and unique piece.
This is a wonderful way to scent a space, as it is incredibly strong, releasing scent within minutes of burning. When you purchase the La Promeneuse, you receive a variety of wax cameo scents to enjoy, and Cire Trudon have created Wax Cameo 4 Packs that you can purchase separately to top up your favourite scents. The wax melts feature 8 of their most popular candle scents, and these wax cameos are 2.5 times more concentrated in scent than the candles. The La Promeneuse is a statement piece that will last forever and you can continually purchase the wax cameos 4 packs as you want to introduce new scents into your space. Each cameo should have approximately 32 hours of burn time therefore a 4 pack equals 128 hours of indulgent fragrance in your space!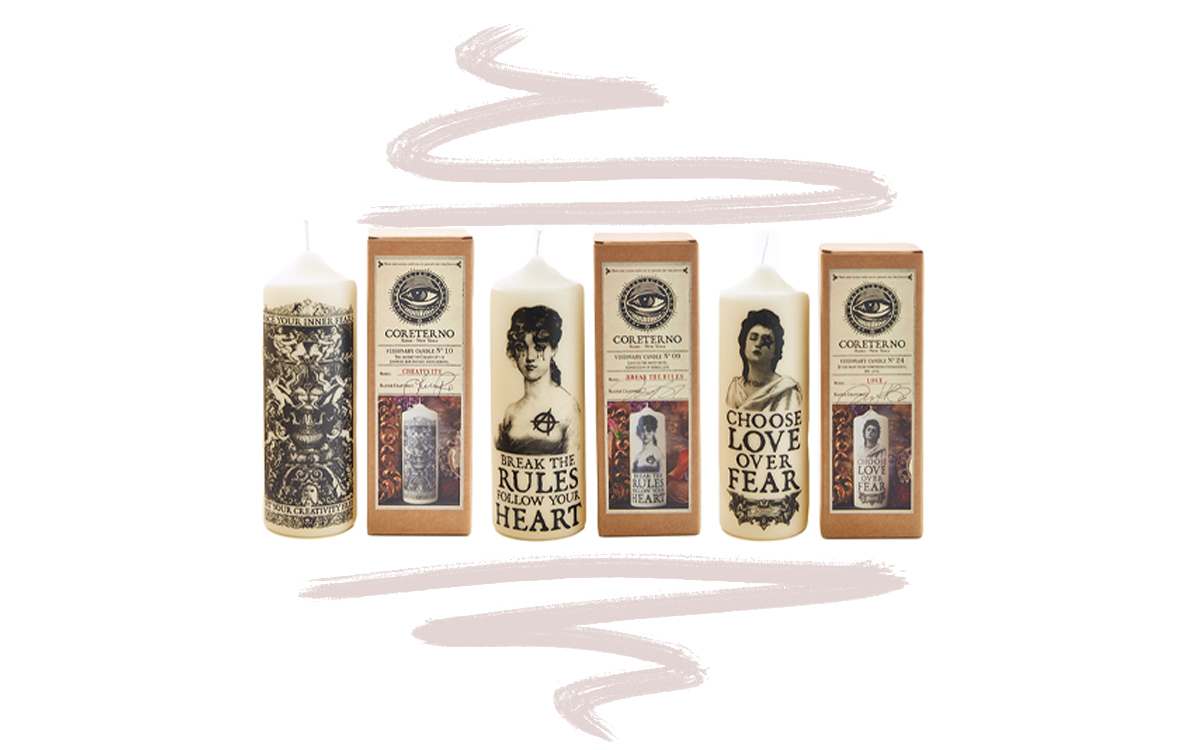 PILLAR CANDLES
For those that don't like scent but like pretty things….
Coreterno's Visionary Wax Pillar Candles are more than just a candle – they are an addition to your home decor, your style, a manifestation of positivity. Created with ancient Italian tradition and using unscented vegetable and mineral wax. These unique and magnificent candles utilise innovative high definition wax printing technology that is patented by Coreterno. Each pillar candle's box is hand signed by the creator. And these candles are designed to be visionary – whether they are used as decorative pieces, for their positive manifestations, as a meditation altar piece, the Visionary Wax Pillar Candles are unlike anything else we have seen and while not transporting us via scent they do this via their messages and their unique punk rock/renaissance imagery.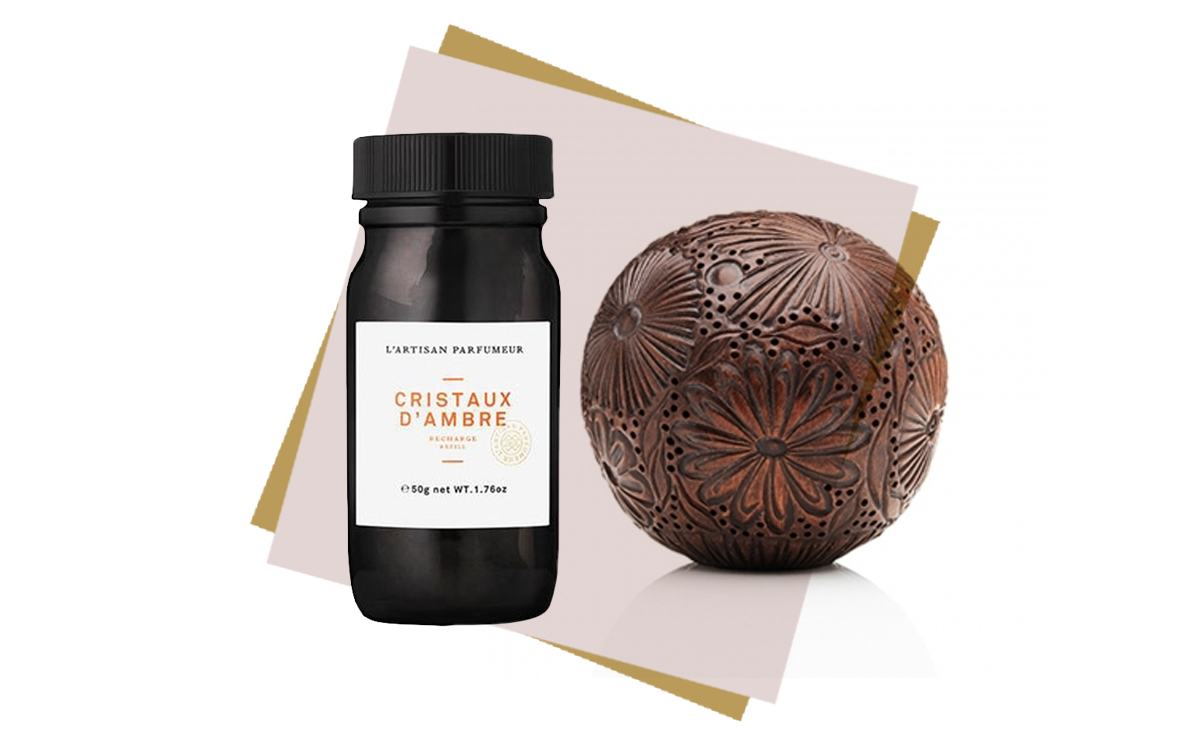 AMBER BALL
This is one special little ball right here! L'Artisan's iconic Amber Ball is a terracotta hand made fragrant ball filled with deliciously scented resins. Designed to be placed in your boudoir to lightly scent your clothing, this scent is a blend of Vanilla, Patchouli, Tonka Bean, Benzoin and Incense. This is more than a room scent; it is a unique little piece of art right here. The Amber fragrance is one of L'Artisan's original and most popular scents – it's opulent and comforting, inspired by exotic nights in the 1930's, the perfect fragrance to ensure your space smells luxuriously delicious at all times.
CAR SCENTS
Ok so getting a little creative now, with the rise of Uber and the like, we actually get asked for car scents quite often. And while we've dallied into the world of car scents and then back out again (why do they all smell like plastic…), we have a great solution. Fragrance! Now, don't be alarmed, we're not saying you should spray you $300 fragrance in your car, no no no! We are, however suggesting to check out the Demeter Fragrance Library for one of their scents. For only $29.95, Demeter is quite literally our fragrance library at Lore, making singular scents from Laundromat to Vanilla Ice Cream to Baby Powder and Rain. So thinking about car scents, choosing something clean and fresh like Sunshine or Clean Skin – non offensive and will just spruce up the general car scent quickly and easily with a couple of sprays.
Best Scents for Your Home
So now you've got a really good understanding of all of the options you have outside of candles if they're just not your thing. We, at Lore are big candle fans so we thought that we'd also talk about some of our favourite picks dependent on scent.
While lots of people are unable to get into store right now, whether you live far away/interstate, you're self isolating, you're working from home or you just don't want to leave that warm couch, we thought it would help to group some of the most popularly asked for scents together for you.
As you all know we love talking scents, we love a good brief of what you're after and then nailing it for you. So while we can't see everyone face to face right now, hopefully this can help you choose that perfect scent for your all-important space! ….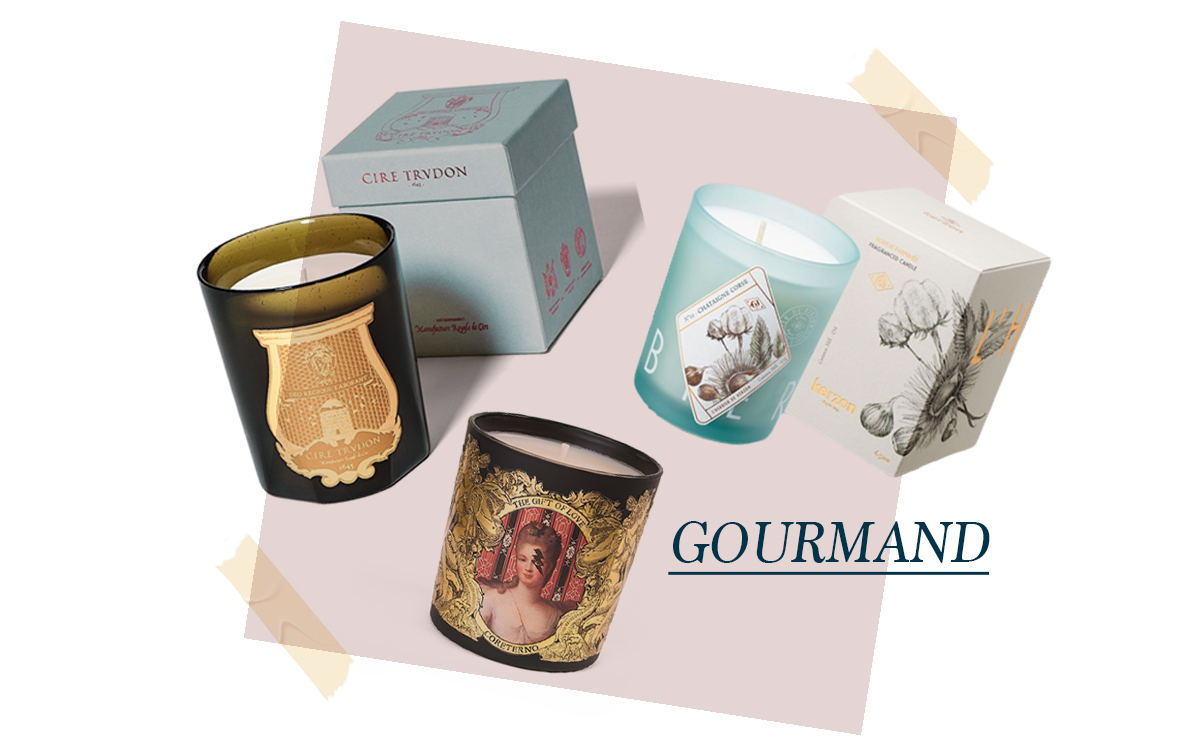 Gourmand candle scents that are richly delicious and will warm your space…
Cire Trudon – Gabriel
A night by a warm fire, roasting chestnuts and drinking whiskey – Birch Wood, Glace Chestnut, Cashmere Wood.
Coreterno – The Gift of Love
Fight, rise, fall but never give up on love! – Coffee, English Pear, Vanilla.
Kerzon – Herberium Châtaigne Corse
Evocative of delicious winter desserts and hot chocolates – Hazelnut, Vanilla, Cotton.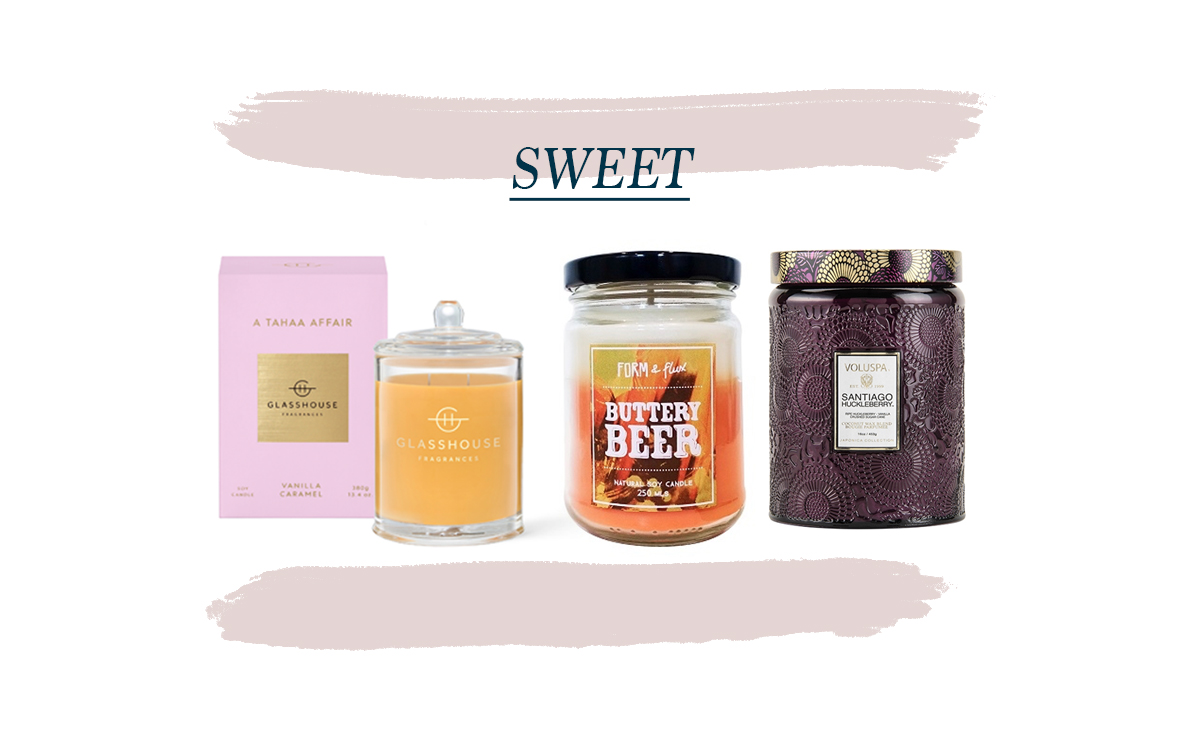 Sweet scents….and we mean serious sweet tooth heaven right here!
Glasshouse Fragrances – A Tahaa Affair
Tropical holidays and the sweet, sweet scent of Tahaa wafting through the air – Coconut, Caramel, Vanilla.
Nook and Burrow – Buttery Beer
Let this candle transport you to the magical world of Harry Potter – Butterscotch, Vanilla Ice Cream, Cinnamon.
Voluspa – Santiago Huckleberry
A fruity sweet cocktail of deliciousness! – Huckleberry, Vanilla, Crushed Sugar Cane.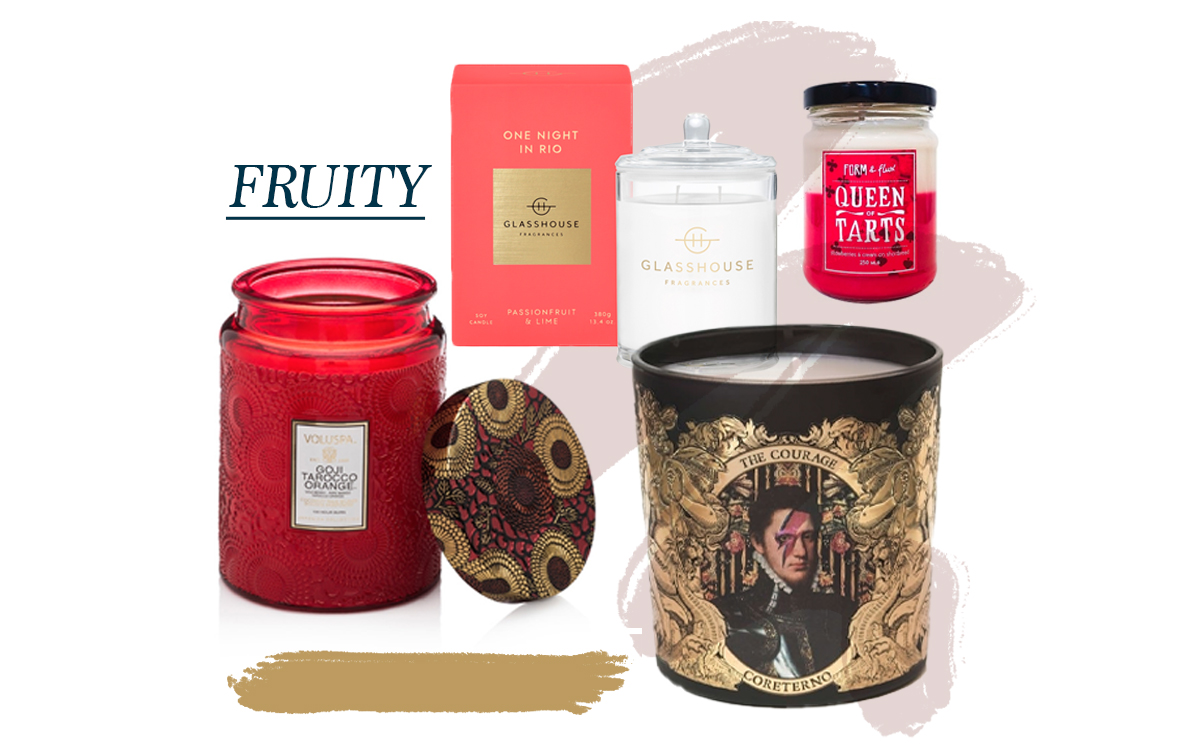 Fruity, fun and playful candle scents.
Voluspa – Goji Tarocco
A tropical fruit salad heaven – Goji Berry, Ripe Mango, Tarocco Orange.
Glasshouse Fragrances – One Night in Rio
Inspired by the playful passion of an evening spent in Rio – Passionfruit, Lime, Raspberry.
Nook and Burrow – Queen of Tarts
The scent of high tea with the rabbit, yet with the boldness of a queen – Strawberries, Shortbread, Whipped Cream.
Coreterno – The Courage
Step into the wild unknown with courage and confidence – Saffron, Nectarine, Peach.
For the Fig lovers with an earthy, gorgeous depth.
Cire Trudon – Cyrnos
We'll happily let this candle transport us to the gardens of the Villa Cyrnos in the South of France – Black Fig, Lemon Myrtle, Cedarwood.
Kerzon – Herbarium Figue Tropicale
The joy of eating juicy, ripe figs in a Mediterranean orchard – Fig, Hay, Green Notes.
Glasshouse Fragrances – The Hamptons
An earthy coastal escape with New York's most charming and elite – Teak Wood, Petitgrain, Fig Leaves.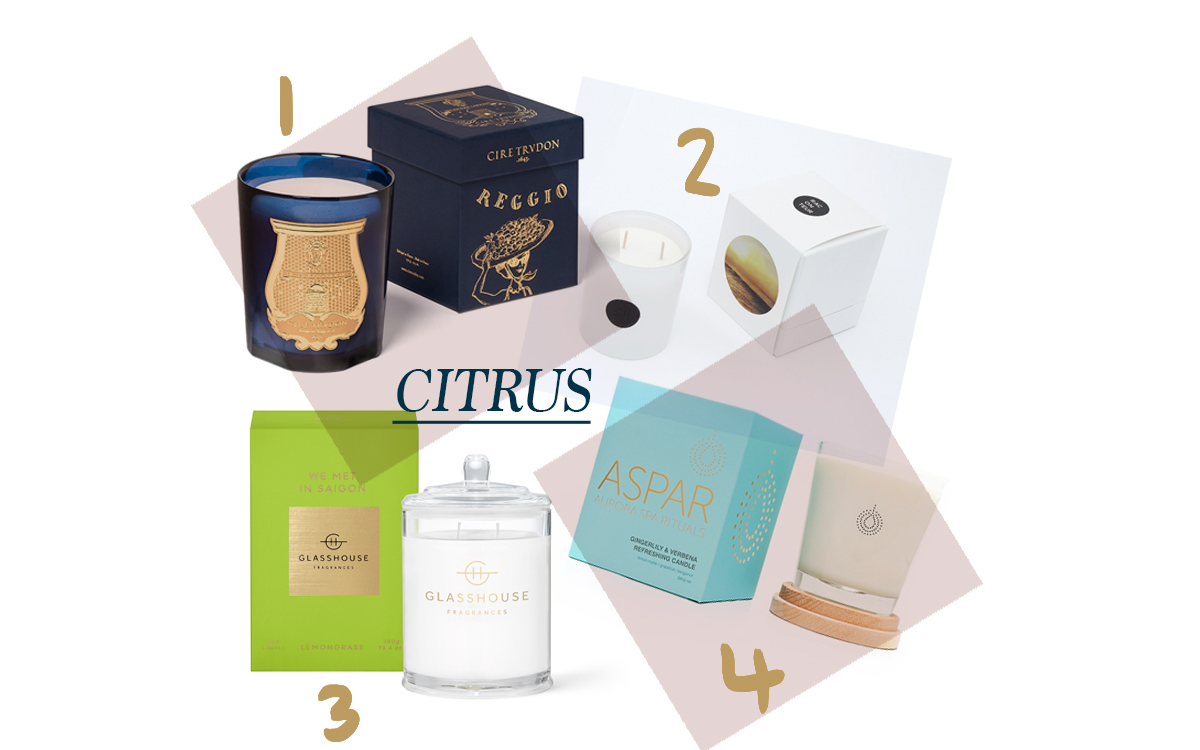 Sparkling Citrus scents to brighten your day.
Cire Trudon – Reggio
Inspired by the mandarin trees found along the banks of the Mediterranean Sea, embodying the laid back Italian way of life in the southern city of Reggio – Mandarin, Mimosa, Grapefruit.
Raconteur – Bondi 5
The scent of Bondi Beach, the crisp and uplifting citruses of a hot sunny day by the beach – Native Australian Lime, Native Plum Pine, Wild Berries.
Glasshouse Fragrances – We Met in Saigon
A zesty and bright scent to match the vibrancy of this neon lit city's energy – Lemongrass, Orange, Lime
Aspar – Gingerlily and Verbena Refreshing Candle
Bringing the aromatic scents of this St Kilda day spa into your home for the ultimate in uplifting (perfect for working from home) – Lemon Myrtle, Grapefruit, Bergamot.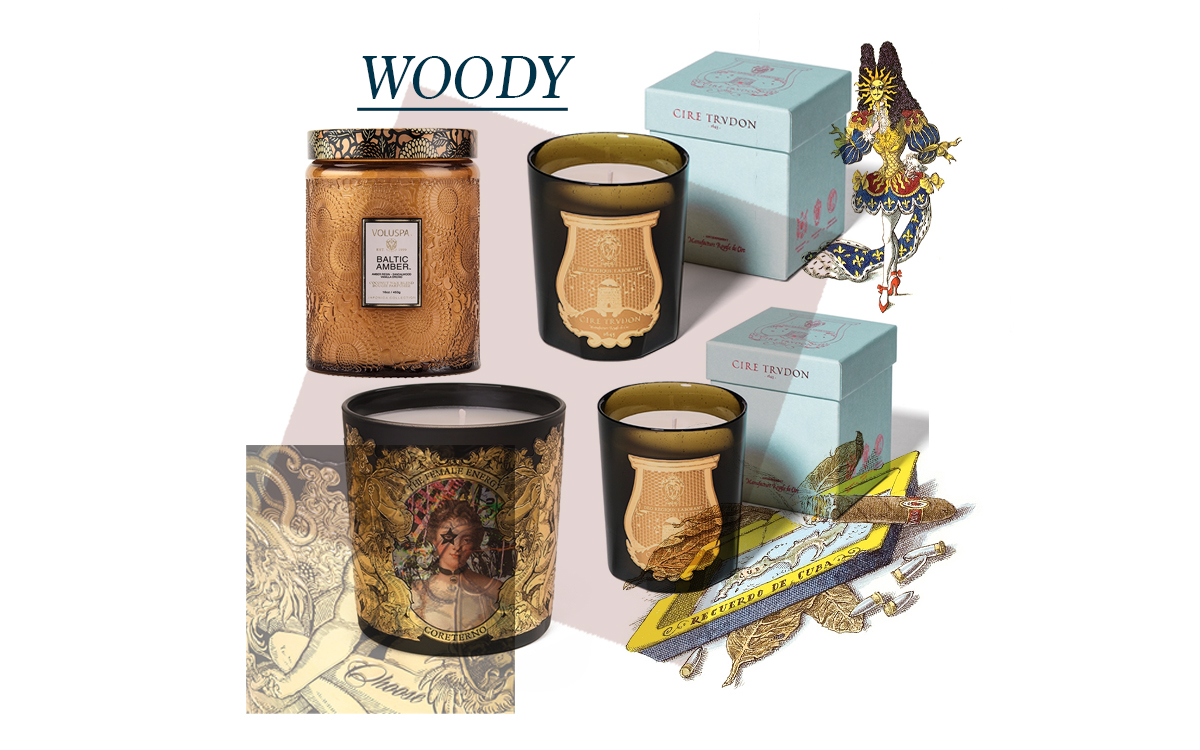 Rich, woody, winter scents (maybe a touch of warmth, a hint of spice and a little bit of smoke to round it out perfectly).
Voluspa – Baltic Amber
Warm, softly sweet and earthy this candle has an almost powdery tone – Amber, Sandalwood, Vanilla.
Coreterno – The Female Energy
Inspired by the power of feminine energy…the epitome of life! – Nutmeg, Ginger, Tobacco.
Cire Trudon – Solis Rex
The scent of the parquetry floors at the Palace of Versailles – Fir, Cedarwood, Incense.
Cire Trudon – Ernesto
Inspired by Che Guevara's quote that his only vice was smoking the finest cigars – Leather, Tobacco, Amber.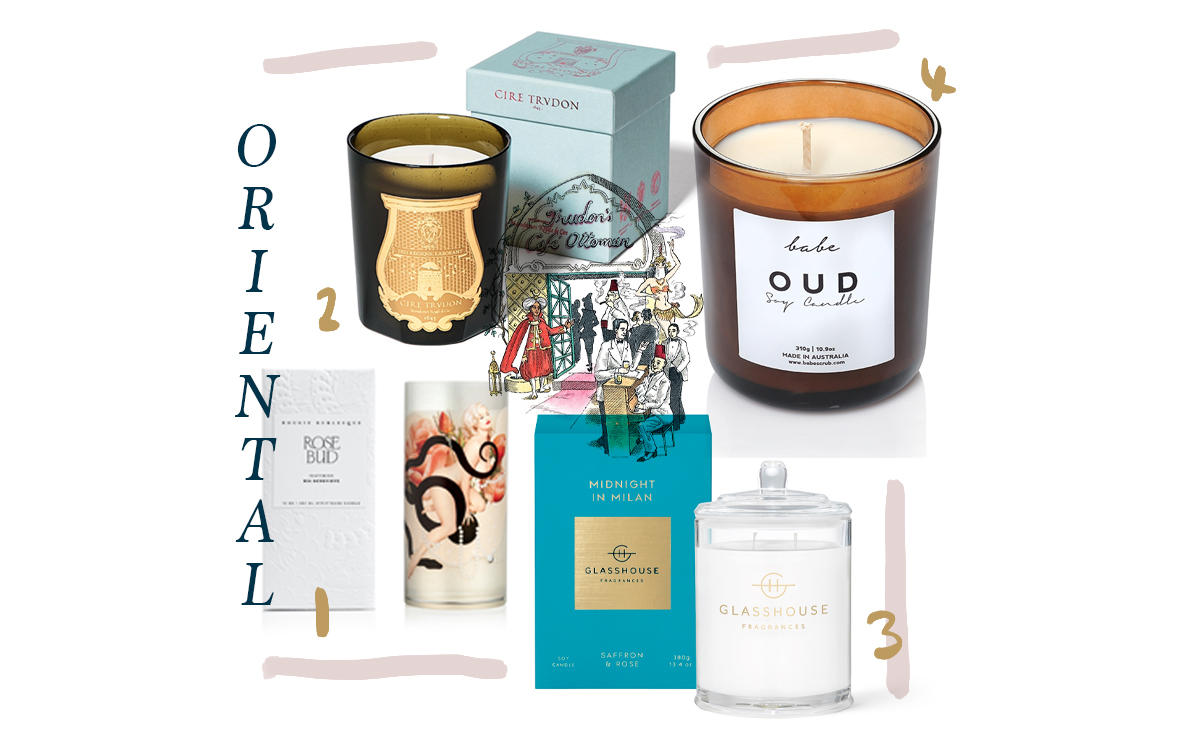 Oriental wonders – floral, spice and earthy all in one!
Bougie Burlesque – Rosebud
The scent of a vintage lipstick, velvety musk and creamy softness – Musk, Coriander Milk, Leather.
Cire Trudon – Ottoman
Inspired by rich and smoky scents, the decadence and opulence of the Ottoman era – Saffron, Rose, Tobacco.
Glasshouse Fragrances – Midnight in Milan
The seduction of this Italian city at night – Saffron, Rose, Amber.
Babe Australia – Oud
Get swept away with the scents of a dark and sultry night in the souk – Oud, Amber, Violet.
Earthy scents to bring the wonderful outdoors inside!
Babe Australia – Santalum
The sensuous note of Sandalwood in all its glory – Sandalwood, Grapefruit, Ylang Ylang.
Kerzon – Parc des Buttes-Chaumont
The scent of an evening spent wandering through the park in Paris– Sandalwood, Cedarwood, Floral Notes.
Bougie Burlesque – Violet Smoke
Clouds of exotic incense fill the senses and ignite the imagination as this candle reveals itself – Incense, Patchouli, Frankincense.
Cire Trudon – Spiritus Sancti
An ode to Cire Trudon's history making candles for over 400 years for the Parisian churches – Incense, Benzion Resin, Labdanum.
Skandinavisk – Skog
Swedish for 'forest', this candle takes us into the greenery of the Swedish forest – Pine, Fir, Birch.
Raconteur – Melbourne
Inspired by the natives that grow along Port Phillip Bay, this is one uniquely scented (and all-natural) candle – Native White Cypress, Native Blackseed Samphire, Native Kunzea.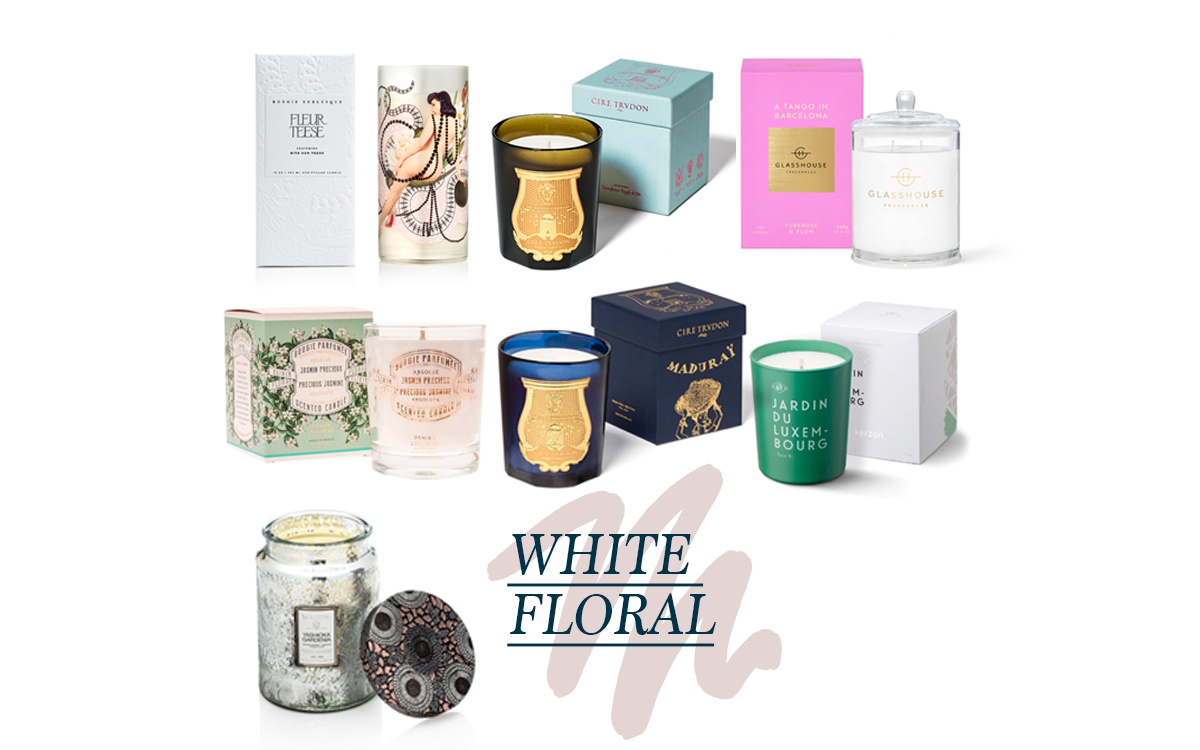 White floral decadent heaven!
Bougie Burlesque – Fleurteese
An exotic blend with Dita von Teese as muse, the scent of night blooming flowers and glamour – Tuberose, Gardenia, Coconut Flesh.
Cire Trudon – Prolotaire
An ode to May Day, the French Revolution and the sacred symbol – the Lily – Lily of the Valley, Rose, Ylang Ylang.
Cire Trudon – Mademoiselle de la Valliere
Inspired by Louie IV's mistress' boudoir, her bed crowned in tuberose flowers – Tuberose, Orange Blossom, Jasmine.
Glasshouse Fragrances – Tango in Barcelona
Sensual nights in Barcelona, dancing the tango on the cobblestone streets – Plum, Tuberose, Lily of the Valley.
Panier des Sens – Precious Jasmine
The scent of France in the middle of Spring, the heady Jasmine in the warm air – Jasmine, White Peach, Musk.
Cire Trudon – Madurai
Bringing the wonderfully creamy and heady Jasmine from India to life, an ode to the birthplace of the finest jasmine – Jasmine Sambac Absolute, Ylang Ylang, Benzion.
Kerzon – Jardin du Luxembourg
The memories of after school walks through the Jardin du Luxembourg, the scent of fresh flowers and soft honey in the air – Lime, Lilac, Honey.
Voluspa – Yashioka Gardenia
A rich and rounded white floral with sparkles of spice peeking through – Yashioka Gardenia, Tuberose, Tunisian Clove.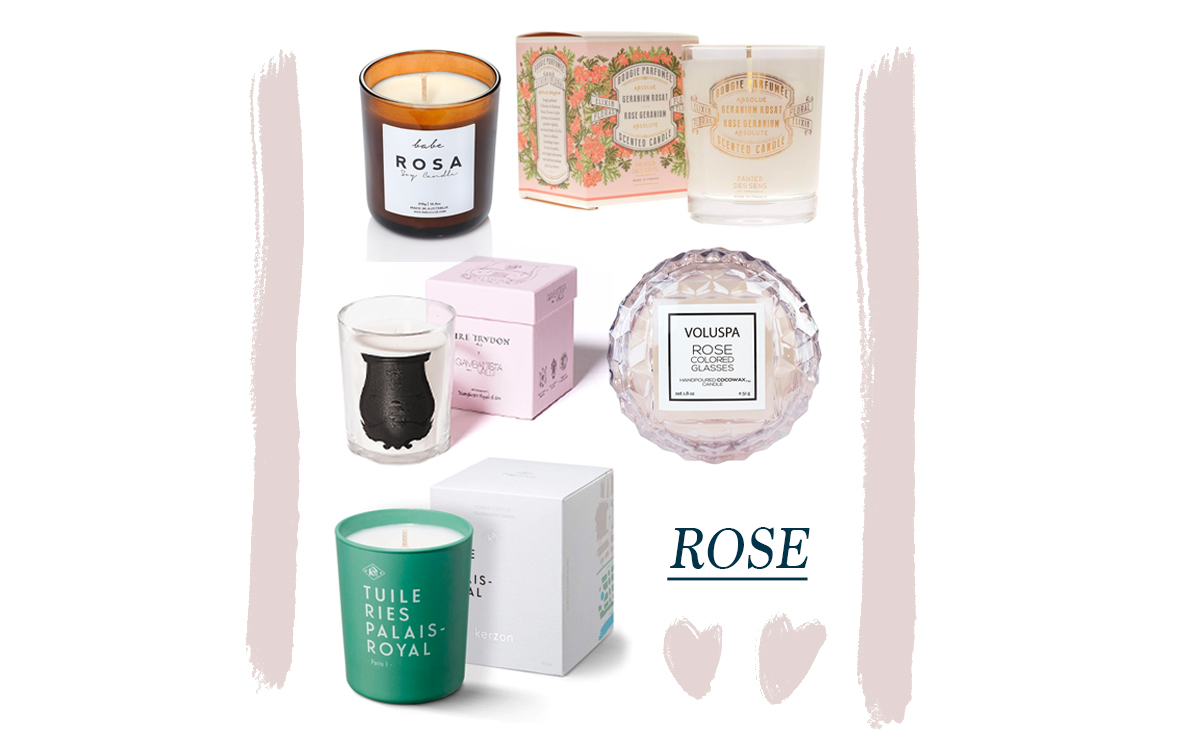 Calling all rose lovers!!
Babe Australia – Rosa
A rich and juicy rose, not a pretty rose…a more seductive one – Rose, Clove, Amber.
Panier des Sens – Rose Geranium
A classic rose scent, with the green freshness of Geranium to make this a realistic rose garden fragrance – Mandarin, Geranium, Peony.
Cire Trudon – Rose Poivrée
In collaboration with designer Giambatista Valli, the scent is inspired by his Parisian studio space – Rose, Pepper, Sandalwood.
Voluspa – Rose Coloured Glasses Macaron
The playful macaron packaging plus the gorgeous scent of rose makes this a favourite – Pink Rose Petals, Neroli Bloom, Warm Amber Musk.
Kerzon – Tuileries Palais-Royal
While not officially a rose scent, this fragrance takes us to rose gardens! Inspired by the Royal Gardens in Paris where many a wedding is held, and the gorgeous scent of the bride's bouquet fills the air – Hyacinth, Aquatic Notes, Green Notes.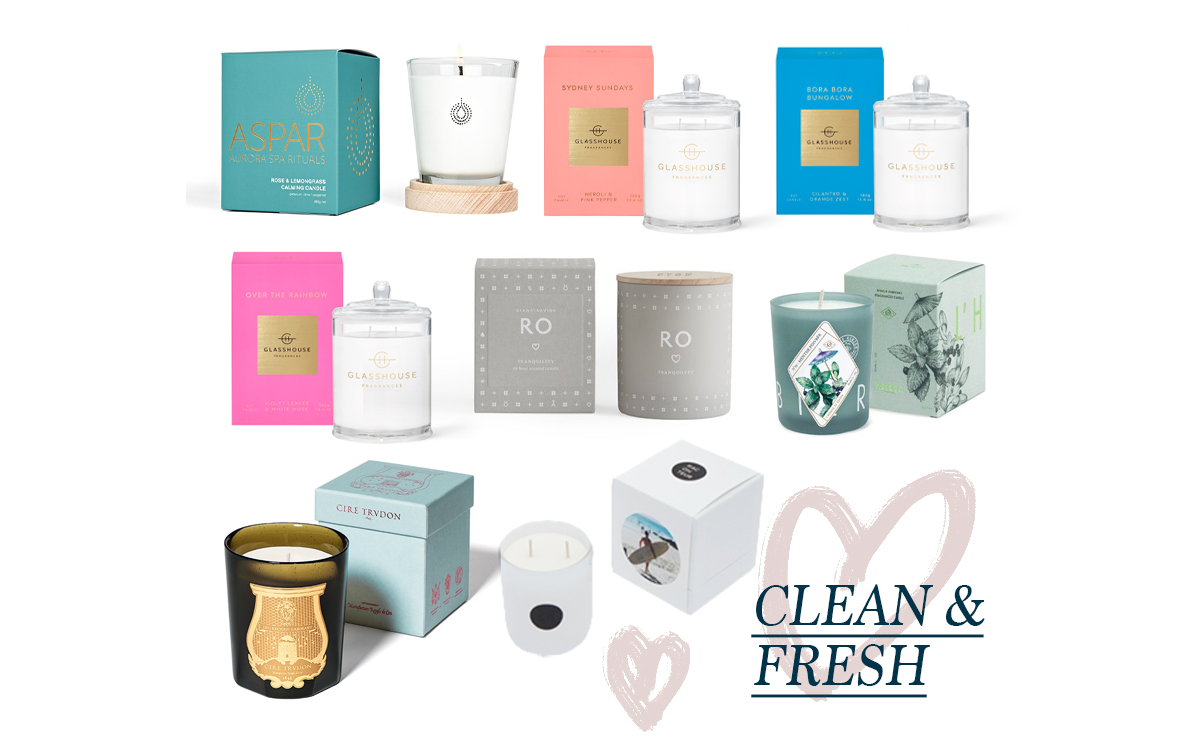 Clean, fresh and aromatic scents to lighten up your space.
Aspar – Rose and Lemongrass Calming Candle
Let the essential oils in this candle refresh and reset you, lifting the spirits and calming the body – Geranium, Lime, Bergamot.
Glasshouse Candles – Sydney Sundays
Sunday mornings of market strolls, brunch and fun with friends in the sun – Pink Pepper, Musk, Jasmine.
Glasshouse Fragrances – Bora Bora
Taking us to a refreshing paradise – a sun drenched bungalow along the pristine beaches of Bora Bora – Cilantro (Coriander), Orange Zest, Clementine.
Glasshouse Fragrances – Over the Rainbow
The scent of Hawaii, crystal blue waters, and the sand underneath your feet and a rainbow above your head – Blackcurrant, Violet Leaves, Musk.
Skandinavisk – Ro
Scandinavian for 'tranquility', this candle takes us to the peace and calm of nature – Cut Grass, Cucumber, Wild Violets.
Kerzon – Herbarium Menthe Poivrée
A refreshing Mojito cocktail sipped throughout a hot summer evening – Mint, Sage, Green Notes.
Cire Trudon – Abd el Kader
Inspired by Abd el Kader's favourite drink, a Morrocan Mint Tea, this scent is crisp and clean yet also creamy and smooth at the same time – Blackcurrant, Spearmint, Ginger.
Raconteur – Byron Bay
Telling the story of Byron Bay's unique native botanicals, the scent of nature with a wonderful sea mist breaking through – Native Thyme, Native Lemon Myrtle, Native Rosalina.