Tis the season to face mask. We're all spending a lot more time at home right now so there's no excuses for not having enough time for some self care these days! Whether you've got 2 minutes, or 20 minutes, the power of taking some time to show yourself a little papering and self-love is so very important. There is something very ritual and calming about applying a face mask – taking a moment out of your day for something that leaves you looking and feeling amazing.
We've got a face mask to suit any and all of your skin concerns. Whether certain skin concerns have popped up in the midst of the stress and lifestyle changes of lock down, or these are concerns you've had for a little while (or maybe they're seasonal), we've got so many wonderful skincare options, so read on to find your perfect face mask match!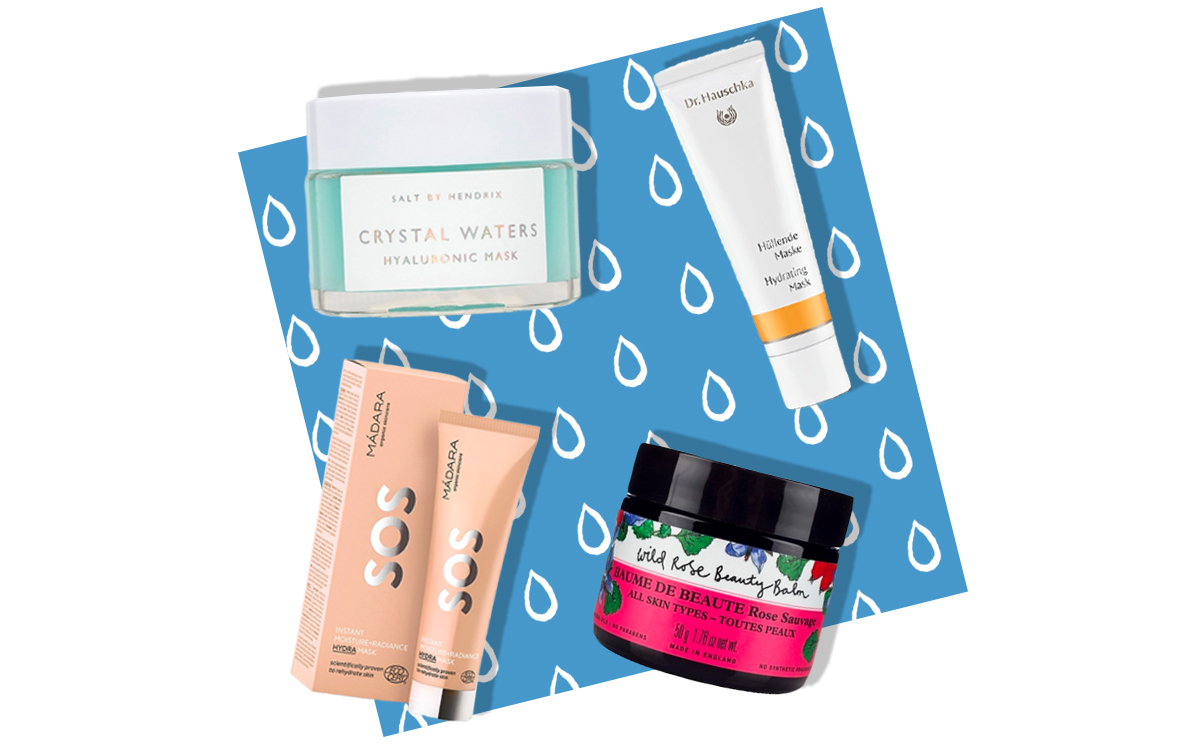 17 Best Face Masks for Dry, Dull or Oily Skin
I need hydration! My skin feels dry and/or dehydrated.
I want to give my skin a huge drink!
1. Dr. Hauschka Hydrating Cream Mask 30ml – This nourishing mask feels amazing on your skin leaving it silky smooth and plumped with hydration (without that greasy feeling). Infused with Rose Wax to gently seal in hydration and protect the skin, this is a great mask to put on at night and just forget about (for those who are time poor but still need some super pampering)! You'll wake up glowing with hydrated radiance the next morning.
2. Neal's Yard Wild Rose Beauty Balm 50ml – A cult favourite in the beauty world, this wonder product also parades as a cleanser and face moisturiser. We love this multi purpose balm for deeply nourishing and soothing skin with Organic Wild Rosehip and a bevy of anti-oxidant rich nutrients, we just love to smother this on as a rich and wonderful overnight treatment.
3. Salt by Hendrix Crystal Waters Mask 40ml – Just like a massive drink of water for your skin, this Hyaluronic Acid gel based mask is also packed full of nutrients and vitamins to boost your skin's radiance, cool the skin and leave it looking and feeling refreshed and even in tone.
4. Madara SOS Hydra Mask Moisture + Radiance 60ml – Created for stressed out skin, this is the perfect mask to treat dehydration, stress and irritation. With all natural ingredients such as Northern Peony Extract, this mask from Madara is so soothing, reduces discomfort, itching or tightness while restoring your hydration and in turn, your natural radiant glow.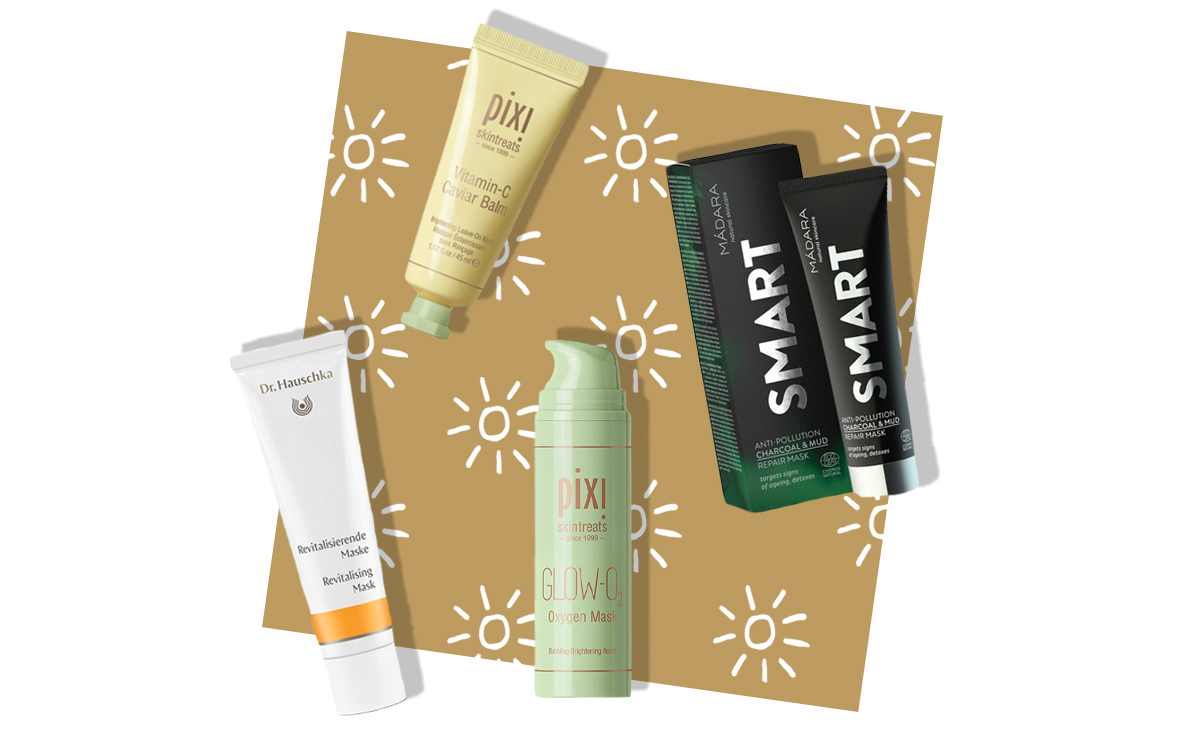 My skin is looking dull, lifeless and uneven so I want the best freshen up I can get.
I want a quick and effective skin refresh!
1. Pixi Glow 02 Oxygen Mask 50ml – The quickest way to freshen up dull and tired looking skin. Pixi's Oxygen Mask contains anti-oxidants, vitamins, Ginseng and Caffeine to give your skin the ultimate wake up call. A probiotic gel to foam mask that works quickly (it only takes 2 minutes) is almost like magic. You can see why it is one of our favourites!
2. Dr. Hauschka Revitalising Mask 30ml – This natural and organic mask lightly hydrates the skin while focusing on renewing old and lifeless skin cells. Reducing redness and uneven skin tone, this gentle skin treatment is ideal as an overnight leave on mask to wake up absolutely glowing and even toned.
3. Pixi Vitamin-C Caviar Balm 45ml – We all know and love the amazing effects of Vitamin C on the skin (did someone say brightening and collagen boosting?!) so this overnight mask from Pixi ticks all of our boxes for giving us that radiant glow. Hydrating, nourishing and with a slight exfoliation, this is a wonderful one stop shop for skin joy!
4. Madara Smart Anti-Pollution Charcoal & Mud Repair Mask 60ml – Refresh tired looking skin with a deep clean to remove pollution build up, purify the pores and renew the cells. Using Black Northern Mud, Charcoal and vitamins, this is the perfect wake-me-up for skin that is looking dull and lifeless but also a little congested at the same time. Drawing and regenerative, this is like 2 for the price of 1 with its actives!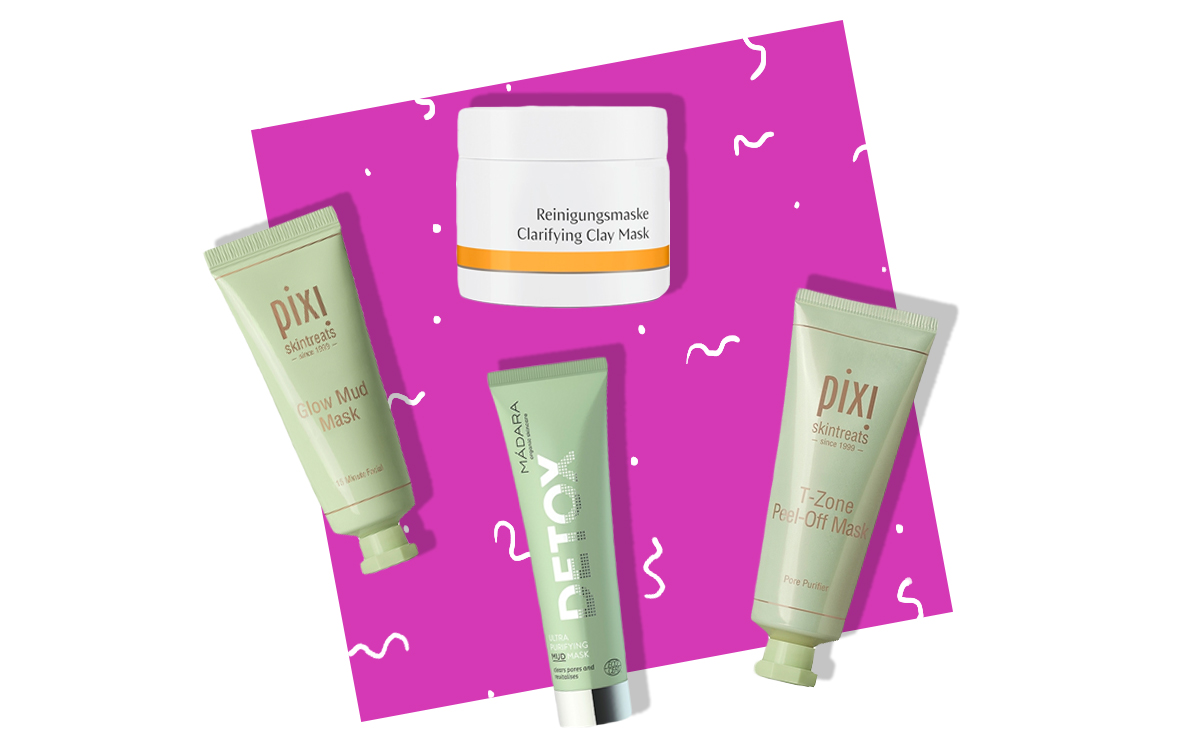 I'm getting breakouts and congestion, not sure if its all of the wine in lockdown….or my new face mask or just stress?!
But I need decongesting and a treatment for my oiliness and/or breakouts.
1. Pixi Glow Mud Mask 45ml– This purifying Kaolin Clay based face mask is mineral rich to draw out oil and impurities (without leaving your skin parched afterwards; so great if you're not oily). Also containing nurturing and energising ingredients like Aloe Vera and Ginseng, this mask will calm redness and stimulate circulation so you are refreshed and on your way to crystal clear skin.
2. Madara Ultra Purifying MUD Mask 60ml – Utilising the healing and deeply purifying properties of the Clay found in the Nordic Great Lakes, this mask detoxifies the skin, refining the appearance of pores, reducing oiliness and leaves your skin matte and super conditioned. This mask is great for anyone who is on the combination, oily side as it will help to mattify your skin without stripping it.
3. Pixi T-Zone Peel Off Mask 45ml – You ultimate pore purifier! This mask is a peel off mask that lifts away oil to help to decongest pores. Containing Pixi's super food blend (Avocado, Cucumber, Aloe Vera, Green Tea, Bamboo) to lift and refine the skin's texture, so think of this as your pore patrol!
4. Dr. Hauschka Clarifying Clay Mask 90g – An amazing mask for skin that is prone to blemishes and inflammation. Using Loess Clay to balance skin and reduce blemishes, this mask also contains Witch Hazel to gently yet actively bind with dirt particles to reduce blemishes and calm and soothe irritated skin.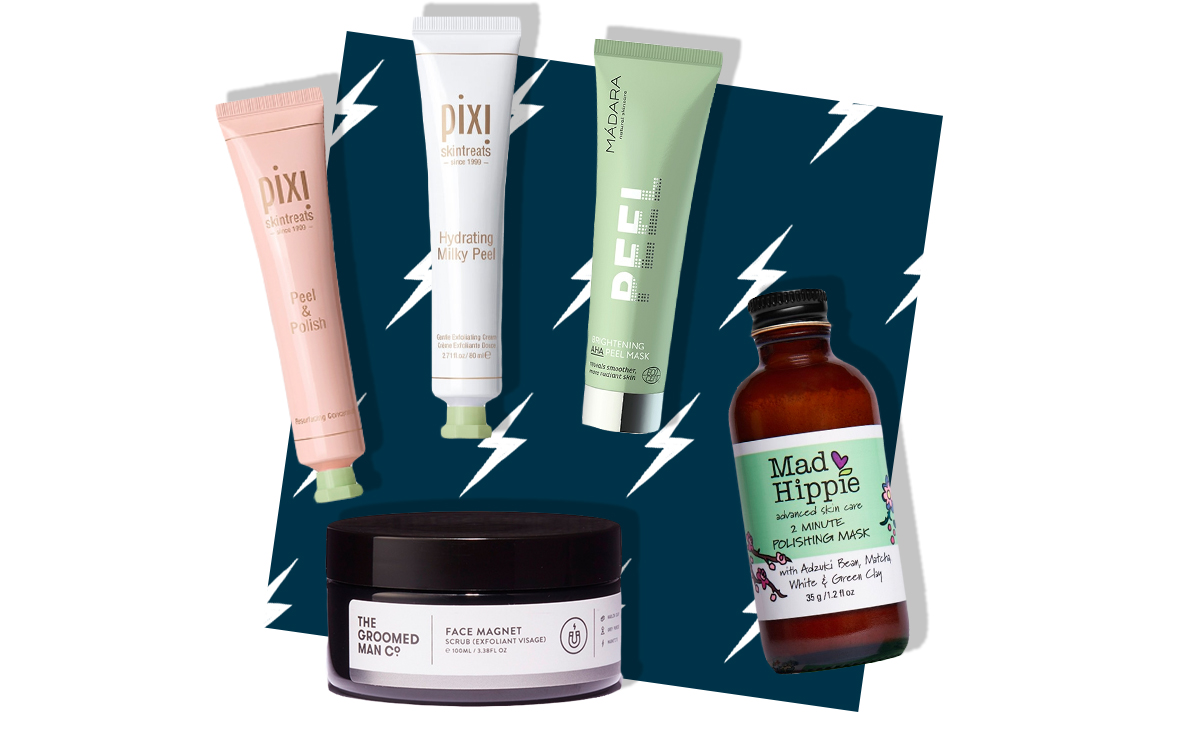 I want deep exfoliation, I want to hit the restart button and get the top layer of skin off so that all of my products work more effectively and my skin looks and feels more radiant.
PSA: if you like multi masking, its often a great idea to do an exfoliating mask first, then a different mask afterwards as it will improve the skin benefits!
1. Pixi Peel and Polish 80ml – A gentler at home microdermabrasion option for when you can't get into your favourite salon, the Peel and Polish Mask features gentle exfoliation ingredients to loosen and remove dead skin cells leaving you look glowing and radiant, while your skin feels so silky smooth.
2. The Groomed Man Face Magnet Scrub 100ml – Deep cleanse your skin double time with this locally made face treatment. Face Magnet is ultra satisfying to use with crushed Volcanic Ash to give a manual exfoliant plus Kaolin Clay, Yellow Clay and Charcoal to deeply clean, attracting and absorbing impurities while smoothing out your skin's texture.
3. Mad hippie 2-Minute Polishing Mask 35g – A gentler option, this powder exfoliant is easily added to your cleanser to create exactly the level of scrub that you'd like – want a gentle scrub, add a little, want a stronger scrub, add some more! Using Adzuki Beans, Rice Bran, Organic Matcha and Kaolin Clay to gently buff away dead skin cells while softening and smoothing your skin.
4. Madara Brightening AHA Face Peel Mask 60ml – This active AHA based mask is a powerful exfoliant with a superdose of active acids. Also featuring Vitamin C to brighten your skin, this mask will reveal radiance while also putting amazing ingredients onto your skin.
5. Pixi Hydrating Milky Peel 80ml – The perfect match for the sensitive skin types that want a gentle micro exfoliation to brighten your complexion. With Coconut and Probiotics to nourish and protect sensitive skin, as well as Willow Bark to help treat congestion this mask is a must-have for anyone with sensitive skin!