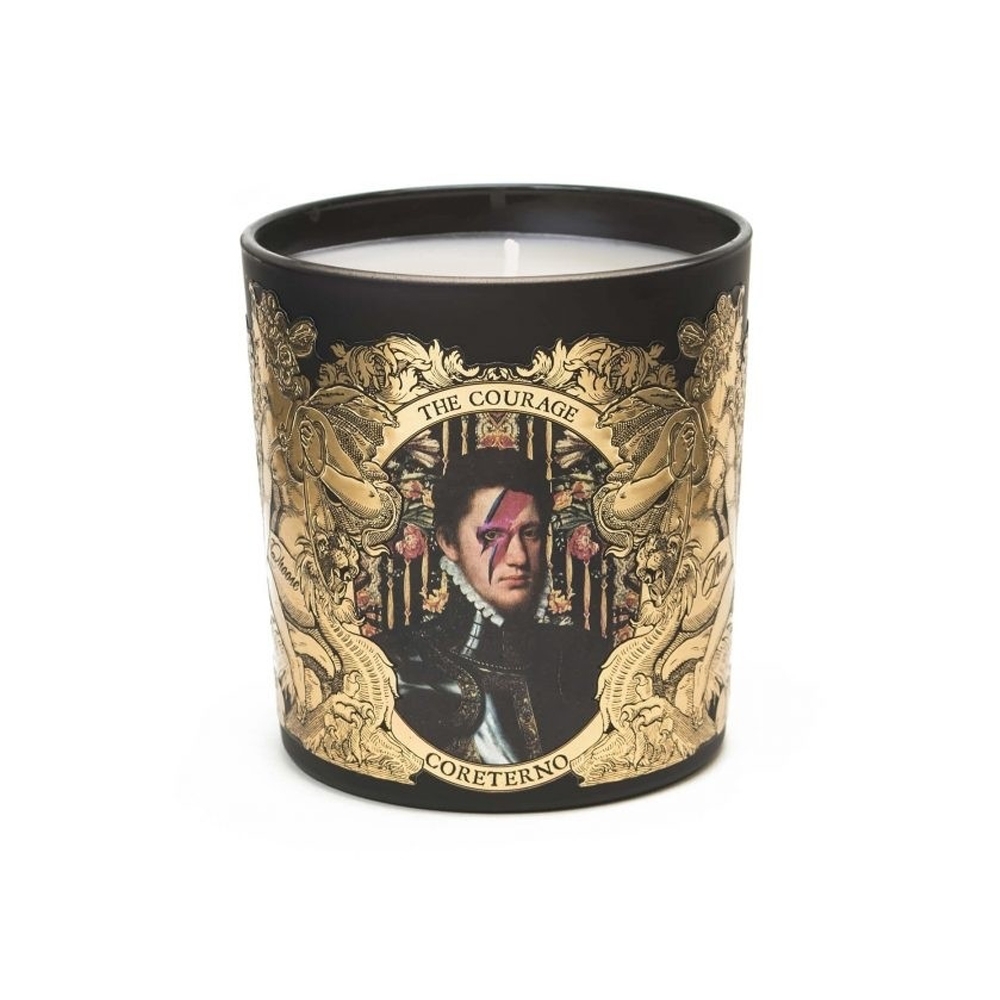 Aphrodite Scented Candle – The Courage 240g
The Courage
It takes courage to step into the wild unknown, yet here you are, battered but not broken. You have become the hero of your own story. This tangy and sweetly spiced candle is all about breaking the rules, being courageous enough to be who you truly are. The fragrance blend is unconventional, but that's what we love about Coreterno.

The Aphrodite Collection is dedicated to the powerful, revolutionary and immortal energy of love. Be brave. Take risks. Believe in your dreams. Be a rebel, a saint, a fool. Fight, rise, fall, but never lose faith in love. 

Coreterno has created a unique piece of art with their Aphrodite collection - using patented technology to emboss real gold leaf into aluminium to create their impressive vessels. They recently won an award at the Milan Packaging Design Awards for their candle range. Featuring a vegetable wax blend, with a 60 hour burn time. Vegan, cruelty free, paraben free.
NOTES
Saffron Flowers, Nectarine Peach, Rose, Juniper Berries, Cashmere Wood, Vetiver
HOW IT BURNS
This fragrance in Coreterno's candles is complex and sophisticated. Working closely to create each scent with perfumers, Coreterno scented candles fill a space easily without overwhelming. Coreterno candles burn for 60 hours.
LORE LOVES
We love a bit of quirk and this is such an unusually refreshing spicy, tangy fragrance. Of course, the message each candle gives is beautiful and the artwork is divine, but we're so taken with this interesting fragrance!

ABOUT THE BRAND
Conceived in Rome, then launched in New York by Italian born couple Francilla and Michelangelo. Working from their (family owned) gothic castle in the heart of Rome, Francilla and Michelangelo have created a unique and exquisite brand that combines Renaissance art with modern Rock n Roll references. As an ode to their ancestry, Coreterno reference their Italian history of art throughout the collection, even working with an artisan design house to create their (patented) labels that dates back to the Renaissance. Coreterno is designed to inspire, promote creativity and confidence. Handmade in Italy, Coreterno is a luxury designer lifestyle brand that combines art, beauty, design, spirituality and positivity.
8 in stock