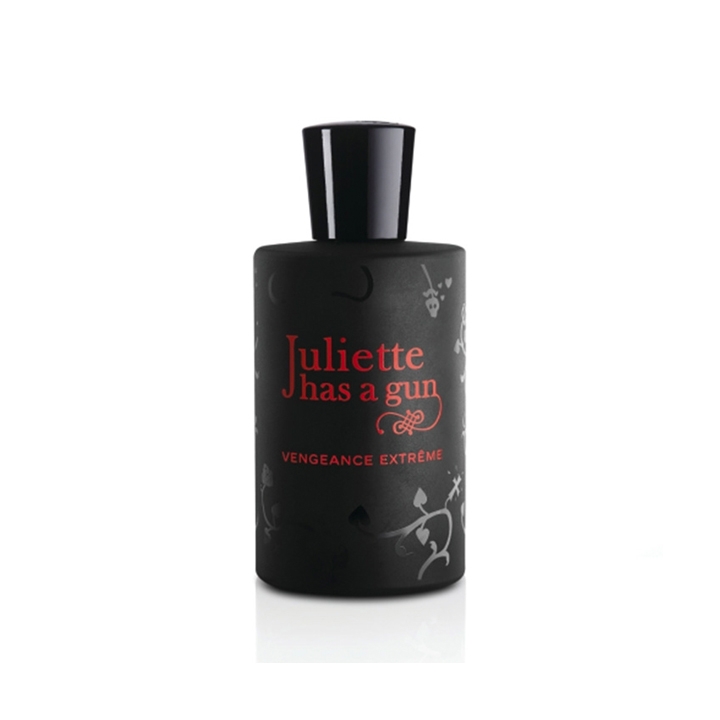 Vengeance Extreme EDP 100ml
Taking Lady Vengeance to a whole new level. Vengeance Extrême is a chypre fragrance, which draws its intensity from an unusual dosage of Patchouli, Bulgarian Rose and Vanilla. A trail suggesting an evident sensuality, with a zest of provocation. Not to be left in innocent hands…

NOTES 
Top: Lavender, Bergamot 
Middle: Patchouli, Bulgarian Rose
Base: Tonka Bean, Vanilla

PERFUMER
Romano Ricci

HOW IT WEARS
Vengeance Extreme is the louder, earthier version of Lady Vengeance. It is stronger and more intense with more of an earthy tone to it. Juliette has a Gun creates concentrated juices and this perfume lasts for atleast 8 hours on the skin, being the more concentrated version of Lady Vengeance we definitley get less rose and more woody tones and more silage and longevity.

LORE LOVES
We love Lady Vengeance so it goes without saying that we love the Extreme version with its earthier depth. This fragrance is sex bomb and then some. A more mysterious and darker fragrance than Lady Vengeance, Vengeance Extreme is the perfect fragrance for someone loving rose but wanting a deeper, richer scent.

ABOUT THE BRAND
Created in 2005, Juliette has a Gun is the wonderful fragrance world of Romano Ricci. Born into fragrance royalty, Romano Ricci had perfume in his DNA as the great grandson of Nina Ricci. The Juliette has a Gun range was originally based solely around the rose - like a woman, Ricci says a rose is beautiful, intoxicating, delicate and thorny. The Juliette has a Gun range is contemporary, assertive and full of life. Ricci was inspired by the Shakespearean tragedy, Romeo and Juliette, however the modern Juliette in this story comes armed - she carries a weapon, her weapon is her scent. And she uses her scent for seduction, flirtation and provocation. Juliette has a gun is rock meet romance in a bottle.

FREE RETURNS
Love your fragrance or return it for free. Learn more about The Lore Promise here.
Out of stock
Get an alert when the product is in stock: