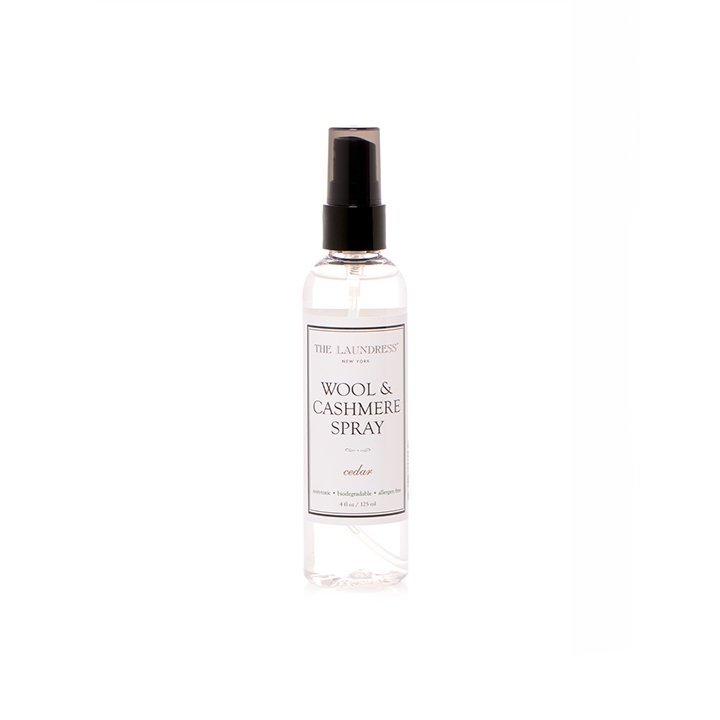 Wool & Cashmere Spray 125ml
Who doesn't love the warm and spicy smell of cedar. Mmmm, so comforting and warming - the perfect match to your favourite cashmere jumper. This nontoxic formula with antibacterial properties adds scent while removing odour. Spray to freshen jumpers, knit, suits, coats, hats, and blankets between washes. A natural moth repellent, this spray works great for closets, drawers, and long-term storage. Ideal for items labelled "dry clean." Cedar is a modern take on the traditional woody scent, combining Sandalwood, Orange, and Rose with a base of Cedar. This versatile formula has antibacterial properties that add scent while removing odour – exactly what we all want when we don't have time to hand wash our winter knits as often as we'd like.

The cedar fragrance keeps items smelling clean and fresh while naturally repelling bugs and moths - an added bonus is that while we love Cedar, moths and critters don't!
The Laundress Wool & Cashmere Spray can be used on any fabric or surface, it was designed to complement woollen items.
Non toxic, biodegradable, and allergen-free.
Free of petroleum, phosphate, phthalates, and artificial colours.
Cruelty free. No animal by-products.

ABOUT THE BRAND
Many laundry cycles ago, The Laundress founders Gwen Whiting and Lindsey Boyd were young fashion enthusiasts; launching careers in one of the worlds best dressed cities, New York. Whilst building their wardrobes they were confronted with the frustration of maintaining them: replacing prematurely worn items and paying painful dry cleaning bills on a weekly basis. In 2002, the pair spent two years researching and developing the very elixirs they (and their wardrobe) longed for. The result – a highly effective, non-toxic line of laundry products. Each product is carefully crafted to work its magic on a specific fabric with outstanding results. A work of art built on science. The Laundress collection is sophisticated, eco-conscious, and easy to use. 


LORE LOVES
We love this woody scent, it takes us to a wood cabin in the middle of winter with a gorgeous fire burning as we sit curled up on the enveloping couch, mulled wine in hand. So while we may not be able to get there, this scent takes us there in our dreams!
Spray items from 6 inches away to freshen between launderings. Safe for all fabrics and furnishings. Ideal for items labelled "dry clean". Wool, cashmere, merino, mohair, wool blends, knit, scarves, hats, outerwear, down clothing, bedding, pillows, throws and even items in storage.
Concentrated blend of plant-derived anionic and nonionic surfactants, essential oils, and fragrance.
10 in stock