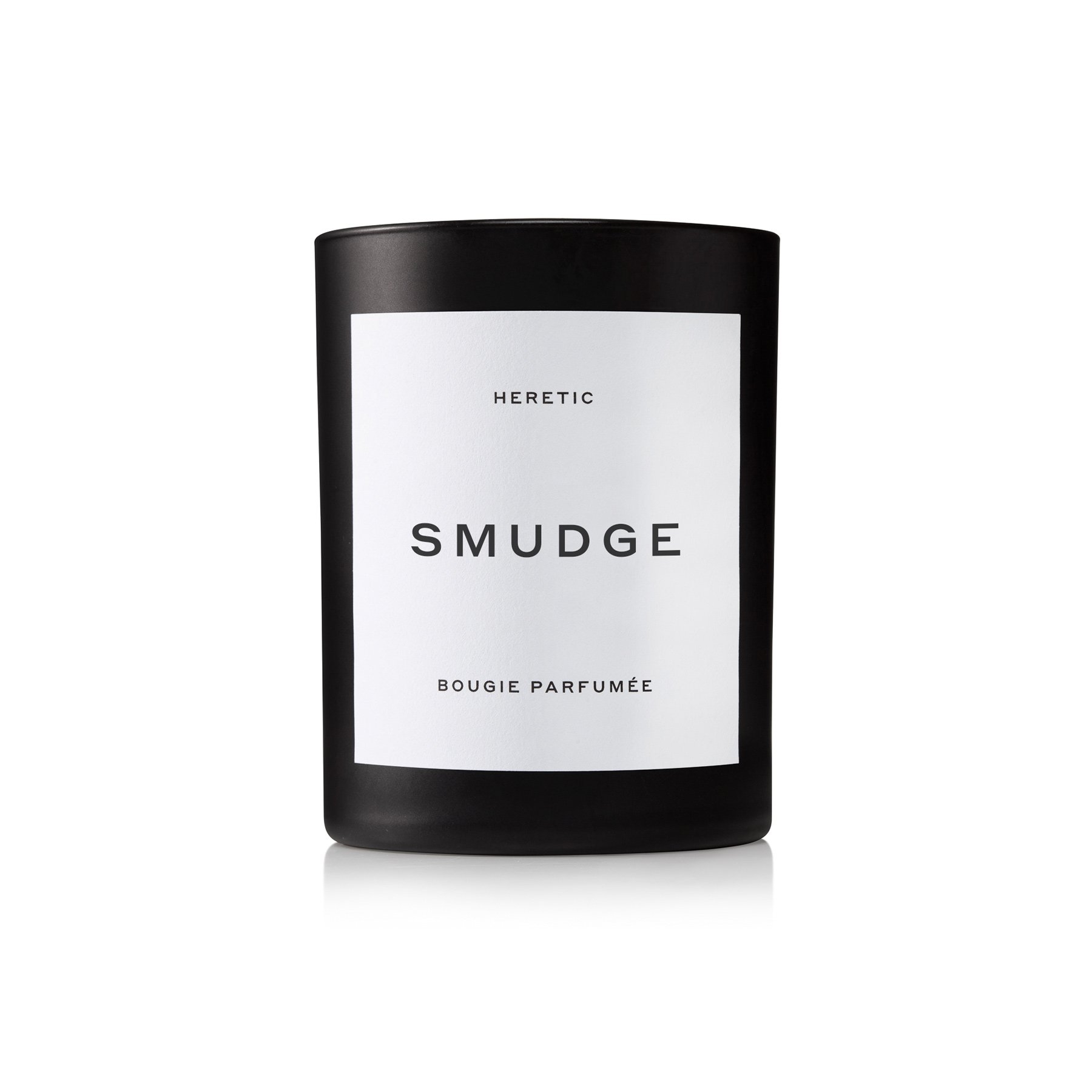 Smudge Candle
Heretic created a liquid version of the smudge stick, now released in an equally amazing candle version, completed with stunning black wax. Smudge sticks have been used throughout history to clear negative vibes. This mystical blend of herbs and resins such as Clary Sage, Juniper, Labdanum, and Frankincense not only smells incredibly unique, but also possesses cleansing, grounding, and enlightening properties. This protective and enlightening blend brings mental peace while stimulating a higher consciousness. Smudge is the perfect accompaniment to the seeker, the gypsy, the wild and free souls who run with wolves.

Notes: Sage, Frankincense and Juniper muddled with rich Amber, Smoky Woods and Soft Vanilla

FRAGRANCE: A blend of natural and safe synthetic ingredients that are always cruelty-free. No parabens, no phthalates, no formaldehyde, no known or suspected endocrine disruptors.
WAX: Paraffin and petroleum-derived waxes release chemicals into the air when burned, even if they are 'premium grade'. Heretic's non-toxic candles are made with 100% pure soy wax.
WICK: Heretic use a lead-free wick made from 100% organic cotton.

40 hour burn time.

ABOUT THE BRAND
Heretic - one who does not conform to the ideals or opinions of the masses; one who follows their own path. Created in 2016 in New York by Douglas Little, Heretic is a natural, artisan, small batch fragrance collection. Based on the mysterious, sensual and feral aspects of nature, Heretic began with a conscious choice to do things a little differently. Provocative, challenging, unapologetic, visionary and beautiful - Douglas Little has created a rare, unusual and comprehensive collection. As Heretic boldly disrupts the status quo of the fragrance industry with their radical transparency, their fragrances delve into the esoteric world and the realms of homeopathy, ayerveda, and herbology. Douglas made the choice to work with entirely natural materials - essential oils, concretes and absolutes (blended in non GMO, organic grape and sugarcane alcohol) using traditional perfumery techniques. Believing that nature gives us sexy and erotic scents, the Heretic perfume collection creates unique depth and complexity. "Natural fragrances are much like wine in that you can detect nuances of the plant, the soil, and its surroundings. They have characters that cannot be achieved with synthetic copies. These fragrances are alive, they create an olfactory fingerprint" Douglas Little.

Out of stock
Get an alert when the product is in stock: