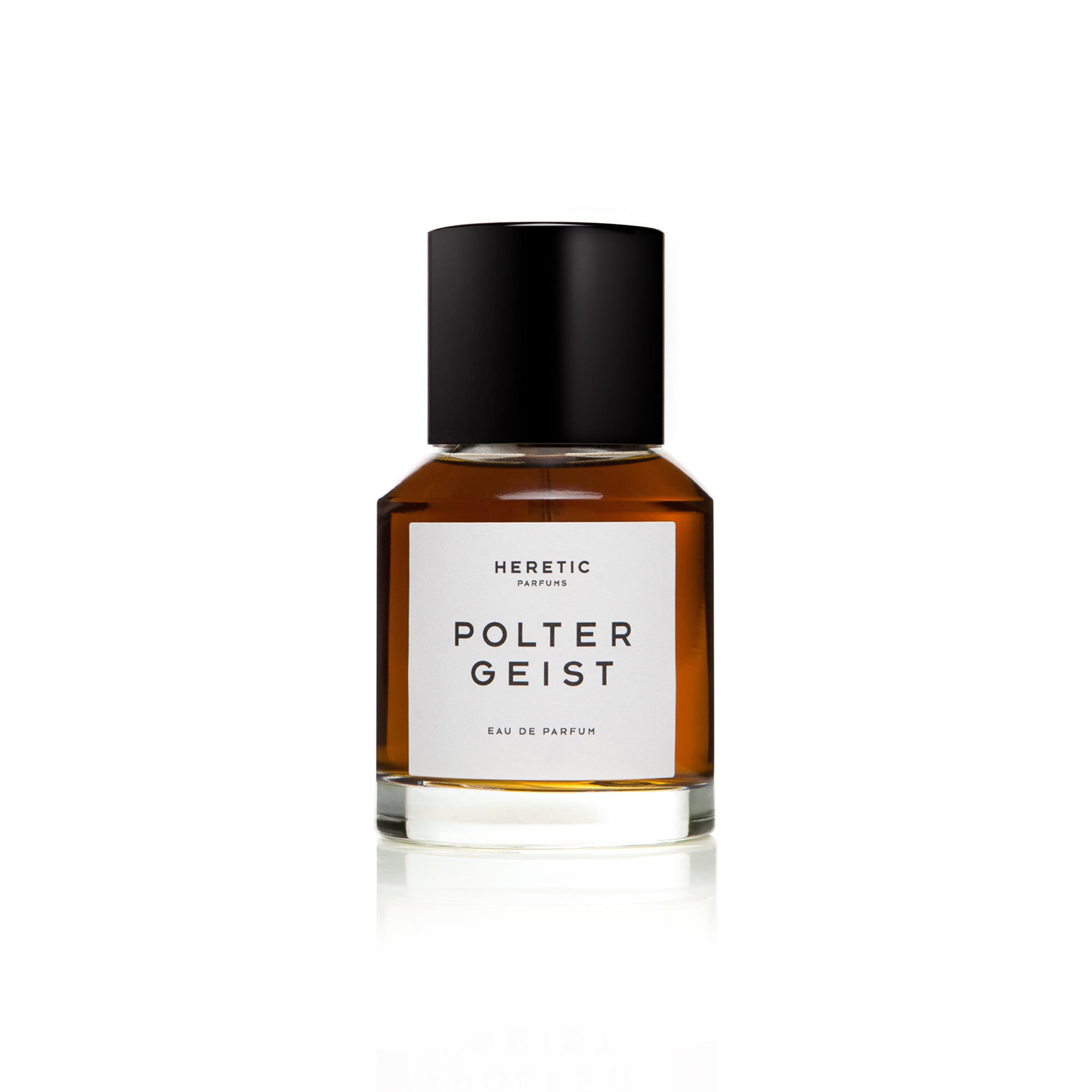 Poltergeist EDP 50ml
I have intensely fragrant memories from my time in the pacific northwest. The air heavy with the smoke of blazing burn piles filled with scorched leaves and timber. Long walks through the woods permeated by the unmistakable perfume of moss, mushrooms, pine needles and leaves emanating from the forest floor. I longed for a fragrance that married these two distinct olfactory experiences: green and smoke. Unable to find what i was looking for, i created poltergeist and named it after my favorite elusive spirit — a supernatural being that makes its presence known through physical disturbances or loud noises. Inspired by that fearless energy, this "noisy" fragrance features intense green scents paired with a deep, haunting smokiness that lingers on the skin.

• For all genders
• Certified 100% natural ingredients (naturally derived essential oils, absolutes and concretes)
• Blended in organic, non-denatured, non-GMO sugarcane alcohol.
• Free of synthetic fragrance
• Cruelty Free
• Vegan

NOTES
Top: Wormwood, Pine, Juniper
Middle: Champaca Flower
Base: Myrrh, Birch Tar, Labdanum, Cedar, Cade, Frankincense, Palo Santo

PERFUMER
Douglas Little

ABOUT THE BRAND
Heretic - one who does not conform to the ideals or opinions of the masses; one who follows their own path. Created in 2016 in New York by Douglas Little, Heretic is a natural, artisan, small batch fragrance collection. Based on the mysterious, sensual and feral aspects of nature, Heretic began with a conscious choice to do things a little differently. Provocative, challenging, unapologetic, visionary and beautiful - Douglas Little has created a rare, unusual and comprehensive collection. As Heretic boldly disrupts the status quo of the fragrance industry with their radical transparency, their fragrances delve into the esoteric world and the realms of homeopathy, ayerveda, and herbology. Douglas made the choice to work with entirely natural materials - essential oils, concretes and absolutes (blended in non GMO, organic grape and sugarcane alcohol) using traditional perfumery techniques. Believing that nature gives us sexy and erotic scents, the Heretic perfume collection creates unique depth and complexity. "Natural fragrances are much like wine in that you can detect nuances of the plant, the soil, and its surroundings. They have characters that cannot be achieved with synthetic copies. These fragrances are alive, they create an olfactory fingerprint" Douglas Little.

HOW IT WEARS

LORE LOVES

FREE RETURNS
Love your fragrance or return it for free. Learn more about The Lore Promise here. 



Apply generously to skin and/or hair. Heretic's natural blends are great for layering, so feel free to combine 2-3 different fragrances to create your own unique scent!
When we say that heretic fragrances are natural, we mean that all of our ingredients were extracted from plants, no synthetic replicas.

Non-Gmo Sugar Cane Alcohol Water Artemisia Absinthium Oil Vetiveria Zizanoides Root Extract Coriandrum Sativum (Coriander) Fruit Oil Pogostemon Cablin Oil Juniperus Mexicana Oil Michelia Alba Flower Oil Pogostemon Cablin Leaf Extract Cedrus Atlantica Wood Oil Juniperus Communis Fruit Oil Bht Juniperus Oxycedrus Wood Tar Cistus Ladaniferus Leaf / Stem Extract Santalum Ausrocaledonicum Wood Oil Cistus Ladaniferus Leaf / Stem Extract Betula Alba Oil Boswellia Carterii Gum Absolute Bulnesia Sarmientoi Wood Oil Ferula Galbanumifua (Galbanum) Resin Oil Salvia Sclarea Extract Vanilla Planifolia Fruit Extract Cinnamomumzeylanicum Bark Oil
3 in stock