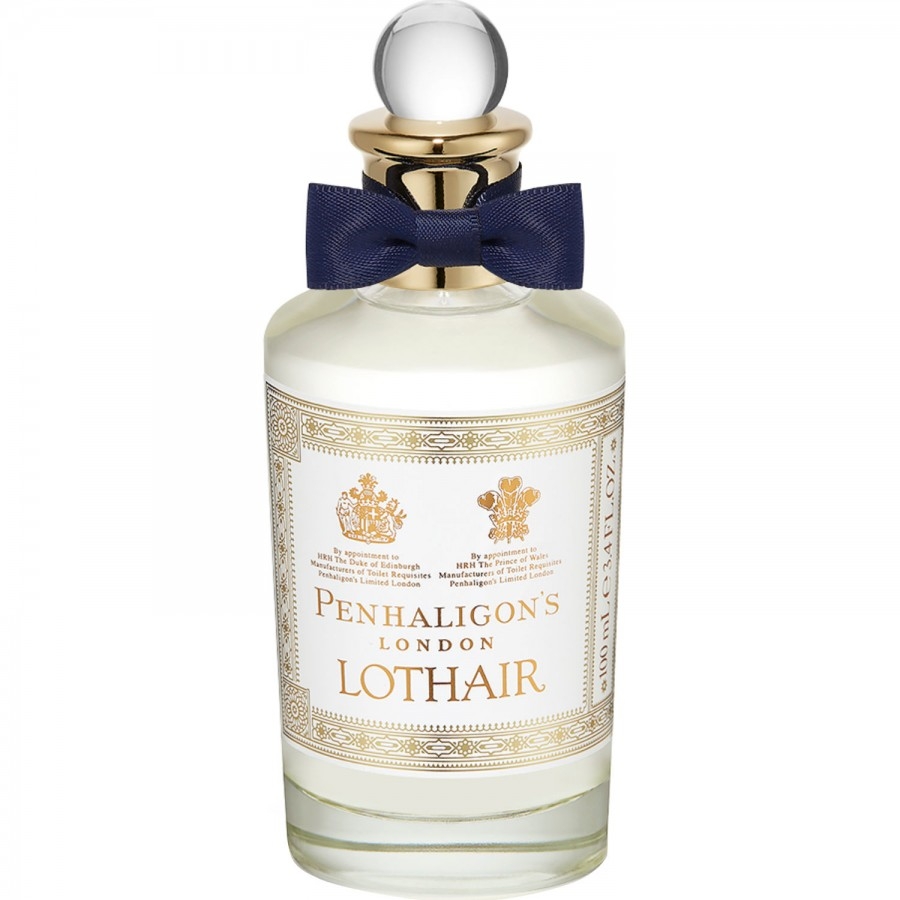 Lothair EDT 100ml
Lothair is a part of Penhaligon's Trade Routes Collection. Scented with the spoils of an adventure on the high seas. Named after one of the last clipper ships but also one of the fastest – Lothair was the last ship to be built at Rotherhithe in 1870. A tea clipper ship, Lothair held the fragrant joys of adventure and a cargo of tea as it traded between England and Asia. The trade of goods across the world created the modern fusion that we are lucky enough to experience readily today. Black Tea meets Juniper, Fig Milk meets Spices, and Citrus meets Sweet. A unique fusion of the clipper ship Lothair's spoils as it boldly explores new lands and new cultures with a complex and exotic blend of notes.

NOTES
Top: Red Berries, Juniper Berries, Cardamom, Bergamot, Grapefruit, Fig Leaf
Middle: Fig Milk, Lavender, Magnolia, Geranium, Black Tea
Base: Vanilla, Musk Cedarwood, Ambergris, Wenge, Oakmoss

PERFUMER
Bertrand Duchaufour

HOW IT WEARS
Lothair is an Eau De Parfum which should give the wearer anywhere from 6 - 8 hours of longevity on the skin. Warm and inviting with an old world, exotic and aromatic charm. Rich herbs, florals and spices, blend deliciously in this fragrance like a sweet, milky Earl Grey tea or Spiced Chai (although maybe spiked with a little Juniper). A robust and healthy wear with moderate to strong projection and longevity.

LORE LOVES
Complex, aromatic, classy and exotic with all the charm of old world England meets the Orient. Named after the ship that carried all the treasures of tea and spice on the trade route from India back to England, we love how Lothair epitomises this complex combination and completes the sensory experience with the freshness of the high seas, telling a tale or two of it's exotic adventures abroad. Rich, invigorating and refreshing. Yes please!

ABOUT THE BRAND
A classic English perfume house, William Penhaligon owned a barbershop, which became a perfumery in 1870, launching his first fragrance in 1872. This fragrance was created regularly for its many fans until the store was destroyed in The Blitz of 1941. Despite the store being destroyed, the fragrance house endured and was honoured with a Royal Warrant by the Duke of Wellington in 1956 for manufacturing toiletries. Many of the classic scents in Penhaligon's collection remain to this day, while many modern scents have been added. Penhaligon's remain true to William Penhaligon's vision of fine, traditional perfumes and techniques.
Out of stock
Get an alert when the product is in stock: