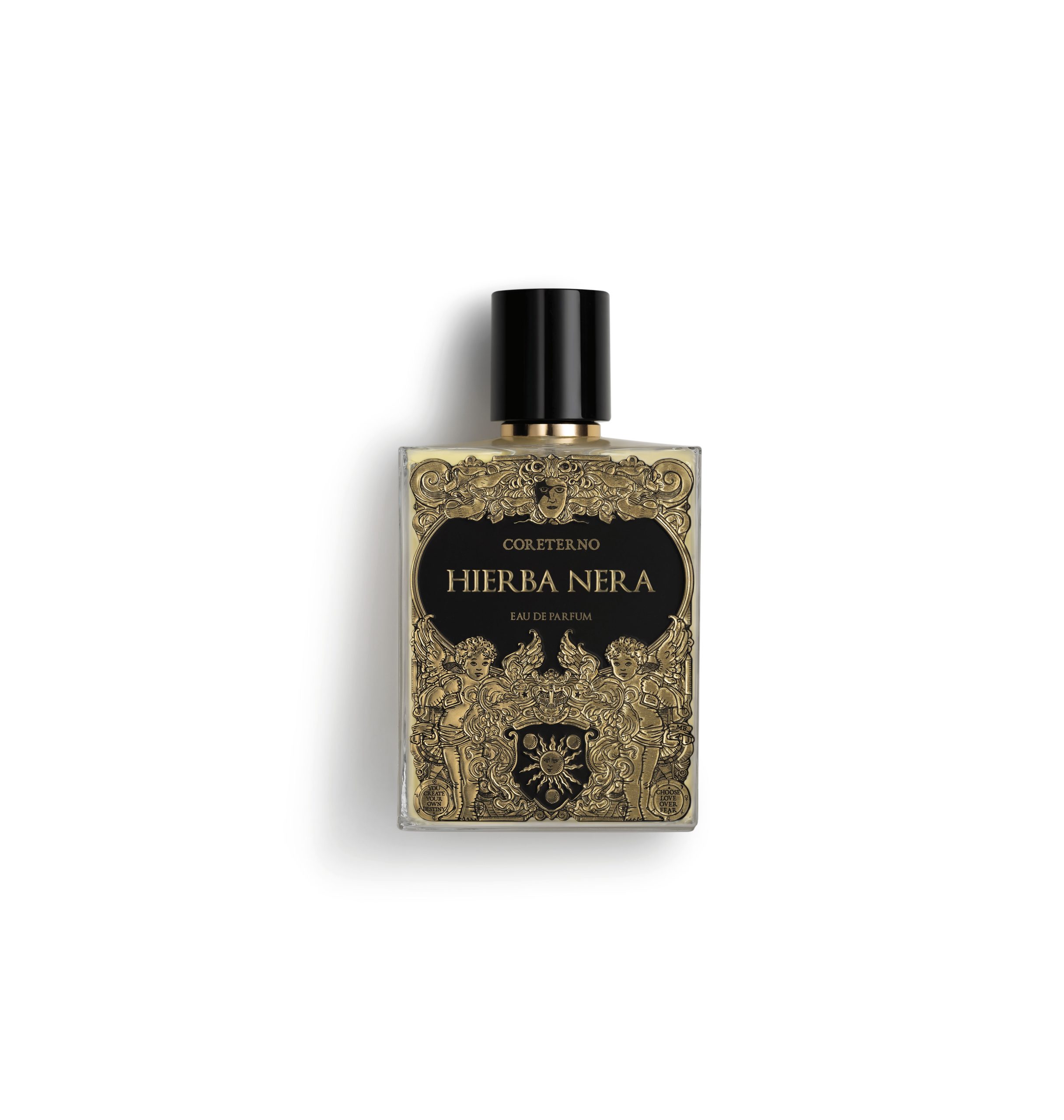 Fragrance Collection – Hierba Nera EDP 100ml
A fragrance with an extremely original structure that opens with spices, citrus fruits and an original "marijuana" accord that strikes immediately. Not least the heart where the head of the fragrance rests. A resinous heart where the elemi, the incense, the labdanum create a narcotic symphony. The structure is closed by a background rich in woods where cedar dominates. The powerful notes of oud and oak moss give character.

NOTES
Top: Bergamot, Nutmeg, Weed Scent
Middle: Labdano, Iso And Super, Elemi, Incense, Cedar Wood, Amber
Base: Atlas Cedar Wood, Texas Cedar Wood, Oud, Oak Musk
HOW IT WEARS

Herba Nera opens with a fresh and aromatic opening, the soft hint (but not the overwhelming) note of marijuana moves gently into a wonderful resinous and warm middle and base. The beautiful fusion of woody notes in the base create depth without heaviness in Herba Nera, almost like a gentle forest breeze. The comforting scent of nature comes alive in Herba Nera and lasts around 8 hours on the skin.
LORE LOVES 
We love the aromatic earthy tones in Herba Nera - we are immediately transported to nature and enveloped in the woody tones of a forest under the spell of a full moon. Addictive and all-consuming, like a passionate love affair that knows no bounds, Herba Nera is a mysterious earthy scent that delves us into the darkest depths of the night.

PERFUMER
Luca Maffei

ABOUT THE BRAND
Created by Italian born couple Francilla and Michelangelo, working from their (family owned) gothic castle in the heart of Rome, Coreterno is a unique and renowned candle brand that combines Renaissance art with modern rock n roll references. As an ode to their ancestry, Coreterno reference their Italian history of art throughout the collection, even working with an artisan design house to create their (patented) labels that dates back to the Renaissance. In 2020 Coreterno launched their fragrance collection reflecting the world of rock n roll, pop and underground music from the 70s, along with a passion for classic art masterpieces fallen into oblivion, recovered and projected into a future that has a rebellious soul. The perfume collection is imbued with hope and positivity. Each fragrance has a mystical, enveloping and unconventional power that will awaken the inner rockstar in you.
2 in stock