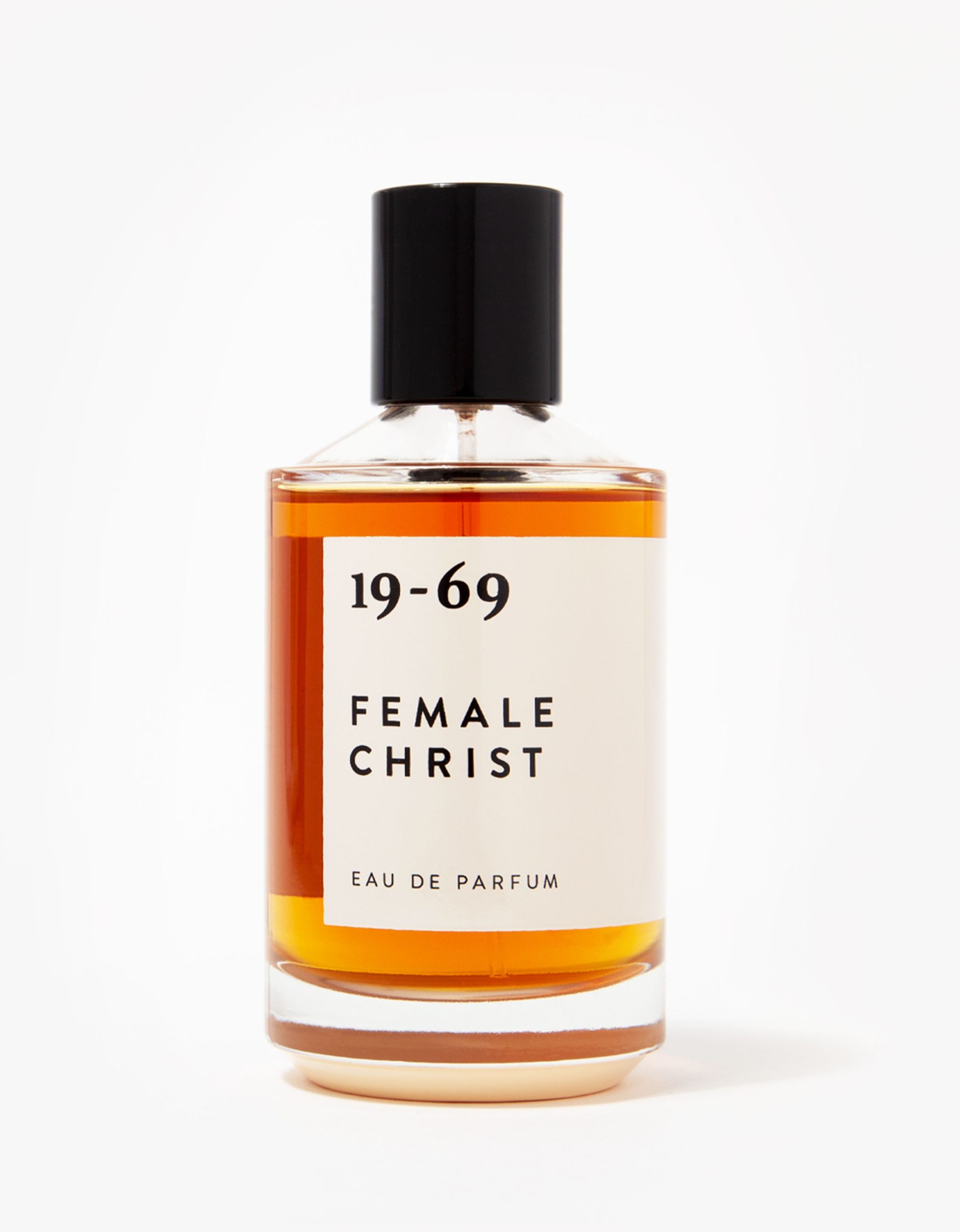 Female Christ EDP 100ml
In 1969, a naked woman carrying a cross, walked through the Copenhagen Stock Exchange. The performance act went under the name "Female Christ". Female Christ by 19-69 is earthy and woody with integrity.

"The social revolution and constant transgression of boundaries in the late 1960s meant that artists expressions took new directions. Some artists opposed of dominant values and behavior of society by using performance art: art that exists while in progress. However, this also means that significant voices and parts of art historý from this time period risk to fade as they only exist as photographic or filmed records. By creating a fragrance with the same name, 19-69 ensures that the memory is immortalized." Johan Bergelin


NOTES
Top: Eucalyptus, Patchouli, Pimento
Middle: Rhubarb, Wintergreen, Red Thyme, Geranium
Base: Vanilla, Amber, Benzoin, Cinnamon Bark, Cashmere Wood

PERFUMER
Johan Bergelin

HOW IT WEARS
The Female Christ opens with a wonderfully aromatic hint of Eucalyptus and the smooth, earthy tones of Patchouli at the forefront. After about half an hour the beautiful and lighter notes of Thyme and Rhubarb mingle with the Patchouli that remains. A warm and resinous fragrance on the skin, The Female Christ stays quite warm with the notes of Amber and Vanilla in the base creating a soft, musky, cocooning fragrance that lasts 8 hours plus on the skin.

LORE LOVES 
The Female Christ gives us total 70's vibes as though it takes us straight from 1969 into the 70's with robust Patchouli gusto! An incredibly unisex fragrance with warmth, sweetness, yet a fresh aromatic (almost sour) contradiction to keep you guessing the entire time. We love this fragrance for its incredible longevity and unique fusion of warm and sexy resinous notes.

ABOUT THE BRAND
Founded by Swedish artist and product developer Johan Bergelin in 2017, 19-69 is a fusion of artists from Scandinavia, France and Italy working passionately on this collection. 19-69 is a range to push boundaries and explore art. Based on iconic moments throughout history, 19-69 represents freedom, tolerance and counterculture.

FREE RETURNS
Love your fragrance or return it for free. Learn more about The Lore Promise here. 
Out of stock
Get an alert when the product is in stock: