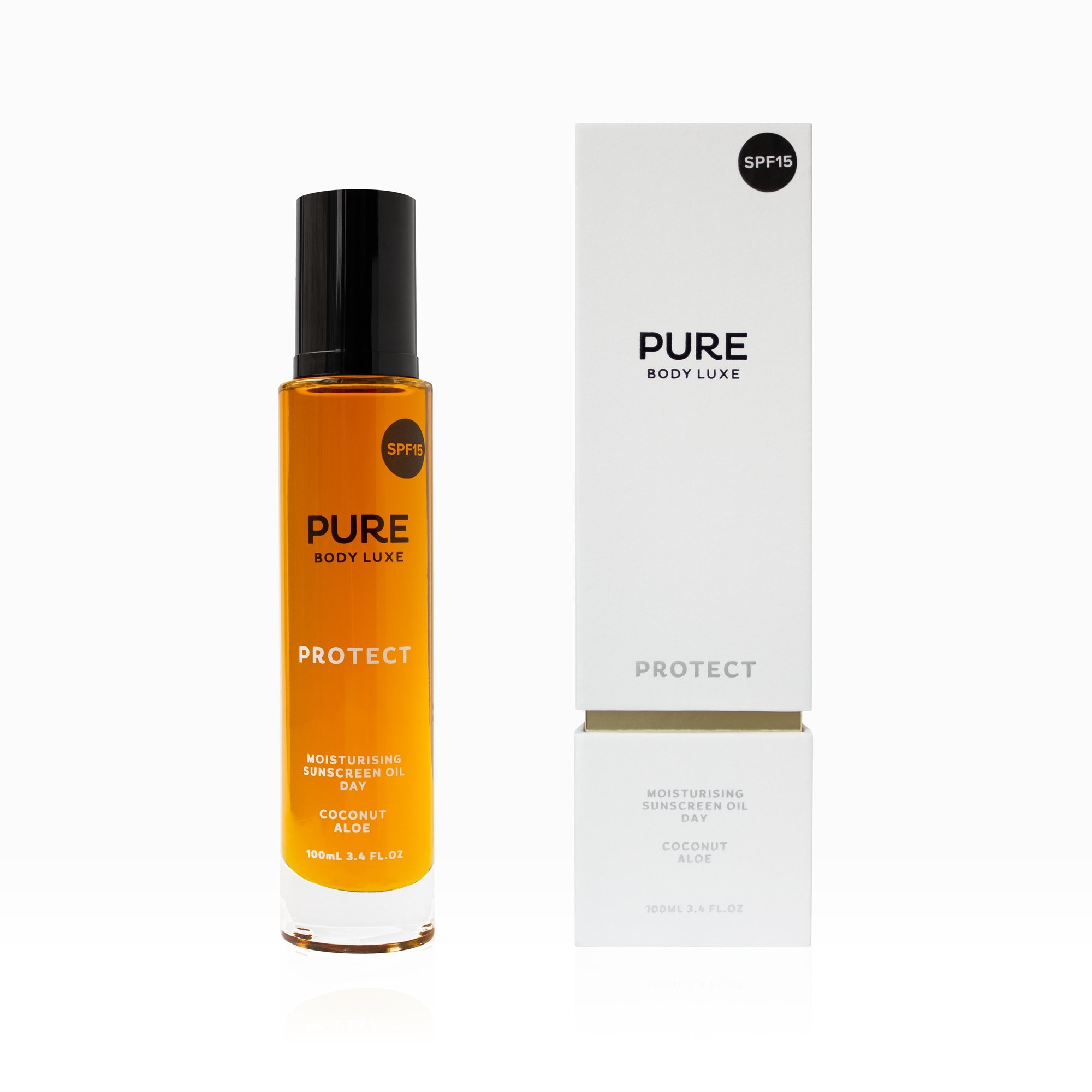 Face & Body Oil PROTECT SPF15 100ml
Moisturising Sunscreen Oil

Protect is made from a select combination of botanical oils, oil extracts and high-quality sunscreen actives that work together to provide intense moisture for dry, sun-damaged skin plus the added protection of sunscreen actives for broad-spectrum sun protection from UVA and UVB exposure.

FRAGRANCE
Protect has a beautiful, light scent of Coconut, Sandalwood with a hint of Vanilla which is complemented nicely with subtle tones of Frankincense and Geranium, reminiscent of relaxing summer days.
Top Notes: Geranium, Sandalwood
Heart Notes: Frankincense, Fennel Seed, Rosewood
Base Notes: Carrot, Vanilla

KEY BENEFITS
A rich and healing oil formulated to brighten your complexion and improve skin elasticity
Naturally high in antioxidants, stimulating skin health at a cellular level
An easily absorbed, lightweight and non-greasy formula that leaves skin smooth and soft with a radiant, healthy glow
Suitable for dry and moisture depleted skin
High in anti-ageing ingredients to combat fine lines and wrinkles
Mood enhancing and invigorating
Skin repair and restoration
Spreads Clear. Use Protect on face and body to hydrate and moisturise the skin whilst providing a light and useful protection from harsh UVA & UVB exposure. Apply to skin 15 minutes before going out in the sun and reapply hourly and after swimming or excessive sweating. Use at the beginning of the day as part of your sunscreen and moisturising routine.
ACTIVE SUNSCREEN INGREDIENTS Octocrylene 70mg/g, Butyl Methoxydibenzoylmethane 30mg/g, Octyl Methoxycinnamate 20mg/g. All AAN and INCA approved.

NATUTAL INGREDIENTS Coconut oil, Apricot Kernel oil, Camellia (Green Tea) oil, Sweet Almond oil, Aloe Vera oil extract, Watermelon Seed oil, Squalane (Olive oil), Jojoba oil, Red Palm oil, Red Raspberry Seed oil, Hemp Seed oil, Shea oil, Echium oil, Carrot Seed oil, Fennel Seed oil, Frankincense oil, Geranium oil, Rosewood oil, Sandalwood oil , Vanilla oil, Vitamin E oil and Blue Tansy oil.
Out of stock
Get an alert when the product is in stock: