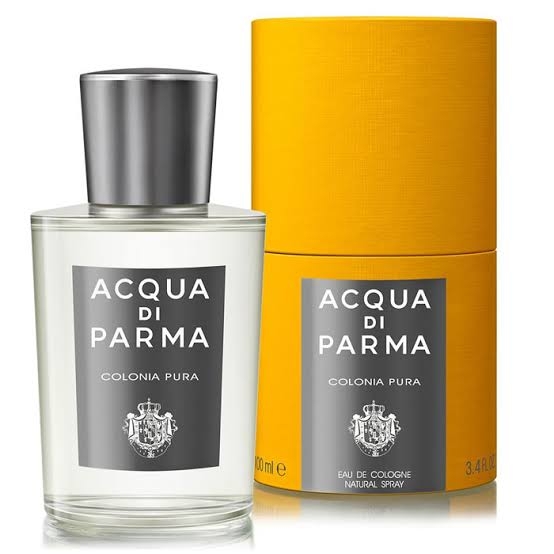 Colonia Pura EDC 100ml
Colonia was first created in 1916, becoming an iconic Italian fragrance that grew in popularity pre war in the 1930's and post war in the 1950's. Since then, the Colonia legend has prevailed and a collection under the Colonia name has developed. All based on the original aromatic and elegant Colonia.

Colonia Pura is a more recent addition to the Colonia family. A vibrant and light hearted modern interpretation of the classic Colonia, Colonia Pura creates a fresh twist to the Italian Citrus. A sparkling yet rounded scent, Colonia Pura is your light and airy modern take on the traditional and classic citrus scents.

NOTES
Top: Italian Bergamot, Italian Orange, Paraguayan Petitgrain
Middle: Russian Coriander Oil, Jasmine Sambac Absolute, French Narcissus Absolute
Base: Virginian Cedarwood, Indonesian Patchouli, Musk

PERFUMER
Undisclosed

HOW IT WEARS
Colonia Pura is an Eau de Cologne that should last anywhere from 4 - 6 hours on the skin. A lighter, slightly more feminine fragrance than the original Colonia. With the fragrant focus being more on the air and ozonic notes here, this delightful concoction of light citrus and airy white floral has a subtle, more personal projection and anywhere from moderate to long lasting longevity.

LORE LOVES
We just adore how this fragrance encapsulates its namesake. Light, bright and airy, like a day at the seaside, a stroll along the beach or boulevard with a fresh lemonade, or an unforgettable Italian summer holiday. A youthful and unisex, aquatic with a delicately effervescent and sparkling kind of purity.

ABOUT THE BRAND
With the creation of the iconic Colonia fragrance in 1916, Acqua di Parma has grown to become one of the leading Italian perfume houses. With Colonia's popularity gaining momentum both pre war in the 1930's and post war in the 1950's, it is renowned for being an exclusive high society perfume house. Wth a star studded clientele and classic formulations, Acqua di Parma captures the essence of Italy and its finest ingredients in true style.

FREE RETURNS
Love your fragrance or return it for free. Learn more about The Lore Promise here. 
1 in stock