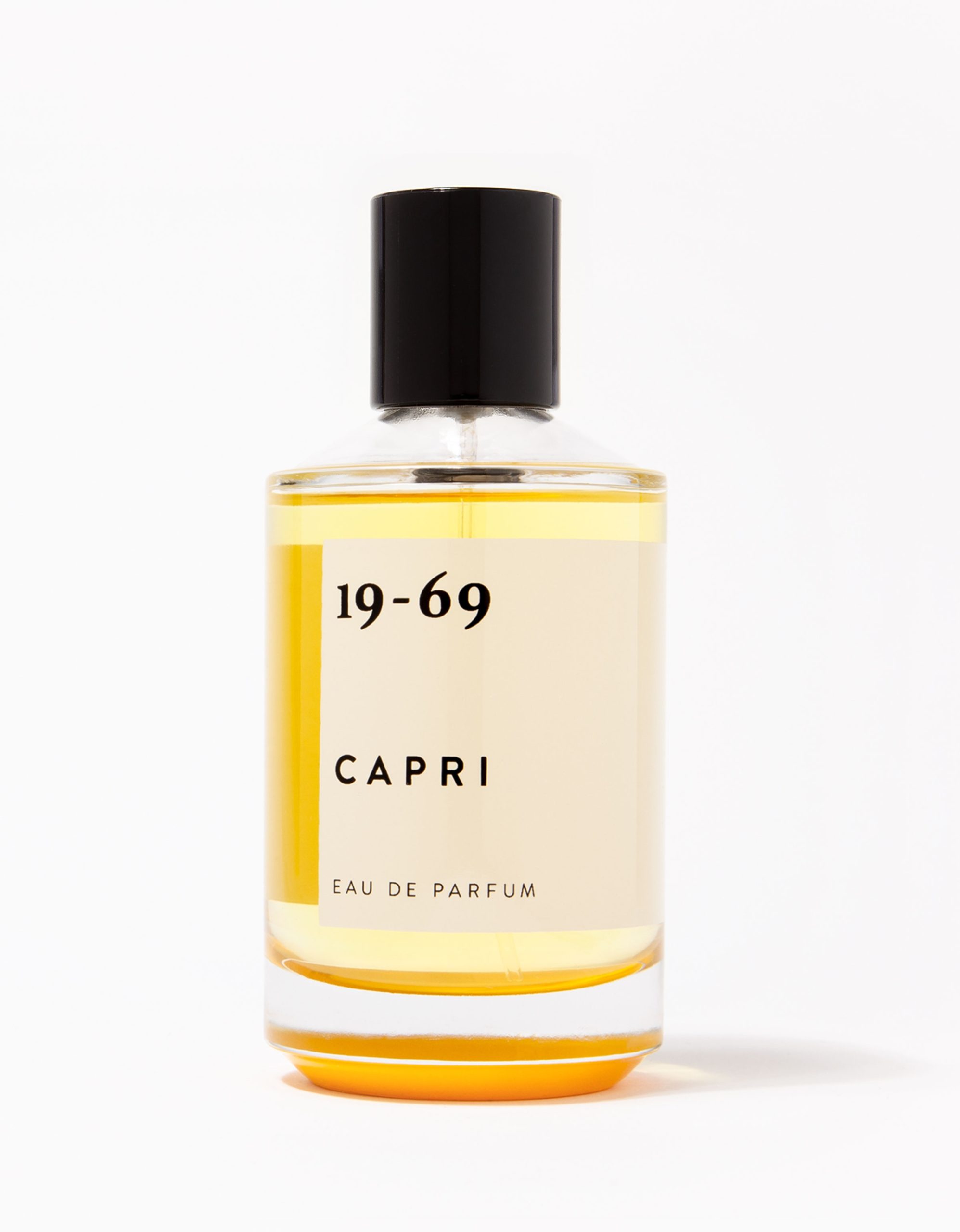 Capri EDP 100ml
Capri is inspired by the settings of Villa Malaparte and the iconic film Le Mépris (1963) that was filmed on the Isle of Capri. The composition is edgy, fresh, light yet comforting.

"I have always been captivated by legendary, trendsetting films. The movie Le Mépris from 1963 featuring Brigitte Bardot and Jack Palance is both iconic and stylish. The film incorporates a W scheme of red (tolerance, love), blue (coldness) and white (neutral) referring to the national flags of France and the USA and is evocative of the thematic elements of the narrative." Johan Bergelin

NOTES
Top: Mandora Bitter Orange, Sweet Orange, Chamomile, Cardamom, Pink Pepper, Sichuan Pepper, Juniper Berries, Mandarine Oil, Mandarine Leaves Oil
Middle: Galbanum, Jasmine Alcoolat, Osmanthus Alcoolat, Ylang Ylang Extract Oil
Base: Orris, Ambroxan, Angelica Seeds, White Musk

PERFUMER
Johan Bergelin

HOW IT WEARS
Capri opens with bright and uplifting citrus notes initially - it is vibrant and full of citrus life with a smorgasbord of citrus notes and some gorgeous aromatics thrown in for good measure. Juicy, ripe and crisp, Capri is the perfect balance between citrus-sweet and citrus-tart. Settling into a gentle, clean skin-like citrus over the next couple of hours, Capri's floral and Ambroxan middle and base notes create a smooth, creamy tone to soften the citrus intensity (without losing the citrus notes all togther). This is a must try for any citrus lovers out there!

LORE LOVES 
We love the feeling that Capri evokes - hot summer days wandering through a citrus orchard, carefree and full of zest (no pun intended) for life. A modern take on a citrus scent with a youthful playfulness. The perfect fragrance to wear when you want to feel refreshed and full of joy!

ABOUT THE BRAND
Founded by Swedish artist and product developer Johan Bergelin in 2017, 19-69 is a fusion of artists from Scandinavia, France and Italy working passionately on this collection. 19-69 is a range to push boundaries and explore art. Based on iconic moments throughout history, 19-69 represents freedom, tolerance and counterculture.

FREE RETURNS
Love your fragrance or return it for free. Learn more about The Lore Promise here. 
Out of stock
Get an alert when the product is in stock: