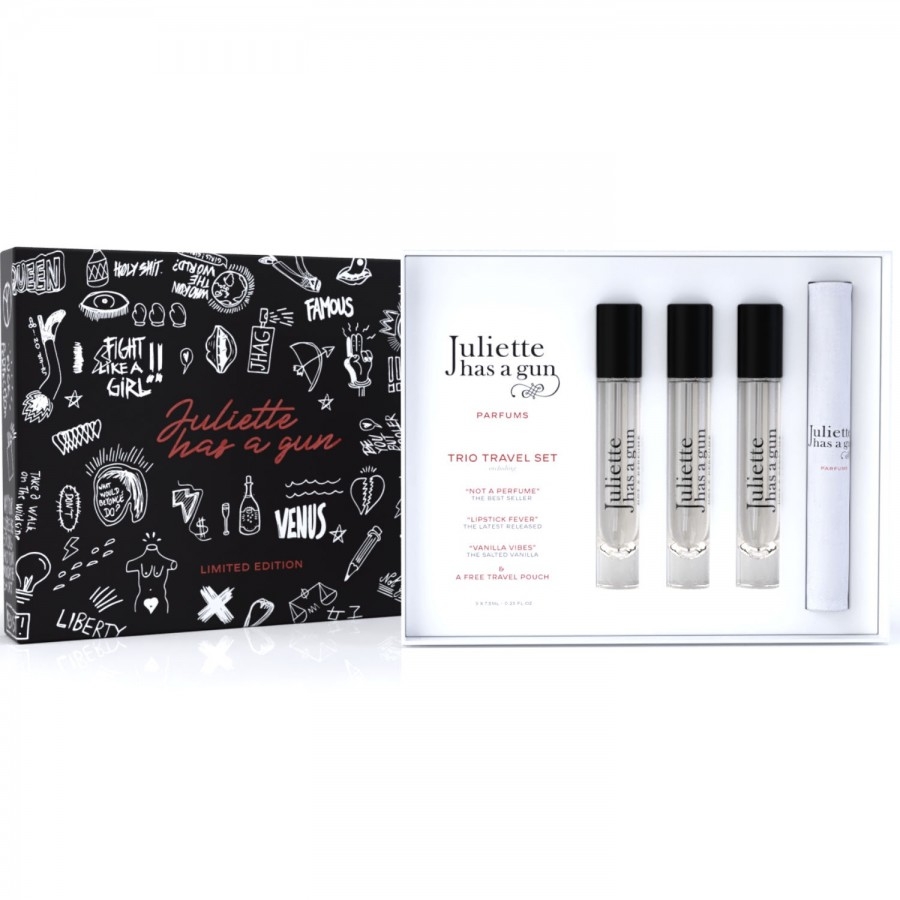 Trio Travel Set 3 x 7.5ml Pocket Sprays
Three of the best in one gift set. Discover the best of Juliette has a Gun's olfactive universe.
Keep your fragrances close to you wherever you go and carry them in a cotton pouch, your gift with the set!

Inside this pack:

Not a Perfume 7.5ml Pocket Spray
We love the skin-like sexiness of Not a Perfume from Juliette has a Gun. It gives a soft and clean amber tone on the skin that is amazing worn alone or layered – such a unique concept.

Lipstick Fever 7.5ml Pocket Spray
We love the glamorous nostalgia that Juliette has a Gun has created with Lipstick Fever. This takes us to memories of playing amongst the adult wonders of our mother's, and our grandmother's makeup collections - particularly their lipsticks. That powdery, dryness from the Iris and Patchouli gives such a beautiful musky elegance to Lipstick Fever. This perfume feels reminiscent of the old world movie starlets it's the kind of vintage lipstick scent we imagine the most glamorous women wearing in the 1950's.
Vanilla Vibes 7.5ml Pocket Spray
We love a great Vanilla scent that is perfectly balanced! The element of Sea Salt with the Vanilla is perfection, and then the depth of Sandalwood and Musk makes this the type of scent that you want to keep coming back and smelling.

Plus a free Juliette has a Gun branded cotton travel pouch.

ABOUT THE BRAND
Created in 2005, Juliette has a Gun is the wonderful fragrance world of Romano Ricci. Born into fragrance royalty, Romano Ricci had perfume in his DNA as the great grandson of Nina Ricci. The Juliette has a Gun range was originally based solely around the rose - like a woman, Ricci says a rose is beautiful, intoxicating, delicate and thorny. The Juliette has a Gun range is contemporary, assertive and full of life. Ricci was inspired by the Shakespearean tragedy, Romeo and Juliette, however the modern Juliette in this story comes armed - she carries a weapon, her weapon is her scent. And she uses her scent for seduction, flirtation and provocation. Juliette has a gun is rock meet romance in a bottle.


1 in stock