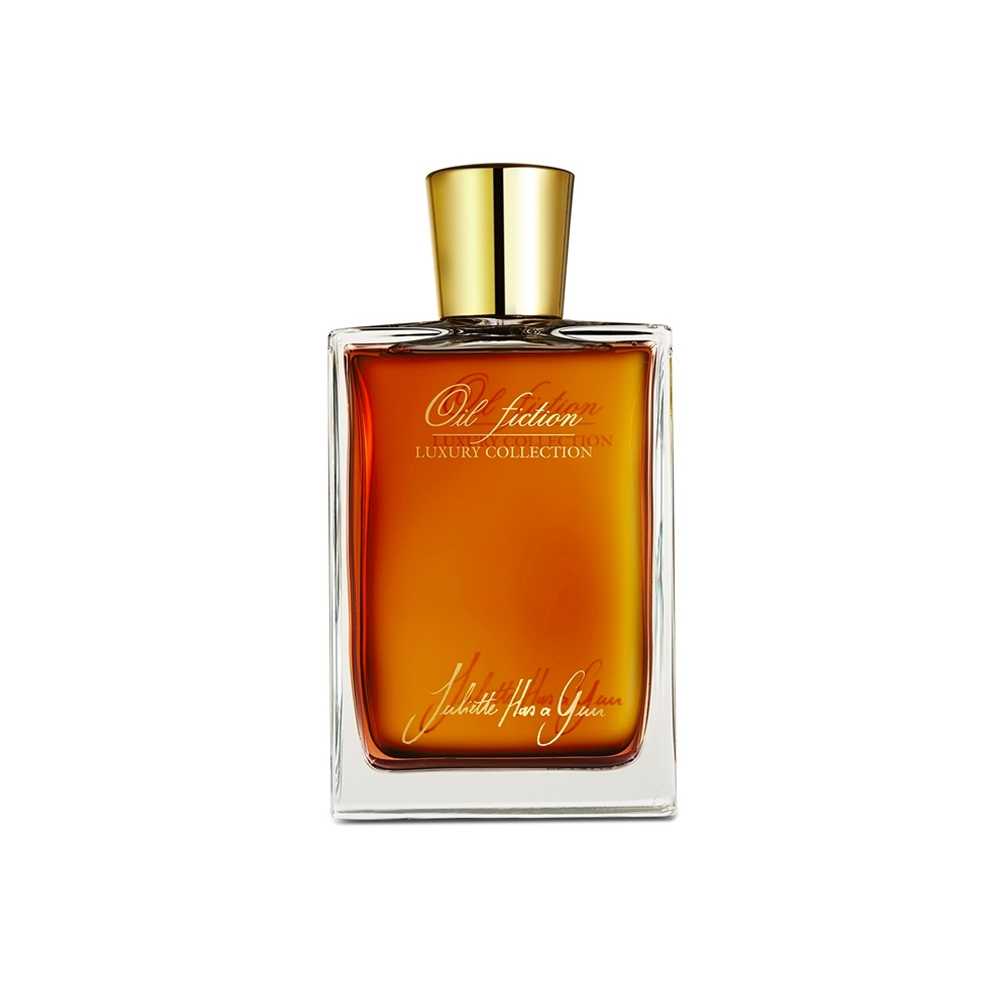 Luxury Collection – Oil Fiction EDP 75ml
When red gold meets yellow gold, Initially created as a limited edition of 999 examples, its success and sophistication have made Oil Fiction an original and highly sought after perfume. Oil Fiction is a scent that plays with the light and the generosity of oriental notes. A voluptuous fragrance. A royal elixir where the red gold of Saffron blends with the yellow gold of Amber. The promise of a wild nature revealed with sophistication will charm you and unveil with grace. Oil Fiction tells the tale of an elegant trail, suave and animal. Elegant and sophisticated, the bottle is presented in a bright, modern white lacquered box.
 
NOTES
Top: Tuberose, Bergamot, Papyrus  
Middle: Saffron, Ylang Ylang, Iris
Base: Amber, Labdanum, Sandalwood 

PERFUMER
Romano Ricci

HOW IT WEARS
Oil Fiction opens with a sharp brightness that is quickly softened when on the skin. The soft, rounded Amber notes shine with the warm, headiness of Tuberose and a hint of spice!

LORE LOVES
We love that Oil Fiction has the heady richness of vintage perfumes, a true oriental; Oil Fiction is bold and luxurious.

ABOUT THE BRAND
Created in 2005, Juliette has a Gun is the wonderful fragrance world of Romano Ricci. Born into fragrance royalty, Romano Ricci had perfume in his DNA as the great grandson of Nina Ricci. The Juliette has a Gun range was originally based solely around the rose - like a woman, Ricci says a rose is beautiful, intoxicating, delicate and thorny. The Juliette has a Gun range is contemporary, assertive and full of life. Ricci was inspired by the Shakespearean tragedy, Romeo and Juliette, however the modern Juliette in this story comes armed - she carries a weapon, her weapon is her scent. And she uses her scent for seduction, flirtation and provocation. Juliette has a gun is rock meet romance in a bottle.

FREE RETURNS
Love your fragrance or return it for free. Learn more about The Lore Promise here.
1 in stock