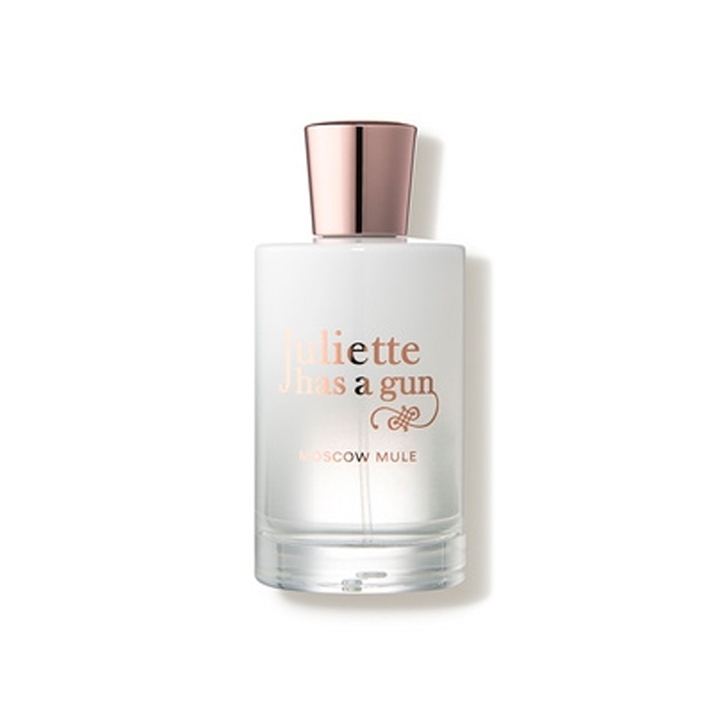 Moscow Mule EDP 100ml
Dedicated to the city of Moscow and the legendary Russian cocktail of vodka, ginger beer and lime - the Moscow Mule. Intoxicating, dangerous and unforgettable - this fresh, bright and woody scent captivates. A unique fragrance that is unlike anything else in the Juliette has a Gun collection, featuring the Firmenich molecule Norlimbanol - described as a powerful and dry woody note, reminiscent of patchouli with animalic, amber undertones. With the zing of Ginger and Lime as a nod to the classic cocktail recipe this fragrance balances perfectly. Moscow Mule hypnotises, inviting everyone to share a drink, a cheers to life. A limitless pleasure to be consumed without hesitation or moderation.

NOTES 
Top: Bergamot, Ginger, Lime 
Middle: Jasmine, Apple Essence
Base: Ambroxan, Norlimbanol, Ambretolide

PERFUMER
Romano Ricci

HOW IT WEARS
Moscow Mule is sparkly and zesty on opening with the Ginger, Lime and Apple shining brightly. The animalic, woody base is reminiscent of a stronger and more intense Not a Perfume – it is skin-like but better and richer! The Juliette has a Gun range is a very concentrated juice so the longevity is generally around 8 hours – the silage is good without being overwhelming.

LORE LOVES
We love the interpretation of the Moscow Mule cocktail in this perfume – this is the ultimate scent for fresh and bright notes blended perfectly with a woody depth.

ABOUT THE BRAND
Created in 2005, Juliette has a Gun is the wonderful fragrance world of Romano Ricci. Born into fragrance royalty, Romano Ricci had perfume in his DNA as the great grandson of Nina Ricci. The Juliette has a Gun range was originally based solely around the rose - like a woman, Ricci says a rose is beautiful, intoxicating, delicate and thorny. The Juliette has a Gun range is contemporary, assertive and full of life. Ricci was inspired by the Shakespearean tragedy, Romeo and Juliette, however the modern Juliette in this story comes armed - she carries a weapon, her weapon is her scent. And she uses her scent for seduction, flirtation and provocation. Juliette has a gun is rock meet romance in a bottle.

FREE RETURNS
Love your fragrance or return it for free. Learn more about The Lore Promise here.
Out of stock
Get an alert when the product is in stock: