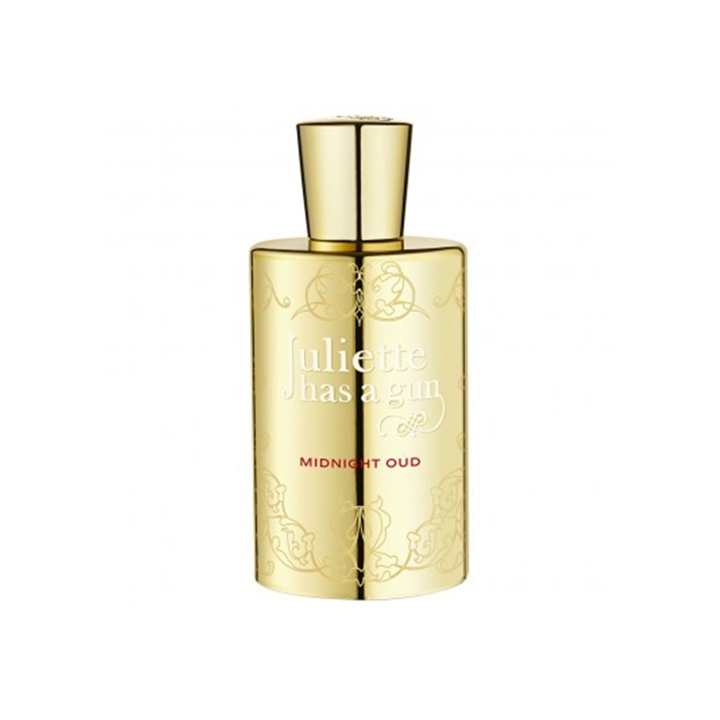 Midnight Oud EDP 100ml
Midnight, the depth of the night, when the unexpected happens. Suddenly, a hidden face appears. Someone tries to escape from the palace. The unknown shadow pulls out a shiny object... A weapon? No, a bottle... OUD, clouds of heady smoke captivate the senses, mixing majesty and allure to the mysterious character. The particularity of this scent is its unique blend of luxurious amber and invigorating Patchouli built around the complexity and deepness of Oud. A meeting of rock and elegance in a bottle – the modern and fragrant perfume rebel. Midnight Oud is dark and mysterious yet feminine and sensual at the same minute.

NOTES
Top: Birch Tar, Rose 
Middle: Cedarwood, Patchouli, Oud Wood 
Base: Cetalox, Bois de Guaiac Wood 

PERFUMER
Romano Ricci

HOW IT WEARS
This is the ultimate spicy, woody rose perfume. The rose shines while mingling in a beautiful rich velvety Oud base. The Juliette has a Gun range is a very concentrated juice so the longevity is generally around 8 hours – the silage is good without being overwhelming.

LORE LOVES
We love the richness of Midnight Oud on the skin, we find that a little bit goes a long way as this scent has a lot of powerful notes. This perfume is sexy, assertive and powerful at the same time.

ABOUT THE BRAND
Created in 2005, Juliette has a Gun is the wonderful fragrance world of Romano Ricci. Born into fragrance royalty, Romano Ricci had perfume in his DNA as the great grandson of Nina Ricci. The Juliette has a Gun range was originally based solely around the rose - like a woman, Ricci says a rose is beautiful, intoxicating, delicate and thorny. The Juliette has a Gun range is contemporary, assertive and full of life. Ricci was inspired by the Shakespearean tragedy, Romeo and Juliette, however the modern Juliette in this story comes armed - she carries a weapon, her weapon is her scent. And she uses her scent for seduction, flirtation and provocation. Juliette has a gun is rock meet romance in a bottle.

FREE RETURNS
Love your fragrance or return it for free. Learn more about The Lore Promise here.
Out of stock
Get an alert when the product is in stock: