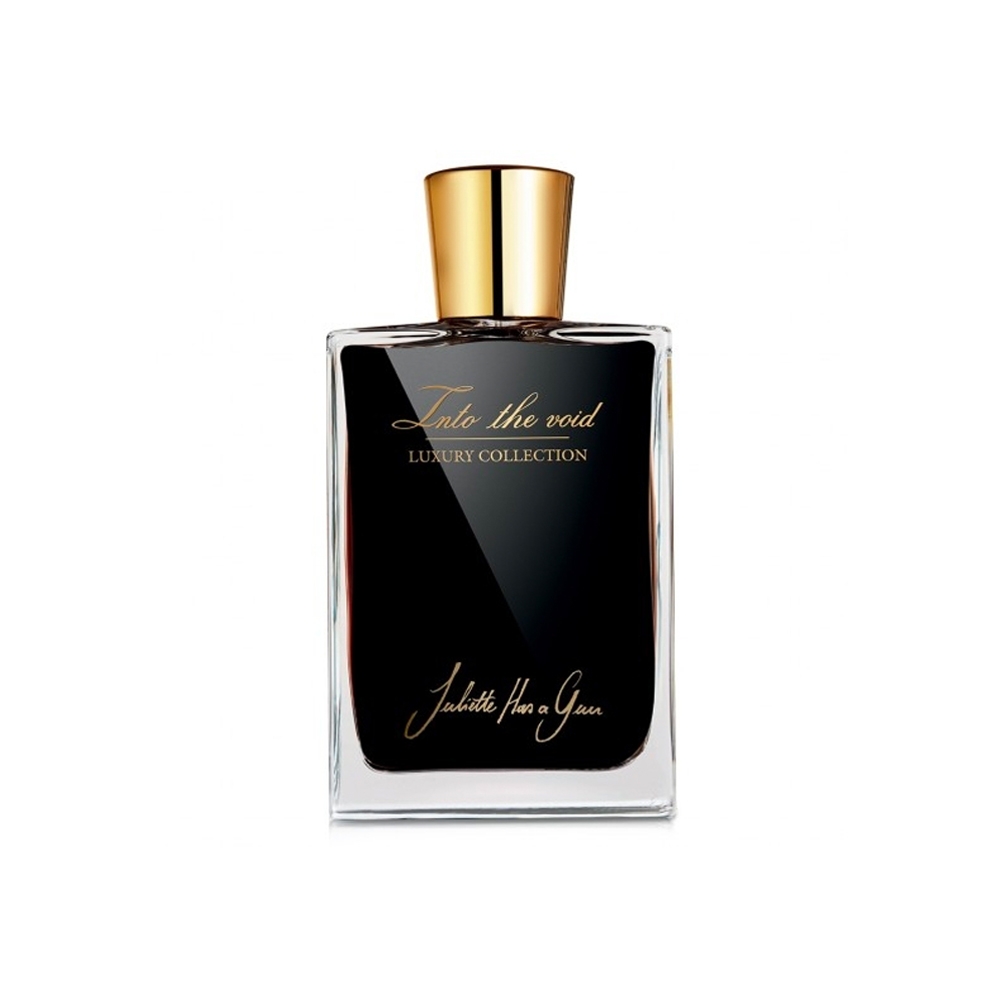 Luxury Collection – Into the Void EDP 75ml
A fragrance with a dark energy. The scent itself depicts man's curiosity of progress in science and forces ruling the world we live in. "Scientific achievements and progress of our knowledge during time enable us to realise and explain numerous phenomena. But one mystery still remains unsolved – black holes." An ultra-woody cocktail of Guaiac wood, Papyrus, Cedar, Patchouli… to name but a few. Party eclipsed, the Black Orchid is yet vital to the balance. Blended with the Tonka bean and the Liquorice infusion, it brings all its sensuality to the composition. A perfume diffusing a gravitational power, invisible, and yet devastating. As the fourth fragrance in the Luxury Collection, Juliette has a Gun says Into the Void is "cosmic fluid, with gold reflection. Once released it stays in the air as star dust in space by expanding its gravitational forces, invisible but at the same time so alluring."
 
NOTES
Top: Cedar Essence, Papyrus, Guaiac Wood
Middle: Black Orchid, Patchouli Essence
Base: Tonka Bean, Liquorice 

PERFUMER
Romano Ricci

HOW IT WEARS
The Juliette has a Gun range is a very concentrated juice so the longevity is generally around 8 hours – the silage is good without being overwhelming. We find the Black Orchid really comes out on the skin, there is a hint of Liquorice but not too strong. We loooove the dark earthy base as it settles on the skin.

LORE LOVES
We love the dark, rich and mysterious blend of Into the Void. This perfume develops so beautifully on the skin with a powerful depth.

ABOUT THE BRAND
Created in 2005, Juliette has a Gun is the wonderful fragrance world of Romano Ricci. Born into fragrance royalty, Romano Ricci had perfume in his DNA as the great grandson of Nina Ricci. The Juliette has a Gun range was originally based solely around the rose - like a woman, Ricci says a rose is beautiful, intoxicating, delicate and thorny. The Juliette has a Gun range is contemporary, assertive and full of life. Ricci was inspired by the Shakespearean tragedy, Romeo and Juliette, however the modern Juliette in this story comes armed - she carries a weapon, her weapon is her scent. And she uses her scent for seduction, flirtation and provocation. Juliette has a gun is rock meet romance in a bottle.

FREE RETURNS
Love your fragrance or return it for free. Learn more about The Lore Promise here.
Out of stock
Get an alert when the product is in stock: