Jade chatted with Fiona from Orchids & Peonies about all things fragrance! We just love this blog post Fiona put together, have a read below! x
Perfume 101 With Jade from Lore Perfumery
If there is an area in beauty that I have really enjoyed experiencing and exploring as of it late, it is fragrance. I find fragrance truly fascinating for so many reasons, as quite often, when we smell a particular scent, such as fresh cut grass, rain or fresh laundry, our brains instantly connect that scent with a particular part of our memory. There is no doubt that certain scents can stir feelings, bring back a certain amount of nostalgia and memories.
How many of us remember the perfume or cologne our parents or grandparents wore? Or our first ever fragrance of our teens? These scents most definitely evoke certain feelings and take us back to a particular time or moment in our lives. Jade McAndrew, the co-owner of Lore Perfumery based in Melbourne completely agrees with this sentiment, likening perfume and scent to time travel "I love the memory and mood aspect of fragrance. I love that I can spritz a particular perfume and am instantly taken back to a certain time in my life – it is the closest thing we have to time travel! Scent is so closely linked to our memory and one of my favourite things about my job is showing a perfume to a customer and watching their reaction, good or bad, as to where the scent is taking them!".
As much as I love perfume and scents, the one thing I have recently discovered is that perfumery is an art form that is rich with history and a topic that is quite mesmerising but also very complex. I am fascinated by perfume and scent as an intellectual science as well the fact it is an aesthetic beauty product.
***Please note that this is a sponsored post and as transparency is important to me, I just wanted to disclose this. As many of you know, maintaining a website is expensive, so I truly appreciate you supporting me in this. This post isn't any way a sponsored review, instead, I hope it is somewhat educational and interesting for you to read – I know I learnt a lot when writing it.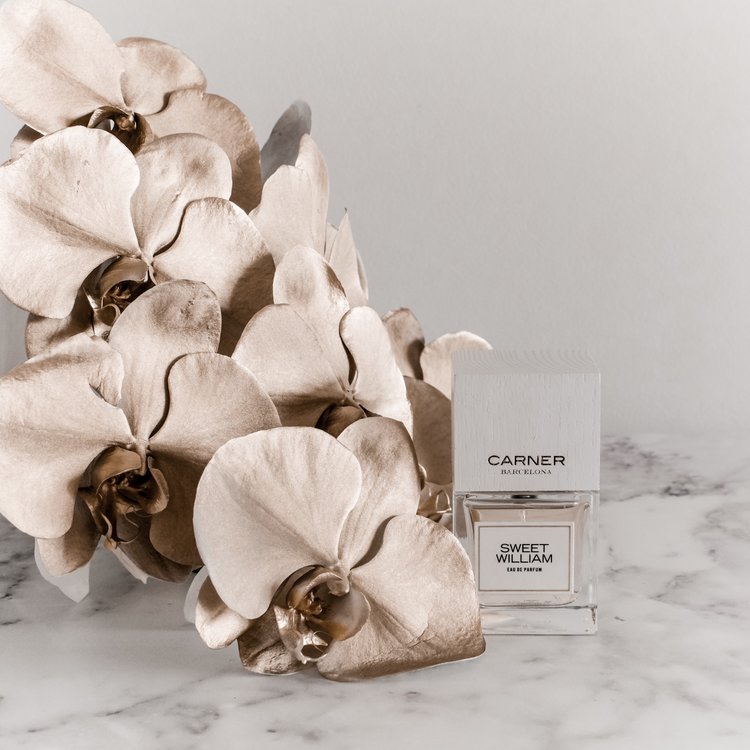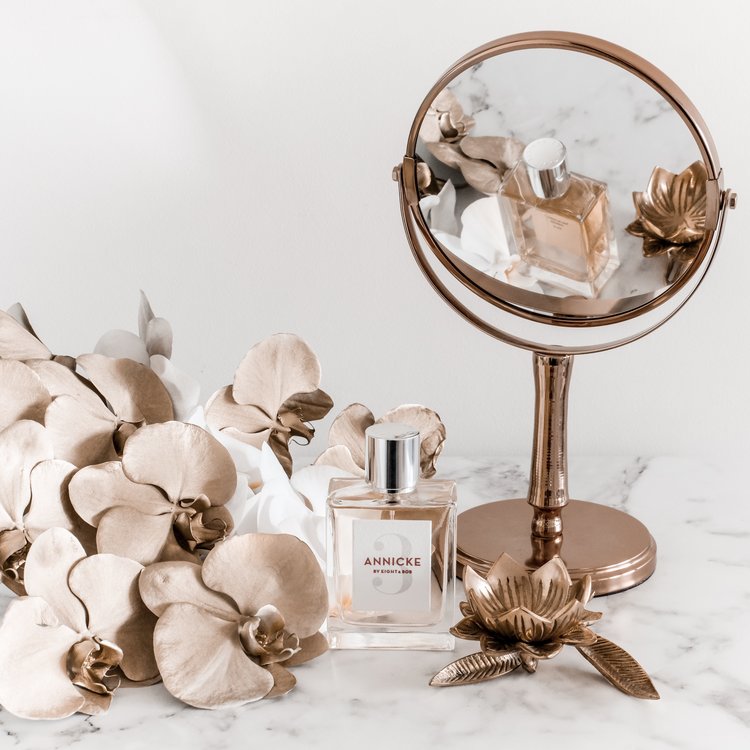 When you think about it, iconic scents such as CHANEL N°5, Eight and Bob or Guerlain Shalimar have such an interesting and colourful history and captures the mood of a certain time period. These scents may be decades old, but they still remain 'relevant'; and have really stood the test of time. Some of these scents have been made legendary due to the fact that they were the signature scent of iconic people, think Marilyn Monroe and of course CHANEL N°5. Whilst this scent had an incredibly interesting history in World War II, it was none other than Marilyn Monroe who immortalised the scent. In an interview with Life magazine, she answered the question "What do you wear to bed?" Marilyn responded with a simple, "CHANEL N°5", hallmarking it as her signature scent.

What is a Signature Scent?
So, what is a signature scent exactly? And with so much choice out there, and only so much capacity, how does one choose a signature scent? With department stores with entire sections dedicated to fragrance and gorgeous boutiques such as Lore Perfumery in Melbourne, there is no doubt that it is easy to be both mentally and physically exhausted with so much choice.
Jade describes a signature scent as simply as "Something that screams you", however also noting "I think that your signature scent should not be the scent of the perfume…it should be a beautiful mix of your own pheromones mixing with the notes in the perfume to create the perfect blend!". This statement for me makes a lot of sense. Have you ever been stuck in an elevator with someone and your olfactory senses were awakened by a particular perfume, so much so, that you asked the wearer what scent they had on? And then, upon locating the scent, have been so disappointed with how the smell works on you? Like any other beauty product, because our DNA is so unique, not all scents will work with our own pheromones. A single scent may smell a certain way on one person but also has the capacity to smell completely different on another, making our perfume choices even more personal.
Perfume Lingo 101
Like wine, perfumery comes with its own confusing lingo, making it hard for the average human to decipher and understand. Using the iconic, CHANEL N°5 as an example, the description for this legendary perfume reads as: "An abstract fragrance that reveals a delectably powdered bouquet, the N°5 Parfum is the quintessence of femininity. Top notes of Neroli from Grasse blend into the sensual, floral notes of two exceptional raw materials, May Rose and Jasmine from Grasse. Aldehydes provide airy freshness and lend an abstract effect to the fragrance." What does that even mean? When it comes to perfumery lingo, Jade reassures me that "there is no right or wrong when it comes to perfume" and goes on to explain that "What you smell might be completely different to what someone else does. I think people can feel intimidated by the perfume world and let's be honest it can sometimes be a little snooty, but we are trying to change this!".
Understanding that perfumery can be daunting, Jade shares "We also have blog posts on all things fragrance where we delve into the world of scent and share our industry secrets and knowledge". These posts have been extremely helpful in learning more about the language of perfume.
Having read these posts (written by co-founder Jess), there is definitely some terminology and basics that the average consumer should know and understand. The difference between an Eau de Parfum, Eau de Toilette and Eau de Cologne is important to recognise. According to Lore Perfumery's Fragrance 101, this quite simply this refers to the concentration of the juice (the perfume oils) in your bottle and thus the longevity and intensity when it is worn. Eau de Cologne is considered to be one of the oldest terms when describing fragrance. Whilst colognes are generally associated with being a men's fragrance, they are actually gender neutral. Traditionally, colognes are light, crisp, aromatic, citrus scents. Colognes are lightly concentrated (generally between 3- 5%) and generally last on the skin up to 2 hours. Eau de Toilettes are the next step up in terms of oil concentration. Generally speaking, Eau de Toilettes have a concentration of between 5% – 15% and can last for approximately 2 – 6 hours on the skin. This time frame can vary depending on the quality of the fragrance/brand and the particular oils used. Eau de Parfums are again a genderless term to describe scents that are concentrated by between 15% – 25% and generally last on the skin between 6 to 8 hours. The longevity of Eau de Parfums can vary greatly (you might find that commercial EDPs are a bit lighter than niche), they are generally the most easier to find fragrances and are considered to be the most popular. Like Eau de Toilettes, Eau de Parfums can vary greatly in strength and intensity. Finally, we have Parfum Extract (Extrait de Parfum) or simply perfume in the highest concentration of scent. Generally, one or two sprays is the maximum you would need to wear, and these types of fragrances can last up to 24 hours on the skin.
Perfume junkies also throw the word silage around. This term refers to the trail of scent left behind or projection from a perfume. Referring back to that person on the elevator with the amazing perfume, that 'whiff' of their amazing fragrance? That's the silage right there.
Then there are things called notes. Remember how I said that perfume is basically an art form? Well if perfume was a song, the fragrance notes are the composition of the music. Each note delivers something different and is often categorised into families such as citrus, floral, oriental, woody or fresh. These fragrance notes help to categorise scents so it is easier to narrow down and find certain scents that you may like. Notes also refer to the layers of the perfume: top, middle and base. These layers allow us to experience each level of the fragrance gradually, the scent unfolds on our skin and we get to enjoy the different and complex levels as we experience them. In a nutshell, the top note is usually the first thing you smell when you pick up a perfume bottle. As that evaporates, you get a whiff of the middle (also referred to as the "heart") and finally, the base note (which is what lingers on your skin).
How to find your Signature Scent
In terms of finding a signature scent, there is a lot of trial and error and can be a little overwhelming without some guidance. Lore Perfumery, the go-to perfume boutique in Melbourne has been helping customers with niche perfumes for over 25 years (it was originally called Kleins Perfumery). Co-owners Jade and Jess had worked as employees for Kleins. Jade clarifies, "Jess and I worked for Kleins and when the opportunity came up to take over the store we jumped at the thought!". Teaming up with Teagan (Jade's sister), all three co-owners were inspired by the art of storytelling, Kleins was renamed as Lore Perfumery and the legacy and passion of fragrance continues on. This can be seen in their approach in assisting customers to find a fragrance that is uniquely 'theirs'. The passion stems back to the beginning of the perfumery "We are known for our signature perfume consultations, it is something that we have carried on from the Kleins days, we have even had staff from some of the 'big guys' come into store and try to figure out what we do and what makes it so special" Jade reveals. What's their secret in locating that 'ah-ha!' scent? It's quite simple – Jade says that the staff, including herself, simply ask lots of questions and make it their mission that the final scent chosen is something that they love. She goes on to explain, "We don't just sell a customer a perfume because we have to – we want them to LOVE it! We ask what they normally wear, the reason they are looking for a new perfume, what they like or dislike about perfumes they have tried or worn in the past. We pick a select few perfumes from our range and then comes the fun part – trying them on and hoping they pass the skin test!". This same service is also available for those based interstate in Australia, whilst it is always ideal to have the full experience in store, it might not always be possible. Understanding this, Jade suggests "Pick up the phone, our team are here 7 days a week and can always assist over the phone. It isn't as easy as in store but we have done perfume consultations over the phone and can refer customers to the website to buy".
For those who don't have access to such niche perfumeries such as Lore Perfumery, Jade suggests understanding and knowing what basic notes you tend to gravitate towards as this will help with narrowing down fragrance choices. For example, "We have an extensive website and blog to help customers shopping online. You can shop by note – floral lover? Click on FRAGRANCE then FLORAL and all of our floral scents are listed" she suggests. Don't know what type of notes you like? I personally found that going out and exploring and smelling different scents really helped me discover what fragrance notes I was really into. For me, I really took the time to know what I liked and didn't like and slowly became more familiar with particular scents that I would normally gravitate towards (for example, I freaking love anything with Hinoki wood and am partial to the scent of Tuberose).
So how do you know when you have found your new signature scent? This answer will often vary depending on who you speak to, however, Jade explains "I think this really depends on the person. For me, I have an impulse personality so I fall in love (and out of love!) with things very quickly…I can smell something and within 5 minutes I know it is for me. Others like to wear it for a day and see how it lasts on their skin. You will know when a scent is the one, it will do something to you, or take you to a special place in your life, or just smell like YOU – but a little bit better".
When it comes to picking fragrances for herself, Jade admits "I am a big packaging nerd, so I am usually drawn into a perfume by the looks…even though I hate that I do this!". However, she goes on to explain a little more about the complexities of fragrance and what she looks for, beyond the packaging "I need something that works on my skin, there are a few perfumes in store that I LOVE on a card but on me they just don't work so I don't wear them. I love a long-lasting scent and something that is usually quite different and unique". Her current favourites? "L'Artisan Natura Fabularis Mirabilis – love, love, love this fragrance. Soft and feminine yet has something mysterious about it. L'Artisan Mandarina Corsica – this was a surprise favourite of mine as I usually don't like citrus scents. However, this fragrance does something to me…it is quite intoxicating. It's the right amount of sweetness and gourmand earthy notes. It is my favourite release from 2018. Orto Parisi Boccanera – Rich & bold and lasts for hours! Without fail, every time I wear this fragrance, I get complimented" she muses.
My Lore Perfumery Experience
Whilst I didn't have a chance to physically visit the Lore Perfumery store (this could be a good thing for my bank account though and I know the Mr appreciates this greatly), I was recently loaned 3 gorgeous perfumes from brands that I have never heard of before. "We have a focus on niche perfume and brands, so most of these aren't easy to find" Jade claims. "The biggest thing for us is performance, our customers don't really just care about pretty packaging they want the product to work! Being a perfumery, the product needs to have an amazing scent – if it doesn't smell great our customers will find something else in store that does" she continues. Jade also tells me that each and every product at Lore Perfumery has been trialled by the staff there and must have their seal of approval. My three handpicked scents from Jade herself were Eight and Bob's Annicke 3, Histoires de Parfums' Tubereuse and Carner Barcelona's Sweet William. I am not going to lie – each of these 3 niche perfumes blew me away and made me rethink about my recent departure from Floral scents. These three fragrances are not your typical florals – whilst they were all quite soft and feminine in their own way, I found all three floral scents to be quite unique and complex (I love complex scents) and were unlike anything I have experienced before.
My favourite of the three was Eight and Bob's Annicke 3 due to the smell reminding me very much of Gardenia, a floral scent that I have always loved due to it reminding me of my grandfather's balcony garden. Whilst its very effortless and subtle, the scent lasts all day on me and I love the fact that the scent is so easy to wear but I found it so complex and intriguing at the same time. This scent is described to have top notes of Bergamot, Mandarin and Red Berries; middle notes of Gardenia, Jasmine and White Rose and base notes of Cashmeran, Meringue and Sandalwood. As mentioned earlier I am also partial to the smell of Tuberose as for me, it's a floral scent that is punchy and just that little bit sexy. Histoires de Parfums' Tubereuse 2 Virginale, definitely falls under this category. This was definitely the stronger floral scent out of the 3 that were kindly loaned to me and I really enjoyed this strong, feminine, yet sexy scent it gave. If 'modern, strong, independent woman' could be bottled or 'categorised' into a single scent – this would be it. I found this to have great longevity also, easily lasting a whole day on me and getting quite a few compliments from strangers and colleagues. Finally, out of the 3 scents that I trialled, Carner Barcelona's Sweet William was definitely the most unique and different due to its mix of florals, peppers and spices. Whilst this was quite soft, the mix of florals and spice gave it a really unique twist. I don't quite know how to describe it – but to me Sweet William smells floral, yet a bit spicy and also 'clean' all at the same time. It sounds strange I know, but hear me out – it works! I loved its complexity and just how the scent was just so different to anything else out there. For me, this perfume didn't last as long as the other 2, however the smell itself and how different it was, won me over.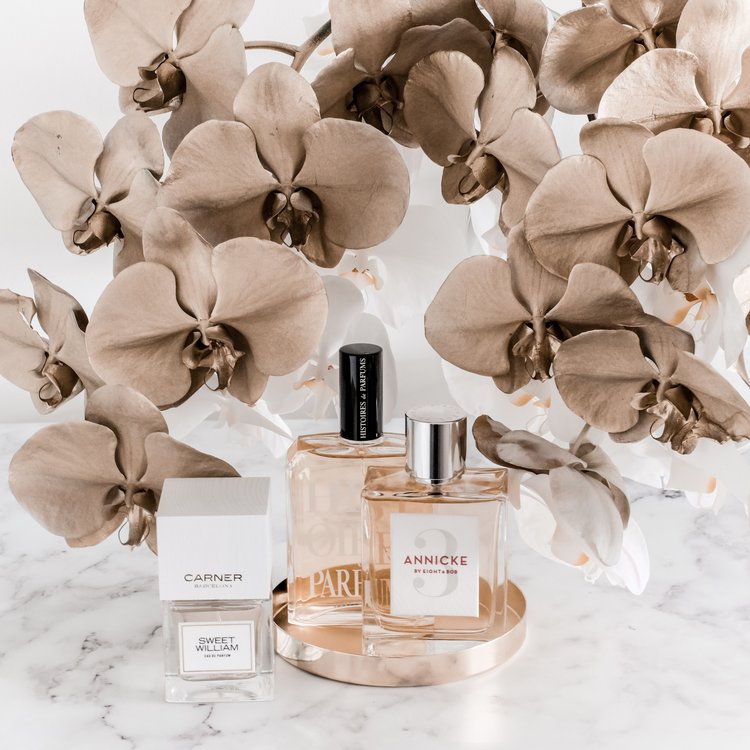 There is no doubt that Lore Perfumery in Melbourne is a sensory wonderland, with staff that are truly passionate about helping others connect with a scent that is so uniquely them. Jade's final bit of advice to those who are looking at purchasing their next signature scent? "Never wear the perfume you wear to work on a holiday or worse a special occasion like a big birthday or your wedding!". It's advice that she's never forgotten and is not afraid share!
For me, I simply love perfume and it's an area that I love learning more about due to its complexity – both as an art but also as a science. Put simply, 'perfume is, quite simply, a mastery of some of the most frequent scents, and the artful combination thereof to produce a unique smell for an individual person'.