Incase you haven't heard, Kevin Murphy creates some of the best hair care products going around.
Remaining at the forefront of an industry that he is deeply committed to and passionate about, Kevin Murphy focuses on leading the trends, creating innovative and ground-breaking products that are kind to the environment as well as nurturing the hair. Kevin Murphy is recognised amongst his peers as a visionary in the creation of modern, hairdressing products and tools that are created to give salon worthy styles to us mere mortals at home.
Philanthropy is importantly at the heart of what Kevin Murphy does. The brand is consistently dedicated to supporting charities that strike a special chord, particularly causes that focus on both human and environmental issues. Most recently, Kevin Murphy has been involved in the 2020 Australian Bushfire Relief, donating over $100,000. And on top of this, Kevin Murphy has led the way in environmental awareness. Most notably, production of all Kevin Murphy packaging, has moved to using 100% ocean waste plastic.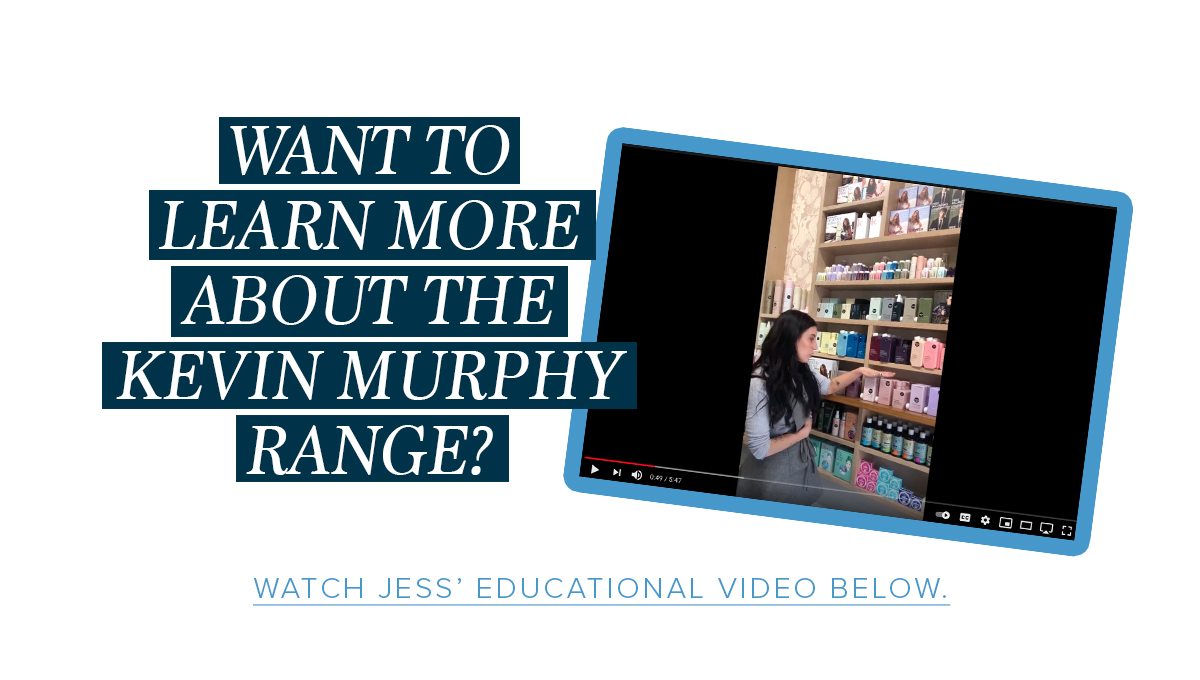 ---
The right haircare for your hair type!
At the end of the day, the biggest factor in switching hair care products is the big question – will they work for me? So we've outlined hair concerns, hair types and creating specific hairstyles below so you'll know exactly what is perfect for you!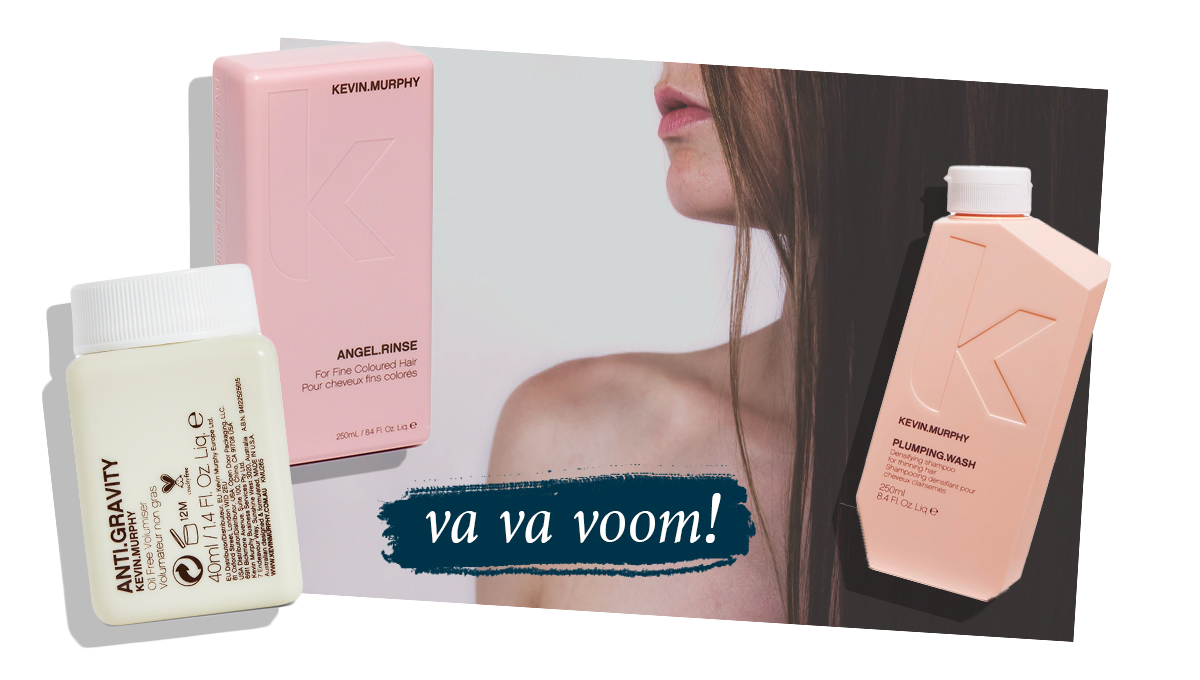 Fine/thin hair that wants va va voom volume
(PS Kevin Murphy calls his conditioners rinses!) This is a lightweight wash and conditioner duo that creates volume while also nurturing fine hair. It also smells amazing too, incase you were wondering.
This range actually stimulates hair growth so think of this this as more active, kind of like your medicine and the Angel range like your daily multi vitamin. Using advanced eyelash growth technology that encourages hair growth, ongoing use of this range will give you the immediate effect and look of volume while also gradually stimulating more hair growth.
This styling product goes into damp hair and creates volume by using new technology that adheres tiny rayon particles to your hair to give the illusion of volume (and it works really, really well!), a great option if you're wanting volume particularly on the sides and in longer hair.
Both of these products work to create volume up top, in the roots predominantly (but will give volume all over) as well as tame flyaways so this product really is a win win!
The quickest and easiest way to achieve volume and texture at the same time, simply sprinkle a little powder puff in, and this amazing little powder works it volumising magic. Beware, your hair will feel gritty with this one, but you can always brush it through afterwards.
Part of the plumping range, this is your super concentrated root treatment. With eyelash growth technology used in concentration, this is a treatment product to spray into your roots every time you wash to stimulate hair growth for volume in the long term.
A leave in treatment created for fine hair – oil free with nourishing ingredients to repair and restore coloured hair, giving light weight hydration and using protein for smoothing and repairing. Not so much a volumising product but the perfect companion for finer hair types.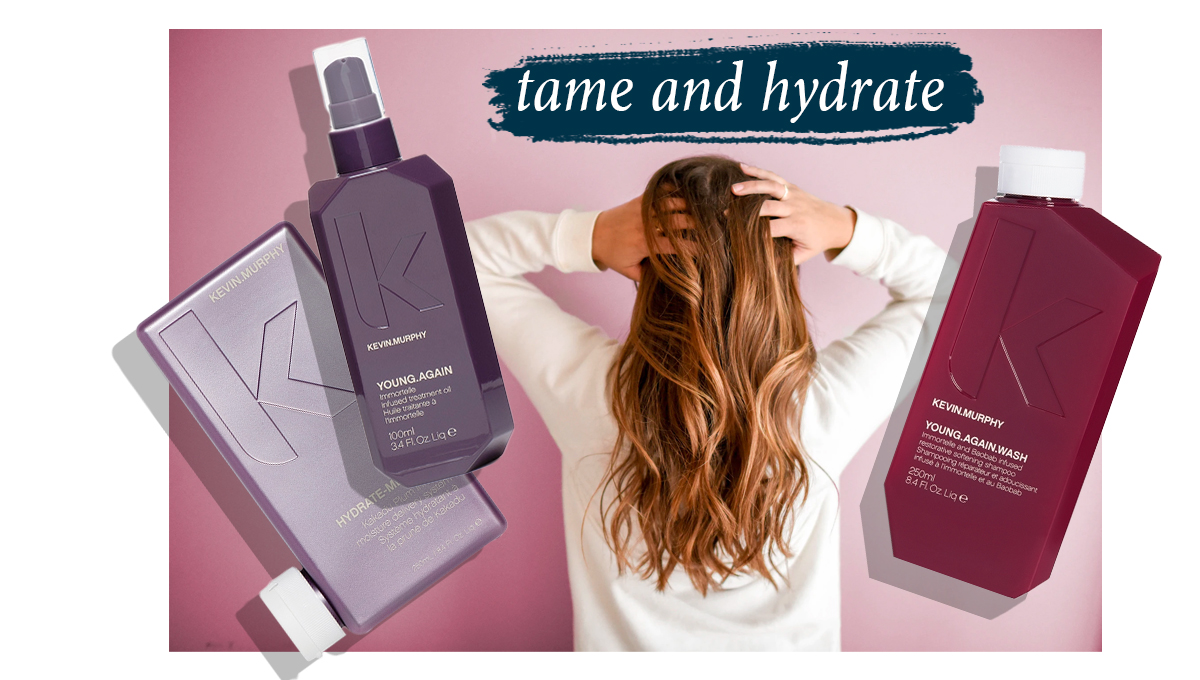 Normal hair that is dry and needs a boost of hydration and/or shine (PS hydration = shine!)
This is one of the most popular ranges in Kevin Murphy as just about any hair type can use this range and it is jam packed with vitamins and nutrients for example Kakadu Seed Plum (high in vitamin c) which aids in creating a silky smooth feel and an ultra radiant shine without adding weight.
The super concentrated version of the Wash and Rinse gives hair intense hydration without weighing it down and leaving that greasy feeling, just silky smooth hair. You will not want to stop running you hands through your hair after using this one.
A mist of shimmer for your hair, using beneficial vitamins and nutrients, plus light reflective technology, this spray hydrates while subtly adding a shimmery shine.
This oil treatment will give ultra hydration for those a little more on the parched side. As well as being packed full of reparative vitamins, this oil will help to get your hair as healthy as possible.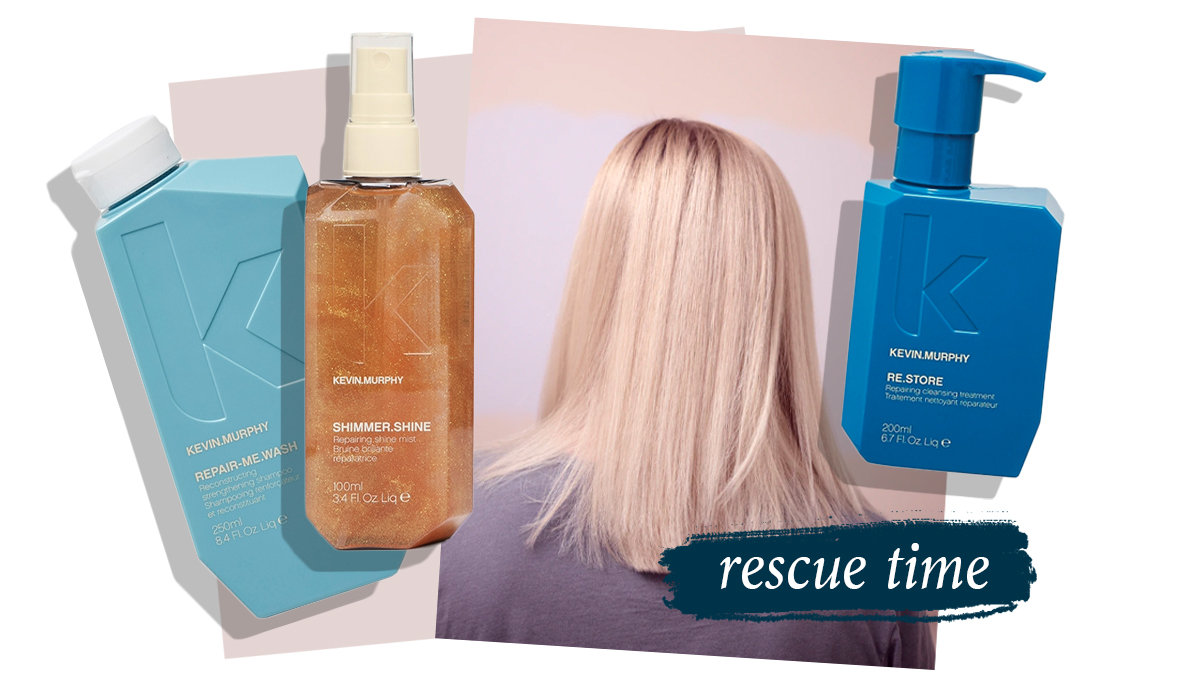 Bleached, blonde and damaged hair that needs rescuing and/or a little TLC
(in this case treatment = conditioner) – now these products aren't so much reparative, however they are created specifically for blonde hair to tone any brassiness. And they work like magic! It's like a quick dash down to the salon for a freshen up, so these are products we suggest all blondes have on hand if they want to reduce brassy tones.
This entire range is amazing for blondes – as bleach damages the hair in the long term and gradually makes it more brittle, this range repairs damage and takes care of over-processed hair with protein and amino acids.
Alittle wonder product, this shampoo and conditioner in one is intensely reparative and hydrating, smoothing hair to renew moisture levels and heal damaged hair.
A leave in conditioner that is lightweight yet packs a punch with ingredients. Created to restore hair to its previous best self with active proteins to reduce hair breakage and strengthen hair.
A quick and easy spritz into dry or damp hair is all you need to nurture blonde hair, subtly tone brassiness and create a little shine (and get rid of flyaways) in an instant!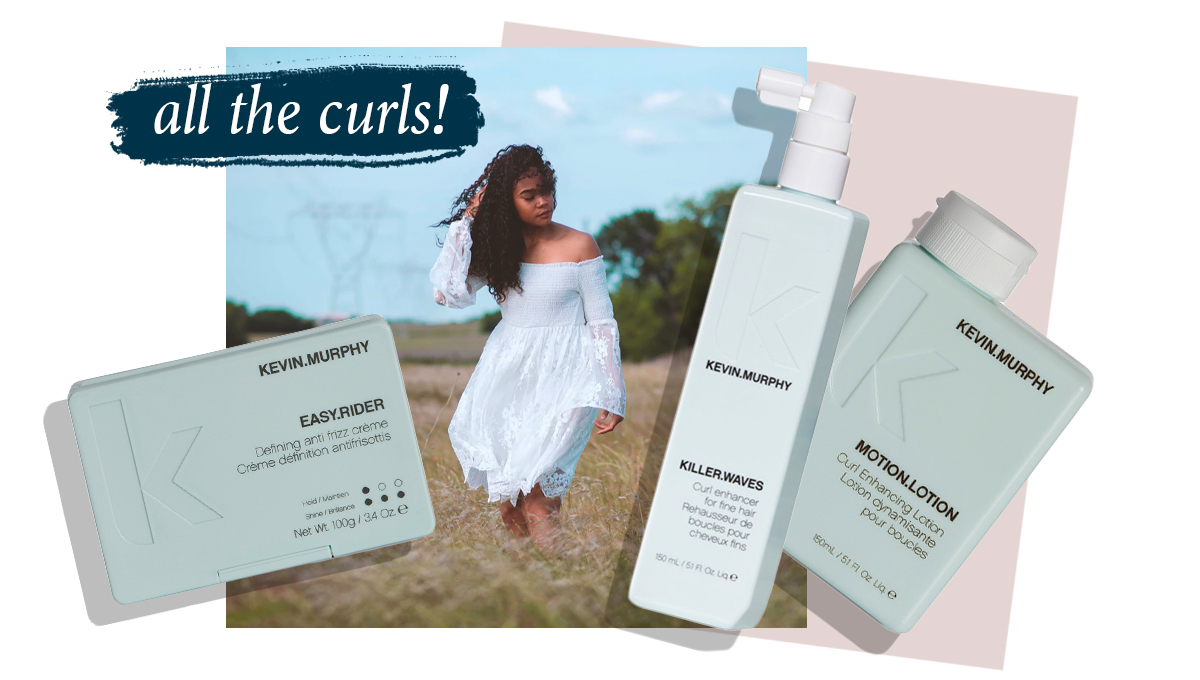 Curls! Thick curls, fine waves, frizzy curls, all over the place curls etc…
These babies are amazing for anyone with thick hair prone to frizziness, and particularly great for curls! Getting the frizz under control means the definition in your curls is more prominent, however be cautious of using if you have finer hair, as this is the richest wash and rinse in the Kevin Murphy range.
One of the classics in the Kevin Murphy styling range, this lightweight cream tames frizz while giving a soft hold and curl definition, great for finer hair types.
This cream activates curls, gives hold and also gets rid of frizz while giving hair a drink of anti-oxidants. Suitable for most hair types, as it thickens fine hair and softens thick hair. What a miracle worker.
This is the ultimate product if you have medium to thick/coarse hair with curls and need something for definition and hold, anti frizz and to enhance that effortless movement of your curls.
This is your perfect mate if you have waves rather than full on curls and your hair is on the finer side. Enhancing waves and movement, reducing frizz without weighing hair down, giving heat protection and leaving hair feeling thicker get big ticks from us.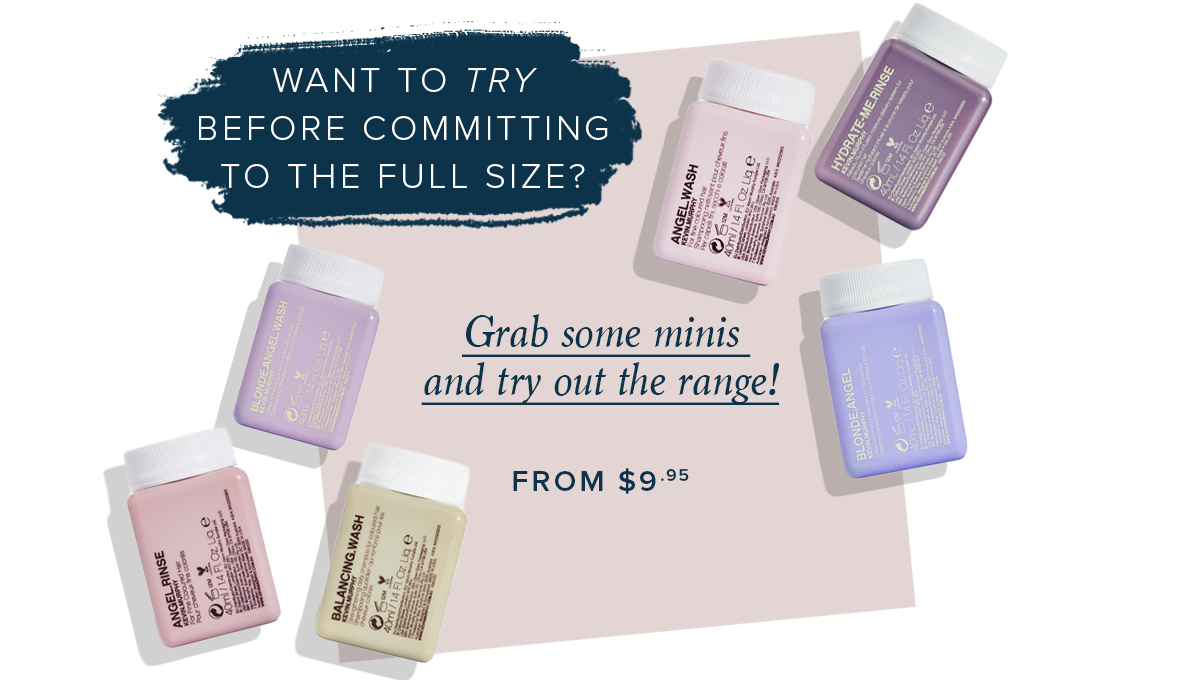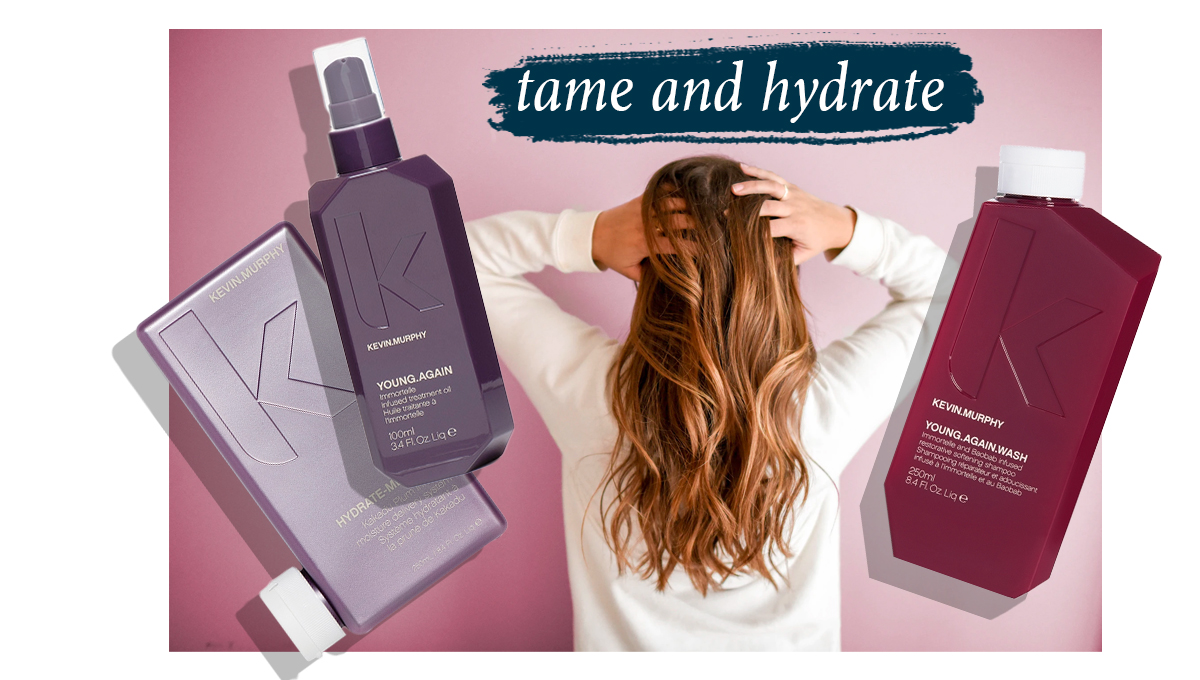 Medium to thick hair that needs a little taming and hydration
Lightweight nourishment as well as a vitamin packed ingredients list to enhance shine and nourishment in the hair. This duo won't weigh down hair at all and will leave it looking super refreshed and nourished.
This duo is great for all hair types, but especially longer hair. Think of it like Botox for your hair. It restores the longer (thus older) hair to be as healthy as the newer hair up top. Smelling divine, nourishing and repairing hair – this is a great all-rounder range.
This oil treatment will repair and restore your hair, amazing to apply to dry hair to add some shine and hydration, as well as smoothing the overall look and feel of hair.
Normal to slightly oily hair that gets weighed down with too many products or oils
This wash does exactly as its name suggest, balances the oils on the scalp while gently cleaning the hair. Perfect for anyone who washes daily and wants something super gentle to use (also a great all-rounder for the whole family).
Think of this wash like your deep cleansing face mask, but for your hair. Amazing at eliminating product and oil build up in the hair, as well as flaky scalp, this wash is an amazing addition to have in your hair arsenal to use once a week just like you would you detoxifying face mask.
This collection is similar to the Plumping range as it is created with eyelash enhancing technology to stimulate hair growth for thinning/fine hair. It was originally designed for men, however absolutely anyone can use it. The thing with the Stimulate range is that it has stimulating oils that act to clarify and refresh the scalp, creating a wonderfully refreshing cooling effect.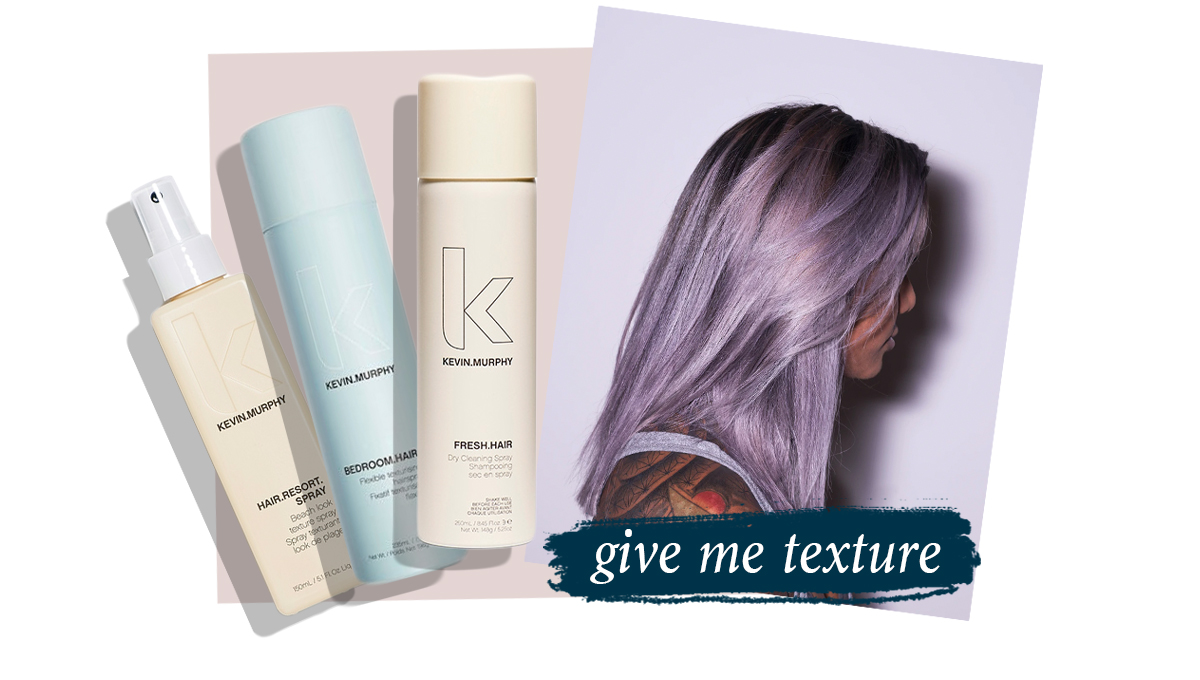 A little help in creating texture and movement when styling hair
This product comes in a spray or lotion (both are essentially the same and are oil free, they're more of a personal preference in texture), smells like summertime and gives soft hold while creating beachy, messy texture.
That sexy, messy yet done bedroom hairstyle is made easy with this spray. Creating texture, separation and movement as well as shine, this is your texture all rounder.
A dry shampoo that also creates texture and movement is a winner in our eyes. Fresh Hair also deodorises hair whilst creating matte texture.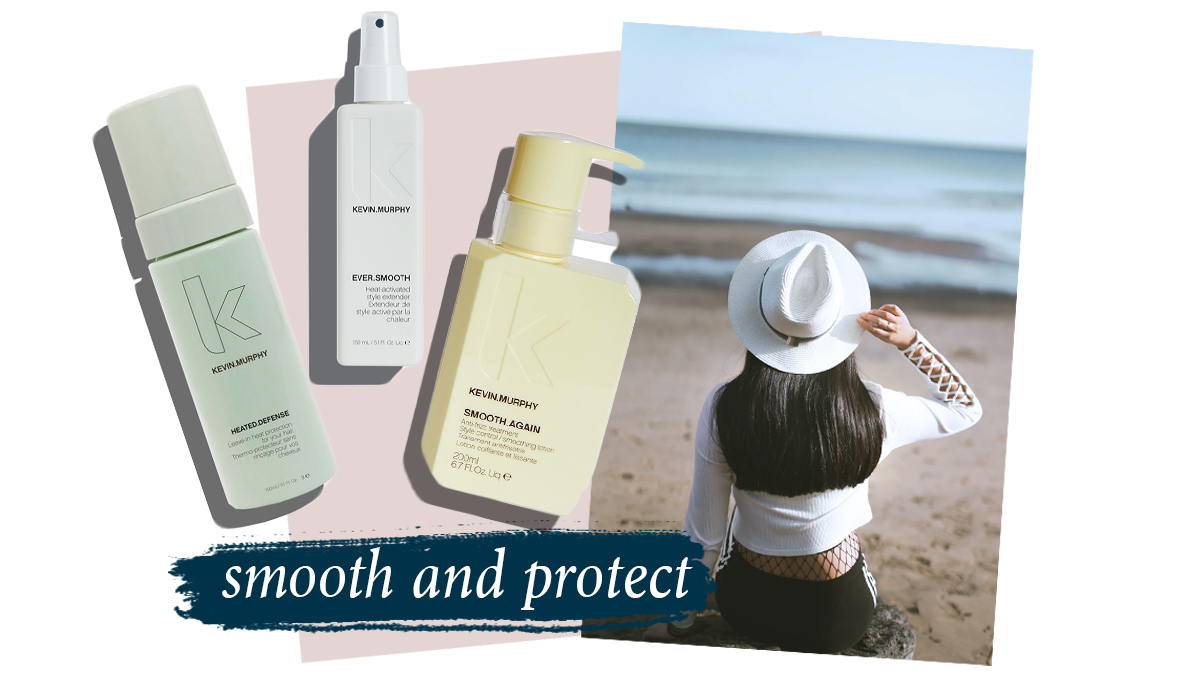 Smoothing/straightening and frizz control, plus some added protection
A leave in styling product that works as both a serious frizz eliminator as well as giving hair all of the nourishing benefits of a leave in condition.
A newer product in the Kevin Murphy range, Ever Smooth is a humidity resistant hair treatment that is activated by heat. The ultimate anti frizz super hero in any condition, this styling product can also be used in all hair types and styles and particularly with any heat styling tools.
A weightless leave in treatment foam that protects hair from damage done by heat styling tools. Also great for long days in the sun when those rays can also damage your hair. Plus it detangles and de frizzes, this is a must for everyone!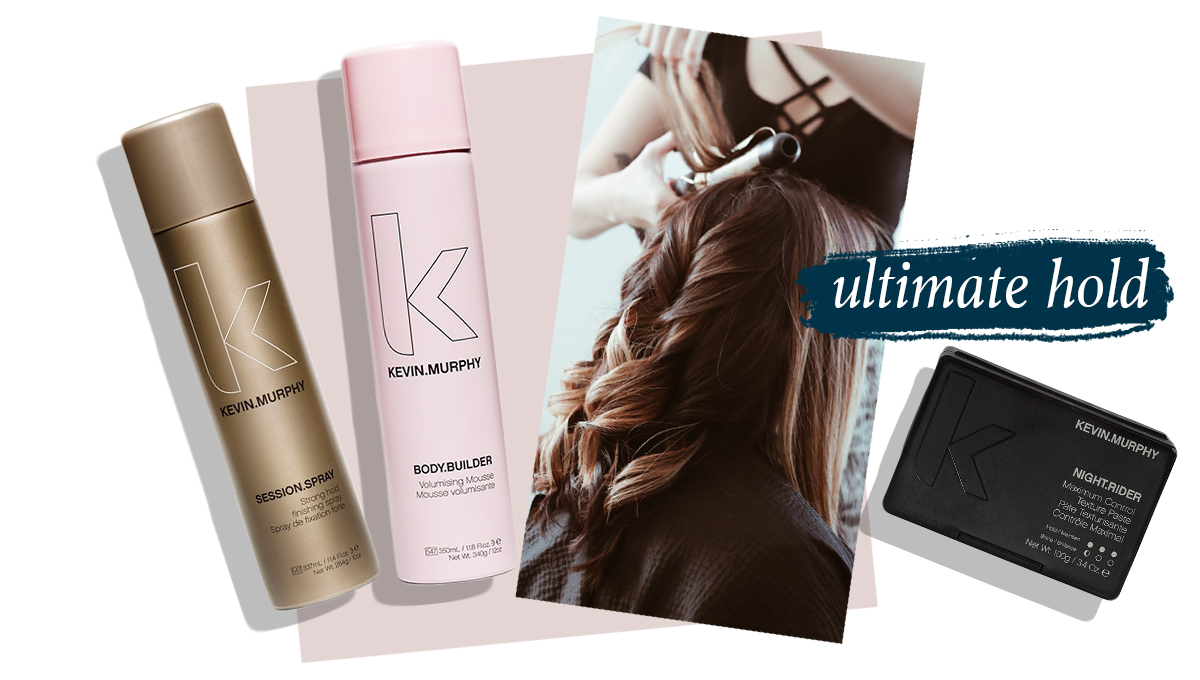 For the ultimate hold in whatever your style may be
A mousse that doesn't feel like a mousse in the hair. Body Builder create big shapes that hold. You can use as much as you like, as Body Builder adds moisture without the dreaded crunch of a hair mousse.
The ultimate strong hold hair spray to hold all styles perfectly in place. A weightless formula with long lasting hold, humidity resistant and hold memory, this is the hair spray queen of all hair sprays!
This lightweight, non-flaky formula gives gentle hold while still allowing natural movement in the hair. Humidity resistant and fast drying, this lightweight hair spray is a favourite of ours at Lore.
A dry finishing powder and a light hair spray all in one. This baby mattifies hair like a dry shampoo, creating a velvety like finish, while also holding everything in place and still allowing natural hair movement.
A strong hold hair paste that creates texture and hold in shorter hairstyles, Night Rider mattifies hair while sealing in moisture.
A styling clay that strengthens hair while create a matte, slick look. Medium to strong hold, Rough Rider can be used on all hair lengths but is generally preferred for more choppy, shorter styles.
A medium hold paste that also enhances hairs natural looking shine and allows movement ,while also creating a thickening effect. Great for all hair types and styles, this paste creates long lasting, flexible hold.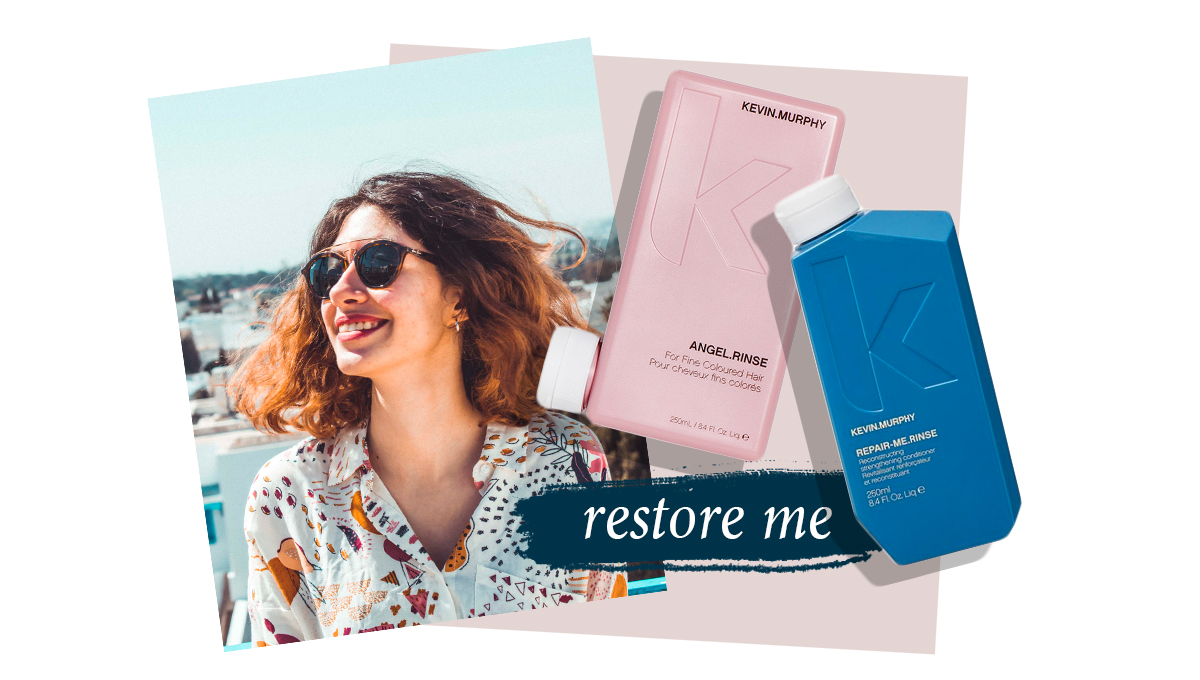 Coloured hair that needs a little restoration
Perfect for fine hair that wants a little volume yet is also coloured. This range prevents colour fade while nurturing the hair without giving it too much weight.
For the coloured hair that needs to step it up a little in terms of restoration. This protein based range repairs hair that has become weak and brittle due to colouring. A touch richer than the Angel range, Repair Me is perfect for anyone with colour treated hair to use at the very least every couple of months as a major boost of goodness and to increase hairs strength.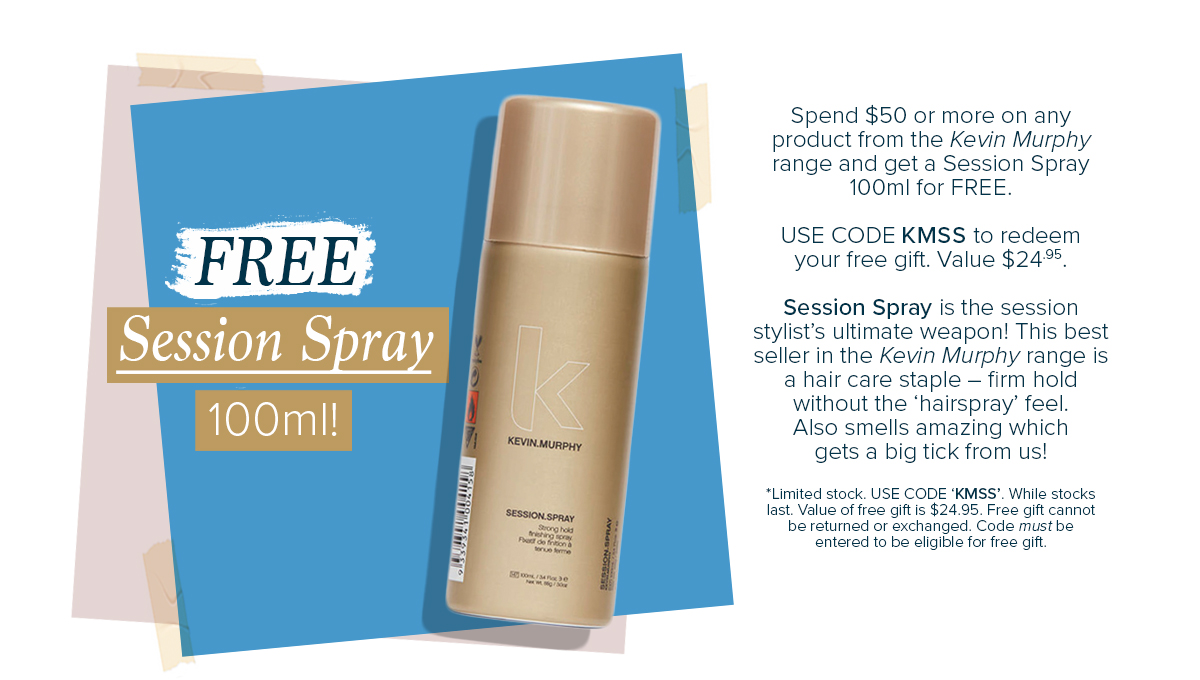 ***please note, prices and products may change. Visit the brand page for current product offerings and pricing. Thank you