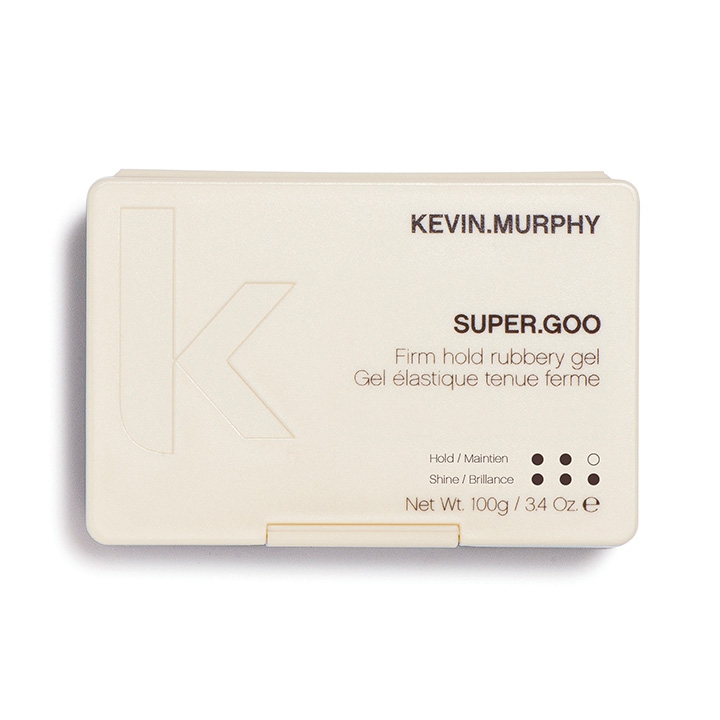 Super Goo 100g
Supergoo gives defined texture and strong hold – a unique consistency, Supergoo is a cross between a paste and a gel, Supergoo is super stretchy, rubberised hair product. Packed with super-hero qualities to create a firm-holding, rubbery-gel that dries to a slick natural finish. Super-defined texture and style are created from this no-flake, water-soluble setting and moulding gel. Supergoo not only enhances volume and hold, but doubles up as a great curl enhancer as it creates great textured hold. This is your modern day, super hero hair gel!
SULPHATE, PARABEN FREE / CRUELTY FREE / MADE FROM 100% OCEAN WASTE PLASTIC
KEY INGREDIENTS 
Camellia Sinensis Leaf Extract (Green Tea) has been revered for centuries for its powerful antioxidant properties, it helps to increase the feel of hair's elasticity, and aids in moisture retention. 
Bamboo Extract is packed with an abundance of antioxidant and vitamin goodness, it is also a rich source of mineral nourishment and a key ingredient to help protect the integrity of hair health.
PRO TIP
Supergoo was developed to create thick, modern, chunky texture – much more than just a gel, it's a modern alternative that leaves the texture rough, and has a really strong hold. There is no crispy crunch left in the hair like with old school gels – this is moveable, modern textured hair. Apply to curls for extra texture!

SUITABLE FOR 
All hair types.

HOW TO USE 
Apply a 20 cent piece sized amount of product to your hands then work through damp or freshly dried hair. Work right through your hair (if using on short hair) for strong hold and definition.

LORE LOVES
We love the weird and wonderful rubbery texture of this product. It is a winner for the entire family to use, whether you're applying it to your kids, your curls, whatever! Because it is water-soluble it washes out really easily as well which is great for the little ones.

ABOUT THE BRAND
Skincare for your hair! A master of his profession, no one understands the transformative power of hair better than Kevin Murphy. Born from the same philosophy as skincare, Kevin Murphy products are weightlessly designed to deliver performance, strength and longevity. Salon quality products for at home use and professional level results!
Directions - Apply to damp or dry hair.
4 in stock