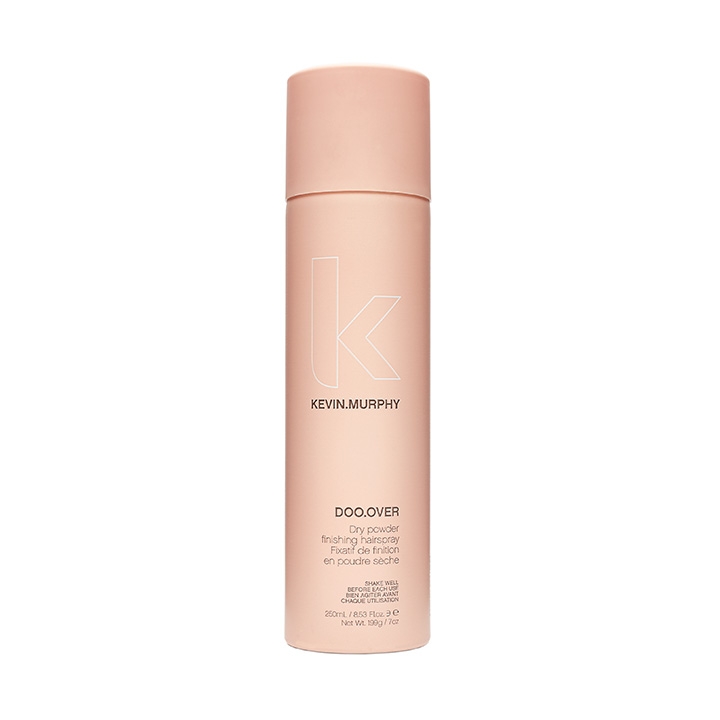 Doo Over 250ml
Doo Over is your jack of all trades product – kind of a dry shampoo, kind of a powder texturiser and kind of a hair spray - all in one! Doo Over was created to give your hair volume that lasts – whether you want to refresh your hair after a long day at work, change your style up or just create that wonderful volume Kevin Murphy products are so good at creating! Doo Over uses moulding resins from traditional hair spray that gives you a wonderful weightless hold, creating a softer look and feel than regular hair spray. Doo Over is everything you desire and yet so much more, it is also a dry powder finishing spray so you get the texture that a powder or dry shampoo would usually create in this spray. Doo Over allows for natural movement, yet holds everything in just the right place. The end result is a soft, velvety finish that smells so good you'll be turning heads for all the right reasons.
SULPHATE, PARABEN FREE / CRUELTY FREE / MADE FROM 100% OCEAN WASTE PLASTIC
KEY INGREDIENTS 
Tapioca Starch is a known 'hydrophilic' meaning that it's moisture-loving and attracted to water, Tapioca Starch removes excess oil from the hair and scalp while leaving the hair feeling velvety-soft – it also provides the 'powder technology' for Doo Over • Essences of Cedarwood and Patchouli are used to help balance the hair and scalp.
PRO TIP
Spraying Doo Over from the roots right through to the hair tips will create effortless texture and light weight hold. If you don't like the feeling of power texturisers and hair sprays can feel too stiff then this is your go-to product.

SUITABLE FOR 
Suitable for all hair types and lengths.

HOW TO USE 
Spray onto pre-dried (and styled) hair in short bursts to get volume wherever you need it.

LORE LOVES
Well firstly, the scent of Doo Over is amazing! We love this product in finer hair as it doesn't create the same weight that texturising powders can sometimes create. The great thing with this product is that it creates volume and texture without the residue that we hate, so our hair feels cleaner for longer after using it.

ABOUT THE BRAND
Skincare for your hair! A master of his profession, no one understands the transformative power of hair better than Kevin Murphy. Born from the same philosophy as skincare, Kevin Murphy products are weightlessly designed to deliver performance, strength and longevity. Salon quality products for at home use and professional level results!
Shake well. Spray evenly onto dry hair. Focus on the roots.
3 in stock