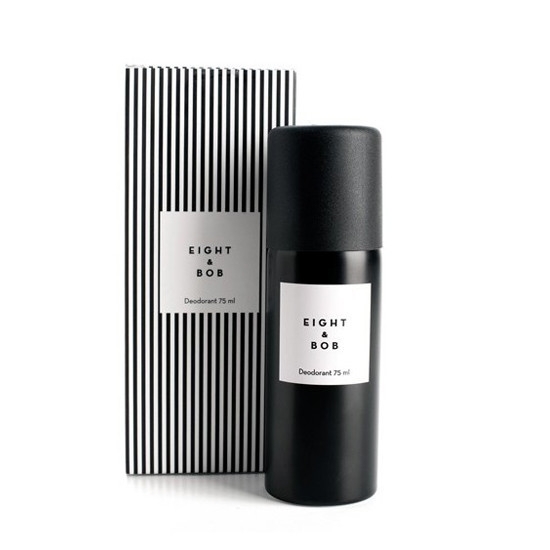 Deodorant Original Fragrance 75ml
The original and best-selling fragrance from Eight and Bob in a Deodorant. This deodorant feutres long lasting protection in the same fragrance as the EDP.

The original story goes: One night during his summer vacation in 1937 on the French Riviera (Côte d'Azur), Parisian Aristocrat Albert Fouquet met and got on very well with a young American student who was touring France in a convertible: John F.K. Within minutes of being introduced, the suave JFK was captivated by the essence that Albert wore. John's charm and congeniality persuaded Albert to leave him a sample of his cologne with a note at the hotel the following morning: "In this bottle, you will find the dash of French glamour that your American personality lacks." On returning from his vacation, Albert received a letter from John in the U.S. thanking him for the kind gesture and informing him of the success his perfume was enjoying among his friends. He requested that Albert send him eight samples, "and if your production allows, another one for Bob". Without fully understanding the request, Albert decided to send a box with sufficient samples to offset the transport costs. His perfectionism extended not only to the fragrance but everything surrounding it. He didn't fill the order until Philippe found some beautiful glass bottles in a Parisian pharmacy that Albert considered suitable for his cologne. Finally, he ordered several boxes decorated with the same pattern as the shirt that JFK was wearing when they met, and then labeled the bottles and boxes with John's amusing request:

NOTES
Top: Cardamom, Lemon, Pink Pepper
Middle: Dried Wood, Labdanum, Violet Leaves
Base: Amber, Sandalwood, Vetiver

ABOUT THE BRAND
The perfume with history - Eight and Bob was created by Albert Fouquet, the son of a French aristocrat. In a room on the upper floor of the family château, Fouquet created and perfected various essences for his own personal use aided by Philippe, the trusted family butler. At social events his fragrance was in high demand, however Fouquet continually rejected proposals to market his fragrance. His fragrances were for his own delight, his own creative fulfillment and very personal as they told the stories of his favourite people and places. This all changed however, one night in 1937 when Fouquet met a young John F Kennedy who fell in love with his fragrance and the rest, as they say is history... .


Out of stock
Get an alert when the product is in stock: