Juliette has a Gun was our best selling fragrance brand of 2019. We just love the brand at Lore and the discovery kit is one of our best selling products in store. Selling hundreds per year, instore and online, it has proven to be a go-to for gifting, people new to the range and also people new to the world of niche perfume.
The discovery kit is almost like a little perfume masterclass, just for you – in the comfort of your own home. The discovery kit includes 8 samples of the brand's best sellers. There is something for almost everyone in the collection. Included in the kit is their cult product, Not a Perfume, (which both Brandon and Hannah go into in their reviews below) a fragrance formulated with a single element called Cetalox (also known as Ambroxan). This is a molecule based fragrance which changes on everyone whilst mixing with our pheromones, and to be honest, we haven't seen it smell bad on anyone! It is also great for layering with other fragrances and really upping their intensity. You get a larger size of Not a Perfume in this kit, so really have a play and layer with other scents.
Brandon & Hannah have reviewed the kit for you below so keep reading and see what all the fuss is about! Surprisingly, they both picked 2 of the same fragrances to be in their top 3…so you definitely need to check them out! ❤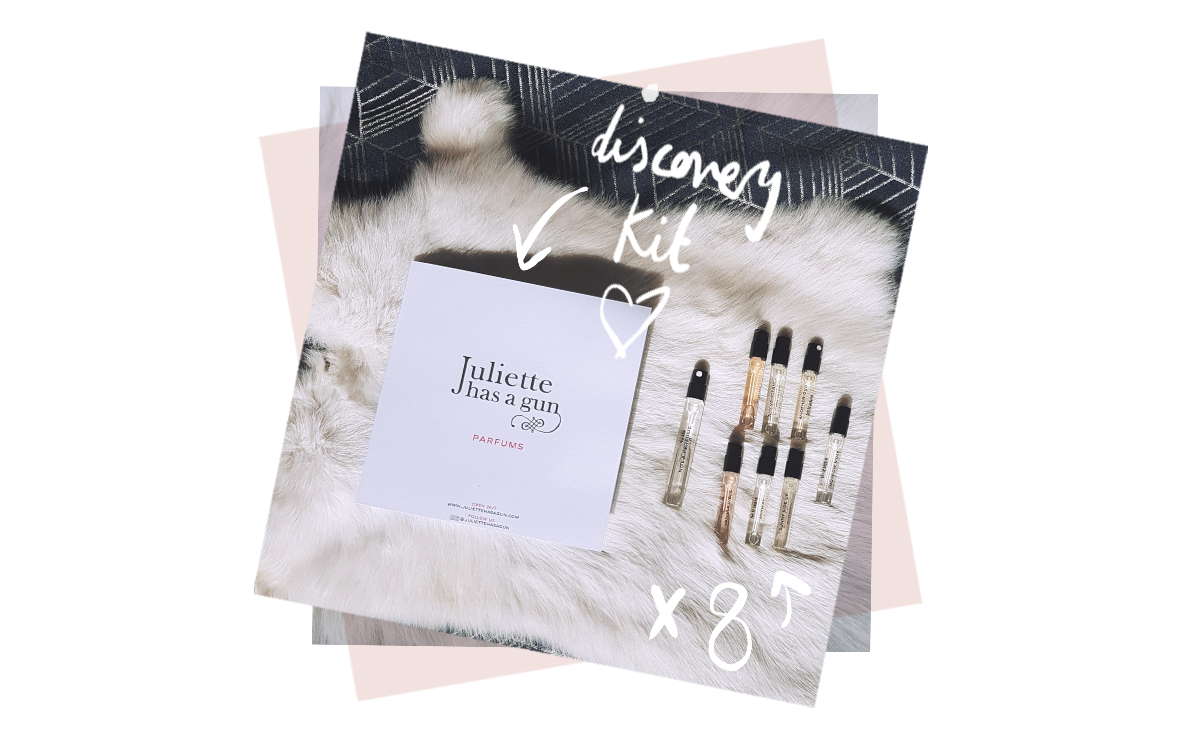 Brandon's review…
Before isolation hit I got my hands on a Juliette has a Gun Discovery Pack. I figured if I am going to be cooped up inside, at least I can still smell great and feel myself. The pack is a great idea because you can taste test some of the brand's best selling scents, and have a variety of scents from around the perfume wheel. It makes it a safe way if you've been wanting to dip your toes into a new scent category, but don't want to commit to a large bottle straight away.
As for my top three? I'll write a little about them below.
A fresh take on a common ingredient. With so many Ouds on the market it is starting to get a little tricky finding one that stands out. That said, this one does just that I believe, while still retaining some of that creamy earthiness we have grown to love. With a dash of Bergamot to brighten it up, and a twist of raspberry, this is the brighter, softer and fruitier Oud you have been waiting for.
Smells as good as the bottle looks. Sweet and creamy, just like a Vanilla should be, but with an extra intensity from the Sandalwood and Tonka Bean in the base. It also has a touch of salt in the top note to cut through the sweetness and keep the perfume well balanced. This is meant to be a free-spirited scent, and I think they have captured that, whilst adding a fun, playful and sweet side.
A classic! In the pack it actually comes with a 4ml spritz of this scent, as opposed to the 1.7mls of every other fragrance. Why you might ask? Well that's because you have not lived until you have tried layering this scent over others. It is a molecule based perfume, so it will react slightly differently on everybody. On me it's quite a light and clean smell. It smells like me, with a little touch of something 'more'. Layered over another fragrance though, I find it adds a personal twist to the fragrance. Some times transforming a day time scent into something more night time. Give it a try and see how it changes and reacts on your skin, with or without another fragrance. It also comes in a few sizes, including their handy Pocket Spray 7.5ml for only $39.
>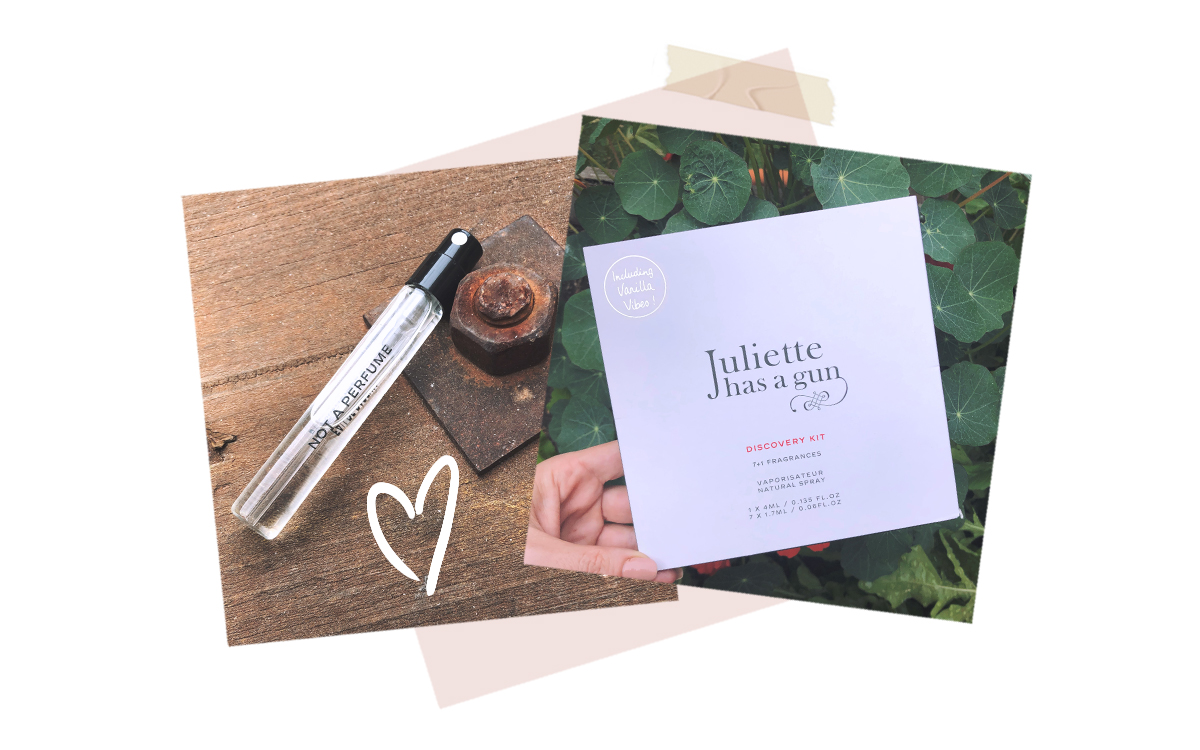 Hannah's review…
Juliette Has A Gun is a hugely popular brand at Lore Perfumery and it's easy to see why. With such a wide range offering anything from floral woody scents, to intoxicating citruses, there is truly something for everyone. Funnily enough, in all these years I have never thought to try the Juliette Has A Gun Discovery pack, so with all this time on my hands that's just what I've done.
Firstly I think this is one of the more interesting Discovery Packs on offer. Why? Well, because included in each pack is one of my now favourite perfumes; Not A Perfume. Not A perfume is perfumery and science mixed so effortlessly together to create a molecule named Ambroxan. Once applied, Ambroxan plays with your skin in such a fun way, its transformative and tells a different story on everyone, it can be Woody, Animalic, Musky and Ambery all in one. On some its light, on others its bold and powerful, it's almost hard to describe this scent, all I can do is encourage a try on the skin, because its truly beautiful work.
Following on from Not A Perfume, is another stand out, what took me by surprise is that it's a Vanilla scent: Vanilla Vibes, I've never fallen for a Vanilla scent before, but Vanilla Vibes offers a new take on a gourmand scent. By mixing Salt and Sandalwood with Vanilla, you are left with this creamy, delectable Vanilla Scent, the moulds into the skin. Reminiscent of a warm summer's day on the beach, the sea breeze hitting your skin covered in a soft vanilla scented sunscreen, it just takes me back to a better time.
Lastly, a little cheeky number inspired by the cocktail Moscow Mule. Moscow Mule is a crisp and inviting scent that's captures a playful mood whilst transforming into a something a little different. Opening with effervescent notes of Ginger, Apple and Bergamot, Moscow Mule starts off zesty and whimsical, whilst upon dry down its Woody notes become more apparent, and it becomes the Citrus/Woody perfume you can only imagine, oh and super unisex!
I really enjoyed getting to be a bit playful with this and try a few scents I wouldn't normally gravitate to and for $39 you really can't go wrong. Whether it be for gifting or just for your own personal fragrance experiment, the Juliette Has A Gun Discovery pack is a total winner.