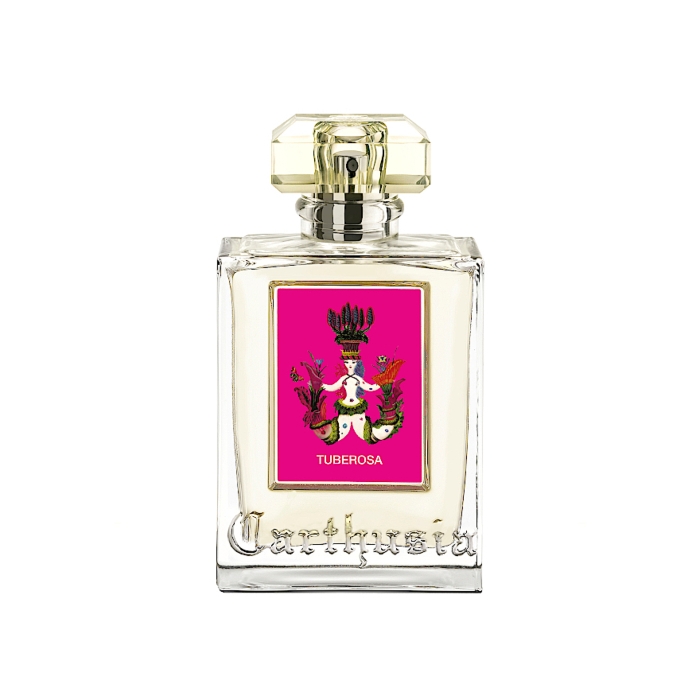 Tuberosa EDP 100ml
Carthusia interprets one of the iconic flowers of modern perfumery, the tuberose. Created by perfumer Luca Maffei, Carthusia's Tuberosa Eau de Parfum embodies the sought after, sensual character of tuberose. Staying true to Carthusia's playful spirit, Tuberosa is a creamy, sensual white floral blend with the sunny and colourful fruity notes bringing some fliration to the scnet. The hint of spice assists in alluding to the carnal properties of Tuberose.

The first soliflore fragrance in Carthusia's collection, Tuberosa is both an enveloping sensual yet also brightly charming ode to Tuberose. The flower now lives in a new light. No longer a lunar flower of the night, Carthusia's Tuberosa brings Tuberose into daylight - into the warm Spring sun of Capri as it blossoms into new seasons, new experiences and new love.

NOTES
Top: Plum, Elemi, Cinnamon
Heart: Tuberose Absolute, Ylang Ylang, Rose
Base: Vetiver, Vanilla, Ambroxan, Musk

PERFUMER
Luca Maffei

HOW IT WEARS
Tuberosa opens with a juicy, floral, fruity burst. Sweet and intoxicating initially, the fruity top notes settle and let the creamy headiness of Tuberose shine brightly. This is a sweet floral that really heroes Tuberose as it settles on the skin. A strong blend, Tuberosa lasts well, on the skin giving us around 8 hours with great projection.

LORE LOVES
We just adore how this fragrance transports you immediately to it's isle of inspiration. A creamy, charismatic, tuberose that inspires playful days overflowing with fun filled visions and memories of this little white flower warmed by the sun. Sweet, spiced, syrupy, floral goodness!

ABOUT THE BRAND
Originally created in 1380 in Capri by the monks,in 1948 the Priory of Certosa found the old fragrance formulas, under the Pope's license, revealed it to a Piedmontese chemist who thus created the smallest laboratory in the world, calling it "Carthusia". Today, Carthusia is all handmade, observing centuries old practises ensuring the highest level of quality in their fragrances. Atmospheres and emotions of Capri are found in all Carthusia products, and all ingredients are derived from Capri's environment paying homage to the beautiful island.

FREE RETURNS
Love your fragrance or return it for free. Learn more about The Lore Promise here. 
1 in stock