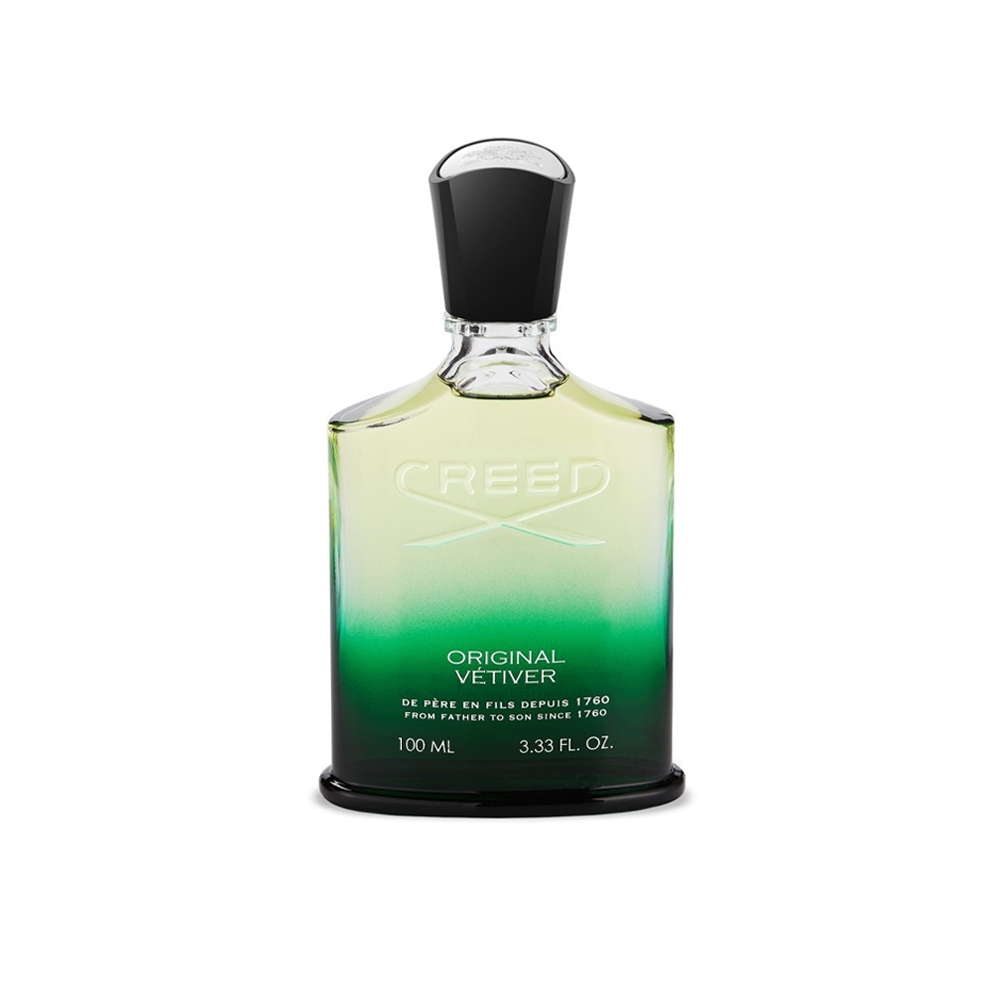 Original Vetiver EDP 100ml
True to its name, Original Vetiver is a dramatic re-invention of a Vetiver-based scent. Whereas traditional Vetiver fragrances are derived from the roots of the plant, Creed Original Vetiver achieves a new, natural, original freshness by infusing the Vetiver leaves into the blend. Almost watery with freshness, green, with a kiss of Mediterranean citrus and spice. Original Vetiver is a warm, sensual, original fragrance evoking the lingering sunshine and relaxed sophistication of summers in the South of France. A "universal" scent, Original Vetiver is equally alluring when worn by women or men. A favourite amongst Creed lovers, this is fragrance that was worn by one of America's most beloved presidents JFK.

NOTES
Top: Ginger, Mandarin, Italian Bergamot
Middle: Vetiver from Haiti, Sandalwood from Mysore, Iris from Florence
Base: Musk, Ambergris

PERFUMER
Olivier and Erwin Creed

HOW IT WEARS 
Original Vetiver by Creed is an Eau de Parfum that will give you around 8 hours of longevity on the skin. A fresh, crisp, just out of the shower kind of green with a dash of juicy spice, this classic uplifting fragrance combines citrusy notes with an infusion of Vetiver Leaves as opposed to the traditional use of the root, giving it a cleaner, fresher green composition which you'll be inhaling joyously throughout the day or night.

LORE LOVES
We love how this fragrance reminds us of a gentleman. Classy, sophisticated and oh so refined, with quite possibly a cheeky twinkle in his eye. We just want to keep inhaling when someone is wearing this frgarance in our psace, it is just so sexy and intoxicating.

ABOUT THE BRAND
Spanning seven generations thus far, The House of Creed's ethos is in creating the highest quality fragrances with the purest elements from around the world. Each scent is weighed, mixed, macerated and filtered all by hand in the highest tradition of the House's founder, James Creed. Renowned for providing commissioned fragrances to royal houses, celebrity clientele and the political elite all over the world, it was in the 1970's Creed made their fragrances available to the public to purchase in their Parisian boutique.
1 in stock