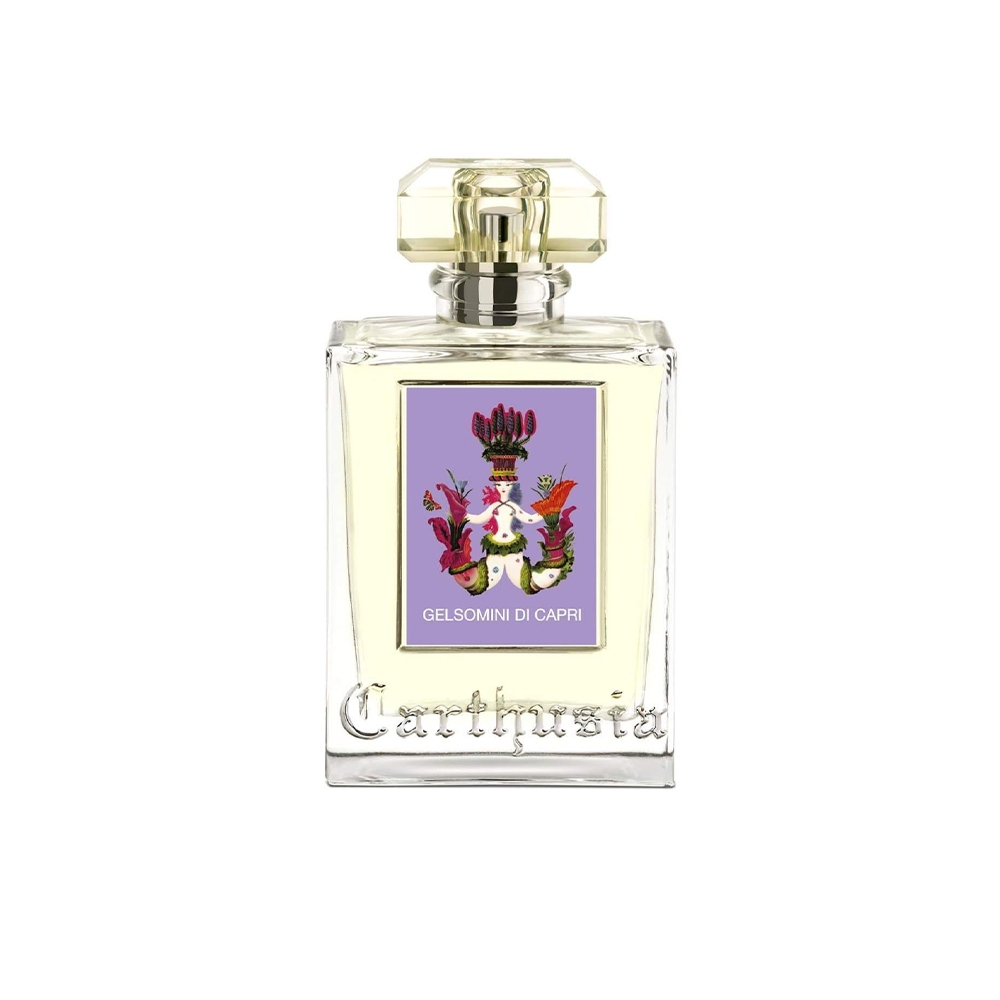 Gelsomini Di Capri EDP 100ml
A perfume inspired by jasmine that evokes, like a spell, the magic of an island unique in the world. Gelsomini di Capri was created as an ode to the wonderful blooming jasmine that fills Capri with its intoxicatingly alluring scent. The island of sea mermaids and lush nature, Gelsomini di Capri enchants the wearer creating a sensual taste, typical of an island surrounded by the Mediterranean. Delicate, sweet and fruity notes merge together in a fragrance that is both fresh and persistent at the same time. Indeed, Gelsomini di Capri is a fragrance that captures the senses with its delicacy.

NOTES
Top: Bergamot, Lemon, Tangerine, Ginger, Rose Pepper
Middle: Jasmine, Broom, Orange Blossom, Ylang Ylang, Rose
Base: Cashmere Wood, Labdanum, Vanilla, Musk, Amber

PERFUMER
Luca Maffei

HOW IT WEARS
Gelsomino Di Capri is an Eau de Parfum which means you'll get anywhere from 6 - 8 hours of wear on the skin. Obviously and essentially a jasmine scent, it's blend of earthy spice, citrus, other yummy florals and warm resinous base combine beautifully to help bind it to the skin, giving it a sweet, subtle wear with enough warmth to have you still inhaling many hours in.

LORE LOVES
We love how this perfume smells just as you imagine the jasmine of this magnificent Mediterranean isle should. Combining the loftier heights of white florals, surrounding citrus groves with warm, sunny island air. Gelsomini di Capri is a sweet jasmine standing barefoot on a base of earthy powder. Take me there!

ABOUT THE BRAND
Originally created in 1380 in Capri by the monks,in 1948 the Priory of Certosa found the old fragrance formulas, under the Pope's license, revealed it to a Piedmontese chemist who thus created the smallest laboratory in the world, calling it "Carthusia". Today, Carthusia is all handmade, observing centuries old practises ensuring the highest level of quality in their fragrances. Atmospheres and emotions of Capri are found in all Carthusia products, and all ingredients are derived from Capri's environment paying homage to the beautiful island.

FREE RETURNS
Love your fragrance or return it for free. Learn more about The Lore Promise here. 
3 in stock