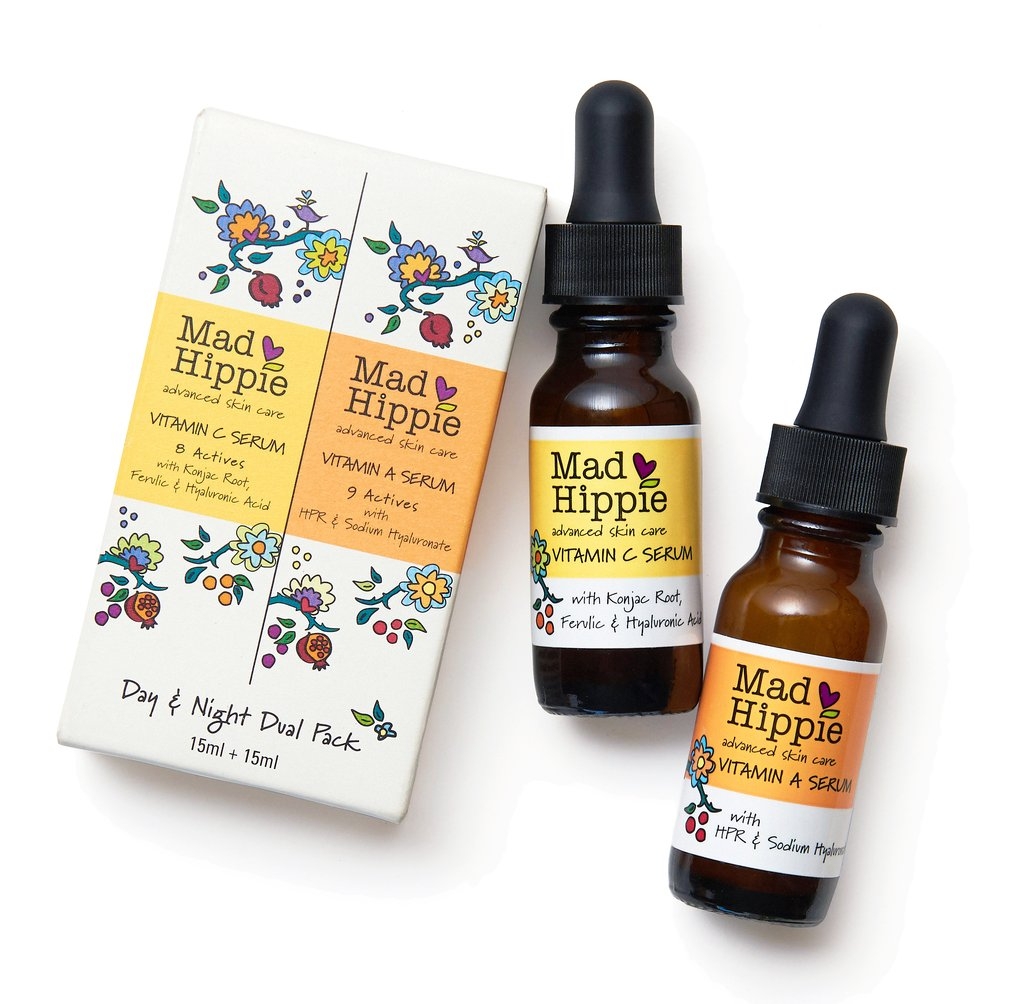 Day & Night Dual Pack 2 x 15ml
Our best-selling 'Power Duo' products are now available in one pack! The Mad Hippie Day & Night Dual Pack is perfect for new customers to the brand and for those wanting to try out these best selling products. 
This pack is what we like to call our 'Power Duo' here at Lore. It includes the Mad Hippie Vitamin C and Vitamin A Serums.
The Vitamin C and Vitamin A Serums work perfectly together to brighten and hydrate the skin leaving it youthful and plump.
Vitamin C in the AM and Vitamin A in the PM - it's that easy!

More about both of the products:

Vitamin C Serum:
This award winning, cult product from Mad Hippie is a real show stopper. Tighten, brighten & smooth the skin with the Mad Hippie Vitamin C Serum. Containing a harmonious blend of antioxidants and an alphabet of vitamins that work wonders on sun damaged, ageing, pigmented and dull skin. This serum is a must have in anyone's skincare routine. 
Click here to view full product details

Vitamin A Serum:
Welcome...our anti ageing superhero! The Mad Hippie Vitamin A Serum is our go-to for anyone with ageing concerns. Vitamin A is a real wonder vitamin, it works by accelerating skin-cell renewal and stimulating collagen production - which can minimise the signs of fine lines and pigmentation leaving youthful, plump skin!   
Click here to view full product details

Apply these products after toning, before oils and moisturisers. We always recommend starting slow with any active serums as some people can be sensitive. So start out using once a week and work up to nightly. It is normal to feel some tingling sensation but if irritation occurs stop immediately. Always wear sun protection when you use any retinoids or acids. 
 
NO NASTIES / VEGAN / CERTIFIED CRUELTY FREE / GMO FREE / BPA FREE PACKAGING 
SUITABLE FOR
All skin types especially those with sun damage, pigmentation, ageing and dullness concerns.

LORE LOVES
We looooooove these two products! We are so happy to have this amazing intro duo to offer new customers to the brand. If you want hydrated, plump, bright and youthful skin...then look no further!
For full directions see each product listing.
For full ingredients list see each product listing.
38 in stock