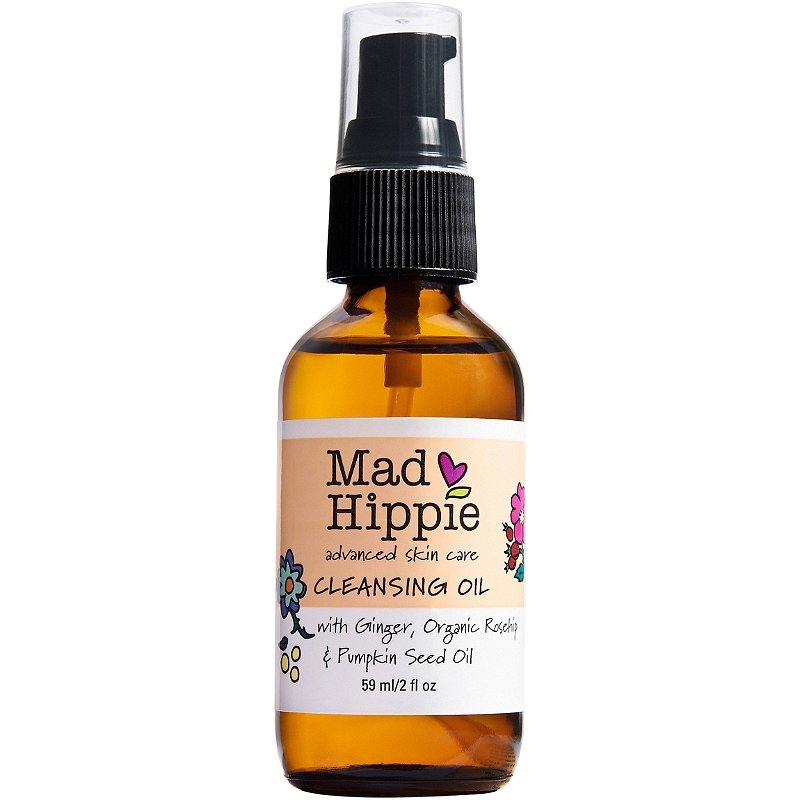 Cleansing Oil 59ml
Who would have thought removing makeup could be so luxurious!? The Mad Hippie Cleansing Oil is full of organic oils and antioxidants that remove makeup, dirt and grime plus soothe and replenish the skin and leave it soft and hydrated. This cleanser is non-comedogenic & perfect for naturally removing makeup. Most cleansing oils on the market do have some sort of synthetic surfactants and ingredients in their formulation, not this one, it is 100% natural and preservative free. The oil glides on effortlessly, provides a natural deep cleanse, it doesn't sting the eyes and removes all makeup - and we mean all makeup! We recommend really massaging it into the skin for 10 - 60 seconds, depending on how long you have to really pamper yourself. It doesn't leave a film on the skin and leaves your skin feeling so smooth and soft!  
Top tip - given there are no surfactants in this cleanser you can actually just use it as a face, body or hair oil!
We love to use this in conjunction with the
Mad Hippie Cream Cleanser
:
Firstly, pump a few pumps of the Cleansing Oil into your palms and massage all of over your face. Really work it into the skin with a slight amount of pressure. If you are wearing makeup really working this deep into the skin and eyelids/lashes as it literally melts makeup off the face. Remove with a soft face washer or muslin cloth.
Then, a pump or two of the Cream Cleanser into the palm of your hands, rub together and then really massage into the skin for 10-30 seconds, longer if you want a nice relaxing face massage! Remove with a soft face washer or muslin cloth.
Voila, done, gorgeous cleansed skin without that tight, irritated feeling!
Apply this product first, to cleanse the skin and remove makeup.
NO NASTIES / VEGAN / CERTIFIED CRUELTY FREE / GMO FREE / BPA FREE PACKAGING 
KEY INGREDIENTS
Organic Pumpkin Seed Oil: Rich in vitamin E, zinc & omega fatty acids, this non-comedogenic oil naturally soothes & replenishes the skin.
Organic Safflower Oil: This high linoleic acid oil is packed with essential vitamins, and works to moisturize and soften the skin, while gently lifting dirt, makeup and daily contaminants.
Organic Rosehip Oil: This antioxidant-rich powerhouse, with naturally occurring vitamins C & A, evens skin tone, hydrates and smoothes the skin.
Ginger: Antioxidant-rich and full of vitamins including Vitamin B & C, ginger works to naturally tone the skin & help reduce the appearance of skin discoloration. Perfect for acne prone skin.
White Tea: Strong antioxidant with skin rejuvenating properties.
Squalane (vegan): Naturally hydrate & soothe the skin. 

SUITABLE FOR
All skin types especially for those who wear makeup.

LORE LOVES
We love everything about this cleanser! From the scent and the texture, to the fact that it is basically just jam-packed with actives and that it literally melts makeup away, even liquid to matte lippies which are a struggle to remove usually! The perfect size for travelling too and a small amount goes a long way.
Massage into skin for 1 minute. Drape a warm, damp washcloth over your face until cooled. Gently wipe from face.
Organic Carthamus Tinctorius (Safflower) Seed Oil (High Linoleic), Squalane (vegan), Organic Rosa Canina (Rose) Fruit Oil, Zingiber Officinale (Ginger) Root Extract, Organic Cucurbita Pepo (Pumpkin) Seed Oil, Avena Sativa (Oat) Kernel Oil, Tocopherol, Camellia Sinensis (White Tea) Extract, Steam Distilled Citrus Aurantifolia Extract
4 in stock