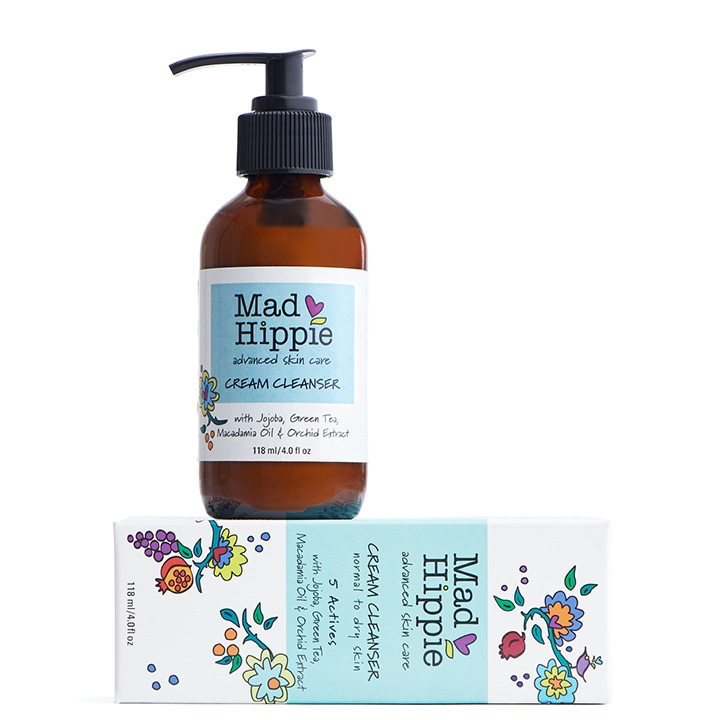 Cream Cleanser 118ml
A gentle, cream cleanser that softens and smoothes the skin whilst removing makeup, dirt and impurities. The Mad Hippie Cream Cleanser is a favourite of ours. The texture is thick and creamy and allows you to massage into the skin for a deep cleanse, it is non drying due to the high amounts of oils in its formulation, it smells great but best of all it doesn't sting the eyes when removing eye makeup! For a natural cream cleanser this product does a great job at removing makeup. We are fans of double cleansing here at Lore and this product is great for that as it is gentle so doesn't strip the skin when used twice.

We love to use this in conjunction with the Mad Hippie Cleansing Oil:
Firstly, pump a few pumps of the Cleansing Oil into your palms and massage all of over your face. Really work it into the skin with a slight amount of pressure. If you are wearing makeup really working this deep into the skin and eyelids/lashes as it literally melts makeup off the face. Remove with a soft face washer or muslin cloth.
Then, a pump or two of the Cream Cleanser into the palm of your hands, rub together and then really massage into the skin for 10-30 seconds, longer if you want a nice relaxing face massage! Remove with a soft face washer or muslin cloth.

Voila, done, gorgeous cleansed skin without that tight, irritated feeling!

Apply this product first, to cleanse the skin or after the Mad Hippie Cleansing Oil for a double cleanse.  

NO NASTIES / VEGAN / CERTIFIED CRUELTY FREE / GMO FREE / BPA FREE PACKAGING 
KEY INGREDIENTS
Organic Jojoba Oil – This natural moisturiser resembles our skin's own lubricant, sebum, and is readily absorbed into the skin. Works to provide a protective barrier through its antimicrobial and nourishing properties.
Orchid Extract – Rich in minerals that have long been used for their reparative effects, orchids bloom dramatically longer than other flowers and offer protective antioxidants that work to improve the appearance of the skin.
Organic Macadamia Oil – Contains the highest levels of naturally occurring palmitoleic acid, an essential part of sebum. Provides instant hydration.
Algae Extract – Naturally aids in skin hydration while providing antioxidant protection from damaging free radicals. Algae extract is rich in rejuvenative vital minerals and vitamins.
SUITABLE FOR
All skin types especially dry and sensitive.

LORE LOVES
We love the texture of this Cream Cleanser. Thick enough to really work into the skin, it leaves our skin soft and cleansed without that horrid tight feeling! The best thing it that it doesn't irritate or sting the eyes at all and it smells great.
Apply to wet skin and create a lather. Work into the skin to remove any makeup, dirt and impurities.
Deionized Water, Sesame Oil (Sesamum Indicum), Caprylic/capric Triglycerides, Shea Butter (Butyrospermum Parkii), Cetearyl Glucoside, Carrageenan Gum, Vegetable Glycerin, Caprylhydroxamic Acid, Caprylyl Glycol, Sodium PCA, Green Tea (Camellia Sinensis Leaf), Jojoba (Simmondsia Chinensis), Squalene, Organic Macadamia Oil (Macadamia Ternifolia Seed Oil), Organic Jojoba Oil (Simmondsia Chinesis), Yeast Extract, Glucosamine HCL, Vitamin E (Tocopheryl), Sodium Hyaluronate, Algae
Extract, Orchid Extract (Orchis Mascula), Titanium Dioxide
3 in stock