When the eye meets the nose.
Olfactive Studio was created by Celine Verleure in September 2011. After working extensively in the perfume world, Celine launched a blog as the beginning of her new creative project. This blog was a means to communicate with her audience, speak to the people about what fragrances were yet to be born into the world – what did people want to see and experience in scent? From this place, Olfactive Studio – a concept born from a love of photography was created. Described as "an encounter between contemporary artistic photography and perfumery; between the eye and the nose…It is at the crossroads of a photographic studio and a perfume design studio". Both mediums of photography and scent capture a moment in time.
To begin the creative process, the fragrances were each individually named, then given to a photographer to interpret this title through his lens. Once the eye had found its inspiration, the perfumer then had the photographic image to work from. A beautiful alchemy of creativity, with an unusual concept that turns the classic perfume creation process upside down. . The Olfactive Studio collection began with Celine's three themes of 'self portrait', 'dark chamber' and 'still life'. From these themes the perfumes Autoportrait, Chambre Noire and Still Life were born. Three incredibly different scents to open the collection – from a soft and clean earthy scent to a dusty, dark leather, then to a crisp and zesty bright citrus. The Olfactive Studio collection has grown to a collection of 19 different perfumes, working with some of the best noses and photographers our modern day has seen.
Bringing together the evocative mediums of both photography and perfume, Olfactive Studio invites us to rekindle memories, capture moments in time and create a powerful olfactive and sensory experience unlike any other range.
Some favourites amongst the varied range of 10 unique scents are –
Lumiere Blanche inspired by the image taken by Italian photographer Massimo Vitale of the serene Lake Como. At the height of summer, when the sun is so hot and bright it creates a stark white image of the beautiful Italian coastline. White light, a saturated image with a milky aura. Almost as if a mirage had just appeared. This fragrance talks of contrasts, it is warm and cocooning with its creamy and earthy softness yet cold with a hints of spice such as Cardamom, Star Anise and Cinnamon. Settling to a gentle base of Almond Milk, Cashmere Woods, Sandalwood and Tonka Bean this scent is comforting, feminine and sensual.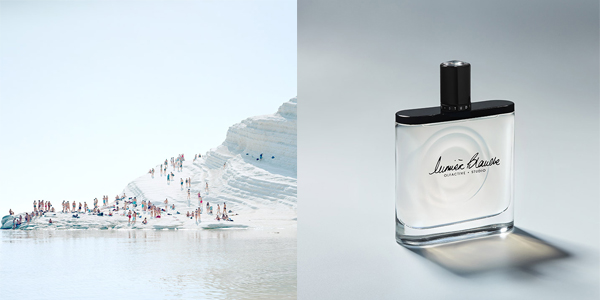 Panorama tells the story of The Sheats House, the incredible mansion in the Hollywood Hills overlooking the City of Angels. The lush and exotic greenery surrounding the house is where the fragrance lies. With the image taken by Miguel Sandhina the incredible garden is wild and majestic, a beautiful and overwhelming urban jungle. This scent is fresh, crisp and green almost like a refreshing green juice on a warm summers day. With top notes of Wasabi, Fig, Bamboo and Bergamot this fragrance settles into an elegant earthy base of Grass, Myrrh, Fir Balsam, Labdanum. A must for anyone who enjoys the fresh warmth of a lush garden walk.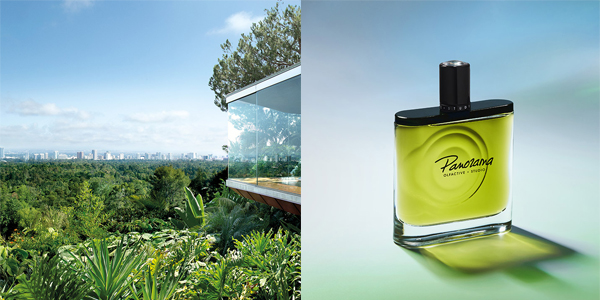 Closeup speaks of that moment when you looks at something so close that it distorts, what are you actually seeing? What were you meant to see? Inspired by a series of images by Suren Manveylan of human eyes. The iris close up is confusing to look at, at times it looks to be like an image of the world with land and sea. A universe unfolds in each persons eye. We hold the universe and the universe holds us. This scent takes us closeup to each note as we explore them on the skin. Starting with Coffee, Cherry, Spices and Tobacco, this gourmand scent whirls into a warm Amber, Musk and Tonka Bean fragrance. Warm and delicious on the skin, this scent is both inviting and challenging, regardless it draws you deep into its story.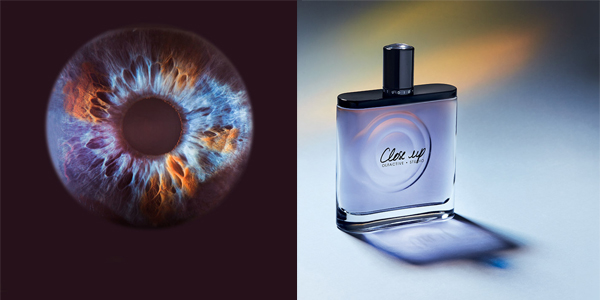 Autoportrait is a reflection of ourselves. An opportunity to appreciate the beauty of nature and ourselves – simply as it is and as we are. This is a fragrance that you wear for yourself, to rediscover your own inner spirit. With a beautiful image by Luc Lapotre, Autoportrait is eerie, peaceful and gentle. Like the image, it evokes a solo walk through nature when everything is still and silent, it is beautiful reflection of those serene moments. A soft soul of woody notes and resins such as Elemi, Incense, Benzoin, Oakmoss and Cedarwood, Autoportrait sits smoothly on the skin. It is warm and inviting with its soft, stoic elegance.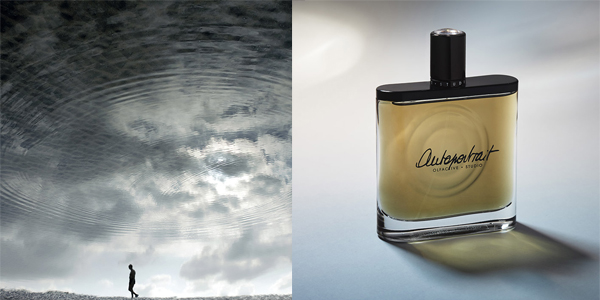 Jess x