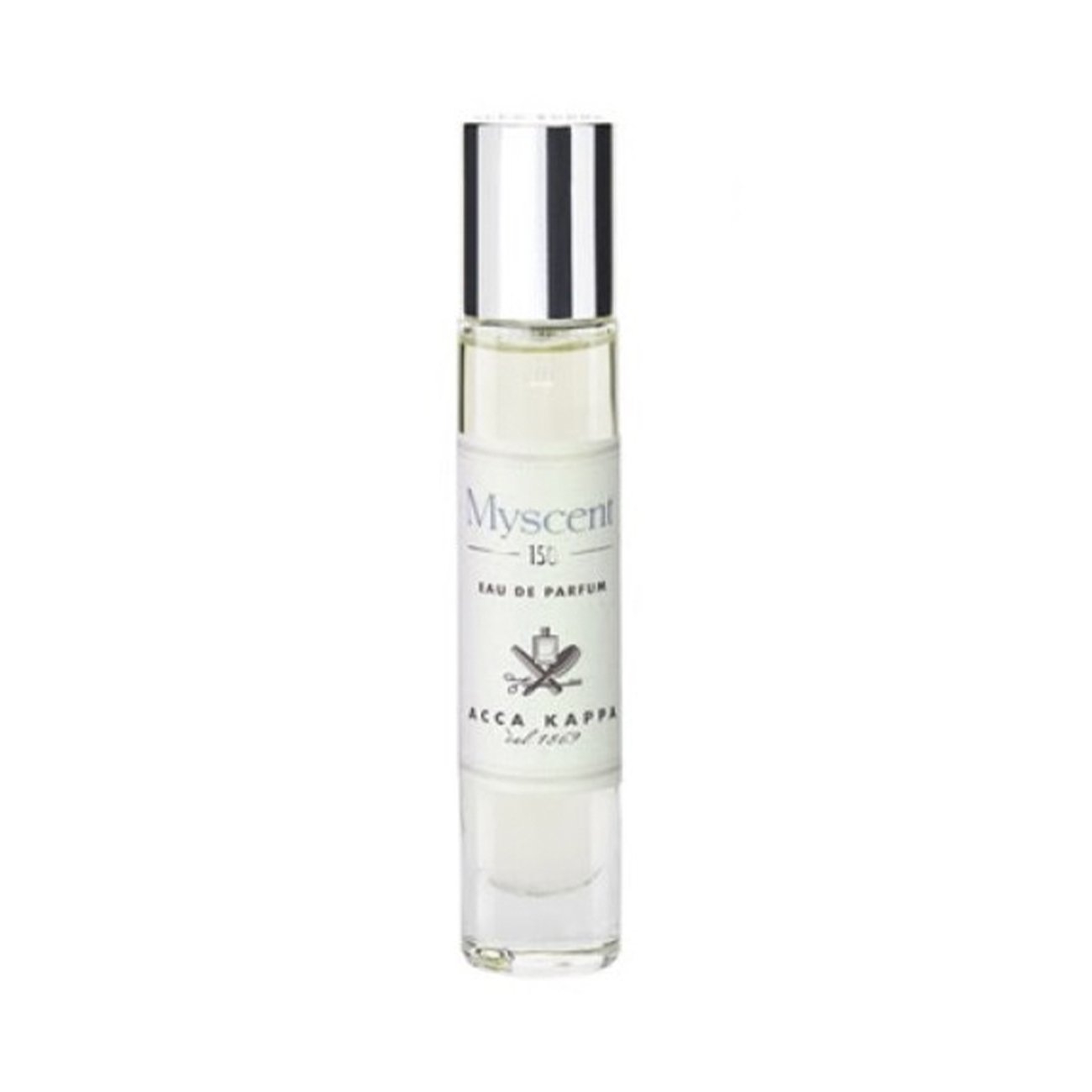 MyScent 150 EDP 15ml
Celebrating Acca Kappa's 150th year, MyScent 150 represents company principle, Elisa Gera Krüll's perfumery signature... a unique fusion between masculine and feminine. My Scent 150 is a representation of Krull's personality, a juice inspired by the complexity each person holds. A meeting of two souls - one more masculine, rich and intense, spicy with subtle oriental notes; then one more feminine - sweet, soft and comforting tones. A charming scent filled with layers and personality.

Presented in a celebratory book-style box.

NOTES
Top: Italian Bergamot, Incense
Middle: Iris Orris Concrete, Vetiver
Base: Vanilla, Benzoin, Amber

HOW IT WEARS
My Scent 150 is all about the soft warm Resins, the hint of Vanilla and softness of Incense. Despite all of the powerful notes there is a remarkable refined quality that leaves My Scent 150 with a lightness, an airy fresh quality. My Scent 150, whilst warm and inviting is never overpowering or cloying - a well-balanced scent with earthy warmth. As an Eau de Parfum, we generally get closer to 8 hours wears of My Scent 150 on the skin, with moderate silage

LORE LOVES
We love the warm and sensual notes of My Scent 150, an enveloping fragrance that is comforting and familiar to wear. Much like the remnants of a well-loved fragrance that is still subtly in your favourite scarf that you haven't touched since last winter. A scent that leaves a trail and turns heads with its mysterious charm.

PERFUMER
Luca Maffei

ABOUT THE BRAND
The Acca Kappa collection began as a manufacturer of premium hair brushes and accessories. Based in Treviso, Acca Kappa was created in 1869 by Hermand Krull and is stil in the Krull family to this day. Known for sourcing the finest materials, they were in fact the official supplier to the British Royal Family. By 90's, Acca Kappa were widely renowned as Italy's best and most successful manufacturer of brushes.1997 was the year that saw the production of Acca Kappa's first perfume – the iconic White Moss fragrance. As the perfume collection has grown, Acca Kappa now have over 20 perfumes in their collection. The recent addition of the 15ml mini perfume sizes has seen the brand move from strength to strength as more people are being introduced to the wonderful world of Acca Kappa's high quality perfumes.

FREE RETURNS
Love your fragrance or return it for free. Learn more about The Lore Promise here. 
7 in stock