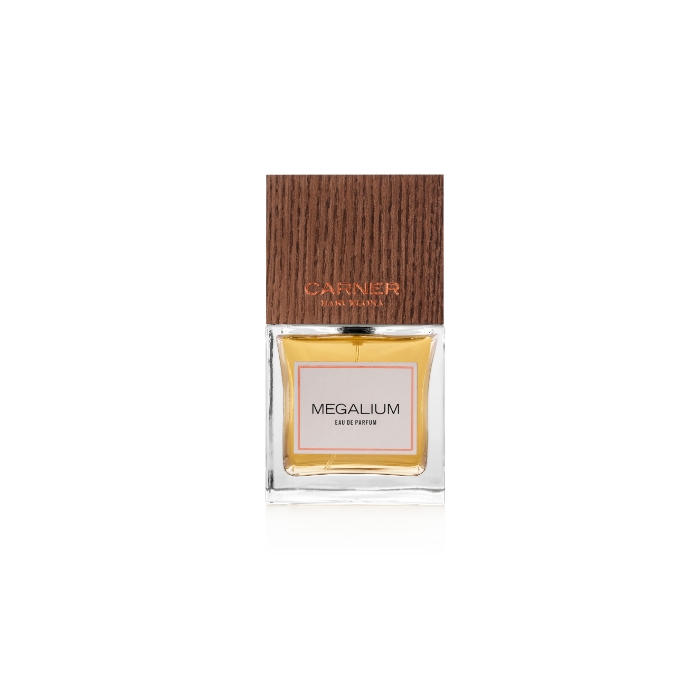 Megalium EDP 50ml
A modern reinterpretation of the ancient Roman perfumes of the 5th Century. The Carner Barcelona Orientals Collection is based on a concept of introducing new perfumes based on key historical events as a way to continue telling an authentic story about Barcelona's past, history and culture. Inspired by these times of opulence, a time when Barcelona was still young, and often influenced by other cultures. Named after the perfumer (of either Sicilian or Athenian descent), Megalium was renowned for creating the wildly popular perfumes of this period. Rose Water flowed from fountains and balsams were used in the bathing rituals and private boudoirs. Megalium is inspired by these soft and spicy notes, creating a smooth and comforting oriental perfume.

NOTES
Top: Royal Cinnamon from Laos, Mandarin Extract, Indian Calamus  
Middle: Indonesian Pimento, Nutmeg Moluccas, Indian White Pepper, Bulgarian Rose     
Base: Ethiopian Myrrh, Olibanum Somalia, Yemeni Opopanax, Syrax

PERFUMER
Rodrigo Flores-Roux

HOW IT WEARS
Megalium sits close to the skin and has a warm and gentle feel - the longevity and silage is good as it is an Eau de Parfum with a rich, warm base. We generally get between 6 to 8 hours as this scent mellows out to a soft warm resinous base.

LORE LOVES
Carner Barcelona has really used the note of Cinnamon in Megalium to create a warming and gentle scent that is the perfect oriental perfume. We get a strong Cinnamon hit balanced with beautiful, soft Resins and ofcourse the hint of beautiful Bulgarian Rose Extract.

ABOUT THE BRAND
Created by Sara Carner in 2008, the Carner Barcelona perfume collection is a beautiful, modern and sophisticated ode to her home of Barcelona. Capturing the essence of the Barcelona's Mediterranean soul, Carner Barcelona has a unique vibrance much like the city itself. Each scent has its own identity and tells the story of Barcelona, from its culture, to its architecture, lifestyle and people. Entirely produced in Barcelona, using local artisans, the Carner Barcelona perfume line merges tradition with modern innovation to truly infuse each scent with the Mediterranean spirit. The wooden caps on each bottle of perfume are sourced ethically from sustainable European forests then engraved by hand in Barcelona. The elegant glass bottles portray the effortlessly chic aesthetic of the Mediterranean coast line. And each perfume box has a special message engraved on the inside panel that evokes the emotion of each fragrance and ultimately, the spirit in which each Carner Barcelona fragrance is always "made with love".

FREE RETURNS
Love your fragrance or return it for free. Learn more about The Lore Promise here. 
2 in stock