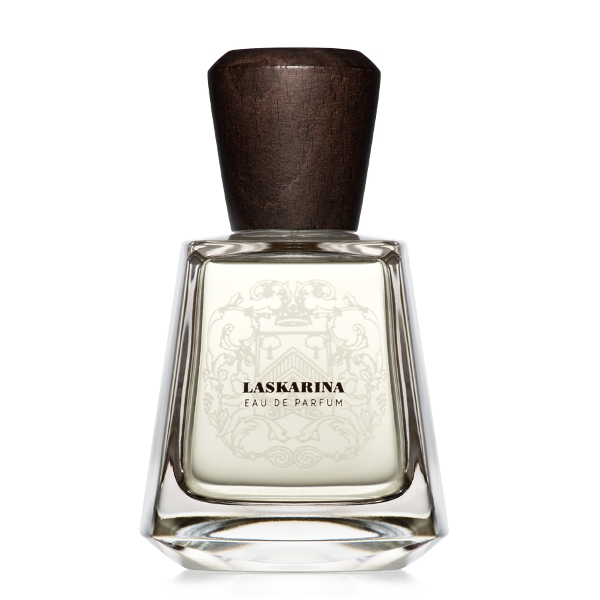 Laskarina EDP 100ml
Laskarina is an ode to femininity – not the skin-deep feminine allure so often hailed by perfume, but rather a celebration of the strength and determination of women. Fittingly, Frapin looked to Laskarina Bouboulina as muse. The heroine of the Greek War of Independence in 1821 paints the very picture of an independent, tenacious woman. When she was left a wealthy widow in 1811, she used that inheritance to invest in four warships and push back the Turkish invasion. Frapin honours Laskarina's memory with a perfume of character. After all, she is a truly multi-faceted muse: part wife, mother, businesswoman and adventurer. She was unfettered, fearless, and her own woman – all qualities shared by the great heroines of history and the early feminists.

More than just a perfume, Laskarina is a tribute to Womankind. It applauds those heroines of yesteryear who blazed the trail for strong women today, and salutes those who are still fighting against injustice. Legends like the first woman to run the Boston Marathon fifty years ago, Kathrine Switzer, who was forcefully opposed by the organizer mid-race. Every right won is a victory, the prize of a fierce battle fought by women who always refused to give up. Amélie Bourgeois rose to the challenge of finding the notes for such a strong-willed perfume. She built a floral, spicy scent, gentle yet feisty, reflecting the paradox of Laskarina. You could say it embodies the iron fist in a velvet glove. Starting off on fresh, sweet notes, it ends on unyielding accords of Pepper and Amber.

NOTES
Top: Bergamot, Grapefruit, Pink Pepper, Pear
Middle: Orange Blossom, Bulgarian Rose
Base: Frankincense, Black Pepper, Iris, Ambroxa

PERFUMER
Amélie Bourgeois

HOW IT WEARS 
Laskarina opens with such an intriguing spicy and soft fruity tone that moves gradually to a soft and luscious floral heart and eventually drying down into an earthy base. Just like a multi faceted woman, this fragrance opens in an innocent playfulness, becoming more self assured and sensual and settling in a confidant, bold and strong earthy base. All of these layers mingle perfectly without disappearing and without over powering each other. The longevity of Laskarina is 6 – 8 hours as an Eau de Parfum.

LORE LOVES
We fell in love with the amazing concept and were then intrigued by the unusual blend of notes in Laskarina. In one moment she is delicate and soft, then the next loud and intense, the way this fragrance travels through the notes is remarkable and make it such a memorable perfume.

ABOUT THE BRAND
As one of the oldest family owned businesses still operating, the Frapin family have been renowned vine growers for 21 generations. One of the finest cognac producers in the world, Frapin's style embodies the very essence of cognac – knowledge and well-established methods passed down through generations of the Frapin family. Frapin's fragrances are lovingly produced on a small batch scale to preserve their outstanding quality. Much like the production of Frapin's cognac, their perfume line is a composition of their knowledge; their passion for quality ingredients, taking time to develop finely honed skills. Sourcing and selecting the most beautiful raw ingredients, taking the time to showcase sophisticated and complex fragrant compositions and honouring traditions. As Frapin believe, the "quintessence of luxury is taking time to create beauty".
Out of stock
Get an alert when the product is in stock: