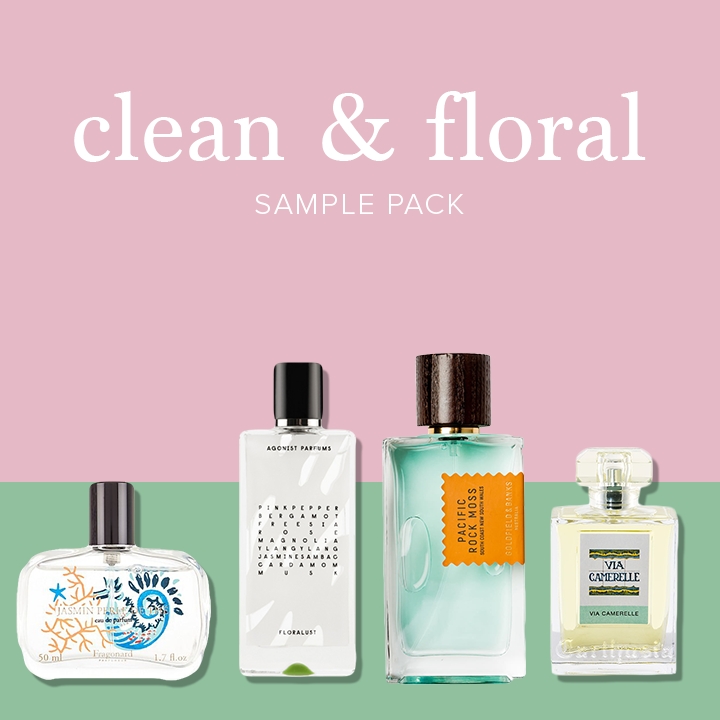 Clean & Floral Sample Pack
Please note: This pack will not be available to reorder and is finished. Keep an eye out for our NEW fragrance quiz coming in a few months.

This pack is designed for those who completed our 'Fragrance Personality Quiz' and were the Clean & Floral type!

You want a fragrance that you can wear as your signature scent – something not too overpowering to wear day to day, but transitions well to night. You like something gentle, clean and feminine. We have chosen a variety of soft fresh florals for you with a little wild card thrown in.

Sample pack contains: 

Samples of Goldfield and Banks Pacific Rock Moss, Carthusia Via Camarelle, Fragonard Jasmin Perle de The & Agonist Floralust.

Please click here to complete the quiz

*Please note: The samples are not provided from our supplier and are decanted into mini vials in-store. The sample packs are not branded but give enough product to try the fragrance at home. The photo in the product image is to show the product, not to represent the actual product being purchased.
Out of stock
Get an alert when the product is in stock: