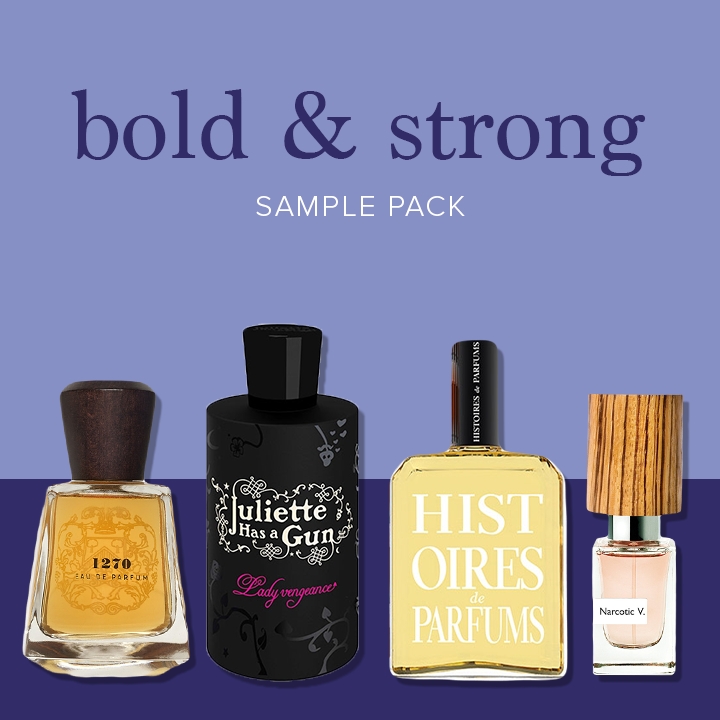 Bold & Strong Sample Pack
Please note: This pack will not be available to reorder and is finished. Keep an eye out for our NEW fragrance quiz coming in a few months.

This pack is designed for those who completed our 'Fragrance Personality Quiz' and were the Bold & Strong type! 

You want a fragrance that makes an entrance. This is the realm of feminine yet powerful. You love culture and romance, and also have a penchant for the finer things in life. Your scents are powerful, just like you…

Sample pack contains: 
Samples of Nasomatto Narcotic V, Juliette has a Gun Lady Vengeance, Histoire de Parfum Tuberose Virginale & Frapin 1270.

Please click here to complete the quiz

*Please note: The samples are not provided from our supplier and are decanted into mini vials in-store. The sample packs are not branded but give enough product to try the fragrance at home. The photo in the product image is to show the product, not to represent the actual product being purchased.
Out of stock
Get an alert when the product is in stock: