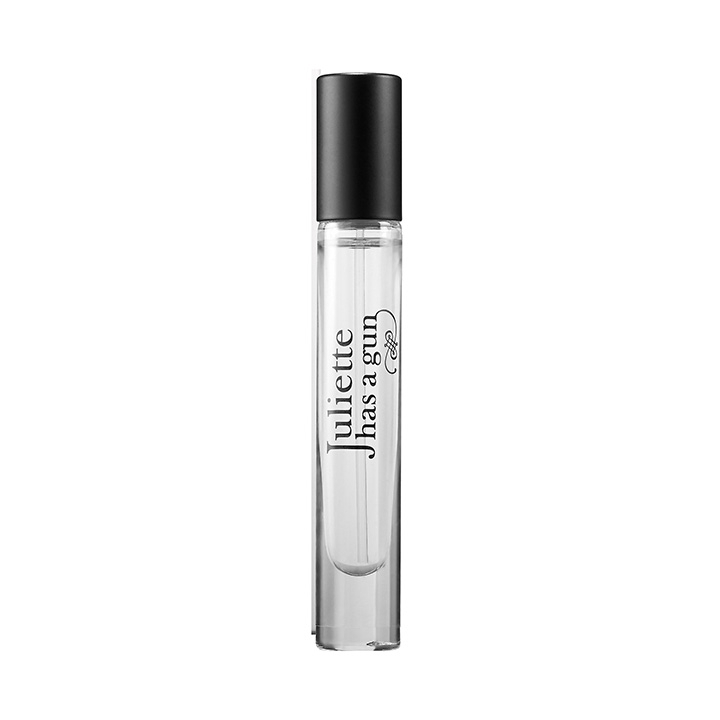 Vanilla Vibes Pocket Spray 7.5ml
The fusion of the two opposites: the warm Natural Vanilla and the fresh Sea Salt, which transports the Vanilla into a mineral dimension. Far from being overwhelming, the Vanilla becomes suddenly…more atmospheric, more elegant. The expression of sensuality, and free femininity, inspired by the bohemian and free spirited Burning Man festival. Vanilla Vibes has an aphrodisiac charm; it is a hymn to Adventure and Freedom. Enjoy the trip!

NOTES
Top: Fleur de Sal (Sea Salt)
Middle: Natural Vanilla Absolute, Orchid Absolute
Base: Sandalwood Absolute, Tonka Bean Absolute, Brown Musk, Benzoin Absolute

PERFUMER
Romano Ricci

HOW IT WEARS
Vanilla Vibes is the ultimate Vanilla lovers fragrance! The sea salt balances the sweetness perfectly creating a refined perfume. Juliette has a Gun creates concentrated perfumes and this perfume wears amazingly well, lasting on the skin for atleast 8 hours.

LORE LOVES
We love a great Vanilla scent that is perfectly balanced! The element of Sea Salt with the Vanilla is perfection, and then the depth of Sandalwood and Musk makes this the type of scent that you want to keep coming back and smelling.

ABOUT THE BRAND
Created in 2005, Juliette has a Gun is the wonderful fragrance world of Romano Ricci. Born into fragrance royalty, Romano Ricci had perfume in his DNA as the great grandson of Nina Ricci. The Juliette has a Gun range was originally based solely around the rose - like a woman, Ricci says a rose is beautiful, intoxicating, delicate and thorny. The Juliette has a Gun range is contemporary, assertive and full of life. Ricci was inspired by the Shakespearean tragedy, Romeo and Juliette, however the modern Juliette in this story comes armed - she carries a weapon, her weapon is her scent. And she uses her scent for seduction, flirtation and provocation. Juliette has a gun is rock meet romance in a bottle.

FREE RETURNS
Love your fragrance or return it for free. Learn more about The Lore Promise here.
9 in stock