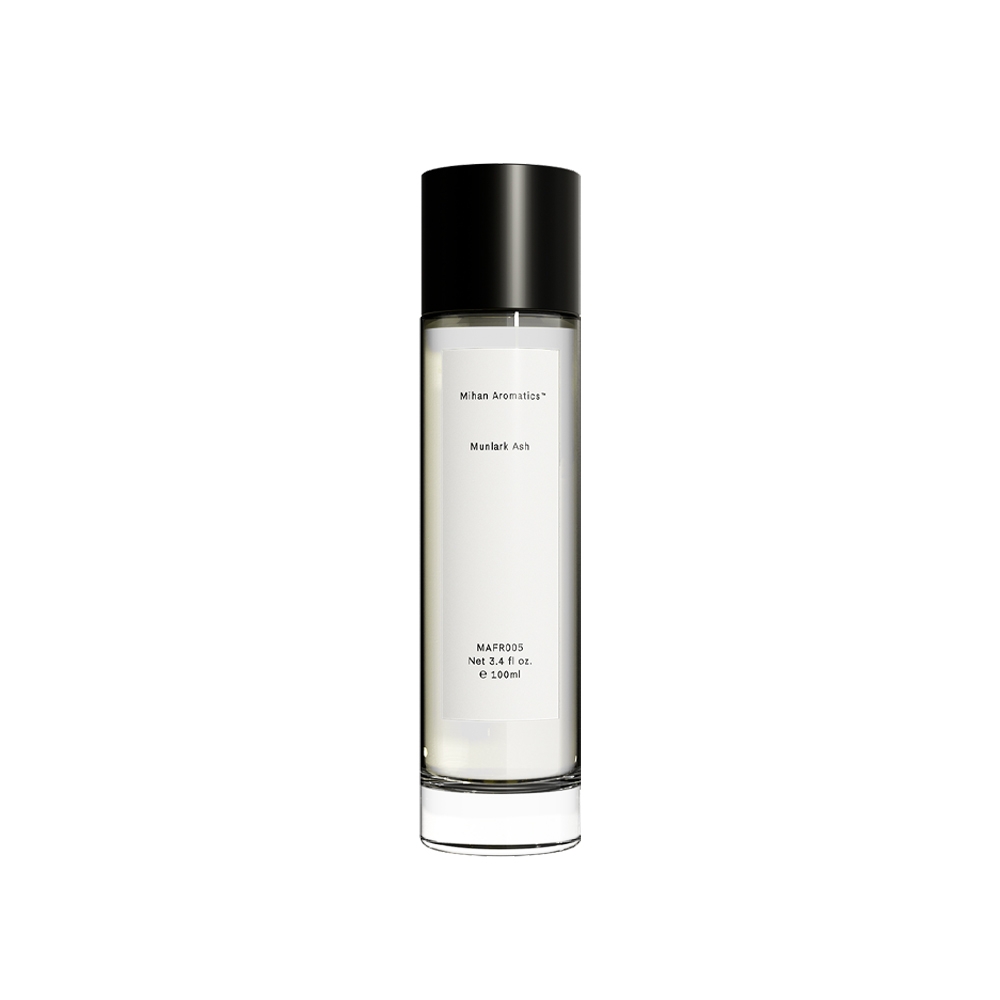 Munlark Ash EDP 100ml
Deep roots in undisturbed land. Creaking and creek lined. Gasps of crushed fir needles. A balsam of dense blue cypress and tree sap. A remedy of morning air inhaled deeply. Evergreen botanicals that mimic the quietness of first light. Ancient flowering trees and woods who graciously lend their oils for revival.

NOTES
Top:  Bergamot, Australian Blue Cypress, Cypress
Middle: Black Pepper, Fir Needle,
Base: Frankincense, Vetiver, Labdanum, Himalayan Cedarwood, Elemi

25% Parfum w. Organic Sugarcane

All Mihan Aromatics™ parfums are designed and developed, hand filled and assembled, with pride and passion in Melbourne, Australia. They are cruelty free and vegan certified.

HOW IT WEARS
Munlark Ash opens with a fresh and warm smokiness, like you sitting beside a campfire. It's aromatic and the scent of nature - as the fragrance softens on the skin, we get a slightly sweet, almost powdery warmth on the dry down that creates such beautiful and complex depth. The wear is amazing - Munlark Ash is a Parfum, so it lasts and lasts yet it never overwhelms. The wear is soft and almost become like a wonderful second skin, in the best possible sense!

LORE LOVES
We love the warm, smoky depth of Munlark Ash. Mihan Aromatics' have perfectly captured that nostalgia of Australian summer's spent around the camp fire - that smell of nature, the giant Cypress trees, the clean air of the bush, and finally, that warm smoke of the ash coming off the bonfire. Munlark Ash has a familiar and comforting warmth that sits beautifully on the skin with a slightly smoky linger that balances that warmth perfectly.

PERFUMER
Josh and Jules Mihan

ABOUT THE BRAND
This Melbourne based perfume brand is created by husband and wife team - Josh and Jules. Some of our favourite faces here at Lore Perfumery, Josh and Jules live around the corner from our flagship store on Brunswick Street, Fitzroy so we're lucky enough to see them quite a bit. This Melbourne made range is a true product of Australia, with each perfume telling the story of Josh and Jules' relationship and adventures in and around Melbourne.

FREE RETURNS
Love your fragrance or return it for free. Learn more about The Lore Promise here. 
3 in stock