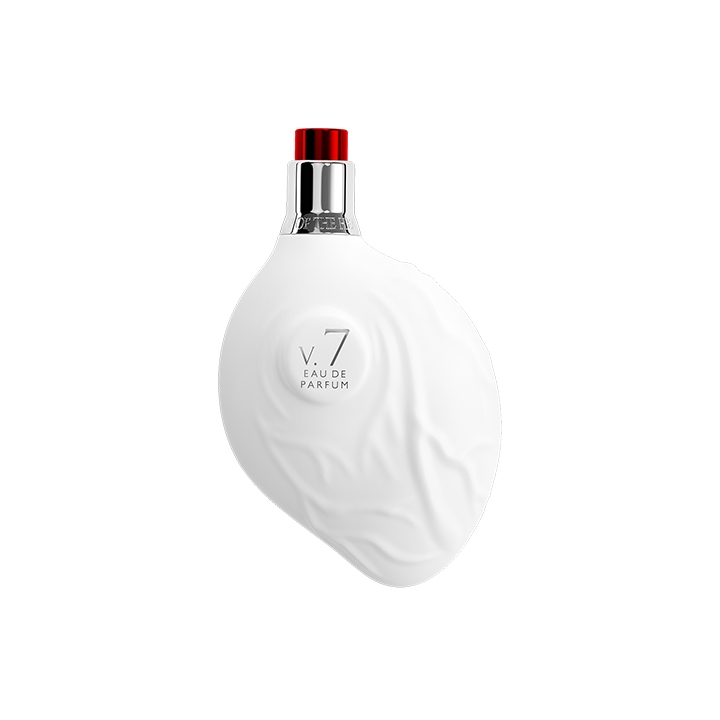 v.7 White Heart – The Heart of Love EDP 90ml
The heart of true love in all its glory. The kind of love that is hot/cold, naive, curious, tender and wild. A love that is everything and nothing. The power and duality of love, contrasting and complex. But most importantly, self love. This is an absolute, unwavering love. A magical number (7) and a magical colour (white), in the Middle East white is the colour representing a good heart. Falling into a pureness of heart with beautiful bright notes, basking in its radiance. Then a vibrancy and intensity, of natural earthy notes to ground and create a strong, everlasting love.

NOTES
Top: French Lavender, Aldehydes, Indian Cardamom
Middle: Umeboshi, Somalian Frankincence, Spanish Cistus, Gardenia
Base: Natural Oud, Cypriol, Haitian Vetiver, Copaiba Balsam, Australian Sandalwood

PERFUMER
Jacques Huclier

HOW IT WEARS
The White Heart is great on the skin, we love that it is full of light and shade when worn. The Oud gives great hold when on the skin with sparkles of spice, floral and aromatic notes. The White Heart really is like everlasting love - it lasts for longer than 8 - 10 hours when on the skin.

LORE LOVES
We really love the way that this sits on the skin, its light and dark all at once. The White Heart is rich and deep but has beautiful lightness and a creamy delicious heart with the Gardenia note. A gorgeous warm and unique scent on the skin, so easy to wear and so special.

ABOUT THE BRAND
Map of the Heart is the journey inside our emotions. Everything comes from the heart. From pure joy, to lightness, love or aching darkness and desire - it is our essence. Through mapping our heart with scent and colour we can explore what makes our heart beat.

Conceived in Australia by partners Sarah Blair and Jeffrey Darling, Map of the Heart came to life in France. Sarah, a film producer and Jeffrey a film director, Map of the Heart was created using the same methodology of a film. Calling in a team of experts to work together to create a line of 7 scents that explore the different dimensions of our heart.

The incredible bottle design of the anatomical heart is a direct link to the message that everything that comes from the heart is true and unique. This is the real heart, not a pretty heart. Created by the renowned Pierre Dinand, this bottle creates a connection.

From the heart of freedom, to the heart of darkness to the heart of love, Map of the Heart takes us on an olfactory journey unlike any other brand. Map of the Heart is the heart beat of scent.
2 in stock