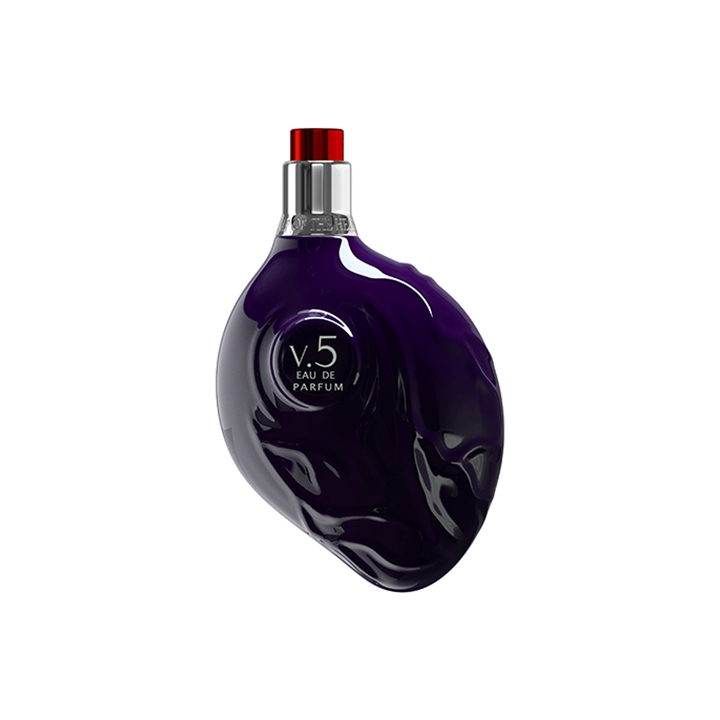 v.5 Purple Heart – The Heart of Valour EDP 90ml
Inspired by the medal of the purple heart for acts of valour, The Purple Heart salutes courage in all its forms. Anyone can be a hero in their day to day life, small gestures of courage are happening consistently. Acts of bravery in the small actions of our day should be celebrated and honoured. This courage is within us all, it is instinctive. Flipping the olfactory pyramid upside down, The Heart of Valour opens in a darker place then moves towards the light. Representing the times in life when valour is required, we move from a place of darkness into the light - from negative to positive. So we have an inverted fragrance that is almost a little rude at first. Brash and contrasting at first, The Heart of Valour opens up into a luminous, optimistic and unique scent. A heroic and unique journey, an ultimately sumptuous and rewarding scent.

NOTES
Top: Black Plum, Black Cherry
Middle: Salty Liquorice, Violet, Purple Rose
Base: Amber, Australian Sandalwood

PERFUMER
Jacques Huclier

HOW IT WEARS
The Purple Heart is strong and loud to open, but as it settles unique tones begin to sparkle through. The dry down really heroes the beautiful earthy, Violet notes. This is a must try for any Violet lovers out there who want something dark, rich and unique in their collection. The longevity of The Purple Heart is amazing, it lasts atleast 8 hours, settling into a much softer and smoother fragrance as the hours go by.

LORE LOVES
We love the inverted fragrance pyramid of The Purple Heart. The dry down is an almost nutty and earthy Violet that is so delicious on the skin. We love the surprises in this perfume!

ABOUT THE BRAND
Map of the Heart is the journey inside our emotions. Everything comes from the heart. From pure joy, to lightness, love or aching darkness and desire - it is our essence. Through mapping our heart with scent and colour we can explore what makes our heart beat.

Conceived in Australia by partners Sarah Blair and Jeffrey Darling, Map of the Heart came to life in France. Sarah, a film producer and Jeffrey a film director, Map of the Heart was created using the same methodology of a film. Calling in a team of experts to work together to create a line of 7 scents that explore the different dimensions of our heart.

The incredible bottle design of the anatomical heart is a direct link to the message that everything that comes from the heart is true and unique. This is the real heart, not a pretty heart. Created by the renowned Pierre Dinand, this bottle creates a connection.

From the heart of freedom, to the heart of darkness to the heart of love, Map of the Heart takes us on an olfactory journey unlike any other brand. Map of the Heart is the heart beat of scent.
1 in stock